NEW Disney: Darkwing Duck TV Series Funko Pops (2023)
The classic Disney Afternoon fighter of evildoers and solver of crime-solving capers, Darkwing Duck, has rebooted himself into a new wave of Disney's Darkwing Duck Funko Pops (2023).
The pop figures are now available for pre-order at the links below – click to jump or scroll to continue reading!
The Darkwing Duck television series was one of the most popular shows of the early 1990s. The show followed the adventures of Drake Mallard, who fought crime under the guise of the masked superhero Darkwing Duck.
There has been a resurgence of interest in the character in recent years, partly thanks to nostalgia for the animated golden age. However, there is no doubt that it remains one of the most popular and beloved cartoon series of all time.
Darkwing Duck fans know that "when there's trouble, you call DW," and now you can have a Darkwing Duck by your side at all times. Here's the Darkwing Duck pop figures list for this release:
Darkwing Duck – Darkwing Duck with Chase Funko Pop! Vinyl Figure – Funko Shop Exclusive
More to come:
Darkwing Duck – Darkwing Duck With Blaster Funko Pop! Vinyl Figure
Darkwing Duck – Quackerjack Funko Pop! Vinyl Figure
Darkwing Duck – Morgana Macawber Funko Pop! Vinyl Figure
The Funko Shop Exclusive Darkwing Duck pop figures are now available for order at the links below (click to jump!)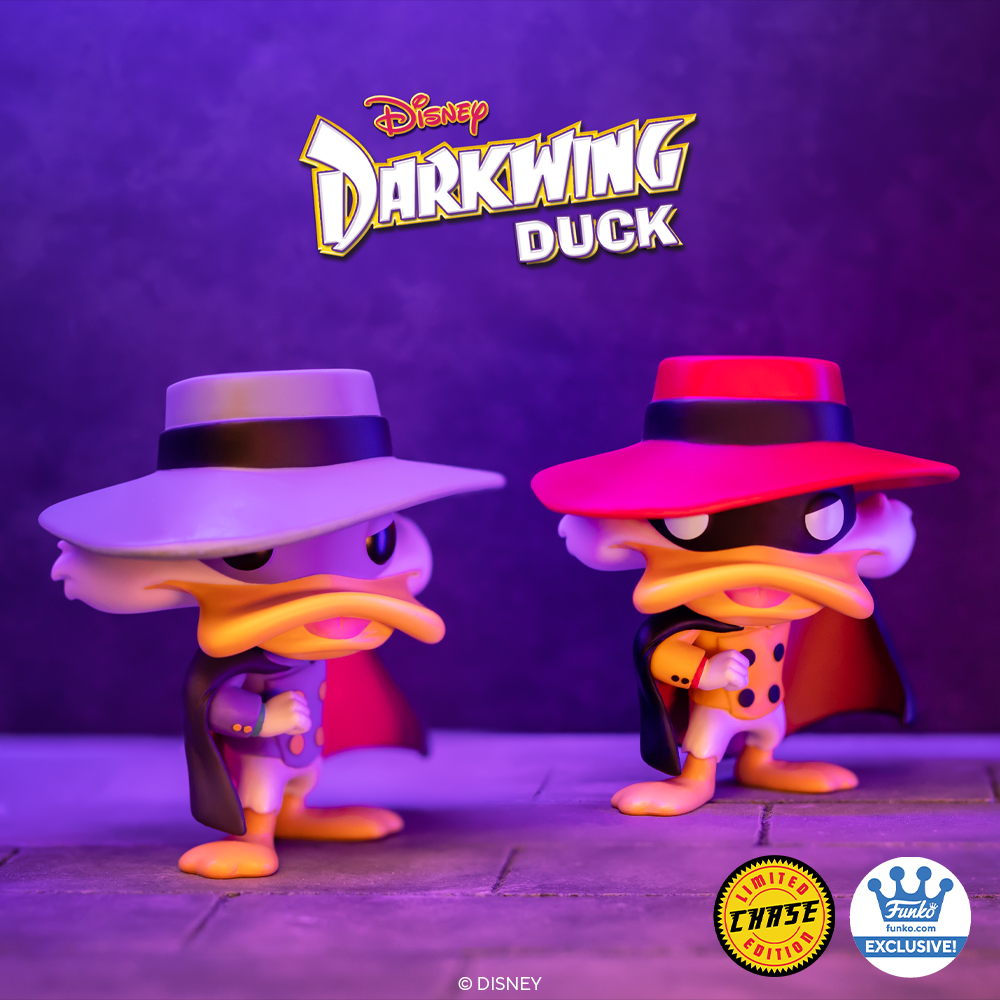 When it comes to classic cartoon characters, few can match the appeal of Darkwing Duck. First introduced in 1991, the crime-fighting duck quickly became a fan-favorite thanks to his daring adventures and larger-than-life personality.
Over the years, Darkwing has maintained his popularity, appearing in numerous comics, video games, and other media. However, the original television series remains the most beloved incarnation of the character.
Produced by Walt Disney Television Animation, the show ran for three seasons and 91 episodes. It featured a mix of action, comedy, and drama, each episode introducing a new villain for Darkwing to face.
One of the things that made the show so great was its willingness to parody other superhero tropes. For example, in one episode, Darkwing is forced to team up with his arch-nemesis Megavolt, who is constantly short-circuiting due to his electrolyte powers.
The episode satirizes the often clichéd team-ups between superheroes and their enemies, and it's just one example of the show's sharp wit.
In addition to its humor, the show also featured impressive action sequences and exciting storylines.
The result was an entertaining show for both kids and adults, and it's no wonder that the series continues to be fondly remembered by fans worldwide.
Funko Pop! Disney's Darkwing Duck Funko Pop! Vinyl Figures (2023)
Available at:
Starting now, you can receive 10% off in-stock items with my special link at Entertainment Earth!
 Enjoy!
As an Amazon Associate I earn from qualifying purchases
Want more stuff like this?
Get the best viral stories straight into your inbox!
Don't worry, we don't spam