2023 NEW Friends Funko Pops – Wave 4 is Coming to Life!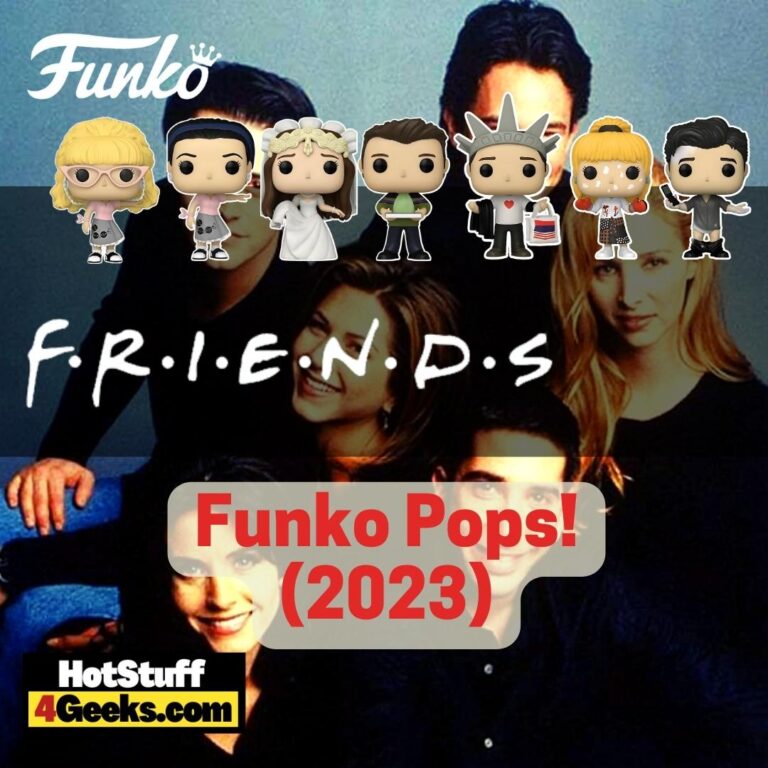 Get ready to relive your favorite moments from the iconic TV show with Friends Funko Pops! (2023 release) – Wave 4! This latest addition brings a whole new layer of humor and nostalgia, perfectly encapsulating what we all love about the six New Yorkers who stole our hearts.
UPDATE: Now available at Amazon! To get your hands on these Pop Vinyl Figures at their release, be sure to check out the links I've provided below – click to jump or scroll to continue reading!
Unveiling the Humor and Nostalgia of Friends with the Latest Funko Pops! Wave 4 Release
Ever wanted to delve deeper into those iconic Friends moments that left us doubled over with laughter?
2023 has showered us with a sprinkle of nostalgia, as the new Friends Funko Pops are here to whisk us away to the Central Perk days!
Remember when Monica went full retro as a waitress? Or the time Joey's love for pizza became the embodiment of our weekend plans? How about Chandler's stint in the Big Apple, marking another chapter in his unpredictable journey?
And who could forget Rachel's bridal flair, Ross's unforgettable leather pant mishap, or Phoebe's peculiar brush with chickenpox?
Each of these figures is a mini-time capsule, pulling us back into the heart of their humor and legacy. It's more than a nod to the show; it's a tribute to the enduring magic of their camaraderie.
So, what stops you from returning to those hilarious memories? The coffee's on, and the humor's fresh!
Unveiling the Friends Wave 4 Funko Pops List for 2023 release:
Funko Pop! Friends – Monica (Waitress) with Chase Variant Funko Pop! Vinyl Figure
Funko Pop! Friends – Joey (with Pizza) Funko Pop! Vinyl Figure
Funko Pop! Friends – Chandler (New York) Funko Pop! Vinyl Figure
Funko Pop! Friends – Rachel (Wedding) Funko Pop! Vinyl Figure
Funko Pop! Friends – Ross (with Leather Pants) Funko Pop! Vinyl Figure
Funko Pop! Friends – Phoebe (with Chicken Pox) Funko Pop! Vinyl Figure
Friends Wave 4 Funko Pop! Vinyl Figures  (2023 release) can be found for pre-order at the links below (click to jump!)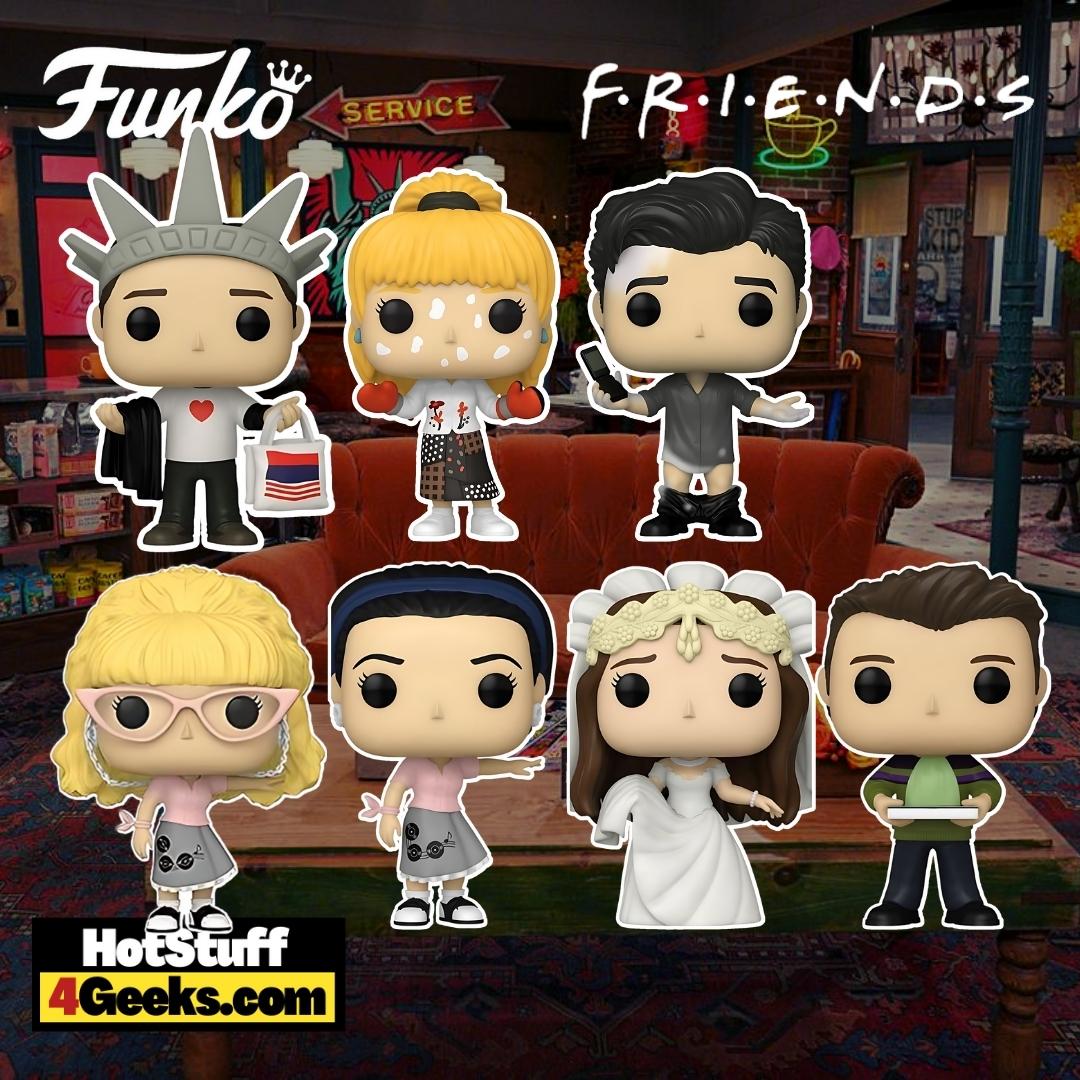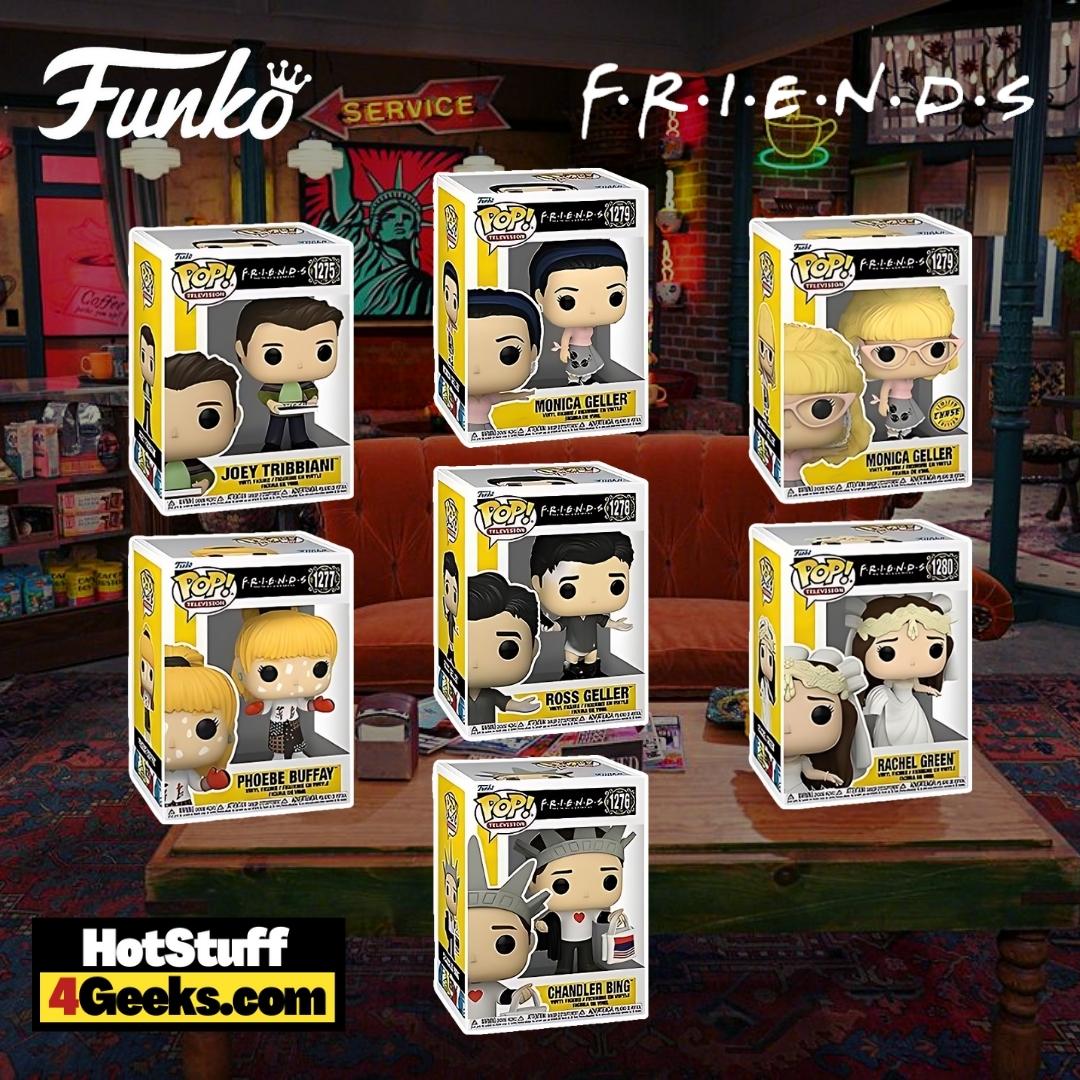 The Legacy of 'Friends': More Than Just a Sitcom
When we think about TV shows that left an indelible impact on pop culture, "Friends" is likely one of the first to come to mind.
Premiering in 1994, who could've foreseen that this tale of six pals navigating life in New York City would become a beloved cornerstone of modern television?
What sets "Friends" apart from other sitcoms?
Well, for starters, its ensemble cast was a lightning-in-a-bottle miracle. Jennifer Aniston, Courteney Cox, Lisa Kudrow, Matt LeBlanc, Matthew Perry, and David Schwimmer became household names almost overnight.
The characters they portrayed—Rachel, Monica, Phoebe, Joey, Chandler, and Ross—were relatable yet iconic in their own quirky ways.
As you tuned in week after week, you felt like you were hanging out with friends—no pun intended—right in the heart of Manhattan, even if you were sitting on your couch in the middle of nowhere.
Now, let's get into the magic sauce—humor. "Friends" nailed humor like few other shows before or since.
Whether it was Ross's hapless attempts at romance, Chandler's sarcastic quips, or Phoebe's eccentric musings, the show knew how to make you chuckle and sometimes even guffaw.
The blend of character-based humor and situational comedy offered a buffet of laughs that could satisfy just about anyone.
We watched these characters grow, trip, and pick themselves up again while teaching us life lessons wrapped in humor.
But wait, there's more.
The storytelling wasn't just about laughter; it pulled at our heartstrings, too.
Episodes dealing with love, loss, and complex family dynamics added depth, making the sitcom resonate on an emotional level.
Who can forget Ross yelling, "We were on a break!" or Monica and Chandler's secret romance evolving into something truly heartfelt?
The beauty of "Friends" was its ability to be more than just a surface-level comedy.
Then comes its far-reaching influence. "Friends" is a global phenomenon, transcending borders and languages.
International remakes and a cornucopia of merchandise tell us that the love for this show isn't confined to one generation or geography.
Heck, even the show's fashion has had a resurgence, with '90s styles making a comeback.
To top it off, let's not forget about the reunion that dropped in 2021.
It wasn't just a trip down memory lane but a testament to the show's enduring allure.
Over a decade had passed since the finale, yet there we were, still craving just one more coffee session at Central Perk with our favorite gang.
So, is "Friends" merely a show?
Far from it. It's a cultural touchstone, a blueprint for ensemble casts, a masterclass in comedic timing, and an emotional ride we never want to end.
Long after its original run, "Friends" remains alive and well in our hearts—and that, my dear readers, is what you call legacy.
Funko Pop! Television: Friends Wave 4 Funko Pop! Vinyl Figures  (2023 release)
Available at:
Starting now, you can receive 10% off in-stock items with my special link at Entertainment Earth!
 Enjoy!
As an Amazon Associate I earn from qualifying purchases
Want more stuff like this?
Get the best viral stories straight into your inbox!
Don't worry, we don't spam