2022 NEW Fury Of The Gods (Shazam! 2) Funko Pops!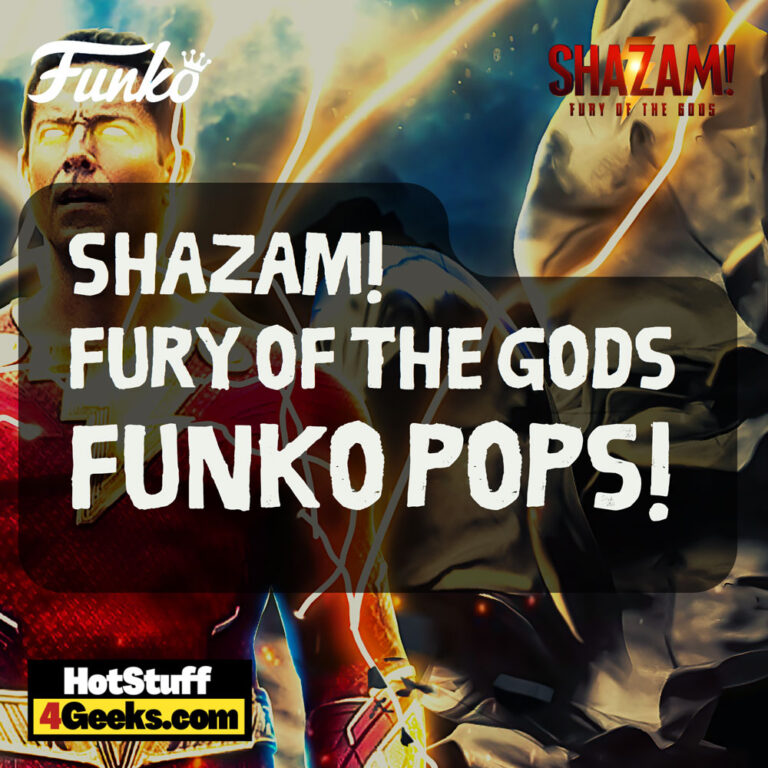 Not official until confirmed.
Get ready to blast some bad guys with the new collection of Shazam! Fury of the Gods (Shazam! 2) Funko Pops! Diehard fans of Shazam! will want to get their hands on these Pops! featuring the characters from the  Shazam! 's sequel.
Billy Batson may be able to transform into the powerful superhero Shazam with just a single word, but collectors will still have to do a bit of work to get their hands on these pops!
So, even though we may not have superpowers, we'll need to be quick if you want to add these collectibles to your collection.
Here's Shazam! Fury of the Gods (Shazam! 2) Funko Pops! list:
Shazan Funko Pop! Vinyl Figure
Freddy Funko Pop! Vinyl Figure
Darla Funko Pop! Vinyl Figure
Mary Funko Pop! Vinyl Figure
Eugene Funko Pop! Vinyl Figure
Pedro Funko Pop! Vinyl Figure
Hespera Funko Pop! Vinyl Figure
Kalypso Funko Pop! Vinyl Figure
Anthea Funko Pop! Vinyl Figure
Unicorn Funko Pop! Vinyl Figure
The Shazam! Fury of the Gods Funko Pop! Vinyl Figures are coming soon. There's no release date yet, but stay tuned because I'll update more information in the long run.
In Shazam! 2, Hesperus (Helen) and Kalypso (Lucy) are enraged. The reason? Billy Batson (Angel) and his brothers are using the powers of the gods.
After seeing the children with extraordinary abilities, the Daughters of Atlas decide to intervene to change the course of history.
But at the same time, Shazam (Zachary Levi) is going through an identity crisis. In this universe filled with DC heroes such as Aquaman (Jason Momoa) and Flash (Ezra Miller), the protagonist cannot see the value within himself.
In addition, the fact that his adoptive family now also has powers has not helped his self-esteem.
But the superpowered man must overcome his doubts to save humanity. As such, he must rely on his brothers to survive the onslaughts of Hesperus and Kalypso.
Will the group of heroes be able to withstand the wrath of the gods?
Let's wait and see the movie.
One of the main heroes of DC's published stories, Shazam! originally appeared as Captain Marvel and was created by Bill Parker and C.C. Beck in 1939 for Fawcett Comics.
His alter ego is Billy Batson, a teenager chosen to be the new champion of the wizard Shazam!
However, whenever he said the word, he was transformed into an adult with various powers, including superhuman strength and speed, flying ability, and more.
The word Shazam! itself is an acronym for the names of the gods who lend their powers to Batson: Solomon, Hercules, Atlas, Zeus, Achilles, and Mercury.
However, DC accused Fawcett Comics of plagiarism in the 1950s, who considered Captain Marvel a copy of Superman, and his stories stopped being published and eventually fell into oblivion.
In the 1970s, his rights were acquired by DC itself, which thought about using his original name, but was threatened with a lawsuit by Marvel, which in the meantime, created its own Captain Marvel.
With no other option, it had to rename the hero Shazam!
In the movies, the hero was played by actor Zachary Levi in his solo film and by Tom Tyler in a feature film released in 1941, considered the first of the superhero genre in history.
Shazam! has also appeared in other media, such as TV series, animations, and games.
Funko Pop! Movies: DC –  Shazam! Fury of the Gods (Shazam! 2) Funko Pops (2022)
Starting now, you can receive 10% off in-stock items and free shipping on $39+ orders with my special link at Entertainment Earth!
You can also use CODE: 4geeks anytime. Enjoy!
As an Amazon Associate I earn from qualifying purchases
Want more stuff like this?
Get the best viral stories straight into your inbox!
Don't worry, we don't spam