Funkoween 2022: Hunter X Hunter – Komugi Funko Pop!
Komugi was an absolutely unique character in the world of Hunter X Hunter. She was a young girl who had a gift for playing Gungi, and she quickly rose to become one of the most famous players in the world.
The new Funko Pop! Animation: Hunter X Hunter – Komugi Funko Pop! Vinyl Figure – Hot Topic Exclusive (Funkoween 2022 release) depicts the first Funko Pop version of the character, who is much beloved by anime fans.
You can find the pop figure below (click to jump!)
Hunter x Hunter is, for many, a cult work, and this is due to the exciting adventure created by Yoshihiro Togashi, who also moved many with the saga of the Chimera Ants. This story arc questioned the side of the good guys and bad guys.
An essential part of the story was the appearance of Meruem and his subsequent interest in a very striking game called Gungi, in which the champion was a young girl named Komugi…
The Hot Topic exclusive, Komugi Funko Pop! (Funkoween 2022) is now available for pre-order at the links below (click to jump!)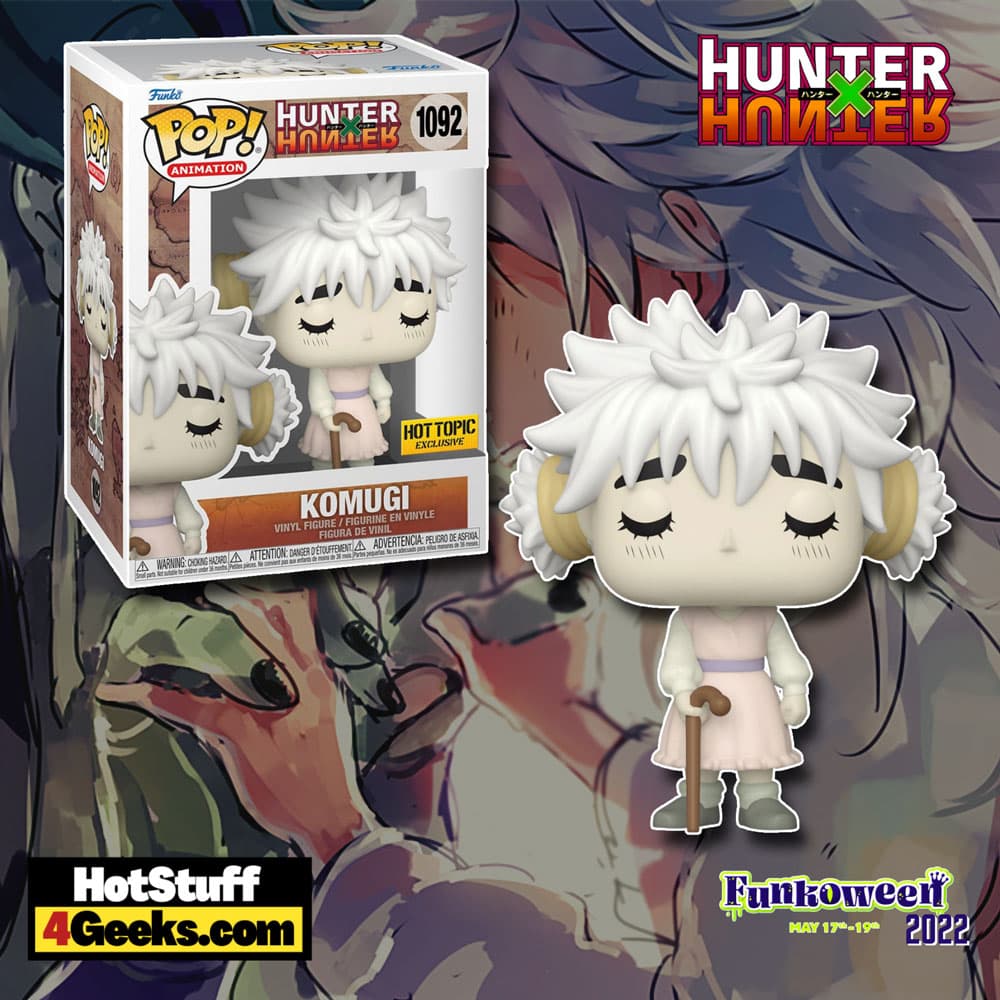 Komugi is a talented Gungi player with a fierce competitive spirit. She hailed from the Southernpiece country and designed her own handheld Gungi set, which she uses to beat her opponents spectacularly.
Her skills are legendary, and she has even earned the title of "World Champion" after winning the prestigious Annual Gungi Tournament.
Komugi is truly a force to be reckoned with on the Gungi board with her sharp mind, quick reflexes, and unique strategies.
No one knows where her incredible talent comes from or how she became so skilled at such a complex game, but there is no doubt that Komugi is one of the most talented players in the world.
Whether competing for glory or simply wowing spectators with spectacular plays, Komugi always leaves an impression on those who see her in action!
And who knows what other challenges might await this bold and daring Gungi champion…
Starting now, you can receive 10% off in-stock items with my special link at Entertainment Earth!
 Enjoy!
As an Amazon Associate I earn from qualifying purchases
Want more stuff like this?
Get the best viral stories straight into your inbox!
Don't worry, we don't spam