Funkoween 2022: Jujutsu Kaisen – Sukuna Funko Pop! Deluxe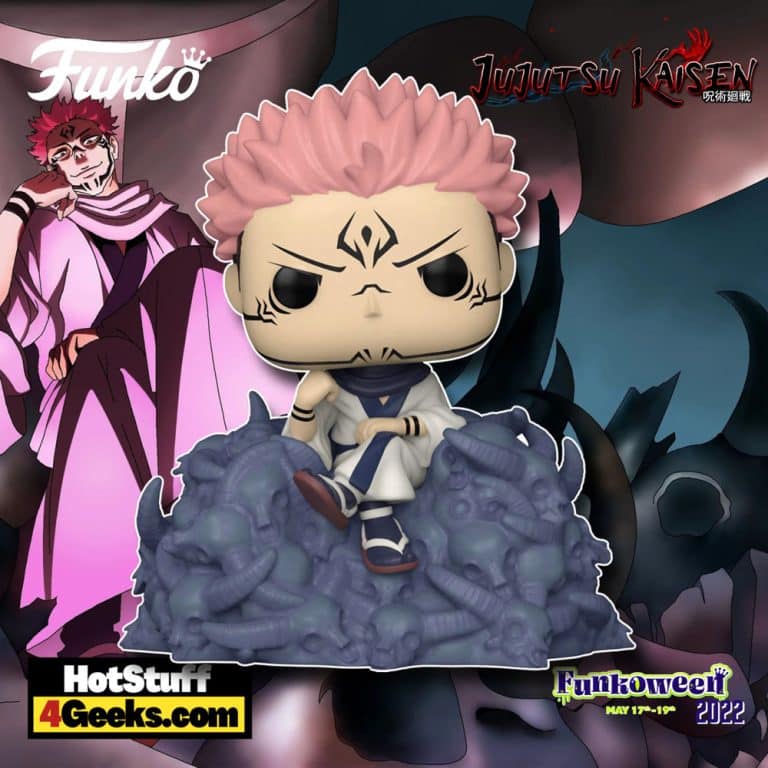 The new Funko Pop! Animation: Jujutsu Kaisen – Ryomen Sukuna Funko Pop! Deluxe Vinyl Figure (Funkoween 2022 release) depicts the powerful cursed spirit known to be the undisputed King of Curses. He is the main antagonist of the anime Jujutsu Kaisen.
You can find the pop figure below (click to jump!) A Glow-In-The-Dark version(Walmart Exclusive) can also be found here.
Jujutsu Kaisen is an anime adapted from the manga of the same name by the author and mangaka Gege Akutami. The story revolves around a fictional universe with wizards and curses.
Although it doesn't appear much, this story only exists due to the presence of one character: Ryomen Sukuna, the King of Curses.
Known as an evil and sadistic being, Sukuna was defeated and sealed in his 20 fingers (yes, he has 4 arms in his original form).
It is precisely one of these fingers that the protagonist Yuji Itadori swallows and thus enters the Jujutsu universe and brings Sukuna back to life.
Sukuna Funko Pop! Deluxe (Funkoween 2022) is now available for pre-order at the links below (click to jump!) It's expected to be released in September 2022.
What is officially known about Sukuna's past is that he was known as the King of Curses about 1000 years ago, during the Golden Age of Jujutsu.
He was a ruthless demon with a frightening appearance, having 4 eyes, 4 arms, and a smile as fearsome as his psychopathy. Sukuna ruthlessly killed even women and children, showing no remorse for his cruel actions.
Many wizards tried to defeat him, but most were killed. It is worth remembering that the vast majority of wizards were absurdly strong during the Golden Age, ranking at the Special Level.
It took many wizards to be able to defeat Sukuna, but the demon was so powerful that his body could not be destroyed.
Thus, the wizards decided to seal him in his 20 fingers, transforming these same fingers into cursed objects that separately would not offer any danger, but if someone gathered all 20 and ingested them…
Then, the King of Curses would come back to life with the same strength as a thousand years ago, putting all of humanity at risk.
You can find more Jujutsu Kaisen pops here.
Starting now, you can receive 10% off in-stock items with my special link at Entertainment Earth!
 Enjoy!
As an Amazon Associate I earn from qualifying purchases
Want more stuff like this?
Get the best viral stories straight into your inbox!
Don't worry, we don't spam