NEW Jurassic Park: Dr. Sattler With Triceratops Funko Pop!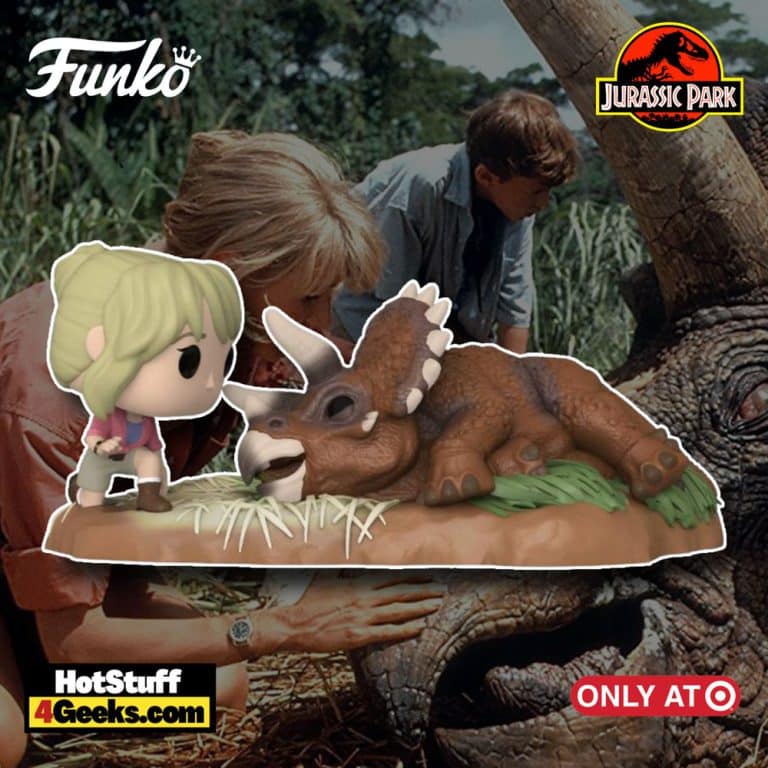 The new Funko Pop! Movie Moment: Jurassic Park – Dr. Sattler With Triceratops Funko Pop! Vinyl Figure – Target Exclusive replicates the scene in Jurassic Park (1993) where a Triceratops fell ill when eating West Indian Lilac, mistaking its fruit for gastroliths.
The pop figure is available below (click to jump!)
During the support team's tour, Dr. Gerry Harding had Robert Muldoon tranquilize the sick animal not to be aggressive. Then, while he was investigating the cause of its illness, the park endorsement team entered the enclosure after Dr. Alan Grant heard the dinosaur's moans.
Dr. Grant hugged Trike upon seeing him. Grant says, "She was always my favorite when I was a kid, and now I see she's the most beautiful thing I ever saw" Dr. Ellie Sattler discovered that Triceratops was sick and decided to stay with Dr. Harding to find out the cause.
Dr. Sattler With Triceratops Funko Pop! Movie Moment from Jurassic Park is now available for pre-order at the links below (click to jump!)
Welcome to Jurassic Park. This is how John Hammond receives the astonished doctor's Alan Grant and Ellie Satler after observing the dinosaurs recreated by the park's staff.
And this is how, in 1993, Steven Spielberg welcomes viewers stunned by the special effects created by the wizards of Industrial Light and Magic in Jurassic Park.
After all, Hammond is the filmmaker's alter ego. A guy who, as he says at one point, gets tired of parlor tricks, of his tacky flea circus, and creates a natural park that would attract everyone's attention.
Spielberg is no different. He manages to show audiences around the world dinosaurs so real that they seem to come to life. Of course, it took 65 million years. But the world, in that year 1993, was finally watching the return of the "terrible dinosaur lizards."
Starting now, you can receive 10% off in-stock items and free shipping on $39+ orders with my special link at Entertainment Earth!
You can also use CODE: 4geeks anytime. Enjoy!
As an Amazon Associate I earn from qualifying purchases
Want more stuff like this?
Get the best viral stories straight into your inbox!
Don't worry, we don't spam