2023 NEW Law & Order: Special Victims Unit (SVU) Funko Pops
Funko Pop! Television: Law & Order: Special Victims Unit Funko Pop! Vinyl  Figures (2023)
Available at:
Funko has delivered a much-anticipated treat to Law & Order: SVU fans by immortalizing the show's most iconic figures in Pop form. Finally, the first Law & Order SVU Funko Pops (2023) are here and are a sight to behold.
The pop figure are now available for pre-order at the links below – click to jump or scroll to continue reading!
Law & Order: Special Victims Unit (SVU) is a highly acclaimed series that follows the life and crimes investigated by an elite squad of the New York Police Department's Special Victims Unit.
This unit specializes in sex crimes, making their work highly emotional and challenging.
Sergeant Olivia Benson is the acting commander of the SVU, leading her team with empathy and professionalism while dealing with her own past demons, including being a rape victim herself and her future as a mother.
Her personal struggles influence how she relates to each victim seeking help.
Here are the already unveiled pops:
Funko Pop! Television: Law & Order (Special Victims Unit) – Odafin "Fin" Tutuola  Funko Pop! Vinyl Figure
Funko Pop! Television: Law & Order (Special Victims Unit) – Olivia Benson Funko Pop! Vinyl Figure
These Pops are a fantastic way to support the show and celebrate its most beloved characters.
Law & Order: Special Victims Unit Funko Pop Figures are now available for pre-order the links below (click to jump!)
The Law & Order series has become a television sensation, despite tackling a complex subject matter – sex crimes, which is the focus of SVU.
The show premiered in 1999, and the public had no idea it would become such a long-lasting hit.
One reason for its success may be that it sheds light on the disturbing reality of society's commitment to such crimes.
The series' consistent success could also be due to its captivating portrayal of how cases unfold and the criminals' punishment.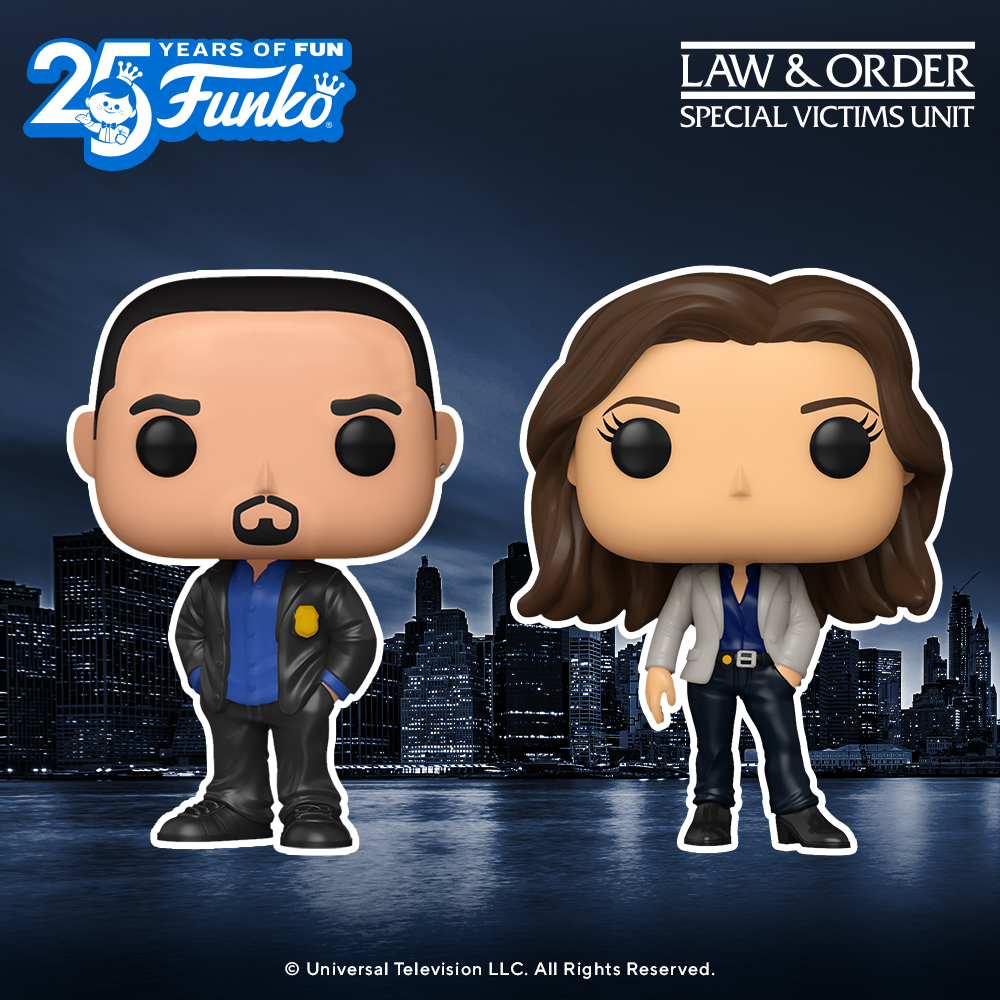 Law & Order has become a voice of society, providing some solace by showing that such crimes are solved and punished, even if it is all fiction.
Mariska Hargitay's personal commitment to the issues addressed in SVU inspired her to create and oversee the Joyful Heart Foundation.
The foundation aims to transform society's response to sexual violence by supporting survivors of these crimes and ending the violence.
Law & Order: SVU has been the longest-running non-animated primetime TV series in the US since the original Law & Order cancellation in 2010. SVU began its 23rd season on September 23, 2021, airing its 500th episode a month later.
Why is the show so popular with its loyal fans? Some actors believe it's the show's subject matter and great storytelling.
Survivors of sexual assault and police officers regularly approach the actors to express gratitude for the show's portrayal of such an important topic.
Whatever the reason for its remarkable success, let's hope we'll continue to see Detectives Benson, Tutuola, and the rest of the cast catch bad guys for many years.
As an Amazon Associate I earn from qualifying purchases
Funko Pop! Television: Law & Order: Special Victims Unit Funko Pop! Vinyl  Figures (2023)
Available at:
Want more stuff like this?
Get the best viral stories straight into your inbox!
Don't worry, we don't spam