NEW Loungefly April 2021 Preview - Arrive May 2021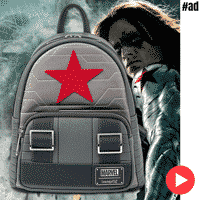 The upcoming May 2021 Loungefly releases will bring our favorites heroes and princesses from Disney, Sanrio, Marvel, The Mandalorian, DC, Sanrio, Jurassic Park, Pokemon, and Harry Potter all packed up in beautiful backpacks, cross bodies, and wallets.
The exciting new May Catalog Pre-orders are all here!
Loungefly April 2021 pre-orders, starting April 1st at 12 AM EST, are already live and available at the links below. Grab your luscious Loungefly needs before they are all gone.