2023 NEW Lucifer TV Series Funko Pops! Collecting the Devil!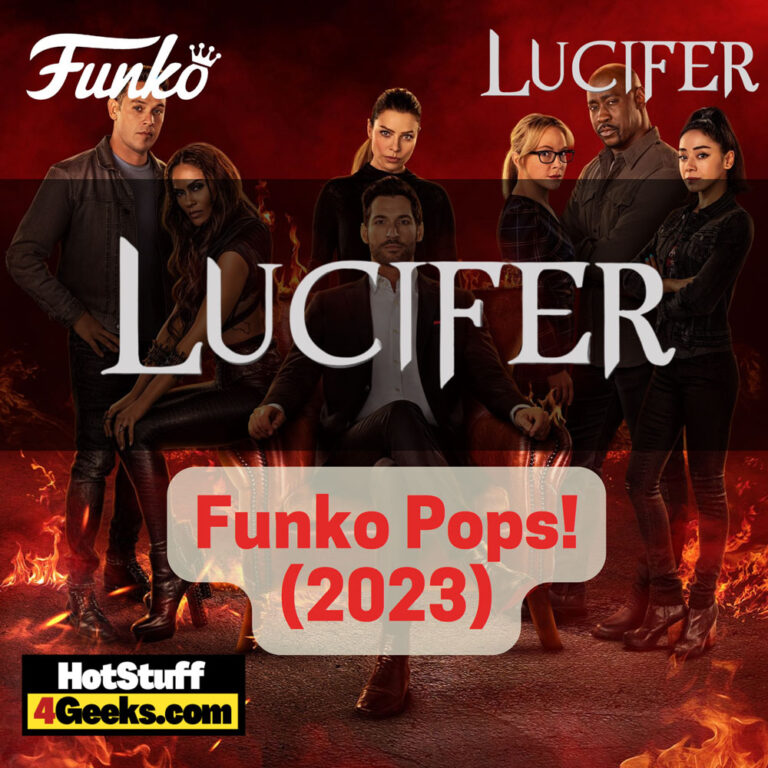 Not official until confirmed.
Get ready, fans of the popular Netflix show Lucifer, because Funko is releasing a new set of Lucifer Funko Pop! Vinyl Figures that will blow your mind!
After what feels like an eternity of waiting, fans can finally get their hands on these highly sought-after collectibles.
Featuring some of our favorite characters from the TV series, this new wave of Funko Pop figures is a must-have for any true fan of the show.
The story of Lucifer centers around Lucifer Morningstar, the angel of Hell who decides to give up his throne and take a vacation in Los Angeles.
With the help of his devilish ally Mazikeen Smith, he opens a nightclub and begins living his life in the City of Angels.
But when a celebrity he helped become famous is murdered, he finds himself involved with the LAPD.
He begins working alongside Detective Chloe Decker to solve murder cases and bring criminals to justice in his own unique way.
Now, with the release of these new Funko Pop figures, fans can bring their favorite characters from the show to life in a whole new way. The set includes:
Lucifer – Amenadiel With Wings Funko Pop! Vinyl Figure
Lucifer – Mazikeen With Weapons Funko Pop! Vinyl Figure
Lucifer – Lucifer Morningstar With Chase Variant Funko Pop! Vinyl Figure
Whether you're a die-hard fan of the show or just starting to discover the world of Lucifer, these new Funko Pop figures are the perfect way to show off your love for the series.
Get your hands on these must-have collectibles today and join the rest of the Lucifer fandom in celebrating the release of this incredible new wave of figures!
Lucifer Funko Pop! Vinyl Figures are an unconfirmed release. It is only official when or if Funko announces it. I'll update more information in the long run.

After a successful run of five seasons, Lucifer finally came to a close with its sixth and final season.
The Netflix original series, acquired initially from Fox, quickly won over a legion of fans around the globe thanks to its unique blend of police procedural and drama genres.
Over the years, Lucifer evolved from a simple police procedural to something much more complex and interesting, delving into the conflicts and intrigues of Heaven and Hell.
And the show managed to keep fans hooked, even with numerous challenging plot twists and turns to resolve.
In the final season, Lucifer's daughter Rory, born to Chloe, pays him a visit from the future, determined to lecture him about what she had to go through without him in her life.
As Lucifer tries to understand why he left without any explanation, the season revolves around the mystery of his disappearance.
Ultimately, it's revealed that Lucifer left to serve the greater good, forcing him to abandon his partner and daughter.
This decision highlights his character growth over the years and serves as a satisfying conclusion to the series.
The finale finds Chloe giving birth to Rory in the hospital, surrounded by her loved ones.
Lucifer, unfortunately, is absent, but viewers learn that he has a good reason for his absence.
Overall, Lucifer's final season manages to deliver an engaging and emotional conclusion to the series while also exploring the complexities of its characters and the worlds they inhabit.
Fans of the show will surely be satisfied with the conclusion, while newcomers will find much to enjoy in the show's unique blend of genres and compelling storytelling.
Funko Pop! Television: Lucifer – Amenadiel With Wings, Mazikeen With Weapons, and Lucifer Morningstar With Chase Funko Pop! Vinyl Figures
Starting now, you can receive 10% off in-stock items with my special link at Entertainment Earth!
 Enjoy!
As an Amazon Associate I earn from qualifying purchases
Want more stuff like this?
Get the best viral stories straight into your inbox!
Don't worry, we don't spam