NEW Marvel Holiday Funko Pops! 2023 Edition: The Perfect Gift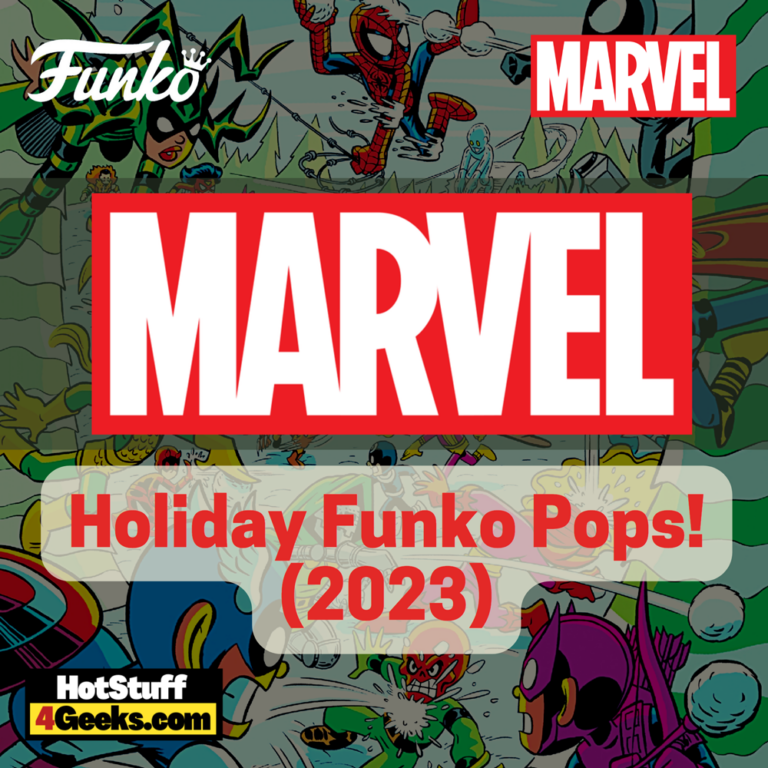 Welcome to the whimsical world of Marvel Holiday Funko Pops! The 2023 Edition is here, and our favorite superheroes are all decked out in holiday cheer.
UPDATE: Now available at Amazon! To get your hands on these Pop Vinyl Figures at their release, be sure to check out the links I've provided below – click to jump or scroll to continue reading!
Unwrapping the Joy: Marvel Christmas Holiday Funko Pops! 2023 Edition
Are you ready to trim the tree with superhero style? Funko has unwrapped an irresistible surprise this year with their new Marvel Holiday edition.
Take Wolverine, our gruff and grumpy anti-hero. True to his style, he sports a "Bah Humbug" sign, perfectly capturing his signature reluctance to indulge in the festive spirit yet somehow making us adore him even more.
The mighty She-Hulk is not just about super strength and courtroom acumen. She arrives on the scene holding a present that screams power but also showcases her softer, generous side.
Iron Man's magnetic charm is heightened as he comes with a Christmas Gift Bag, a symbolic gesture of his resourceful and giving nature.
Spider-Man and Deadpool are not far behind. In their ugly Christmas sweaters, they're adding a dash of humor to the mix. These aren't your typical superheroes – they are jesters, lovers of life, and ugly sweaters.
Each Funko Pop celebrates the season and stays true to the character's essence, reminding us why we love these heroes in the first place. Happy collecting!
So, here's the breakdown for all the Marvel Christmas Holiday Funko Pop! Figures for this release:
Wolverine with "Bah Humbug" Sign Funko Pop! Vinyl Figure
She-Hulk with Present Funko Pop! Vinyl Figure
Iron Man with Christmas Gift Bag Funko Pop! Vinyl Figure
Spider-Man with Ugly Sweater Funko Pop! Vinyl Figure
Deadpool with Ugly Sweater Funko Pop! Vinyl Figure
Wolverine with Bag GITD Funko Pop! Pocket Tee
Spider-Man with Ugly Sweater Funko Pop! Pocket Tee
Groot Funko Pop! Pocket Tee
Marvel Holiday Funko Pop! Vinyl Figures (2023 release) can be found at the links below (click to jump!)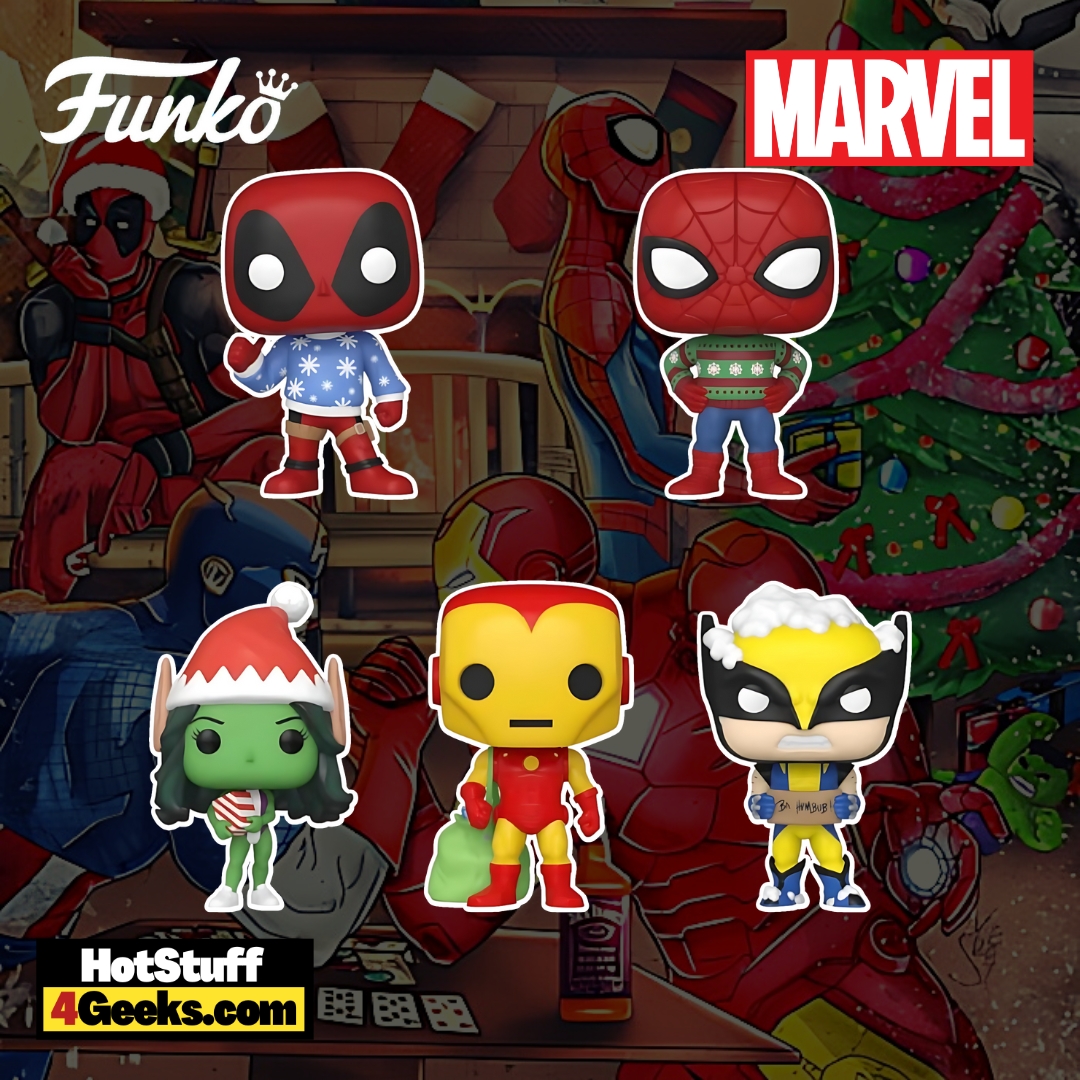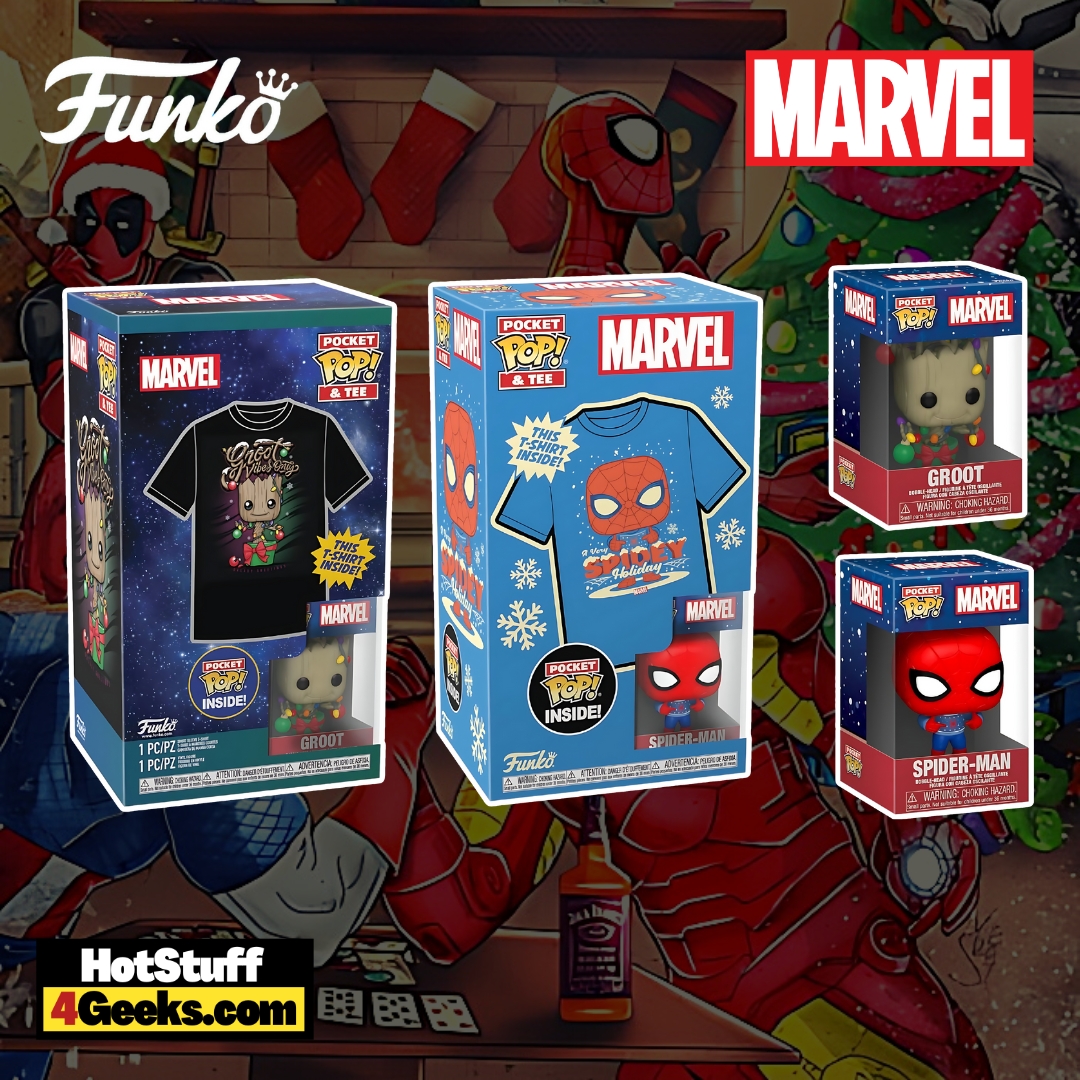 The Marvelous Spirit of Holidays: How MCU Makes Christmas Its Secret Superpower
Is it snowing outside, or is it just another Marvel Cinematic Universe (MCU) movie? Welcome to the heartwarming universe of Marvel holidays!
Let's dive into this winter wonderland and unravel how the MCU masterfully employs the merry spirit of Christmas to take its stories to new heights.
Picture your favorite superhero, and now imagine them swapping their cape for a Christmas hat or trading their battle cries for carols.
Seems a bit odd, right? But not for our beloved Marvel heroes.
The franchise has brilliantly intertwined the festive holiday season into its narrative, turning Christmas into an impactful storytelling device.
The first instance is the thematic emphasis on family and unity central to the MCU. Our heroes are not lone wolves but part of a pack, a found family stitched together by shared goals and deep camaraderie.
So, what better time than Christmas, a season synonymous with togetherness, to highlight these bonds?
It's not just about superheroes saving the world; it's about them being a part of it, celebrating love, unity, and the joy of being together.
However, the MCU doesn't stop at spreading holiday cheer. It boldly ventures into more profound themes.
The contrast of the cold, dark winter with the warm festive celebrations sets an evocative backdrop to explore the character's loneliness and personal struggles.
Despite their incredible feats, it allows for a poignant exploration of a superhero's isolation, making them relatable and human.
Moreover, the vibrant, colorful visuals of Christmas play a significant role in enhancing the MCU's aesthetics.
Think of New York draped in a blanket of shimmering holiday lights or the contrast of a candy cane against a snowy backdrop.
These vibrant visuals break the monotony of the usual cityscape and add depth and character to the narrative, transforming the everyday into something extraordinary.
Yet, beyond the aesthetics and emotional depth, the MCU leverages the season of giving to underscore the inherent heroism of its characters.
After all, superheroes and Christmas have one key aspect in common – the spirit of giving.
Watching our heroes navigate the holidays, engaging in acts of kindness and generosity, serves to humanize them, reminding us that despite their superhuman abilities, they share the same joys, hardships, and traditions as us.
In conclusion, the MCU's clever use of the holiday season offers more than just a festive backdrop.
It enhances the narrative, adds depth to character arcs, brings visual vibrancy, and reminds us of the heroes' inherent generosity.
It's a narrative tool that, much like a perfectly wrapped present under a Christmas tree, continues to bring joy, surprise, and a touch of magic to the ever-expanding universe of Marvel.
Starting now, you can receive 10% off in-stock items with my special link at Entertainment Earth!
 Enjoy!
As an Amazon Associate I earn from qualifying purchases
Want more stuff like this?
Get the best viral stories straight into your inbox!
Don't worry, we don't spam