NEW McDonald's Halloween Funko Pop! 2023: Scary Meets Cute
by

PopCorn Princess

July 12, 2023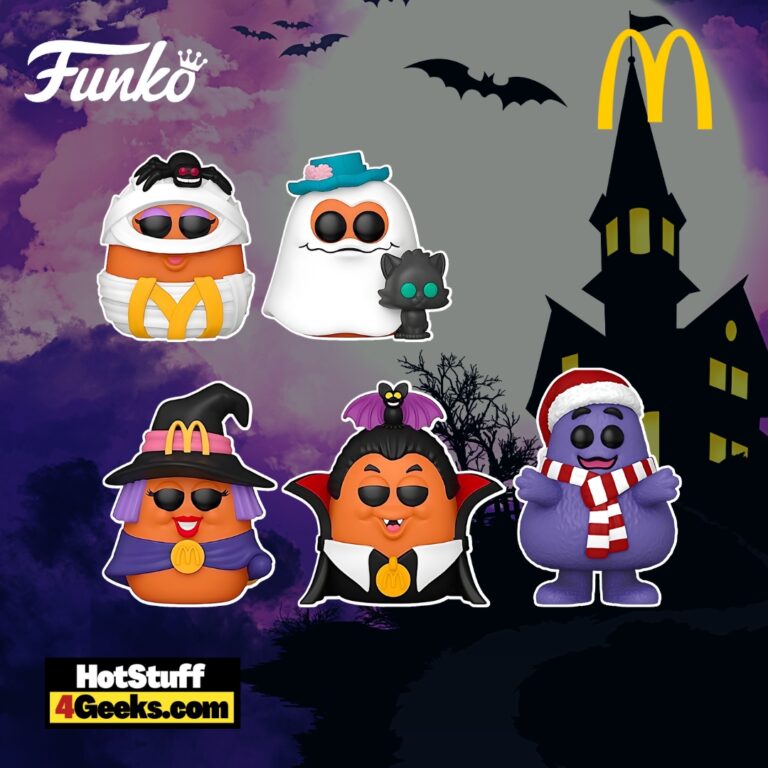 Immerse yourself in the captivating world of McDonald's Halloween celebrations with the release of the new Funko Pop! Ad Icons: Halloween McDonalds Funko Pops! (2023). Each character is not just a representation of Halloween whimsy but a testament to the magic of McDonald's and its unique ability to intertwine nostalgia and innovation.
To get your hands on these Pop Vinyl Figures at their launch, be sure to check out the links I've provided below – click to jump or scroll to continue reading!
The Unforgettable Charm of Halloween McDonald's Funko Pops! 2023
Step into the enchanting world of McDonald's Halloween celebrations with their new 2023 Funko Pop! Ad Icons.
Each vinyl figure is a delightful fusion of the quintessential McDonald's charm and the spooky essence of Halloween.
Consider the Holiday Grimace Funko Pop! Vinyl Figure. This enchanting figure is a vibrant purple entity that masterfully blends Halloween festivity with the heartwarming nostalgia of Grimace.
The character's joyous demeanor and holiday flair embody the playful spirit of McDonald's Halloween.
Similarly, the McBoo, Mummy, Vampire, and Witch McNugget figures are captivating reinterpretations of the beloved McNugget buddies, now sporting a charmingly spooky Halloween guise.
Each detail is meticulously crafted, from McBoo's phantom-like grin to the Mummy McNugget's carefully wrapped exterior and the Vampire McNugget's striking cloak.
The Witch McNugget, though broomless, doesn't disappoint with her captivating hat and cloak, showcasing the essence of Halloween with sheer elegance.
These figures add an enthralling twist to McDonald's Halloween celebration.
As McDonald's continues to reinvent its holiday traditions, the 2023 Funko Pop! series stands as a testament to the brand's ingenuity and spirited creativity.
This year, Halloween at McDonald's is not merely about the delectable food—it's about a celebration of whimsical nostalgia, a journey back to simpler times, and a heartening toast to the joyous present.
So here's the Halloween McDonalds Pops! checklist for this year:
Holiday Grimace Funko Pop! Vinyl Figure
McBoo McNugget Funko Pop! Vinyl Figure
Mummy McNugget Funko Pop! Vinyl Figure
Vampire McNugget Funko Pop! Vinyl Figure
Witch McNugget Funko Pop! Vinyl Figure
Mcdonald's (Halloween) Funko Pops! (2023) can be found for purchase at the links below (click to jump)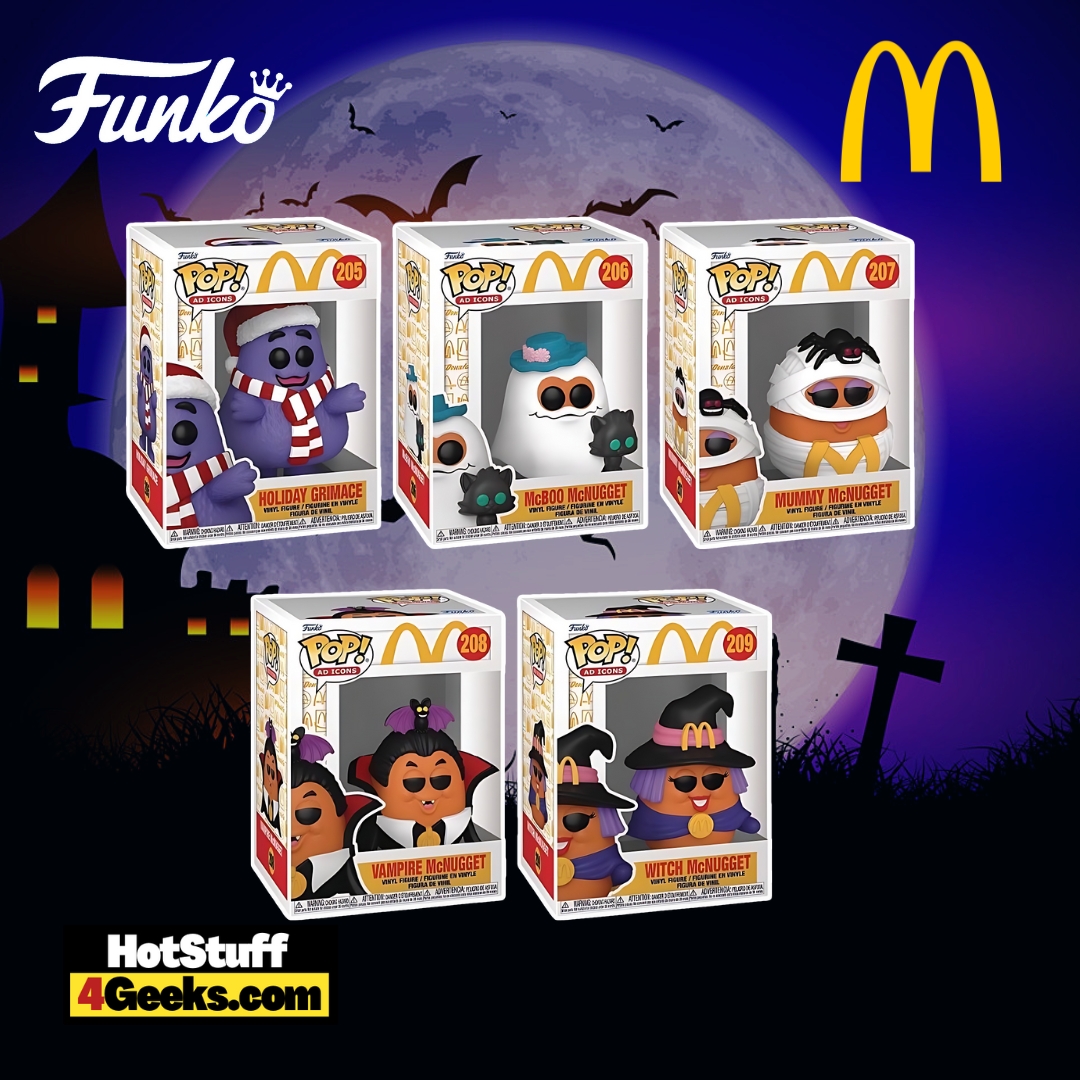 From Classic Buckets to Funko Pops: McDonald's Evolving Halloween Traditions
As we usher in the crisp autumn breeze and welcome the delightful season of Halloween, a sense of nostalgia fills the air.
This nostalgia is not just about the costumes, candy, and decor. It's about one iconic tradition that made Halloween special for many of us in the '80s and '90s – McDonald's Halloween buckets.
Introduced back in 1986, these iconic Happy Meal pails were not your ordinary containers.
They came in fun designs, each one radiating the unique charm of Halloween.
McPunk'n, McBoo, and McGoblin were more than just Happy Meal pails.
They were tiny vaults of childhood memories. Over the years, the buckets evolved, with new characters making their appearances and some classic ones getting a makeover.
Now, as we move into Halloween 2023, McDonald's, in partnership with Funko, is reviving this tradition in a new, exciting form – McDonald's Halloween Funko Pops!
Bringing back the nostalgia with a modern twist, this collection reminds us of the cherished memories associated with McDonald's Halloween.
Among the exciting lineup are the McBoo McNugget and Holiday Grimace Funko Pop! Vinyl Figures.
These two take us back to the beginning, to the time when McDonald's first introduced the Happy Meal Halloween pails.
The unique charm of McBoo, one of the original Halloween pails, is perfectly captured as a Funko Pop! vinyl figure.
But the nostalgia doesn't stop there. McDonald's Halloween Funko Pops! collection has added a few more characters to the mix.
The Vampire McNugget, Witch McNugget, and Mummy McNugget Funko Pop! Vinyl Figures are set to become iconic characters loved by the current generation and admired by the older ones who remember the original pails.
Much like the Happy Meal pails that took the '80s and '90s by storm, these Funko Pops! figures are more than just collectibles.
They represent the ongoing evolution of McDonald's Halloween traditions.
They symbolize how McDonald's continuously brings joy and excitement to Halloween by blending nostalgia and novelty.
So, whether you're an ardent collector of Funko Pops! or simply want to relive your Happy Meal days, this McDonald's Halloween Funko Pops! collection is the perfect Halloween treat.
It's a way to reminisce about the good old days while embracing the present, keeping the Halloween spirit alive and thrilling as always.
In this new era of McDonald's Halloween celebrations, the Funko Pops! line is a testament to the fast-food chain's commitment to creating lasting memories.
And who knows?
This might just be the beginning of another cherished tradition.
Until then, here's to the joy of Halloween and the delightful surprises McDonald's brings to it.
Starting now, you can receive 10% off in-stock items with my special link at Entertainment Earth!
 Enjoy!
As an Amazon Associate I earn from qualifying purchases
Want more stuff like this?
Get the best viral stories straight into your inbox!
Don't worry, we don't spam
PopCorn Princess
Hey there, I'm Princess. I'm an annual comic con attendee, Star Wars-loving, and collector freak. My mission is simple: To bring cool geeky news and content and share my passion with the rest of the world. (... I secretly wish to save the world as a superheroine...)