2023 NEW Michael Jackson's Thriller Funko Pop! Album
In the echelons of music history, few albums have left as indelible a mark as Thriller by Michael Jackson. Paving the way for the King of Pop's global fame in 1982, it remains an irreplaceable cornerstone of popular culture. Inspired by one of the most popular albums of all time comes the new Funko Pop! Albums: Thriller – Michael Jackson Funko Pop! Album Vinyl Figure.
To Get your hands on this Pop Vinyl Figure, be sure to check out the links I've provided for you below – click to jump or scroll to continue reading!
A testament to its enduring allure, Thriller has been lauded as one of the greatest albums ever crafted.
Not only does it hold a distinguished spot in the annals of the Guinness Book of Records as the best-selling album ever, but it has also garnered a staggering 97 awards and has sold more than 14 million VHS copies of the eponymous music video alone.
Fast forward four decades and the ripples of Thriller's monumental impact continue to vibrate through the very fabric of the music industry. That's the magic of Michael Jackson – magic that continues to captivate hearts and eardrums the world over.
In short, this isn't merely about a Funko Pop! Figure, it's about a celebration of a monumental character, an unparalleled talent, who has been a beacon of inspiration to millions. And as you admire this tribute to the King of Pop's iconic Thriller era, remember, it's about the man, the legend, the album that shaped and continues to shape music history.
Now that's what you call a 'Thriller'!
Michael Jackson's Thriller Funko Pop! Album is now available for pre-order and can be found at the links below (click to jump!)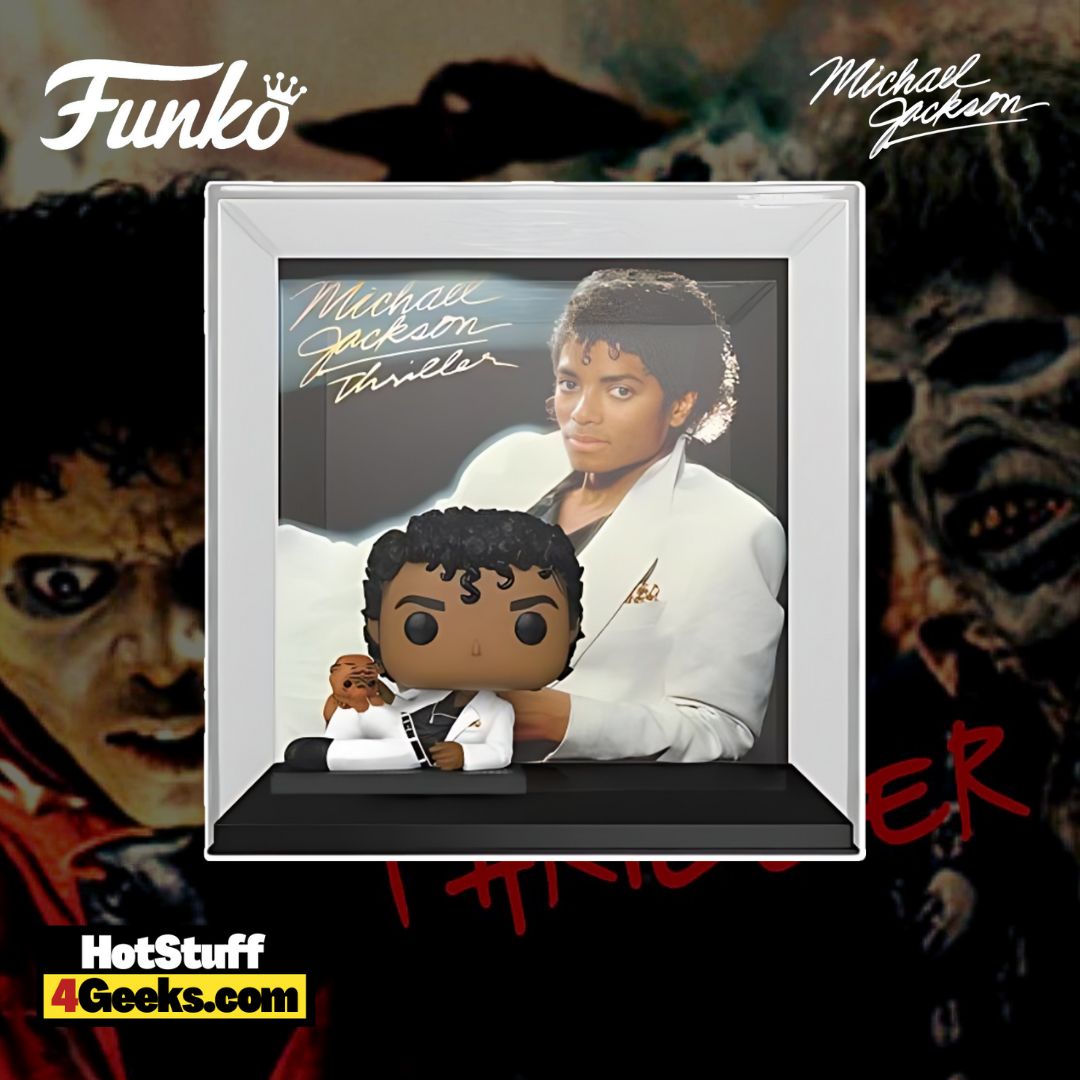 For many years Michel Jackson was a voice that was widely (re)known.
Not only for his work with Jackson 5 in the early 70s but also for a solo career that started when he was one of the major voices in a new generation of artists revealed by Motown.
In 1979, under Quincy Jones' production, the album Off The Wall, which assimilated ideas between disco sound and pop to propose new ways to face the rhythm "n "blues heritage, launched new ideas.
These ideas would take a more extensive (and definitive) shape in Thriller, the album Michael Jackson released on November 30, 1982.
Reducing it to the idea of "the best-selling album in history" is just looking at the numbers. The album went very far and made its mark both on an artistic level and within the social space. It contributed to a progressive blurring between logics of separation by skin color, still visible in the early 1980s.
By "crowning" himself king of pop, Michael Jackson showed that a man who was not born with white skin could be more than just a reference for popularity.
He could be an icon. And whether he was black or white, as he would sing years later, it didn't matter. Or it was beginning not to matter anymore.
Thriller represented the perfecting of a pop vision resulting from the confluence of several references and roots, not only in the spaces of so-called black music but in the pop scene of the time.
It contains an unusual collection of irreproachable songs, from Billie Jean to Beat It, from Wanna Be Startin' Somethin' to the title track, and one of the two duets Michael Jackson recorded with Paul McCartney.
And, despite the experiments made in the days of Off The Wall, it is here that Michael Jackson's relationship with the video record goes deeper, resulting in unforgettable episodes such as those we saw to the sound of:
Billie Jean (walking down that street where the stones on the ground light up step by step),
Beat It (in an allusion to the classic West Side Story) or, of course,
Thriller (Michael Landis' film that changed the history of the video record).
Only the most absent-minded of Martians will not know which songs I am talking about …
As an Amazon Associate I earn from qualifying purchases
Want more stuff like this?
Get the best viral stories straight into your inbox!
Don't worry, we don't spam