2022 NEW Mr. Clean Funko Pop! Ad Icons
by

PopCorn Princess

April 14, 2022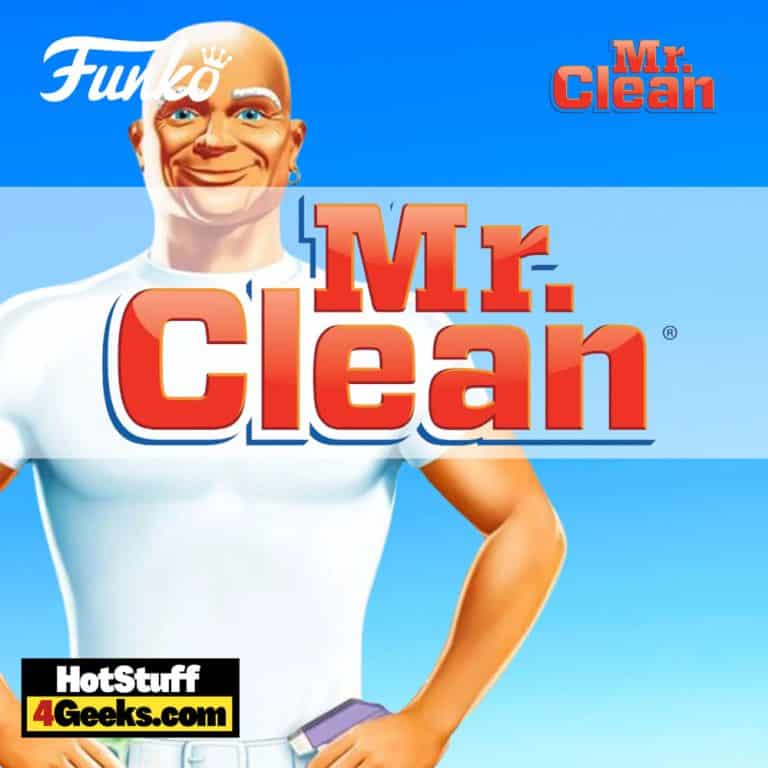 Not official until confirmed.
The new Funko Pop! Ad Icons: Mr. Clean Funko Pop! Vinyl Figure depicts the mascot of one of the most recognizable brands in the world.
Mr. Clean is the brand name and mascot of household cleaning products owned by the American company Procter & Gamble. The Mr. Clean logo is a bald, muscular man with a gold earring who wears a white T-shirt and jeans.
The character first appeared in 1958 in television commercials and has been used in print ads, radio ads, and product packaging.
In recent years, Mr. Clean has also been featured in a series of digital shorts on social media platforms. While the Mr. Clean character has undergone some changes over the years, he remains one of the most recognizable mascots in the world.
Thanks to his signature look and catchphrase, "I'm Mr. Clean, I'm here to help," Mr. Clean has become synonymous with cleanliness and is known for tackling even the toughest messes.
Mr. Clean Funko Pop! Ad Icon is an unconfirmed release. It is only official when or if Funko announces it. I'll update more information in the long run.

Mr. Clean, the world's most famous cleaner, was born in a small town in Ohio. His parents were hard-working folks who lived by the motto "if something is worth doing, it's worth doing right," and they passed on that work ethic to their son.
With this same work ethic, Mr. Clean set out across the globe on a mission to become the best, toughest, hardest working cleaner in history.
Through his years of research, Mr. Clean compiled all of his findings and adventures into 'The Encleanapedia' – a chronicle of everything he'd learned about cleaning.
This book eventually made its way into the hands of Procter and Gamble, who immediately saw the potential in Mr. Clean. They knew he had the ability to change the way people clean forever.
For Mr. Clean, partnering with Procter and Gamble was a dream come true. Together, they've been able to bring innovative cleaning products and solutions to homes all around the world. Mr. Clean is truly a one-of-a-kind cleaner, and his legacy will continue to live on for many years to come.
Starting now, you can receive 10% off in-stock items with my special link at Entertainment Earth!
 Enjoy!
As an Amazon Associate I earn from qualifying purchases
Want more stuff like this?
Get the best viral stories straight into your inbox!
Don't worry, we don't spam
PopCorn Princess
Hey there, I'm Princess. I'm an annual comic con attendee, Star Wars-loving, and collector freak. My mission is simple: To bring cool geeky news and content and share my passion with the rest of the world. (... I secretly wish to save the world as a superheroine...)