2022 NEW No Way Home – Green Goblin Metallic Funko Pop!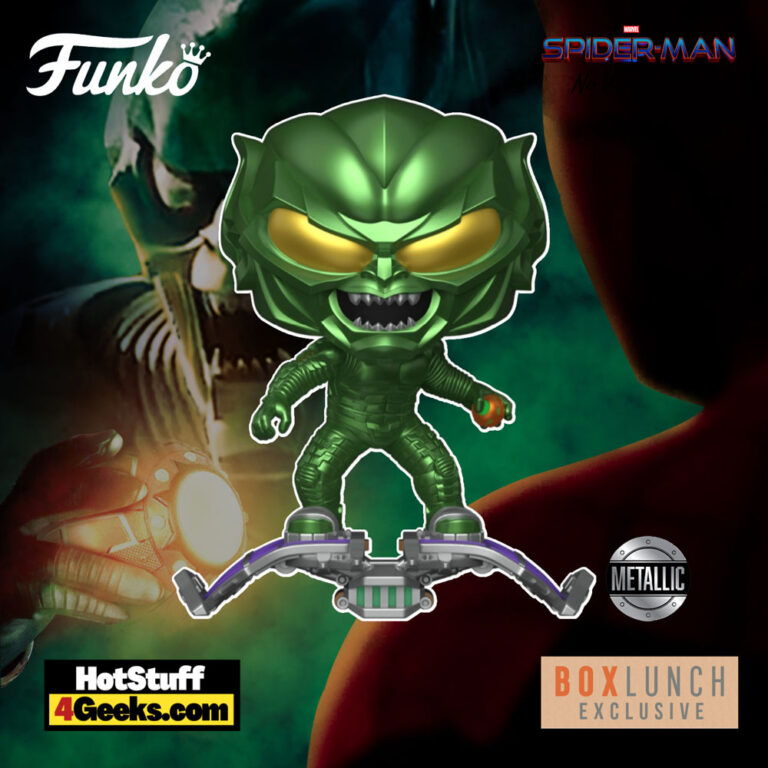 Further expanding on the Spider-Man: No Way Home collectible line, Funko presents the new Funko Pop! Spider-Man: No Way Home – Green Goblin Metallic Funko Pop! Vinyl Figure BoxLunch Exclusive.
The pop figure is now available for pre-order at the links below – click to jump or scroll to continue reading!
The first villain in a Spider-Man movie is also one of the most memorable to date. Played by Willem Dafoe, Norman Osborn is an eccentric scientist who, after inventing a formula to create more powerful people, decides to test it on himself.
Osborn is possessed by some kind of evil entity that makes him turn into the Green Goblin and want to kill Spider-Man.
Norman is one of those characters who always seem to struggle between madness and intelligence. Because of his iconic looks, he quickly became one of Spider-Man's main villains.
The BoxLunch exclusive Green Goblin Metallic Funko Pop is now available for pre-order at the links below (click to jump!)
The conclusion of Tom Holland's first Spider-Man trilogy brought several villains from the universe. The Green Goblin was one of them, and besides giving us Willem Dafoe back in the role of the villain, Marvel even fixed the end of the character's trajectory.
Willem Dafoe stole the show in the last Spidey movie, showing that even 20 years later, he was sharp enough to play the villain again. Norman Osborn was the first to rebel against the cure presented in the film and led young Peter through an inconsolable tragedy.
But we can't forget that the villain is also the victim of a tragedy when he tried to create a super-soldier formula and ended up in Goblin control.
By preventing Tom Holland's Spider-Man from taking Norman's life, Tobey Maguire's character corrected the flaw of not trying to save Norman in his film.
It even freed Holland's Peter from the guilt he still carried because he could not save Norman.
Peter Parker's story is always surrounded by loss and tragedy, whichever film in the trilogy we revisit. But it was nice to see that the film gave Dafoe's character a chance for salvation.
Check out more Spider-Man No Way Home here.
Starting now, you can receive 10% off in-stock items with my special link at Entertainment Earth!
 Enjoy!
As an Amazon Associate I earn from qualifying purchases
Want more stuff like this?
Get the best viral stories straight into your inbox!
Don't worry, we don't spam