Funkoween 2022: Nosferatu 100th Anniversary Funko Pop!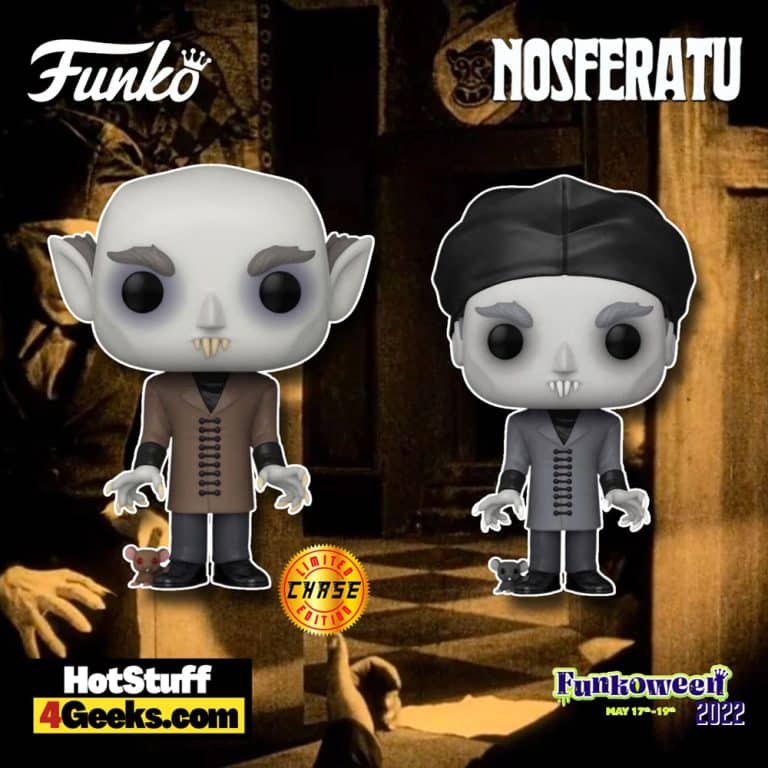 The historical horror film Nosferatu was released in Germany on March 4, 1922, now marking its 100th anniversary. To celebrate this landmark, Funko found a way to go to the treasure trunk and is launching the new Funko Pop! Movies: Nosferatu 100th Anniversary – Nosferatu With Chase Funko Pop! Vinyl Figure (Funkoween 2022 release).
You can find the pop figures below (click to jump!)
Nosferatu, by director F.W. Murnau and starring Max Schreck as Graf Orlock, is a classic among the classics and continues to scare many people today.
An unauthorized adaptation of Bram Stoker's Dracula, the silent movie became one of the greatest exponents of German expressionism. The film was the first to feature a vampire on stage and helped shape the image of vampires in the modern world.
It was also the first movie to be banned from theaters. And it was only not banned from history because some copies escaped incineration and reached the USA, being saved because they were already in the public domain.
Nosferatu 100th Anniversary Funko Pop! With Chase (Funkoween 2022) is now available for pre-order at the links below (click to jump!)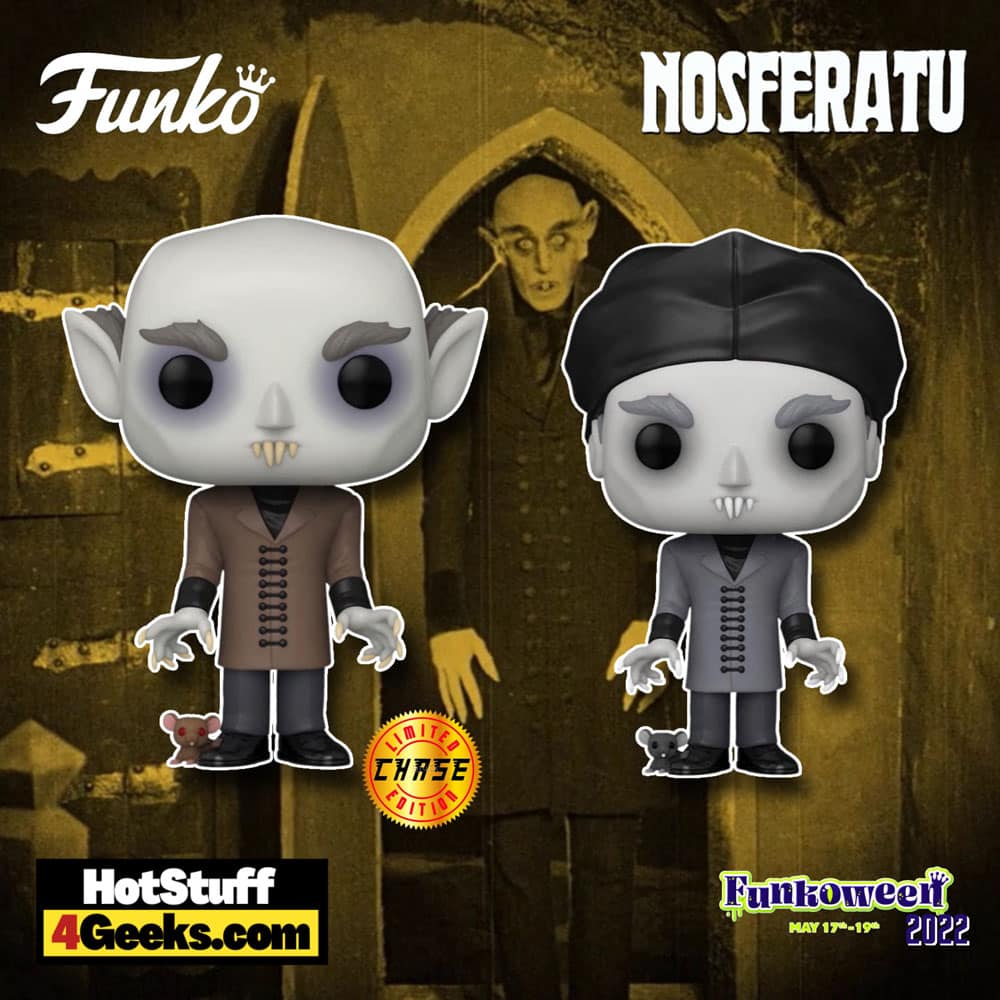 Precisely 100 years ago, the film that would become one of the great titles of German expressionism, silent cinema, and horror premiered in Germany.
Friedrich Wilhelm Murnau's Nosferatu (1922) was the first screen production to feature a vampire as its central element and brought visual insights that have been a legacy for generations of filmmakers who have returned to the theme from then until today.
The film was, in fact, primarily based on Bram Stoker's classic Dracula (1897) – but the family's refusal to sell the copyright to the production company led Murnau's iconic film to create its own mythology in the figure of the decrepit Nosferatu – played by German Max Schreck.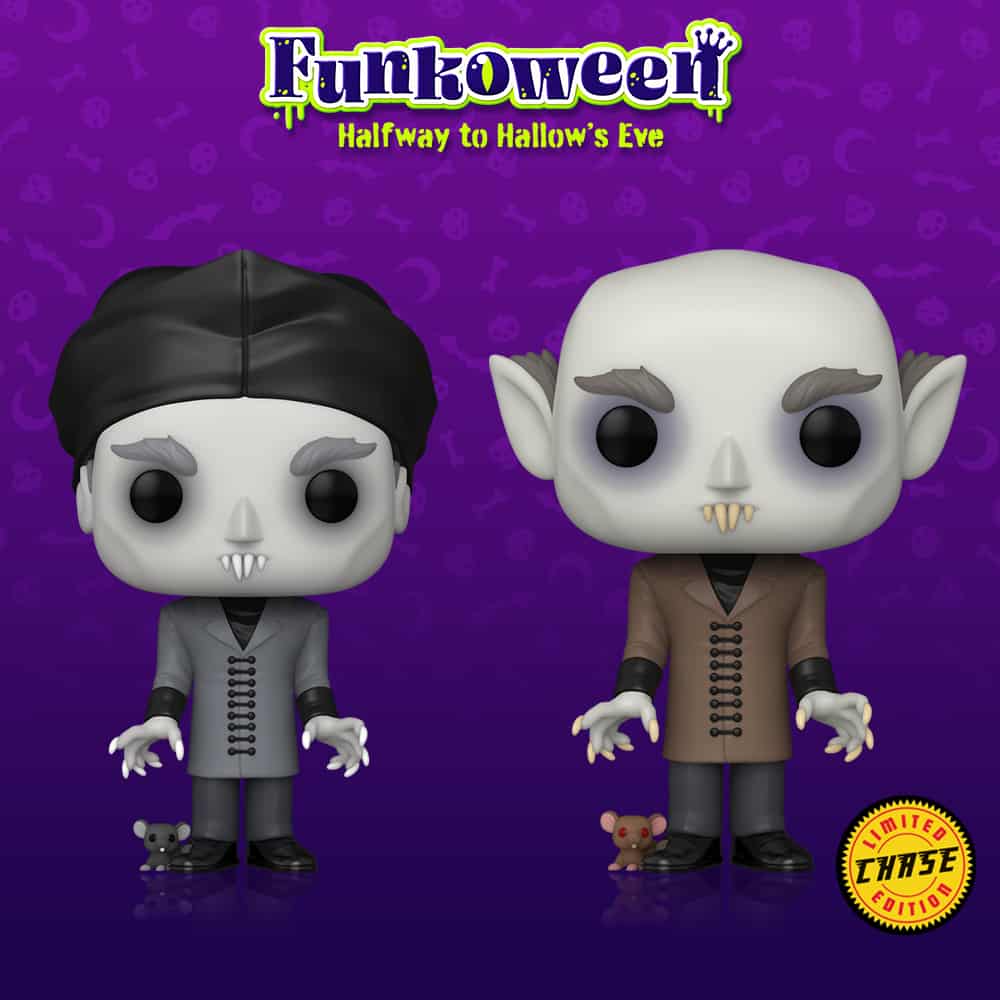 In 1921, Germans Albin Grau and Enrico Dieckmann founded the production company Prana Film, whose only work was Nosferatu.
Grau wanted to develop a vampire film from his personal experience in World War I when he heard from a farmer that his father had been a vampire.
From this, he asked Henrik Galeen to work on a script based on Dracula and hired Murnau as director.
Bram Stoker's heirs did not grant the necessary permission for the novel to be adapted – but this did not stop the team.
Galeen made some changes to the plot, especially the characters' names: Nosferatu tells the story of Count Orlok, a vampire who moves to the town of Wisborg, where he falls in love with Ellen Hutter while terrorizing the place.
Despite the changes in the narrative, the author's relatives took legal action and sued the film for plagiarism, which led to a court decision that demanded the destruction of all copies of the film.
Of course, some of them survived, leading the work to be reproduced enough times to become a classic of the genre – especially after 1962, when Dracula officially entered the public domain.
As a classic of German expressionism, Nosferatu expresses elements such as shadows and contrasts, distorted images, and exaggerated sets and characterizations.
The goal was to highlight human anguish through visuals that were macabre and at odds with reality – especially since the movement flourished during war and the economic consequences that ravaged Germany.
In Nosferatu, Murnau created a nightmarish atmosphere, portraying human misery through the dread that a vampire with teeth, nails, and pointed eyebrows arouses in a town and its inhabitants.
And so, a 100-year legacy was made, one that frightens and fascinates movie lovers to this day.
Funko Pop! Movies: Nosferatu 100th Anniversary – Nosferatu With Chase Funko Pop! Vinyl Figure (Funkoween 2022)
Available at:
Starting now, you can receive 10% off in-stock items with my special link at Entertainment Earth!
 Enjoy!
As an Amazon Associate I earn from qualifying purchases
Want more stuff like this?
Get the best viral stories straight into your inbox!
Don't worry, we don't spam