2022 NEW One Piece: Armored Chopper with Chase Funko Pops!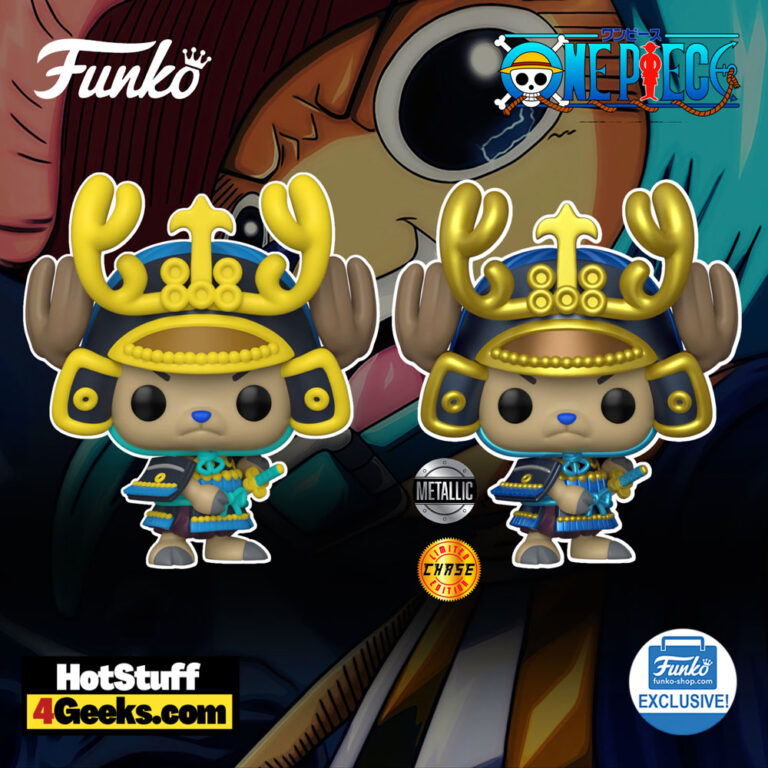 Ready for a ride on the high seas? Then set sail with the new Funko Pop! Animation: One Piece – Armored Chopper Funko Pop! Vinyl Figure with Metallic Chase – Funko Shop Exclusive. Get ready to join your buddies Luffy, Zoro, and Brook in surveillance to take down Kaido as true warriors.
Pop! Armored Chopper – One Piece with CHANCE OF CHASE is dropping today on Funko.com at 9:30 AM PT at the links below – click to jump or scroll to continue reading!
And better yet, who knows what you'll come across during your journey? There might be buried treasure or… a 1-in-6 chance of finding the ultra-rare, collectible metallic version of our hero.
I think we can all agree that it's worth trying for!
Talk about an unexpected find! Now that's a real heavy hitter – just like the Straw Hat Pirates themselves.
Featuring Dr. Tony Tony Chopper from One Piece wearing his shiny Samurai armor, this Chopper is suited up and ready to take on enemies like Kaido with his unusual weapons and powerful team of Luffy and Brook.
The Funko Shop Exclusive, Armored Samurai Chopper, and Metallic Chase Funko Pops!  can be found at the links below (click to jump!)
Tony Tony Chopper of the Straw Hat Pirates is a highly unique figure in the pirate world, known as much for his kind heart and enthusiastic naivety as he is for his ability to change forms.
With the powers of the Zoan-type Hito Hito no Mi, Chopper can transform into a fully human form, with all the advantages it brings when it comes to navigating tricky situations.
His hybrid reindeer form also gives him increased strength and agility on land and at sea–an invaluable asset for any crewmember.
He's also essential to Luffy and company thanks to his first-rate medical competence, granting them respite from injury or illness such that they can continue their adventure across the world.
He's known for his innocent naivety as well as his strong loyalty to his crew.
His catchphrases always get a laugh, and his eclectic and often hilarious transformations will never cease to amaze us.
Despite being a reindeer doctor and not having the traditional Samurai look, he still proudly beds himself into the samurai group of Luffy's gang.
Although he doesn't have extraordinary strength – he has a definite heart.
We all love Samurai Chopper, and this fluffy yet fierce fighter is sure to stay in the hearts of fans for years to come!
Starting now, you can receive 10% off in-stock items with my special link at Entertainment Earth!
 Enjoy!
As an Amazon Associate I earn from qualifying purchases
Want more stuff like this?
Get the best viral stories straight into your inbox!
Don't worry, we don't spam