2022 NEW One Piece – Samurai Brook With Chase Funko Pop!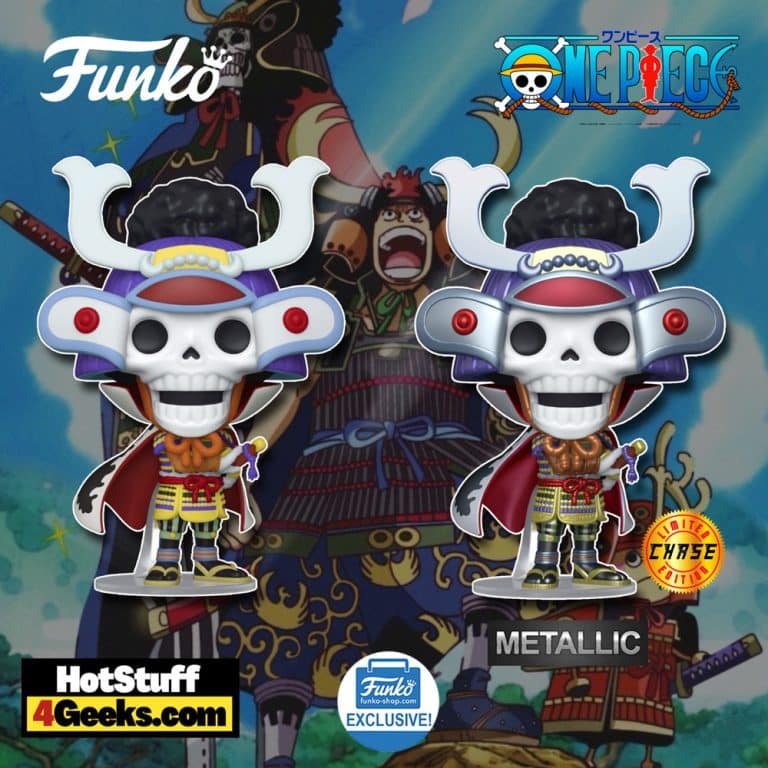 With 1000+ episodes to watch, some people question total dedication to One Piece. But through every filler episode to canon lines that hold your heart, some characters keep us coming back.
This is especially when they've returned from the dead! Celebrate one such character with this Funko Pop! Animation: One Piece – Samurai Brook With Metallic Chase Funko Pop! Vinyl Figure – Funko shop Exclusive, modeled after Brook in "The Promised Port! Wano Country Arc Act 3 Begins, " from the 959th episode of the One Piece anime.
You can find the pop figure below (click to jump!)
Episode 959 went through several cores of the rebel alliance, and one of them was the Amigasa Village, where Hitetsu ended up offering some Samurai armor to Luffy, Chopper, and Brook.
The three were highly excited, and after putting on the armor, they were pretty confident that they would defeat Kaido and the Beast Pirates.
Samurai Brook With Metallic Chase Funko Pop! drops June 1, 2022, at 9:30 AM and can be found at the links below (click to jump!)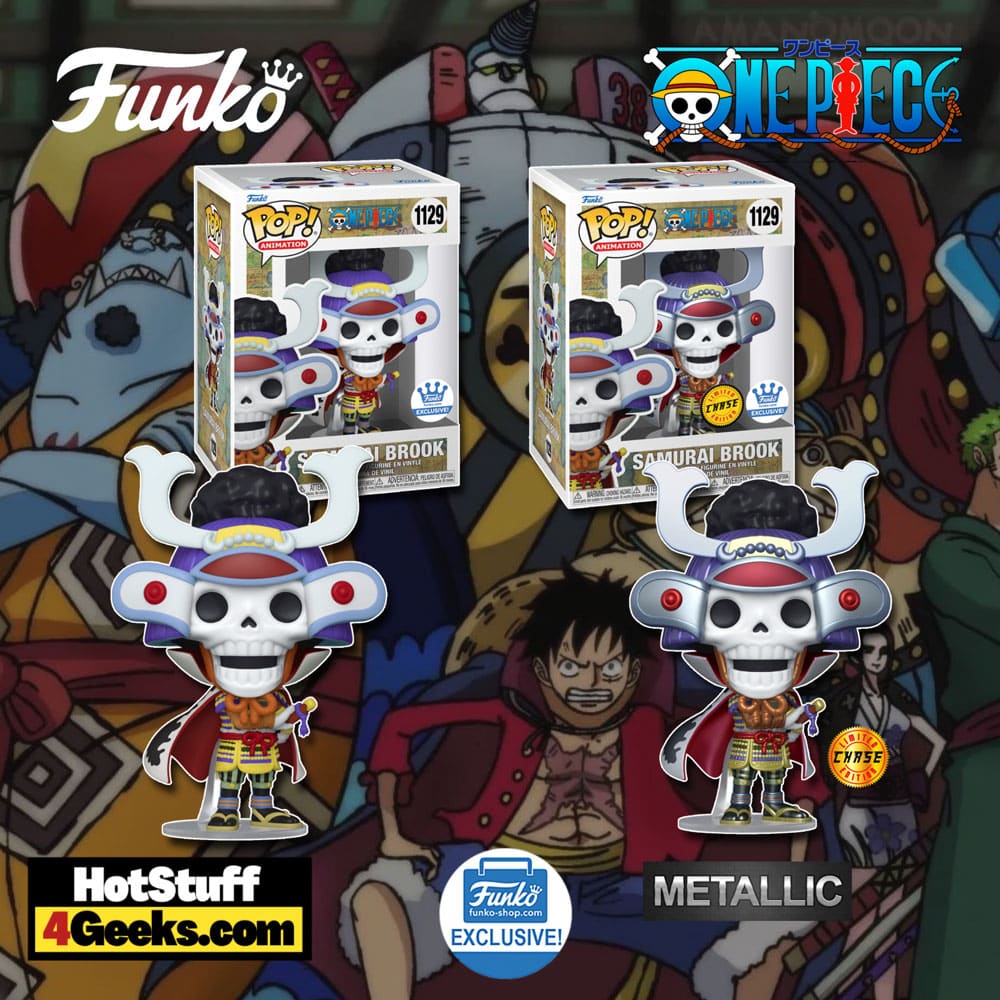 Originally a member of the Rumbar Pirates, Brook died and was resurrected through the power of the Yomi Yomi no Mi. However, his body decomposed and became a living skeleton because his soul was slow to reincarnate.
After that, he wandered alone at sea for 50 years until he met Luffy. After that, he served as the Straw Hats' ally during the Thriller Bark Arc before officially joining the crew.
Besides being one of the most beloved members of the Straw Hat Pirates crew, Brook is also the user of one of the most unusual Akuma no Mi, known as Yomi Yomi no Mi.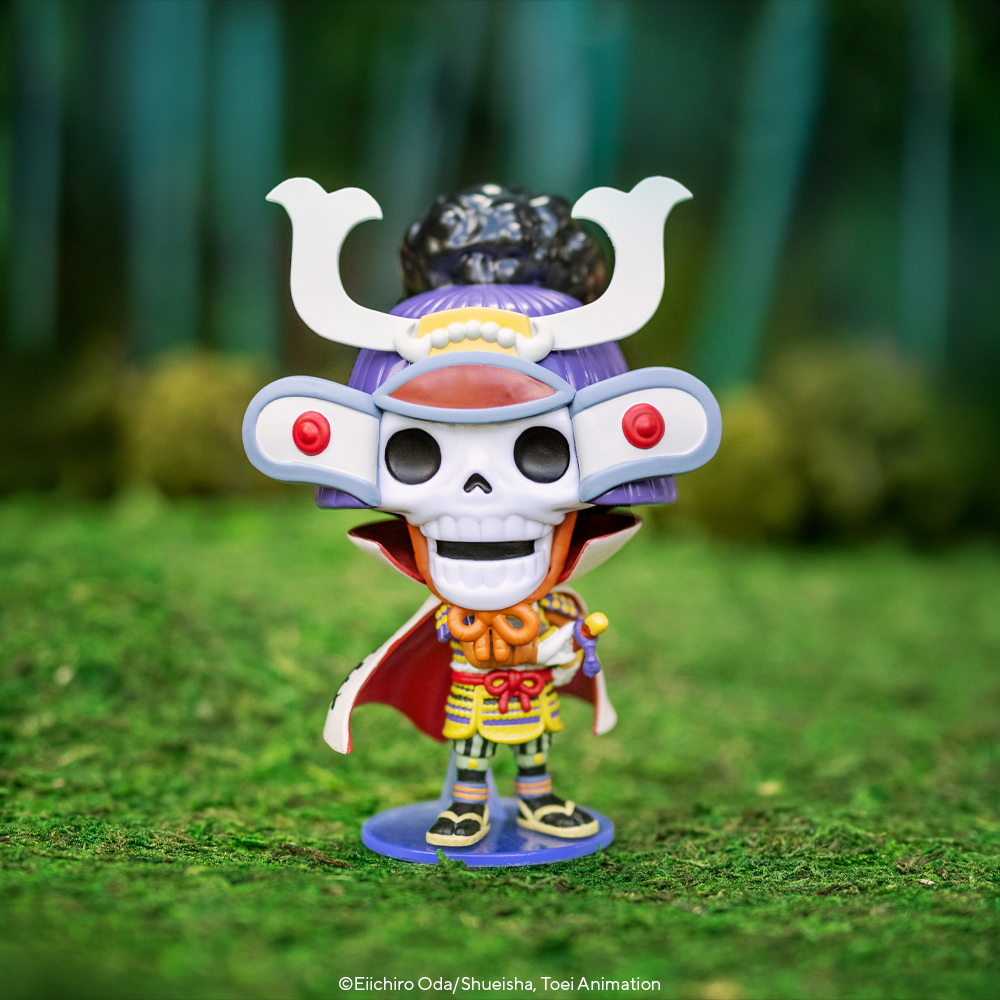 Basically, this is a Paramecia type Akuma no Mi that has the main effect of allowing its user to stay alive after death. However, being a relatively broad concept, Yomi Yomi no Mi has several unique characteristics and some restrictions.
First of all, it is worth remembering that because of its effect, this fruit remains inactive until its consumer suffers his first death so that his soul remains alive and can return to his body, regardless of the state he is in.
Thus, the user gains a sort of "immortality by being revived." Theoretically, the only way to kill him is through drowning in the sea, just as with other Akuma no Mi users.
However, even though Brook's body is a skeleton, it has basically the same functionality as a normal body, including the ability to eat and digest food.
Interestingly enough, drinking milk turns out to be very beneficial to his body since the calcium heals his bones and repairs them if they have been broken in battle.
In addition, it has the ability to produce organic matter such as tears and even blood through the nose, even though it has no internal organs. This same logic also applies to Brook's nervous system, with him being able to feel pain and fatigue.
You can find more One Piece collectibles here.
Funko Pop! Animation: One Piece – Samurai Brook With Metallic Chase Funko Pop! Vinyl Figure – Funko Shop Exclusive
Available at:
Starting now, you can receive 10% off in-stock items with my special link at Entertainment Earth!
 Enjoy!
As an Amazon Associate I earn from qualifying purchases
Want more stuff like this?
Get the best viral stories straight into your inbox!
Don't worry, we don't spam