2023 NEW Schitt's Creek Season Finale (Wedding) Funko Pops!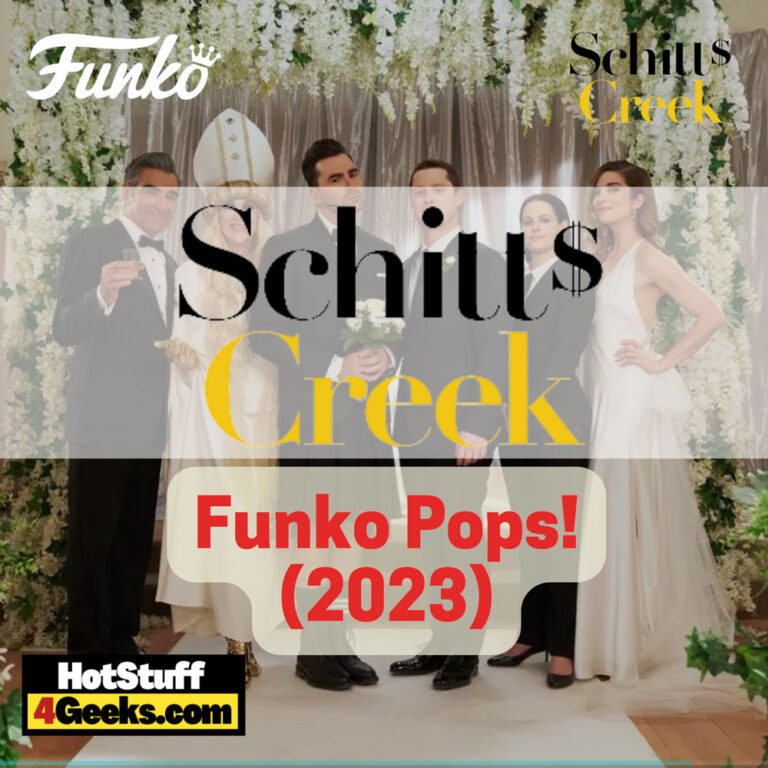 Not official until confirmed.
Funko is commemorating the unforgettable finale of Schitt's Creek with a brand new collection of Schitt's Creek Funko pops (2023) dedicated to David and Patrick's wedding.
The pop figures can be found at the links below at its release – click to jump or scroll to continue reading!
Throughout its six seasons, Schitt's Creek has captivated audiences with its clever humor, heartwarming moments, and unforgettable characters.
While it's sad to say goodbye to the Roses, the finale was a perfect farewell for the beloved family.
The wedding of David and Patrick was the highlight of the series finale. Their love for each other was a beautiful testament to the show's message of acceptance and inclusivity.
The couple's dynamic personalities complement each other, making them a perfect match.
Now, Funko is giving fans a chance to relive the magic of the wedding with their latest Funko pops.
The collection includes figures of Alexis, Johnny, and Moira. All dressed up for the occasion.
Here's a look at what made the finale so special in an also unique Funko design:
Alexis (Wedding) Funko Pop! Vinyl Figure
Johnny (Wedding) Funko Pop! Vinyl Figure
Moira (Wedding) Funko Pop! Vinyl Figure
David & Patrick (Wedding) 2-pack Funko Pop! Vinyl Figure
Schitt's Creek: The Wedding 5-pack Funko Pop! Vinyl Figures – Exclusive
These Funko pops are a must-have for any Schitt's Creek fan. They're a perfect way to celebrate the show's memorable finale and the love shared between David and Patrick.
Plus, they make for great collectibles that fans can proudly display in their homes.
Schitt's Creek Season Finale (Wedding) Funko Pop Vinyl Figures are coming soon. There's no release date yet, but stay tuned because I'll update more information in the long run.

Schitt's Creek has entertained audiences for six seasons with witty humor, quirky characters, and heartwarming storylines.
But the final season, particularly the wedding of David and Patrick, captured the hearts of viewers and left a lasting impression.
The romance between David and Patrick, played brilliantly by Dan Levy and Noah Reid, was a slow burn that developed over the course of several seasons.
By the time of the wedding, fans were invested in their relationship and rooting for their happy ending.
What made the wedding episode so special was the beautiful setting, stunning wardrobe, and catchy musical numbers and how it celebrated love in all its forms.
Schitt's Creek has always been a show that doesn't shy away from topics of gender, identity, and sexuality, and the wedding episode was no exception.
In fact, the episode was a shining example of how to handle LGBTQ+ storylines with care, respect, and authenticity.
David's pansexuality was a central part of his character throughout the series, and the show never shied away from exploring it in a thoughtful and nuanced way.
But even more impressive was how the show celebrated the love between David and Patrick without making it the butt of any jokes or using it solely for comic relief.
Instead, their relationship was treated with the same care and attention as any other on the show.
This is not to say that Schitt's Creek shies away from humor altogether. In fact, the show is incredibly funny, but the humor is never at the expense of marginalized groups or individuals.
The show proves that it is possible to make a high-quality comedy without resorting to offensive or harmful stereotypes.
Perhaps this is why Schitt's Creek has resonated with so many people around the world.
It's a show that celebrates diversity and inclusivity in all forms and reminds us that love knows no boundaries.
As the show ends, it's hard not to feel a sense of loss.
But the legacy of Schitt's Creek will live on, not just as a funny and heartwarming show, but as a beacon of hope and acceptance in an often-divisive world.
So, to David and Patrick, I congratulate you on your wedding and thank you for reminding us that love is the best thing in the world.
Funko Pop! Television: Schitt's Creek Season Finale (Wedding) Funko Pop! Vinyl Figures (2023)
Available at:
Starting now, you can receive 10% off in-stock items with my special link at Entertainment Earth!
 Enjoy!
As an Amazon Associate I earn from qualifying purchases
Want more stuff like this?
Get the best viral stories straight into your inbox!
Don't worry, we don't spam