6 NEW Schitt's Creek Season Finale (Wedding) Funko Pops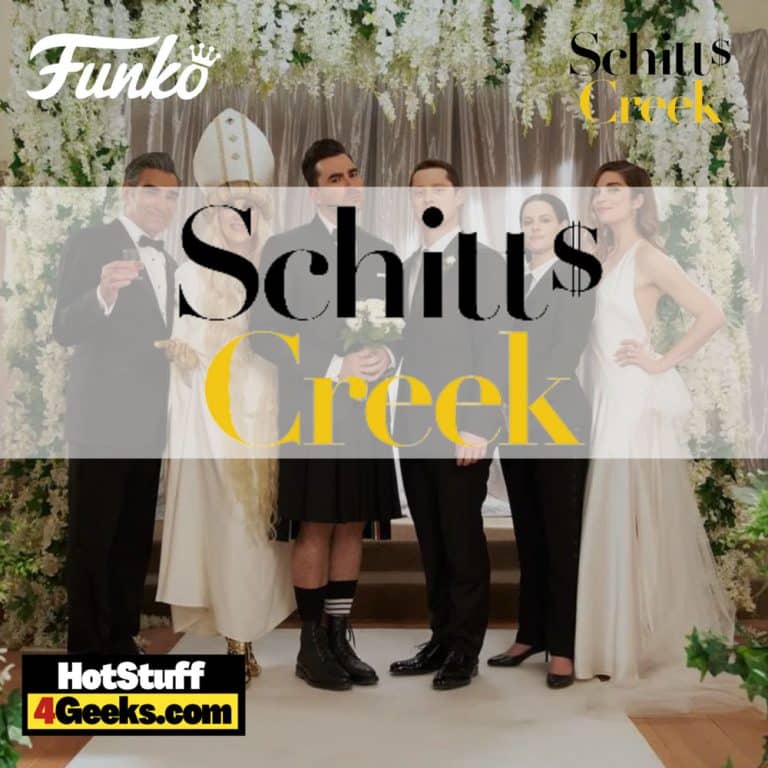 Not official until confirmed.
Funko is celebrating what made the last episode of Schitt's Creek so special with a new wave of Schitt's Creek Funko pops inspired by David & Patrick's wedding.
For six seasons, the Rose family has charmed audiences with their witty one-liners, heartwarming moments, and contagious sense of humor. And while fans will miss seeing the Roses on their television screens every week, the series finale was a fitting send-off for the beloved characters.
In Schitt's Creek finale, we witnessed the celebration of that love with the wedding of David Rose and Patrick Brewer. Patrick is the perfect person for David and vice versa. They complement each other's moods and uniquely understand each other.
Here's a look at what made the finale so special in an also special Funko design:
Alexis (Wedding) Funko Pop! Vinyl Figure
Johnny (Wedding) Funko Pop! Vinyl Figure
Moira (Wedding) Funko Pop! Vinyl Figure
David & Patrick (Wedding) 2-pack Funko Pop! Vinyl Figure
Schitt's Creek: The Wedding 5-pack Funko Pop! Vinyl Figures – Exclusive
Schitt's Creek Season Finale (Wedding) Funko Pop Vinyl Figures are an unconfirmed release. It is only official when or if Funko announces it. I'll update more information in the long run.

The romance between David and Patrick (Noah Reid) is developed halfway through the series. By this time, we have learned about David's pansexuality and understand how the town is far from the conservative small-town stereotype we have always expected.
It's interesting to see a comedy series that doesn't focus its jokes and comic relief on issues of gender, identity, sexuality, and topics that many comedians say you can't do comedy without.
Schitt's Creek proves that it is possible to make a high-quality comedy without offending anyone and still celebrate love in all its forms.
Starting now, you can receive 10% off in-stock items and free shipping on $39+ orders with my special link at Entertainment Earth!
You can also use CODE: 4geeks anytime. Enjoy!
As an Amazon Associate I earn from qualifying purchases
Want more stuff like this?
Get the best viral stories straight into your inbox!
Don't worry, we don't spam