NEW Stranger Things S4: Dustin, Eddie & Demobats Funko Pop!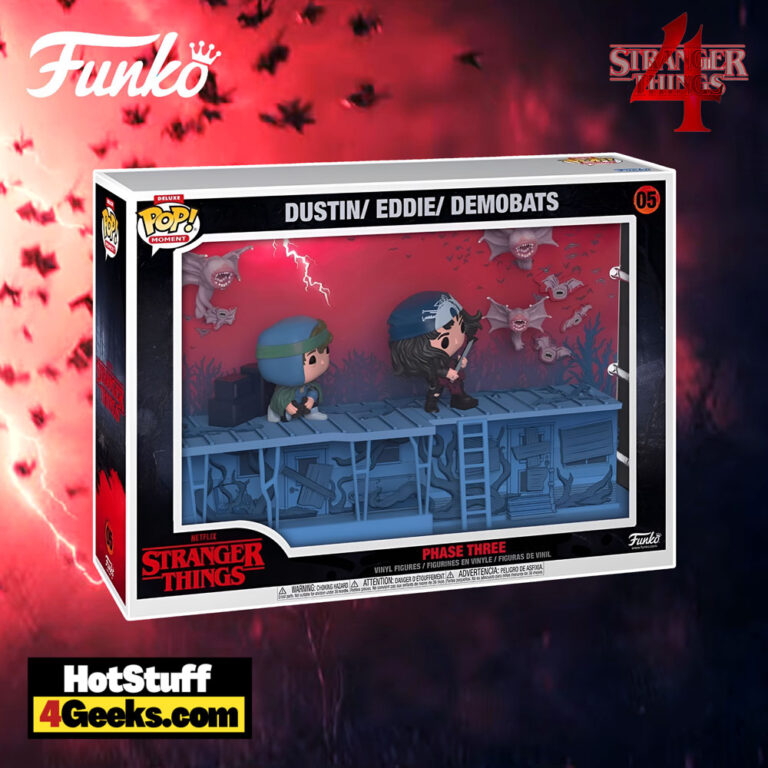 The new Funko Pop! Moment: Stranger Things Season 4: Phase Three (Dustin, Eddie, and Demobats) Funko Pop! Deluxe Vinyl Figure recreates the touching scene from Stranger Things Season 4 when Eddie decides to be a hero and save his friends by distracting the Demobats with some cool guitar licks.
The pop figure is now available for pre-order at the links below – click to jump or scroll to continue reading!
As the leader of the Hellfire Club, Eddie has learned to step up in challenging situations, and this scene shows off just how talented he really is!
In a funny twist, while trying to lure the monsters away from his friends, Eddie and Dustin use their teamwork skills to take out most of the Demobats!
Talk about saving the day with style!
This Funko Pop! captures this moment with great accuracy.
Eddie is posing like he's playing guitar and gently rocking away as if he has no idea what he's up against.
As for Dustin, well, he looks terrified as usual, but in an endearing way that makes us want to give him a big hug!
The Demobats are also looking pretty intense.
Phase Three (Dustin, Eddie, and Demobats) Funko Pop! Moment from Stranger Things Season 4 is now available for pre-order at the links below (click to jump!)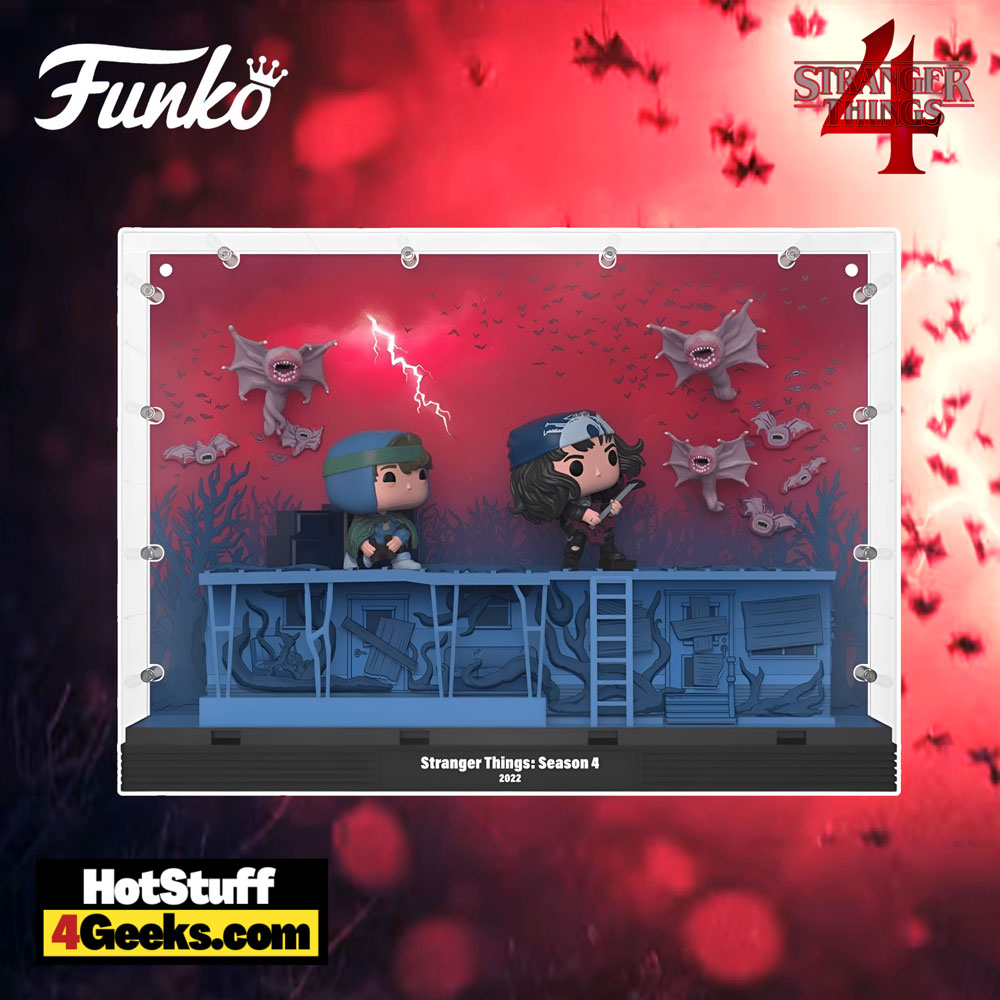 Eddie is an innocent victim in all this chaos, and fans of the show can't help but feel for him as he deals with being wrongly accused of the horrific acts by Vecna.
His relationship with Dustin illuminates his trusting and loyal personality, which also shines through in his interactions with everyone else.
We get some great moments throughout the season as Eddie is constantly exasperated at having to explain himself during the investigation.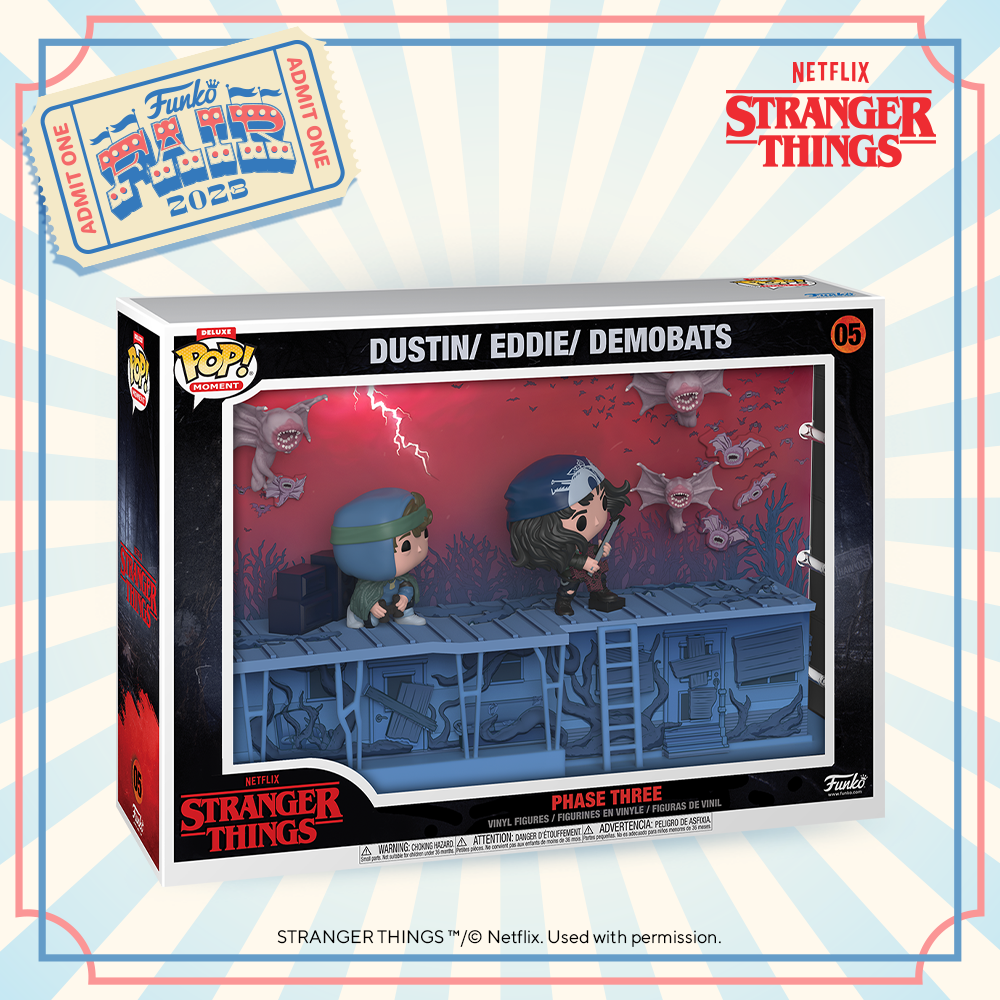 Eddie meets his end in a selfless act, as he sacrifices himself to distract the Demobats while protecting Dustin and the others in the Upside Down World.
Drawing the deadly Demobats away from their friends by playing his fantastic guitar, the brave young man sacrifices himself – and his sweet 'cords – in an effort to save them.
He throws Dustin back through a hastily-made hole in the trailer roof and distracts the monsters long enough to give his pals a chance at freedom.
Eddie's courage and selflessness shine through at this moment, leaving viewers both sad and inspired.
Stranger Things 4 got a five-star rating from me – and no, I'm not being biased because it's the latest season of our favorite show!
By adding new characters and a few changes to the formula made for an overall more enjoyable viewing experience.
From seeing Eleven use her powers in exciting new ways to experiencing the Upside Down World with (gasp!) a whole new perspective, this season was just as thrilling – if not more so – than previous installments.
On top of that, the unexpected plot twists kept us on our toes throughout, meaning that nearly every episode felt like a surprise in some way.
Go forth and watch it already, people!
Check more Stranger Things pops here.
Starting now, you can receive 10% off in-stock items with my special link at Entertainment Earth!
 Enjoy!
As an Amazon Associate I earn from qualifying purchases
Want more stuff like this?
Get the best viral stories straight into your inbox!
Don't worry, we don't spam