NEW Stranger Things S4: Eddie with Guitar (Metallic) Funko Pop!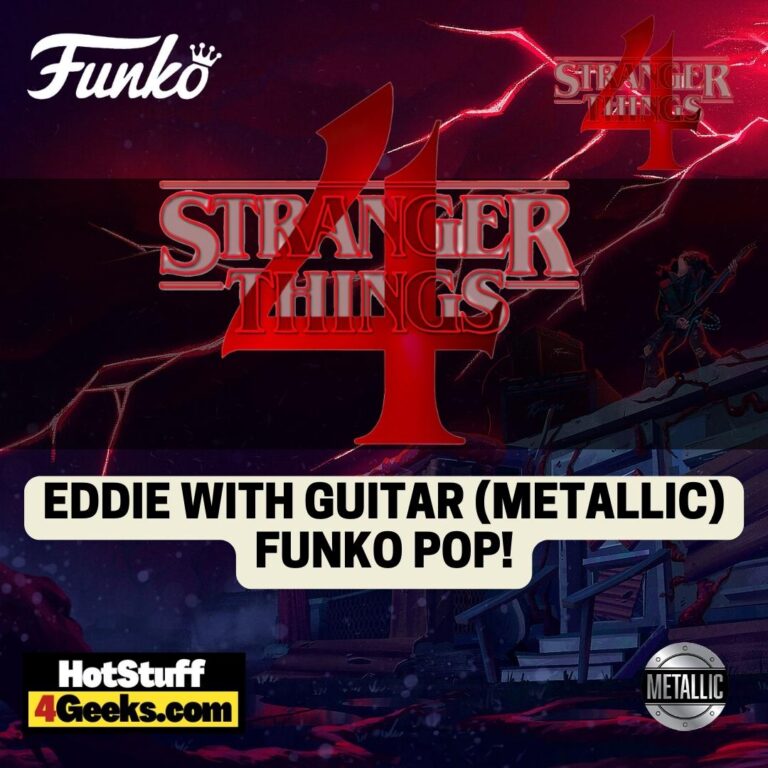 Not official until confirmed.
The world of collectibles has seen a captivating addition that's making waves. The new Funko Pop! Television: Stranger Things Season 4: Hunter Eddie Munson with Guitar (Metallic) Funko Pop! Vinyl Figure – Exclusive (2023 release) masterfully encapsulates the charm and allure of Hawkins' rock legend, offering fans a tangible piece of their favorite TV moment. This exclusive release is a testament to Eddie's unforgettable presence in the series.
To get your hands on this Pop Vinyl Figure at its release, be sure to check out the links I've provided below – click to jump or scroll to continue reading!
Rocking the Upside Down: Eddie Munson Metallic Funko Pop
2023 heralds an exhilarating addition to the Funko Pop family: the "Stranger Things Season 4: Hunter Eddie Munson with Guitar (Metallic)" vinyl figure.
Exclusive and undeniably cool, this figure captures the soul of Eddie Munson, resonating with the very heartbeats of die-hard Stranger Things fans.
Drenched in metallic allure, Eddie's guitar glistens, epitomizing that authentic '80s rock vibe. Fans will undeniably appreciate the meticulous detailing, from Eddie's signature long, curly hair to his iconic denim vest.
And that guitar? It's a shoutout to Eddie's unforgettable Metallica performance in the Upside Down.
As you stand this Funko Pop next to its predecessors, feel the rhythm of nostalgia and the electric thrill of rock 'n roll.
Eddie Munson has arrived, and he's every bit as metallic and mesmerizing as we remember. Rock on!
The Exclusive Hunter Eddie Munson with Guitar (Metallic) Funko Pop! is coming soon. I'll update more information in the long run. Check the pre-order availability at the links below (click to jump!)
Eddie Munson: The Underrated Star of Stranger Things
If you're a Stranger Things enthusiast, you've no doubt been on the emotional rollercoaster that is this show.
And while every season introduces us to memorable characters, Season 4 gave us a true gem: Eddie Munson.
Eddie wasn't just any addition; he quickly shot up the ranks, becoming arguably the best character in the series, and here's why.
First, let's talk charisma. Eddie's electrifying presence became palpable from his very first scene.
Who could forget that impassioned speech against conformity? It wasn't just words; it was a stand against stereotypes and biases.
Despite being derided by his peers as Eddie "the Freak" Munson due to his love for heavy metal and Dungeons & Dragons, this super senior at Hawkins High was determined to make 1986 his year.
His blend of determination and surprising optimism was a refreshing change in the show's dynamic.
Now, who remembers the Satanic Panic? Stranger Things has always incorporated real-world themes, and Eddie became the embodiment of the misunderstood Dungeons & Dragons player.
The show beautifully portrayed the unjustifiable fears and misconceptions surrounding D&D in the '80s, with Eddie right at the epicenter of it all.
And let's not get started on the misjudgment Hawkins had about Eddie. Just ask Chrissy Cunningham, who learned that sometimes people are so much more than the rumors surrounding them.
While we're on the topic of music, Eddie's affinity for classic rock and metal not only added to the 1980s authenticity but also brought in a touch of humor.
Who can forget his spirited defense of Iron Maiden? It's the kind of passion that resonates with viewers, making it clear that Eddie is not just another stereotype.
The realism of Eddie's character also brought in a breath of fresh air. In a town where kids often chase supernatural dangers, Eddie's fear after witnessing Chrissy's demise is raw and genuine.
And yet, his subsequent journey illustrated that fear and bravery are not mutually exclusive.
This duality culminated in his ultimate sacrifice, proving to all of Hawkins and to us his heroism.
Of course, one can't discuss Eddie without mentioning his iconic '80s rocker style.
He became a visual emblem of the era's rock culture, with every bit of his attire, from his denim vest to his black accents, screaming authenticity.
And while he may have looked every bit like a rebellious teen, his bonding with Dustin reminded us that deep down, he was a nurturing mentor.
In summary, Eddie Munson wasn't just a side character; he was a reflection of the 1980s, its misconceptions, passions, and unique subcultures.
It was a rollercoaster watching Eddie's journey unfold, and one thing is clear – Stranger Things truly struck gold with his character. Rest in peace, Eddie.
Your legacy lives on in the heart of every Stranger Things fan.
Funko Pop! Television: Stranger Things Season 4: Hunter Eddie Munson with Guitar (Metallic) Funko Pop! Vinyl Figure – Exclusive (2023 release)
Available at (soon):
As an Amazon Associate I earn from qualifying purchases
Want more stuff like this?
Get the best viral stories straight into your inbox!
Don't worry, we don't spam