NEW Texas Rangers 2023 World Series Champions Funko Pops!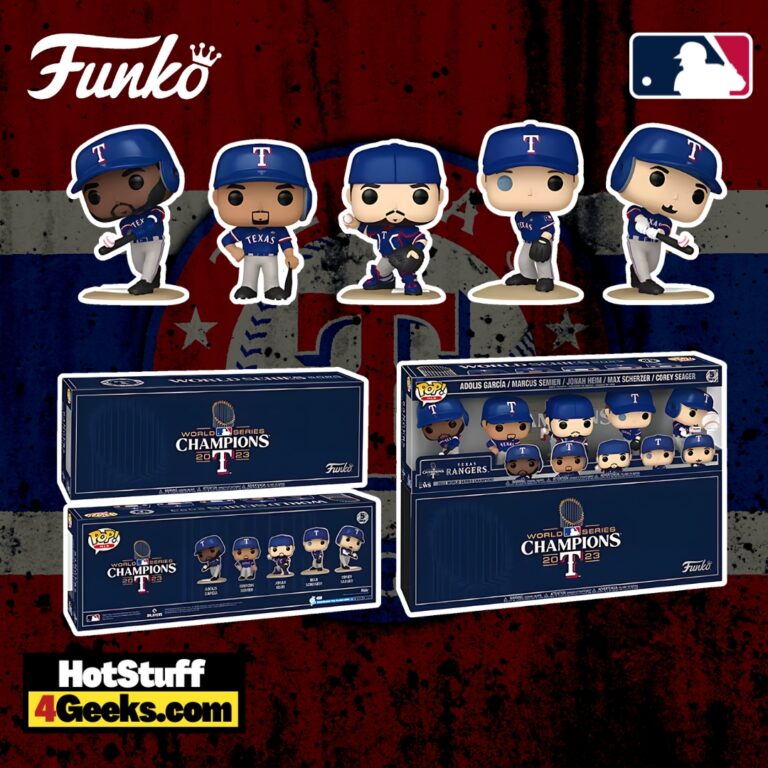 When the ballpark roars meet the allure of vinyl artistry, magic happens. Enter the realm of the extraordinary with the new Funko MLB: Texas Rangers 2023 World Series Champions 5-Pack Funko Pop! Vinyl Figures – Fanatics Exclusive. This is where champions and collectors unite.
Now available for pre-order! To get your hands on this Pop Vinyl Figure, be sure to check out the links I've provided below – click to jump or keep scrolling for more details!
Unveiling Funko's Exclusive MLB: Texas Rangers 2023 World Series Champions Collection
Elevate your collection game with the latest Fanatics Exclusive release – the Funko MLB: Texas Rangers 2023 World Series Champions 5-Pack! Crafted with intricate detail, these vinyl figures capture the essence and dynamism of the Rangers' star athletes.
From Adolis Garcia's assertive batting stance to Marcus Semien's poised, ready-to-field look, each Pop! showcases an athlete's signature style.
The precision in Jonah Heim's catcher gear, Max Scherzer's intense pitching posture, and Corey Seager's confident demeanor are impressive.
Encased in a sleek blue box adorned with a gold-accented championship logo, this collection screams exclusivity. The back panel highlights the featured players, ensuring authenticity for avid collectors.
This set celebrates the Rangers' monumental win and immortalizes the players who brought the championship home.
Whether you're a die-hard Rangers fan or a Funko enthusiast, these figures are the perfect blend of sports and artistry.
The Fanatics Exclusive Texas Rangers Funko MLB 2023 World Series Champion Pop! Figures can be pre-ordered at the links below (click to jump!). It's expected to be shipped in May 2024.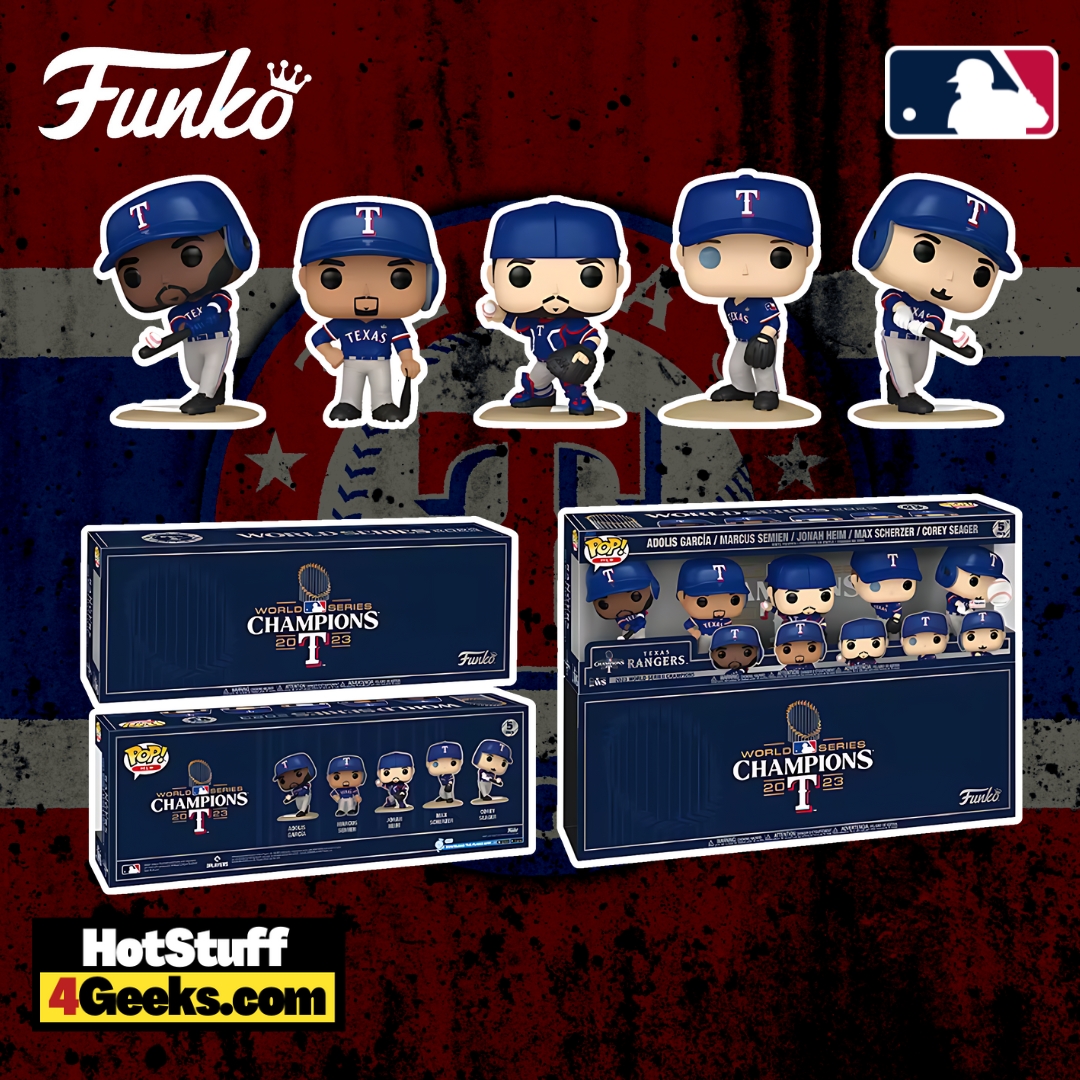 Texas Rangers Crowned Kings: The Unprecedented Journey to the 2023 World Series Title
In a story fit for the annals of baseball history, the Texas Rangers have clinched their first World Series championship, setting off a whirlwind of celebration throughout the Lone Star State.
The culmination of their 52-year quest for glory was not just a sporting victory but a narrative of resilience, a testament to the unyielding spirit of a team and its leadership.
The road to triumph was paved with the kind of drama and hurdles that sports films often romanticize. The Rangers entered the postseason with the odds stacked against them as the American League's fifth seed.
Yet, they knitted together an astonishing streak of away-game victories that defied expectations and left the baseball world in awe.
Perhaps there's a touch of destiny when a team manages to carve such an unlikely path through the playoffs, brushing aside every contender with an unblemished 11-0 road game record.
A tale of individual brilliance and collective resolve matched the team's on-field exploits. Corey Seager emerged as the World Series MVP, wielding his bat like a wand to conjure pivotal moments when they mattered most.
His historically productive runs will be replayed in highlight reels and fans' memories for generations. Then there was Adolis García, whose prowess earned him the ALCS MVP title, further fueling the Rangers' charge toward immortality.
But it wasn't just the stars who shone; it was also a season of redemption and strategy orchestrated from the dugout. Bruce Bochy's managerial acumen was a cornerstone of the Rangers' campaign.
The seasoned skipper lured out of retirement, demonstrated that his tactical nous and experience were indispensable assets.
His guidance propelled the Rangers through a season riddled with adversity – from the devastating blow to their ace Jacob deGrom's elbow to the mid-season injuries that plagued their roster.
In the face of such trials, the team's response was remarkable.
They dealt with the tumultuous ebb and flow of the regular season – a roaring start, an unsettling mid-August slump, and a nail-biting finish that saw them lose the AL West's top spot in a heart-stopping tiebreaker
. The narrative could have easily shifted towards a tragic repeat of past near-misses, yet they rebounded with unwavering determination.
The World Series itself was a masterclass in seizing the moment. Nathan Eovaldi's gritty pitching in Game 5 symbolized the Rangers' entire season – battling adversity with every throw.
The opposition's ace, Zac Gallen's no-hit bid, was the final obstacle in their storied run.
And yet, it was the Rangers who emerged from the shadows of a tightly contested game, their bats igniting a late-inning rally that etched their names in the history books.
In their final victory, a mix of strategy and luck played out on the field. Every hit and pitch wove into the larger tapestry of their championship story.
When the last strike found its mark and the game was won, the ball Jonah Heim secured was a piece of history, a symbol of a dream realized for every Ranger fan who had waited over fifty years for this moment.
The Texas Rangers' 2023 World Series victory will be recounted for ages. It is a story of a triumph not just of talent but of heart.
As an Amazon Associate I earn from qualifying purchases
 Funko MLB: Texas Rangers 2023 World Series Champions 5-Pack Funko Pop! Vinyl Figures – Fanatics Exclusive
Available at:
Want more stuff like this?
Get the best viral stories straight into your inbox!
Don't worry, we don't spam