Get Ready for the Magic: The 2023 Disney Holiday Funko Pops!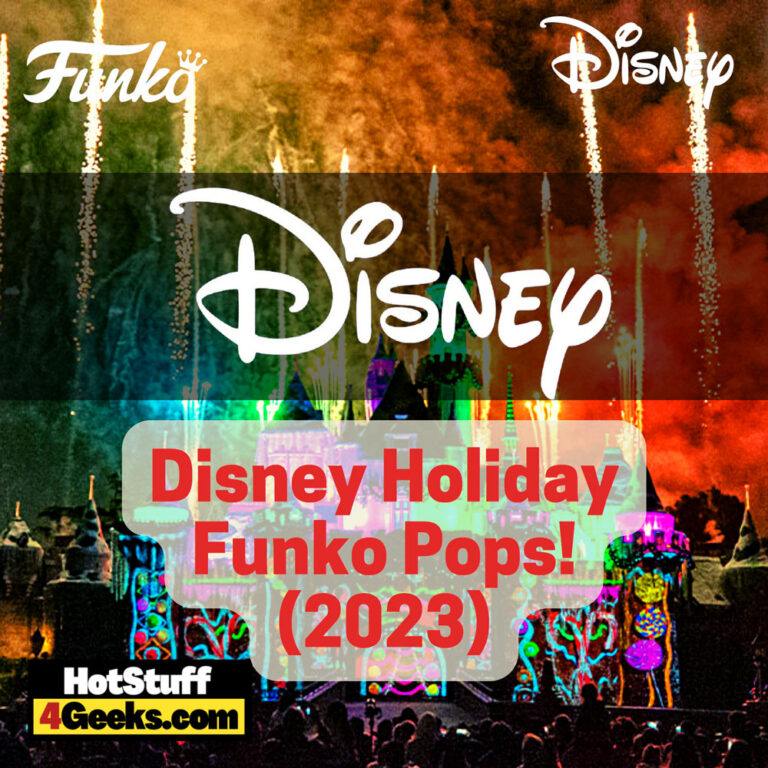 Not official until confirmed.
It's the most beautiful time of the year, and Funko is spreading some holiday cheer with their new Disney-themed Pop figures. But you don't need a specific occasion to add to your Funko collection.
However, there's something special about these Disney Holiday 2023 Funko Pop! versions. The festive touches on our favorite characters make them even more adorable.
What better way to get in the spirit as the holiday season approaches than with a brand new set of Disney Holiday Funko pops? This year's lineup features Santa Mickey, Minnie Mouse, Goofy, and Pluto, all dressed in their holiday best.
Let's take a closer look at the complete list of Disney Holiday 2023 Funko Pops:
Disney Holiday 2023: Santa Mickey Gingerbread Funko Pop! Vinyl Figure
Disney Holiday 2023: Minnie Gingerbread Funko Pop! Vinyl Figure
Disney Holiday 2023: Goofy Funko Pop! Vinyl Figure
Disney Holiday 2023: Pluto Funko Pop! Vinyl Figure
Disney Holiday 2023: Kwanzaa Mickey Mouse Funko Pop! Vinyl Figure
Disney Holiday 2023: Hanukkah Donald Duck Funko Pop! Vinyl Figure
This year's Disney Holiday Funko Pops are a must-have for any Disney fan or Funko collector.
They're super cute, festive, and perfect for adding holiday magic to your collection.
So, don't wait too long. Add them to your collection before they're gone!
The 2023 Disney Holiday Funko Pop! Vinyl Figures are an unconfirmed release. It is only official when or if Funko announces it. I'll update more information in the long run.

Looking for a way to make this holiday season even more magical? Look no further than Disney! From classic characters like Mickey Mouse to newer favorites like Elsa from Frozen, Disney makes everything feel more festive and memorable.
One of the most popular ways to celebrate the holidays with Disney is by visiting Disneyland or Walt Disney World.
These parks pull out all the stops during the holiday season with special events, attractions, decorations, and even special food items that will leave you feeling like you're walking in a winter wonderland.
What makes Disney even more magical during the holidays?
It could be the music, the decorations, the characters dressed in their holiday best, or the overall Christmas atmosphere that pervades not only the parks but the surrounding areas as well.
Whatever it is, it's undeniable that visiting Disney during the holiday season is an experience like no other.
And while you might think that a trip to Disney during the holidays means braving crowds and chaos, it's not necessarily the case.
You can plan your visit for any time during the Christmas season, which typically runs from November through early January.
Whether you visit on Christmas Eve or any other day during the holiday season, you will surely experience the same level of Disney magic and festive cheer.
Of course, not everyone can make it to Disney during the holidays.
But that doesn't mean you have to miss out on the fun. Instead, you can curl up at home with your favorite holiday-themed Disney movies, like Elf or The Nightmare Before Christmas, and still feel like you're part of the celebration.
No matter how you choose to celebrate the holidays this year, adding, a touch of Disney magic is sure to make it even more special.
So why not make some memories with your favorite Disney characters this holiday season?
Starting now, you can receive 10% off in-stock items with my special link at Entertainment Earth!
 Enjoy!
As an Amazon Associate I earn from qualifying purchases
Want more stuff like this?
Get the best viral stories straight into your inbox!
Don't worry, we don't spam