NEW The Book of Boba Fett Funko Pops! (2022 Latest Release)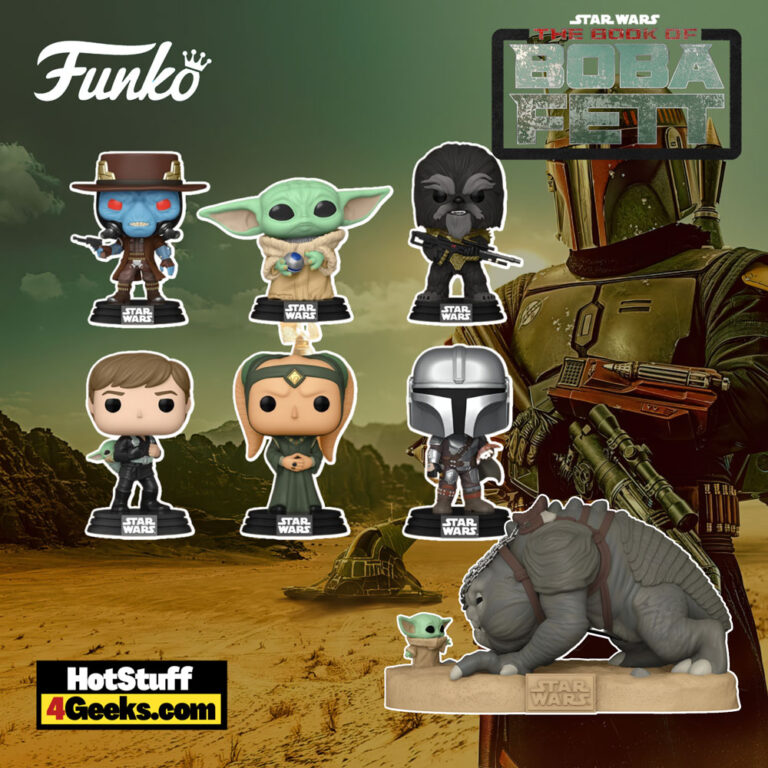 Luke Skywalker, Grogu, the Mandalorian, Cad Bane, Majordomo, Krrsantan…. They're about to join our collectible shelf again! It's also clear that Funko has been listening to fans, as many of these Star Wars: The Book of Boba Fett Funko Pops! (2022) released today are based on popular requests.
So whether you're a die-hard Stars fan or want a cute toy of Grogu, there's something for everyone in this wave. And best of all, they're available for pre-order at the links below – click to jump or scroll to continue reading!
The Book of Boba Fett premiered on Disney+ in 2021 for seven episodes.
Boba Fett is one of the original characters from the original trilogy.
Despite not having any great lines, his appearance, presence, abilities, and the fact that he is the deadliest bounty hunter in the galaxy immediately made him a favorite character for many fans.
The Book of Boba Fett premiered on Disney+ in 2021 for a total of seven episodes, and it was a huge success. But unfortunately, there is still no confirmation that the series is returning for season two yet, let alone a confirmed release date.
But while we eagerly await a new series, we still have the comforting Funkos. Here's The Book of Boba Fett pop vinyls released today:
Luke Training Funko Pop! Vinyl Figure
Cad Bane Funko Pop! Vinyl Figure
Majordomo Funko Pop! Vinyl Figure
Krrsantan with BG Funko Pop! Vinyl Figure
Mando with Pouch Funko Pop! Vinyl Figure
Grogu with Armor Funko Pop! Vinyl Figure
Star Wars: The Book of Boba Funko Pop! Vinyl Figures (2022) are now available for pre-order at the links below (click to jump!)
The Book of Boba Fett is essentially two series throughout its entire season.
In the opening episodes, the obvious division is between the story set in flashbacks, showing how the title character (Temuera Morrison) managed to survive the fall into the Sarlacc's pit in Return of the Jedi, and his story in the present.
He ascends to the throne of daimyo (a title of ruler that Star Wars takes, as well as many other things, from the universe of feudal Japan) of Mos Espa, a city on the desert planet of Tatooine, where he tries to maintain control of the territory in the face of internal and external threats.
One of the tremendous positive points when it comes to storytelling was the success in deepening the character of Boba Fett.
The charisma the character already had before added a personality and an emotional layer that greatly enriched this pop culture icon.
Boba's journey and training with the Tusken Raiders are essential in connecting the events between Return of the Jedi and The Mandalorian, as well as providing significant growth from bounty hunter and villain to an anti-villain bordering on heroism.
As for the action, seeing Cad Bane in live-action was an aggravating surprise, and his duels were highlights of the series.
The final episode with Rancor was reminiscent of traces of the game Star Wars Jedi: Fallen Order.
And, of course, the tag team between Boba Fett and Din Djarin is unbeatable.
It's a great time to be a Star Wars fan, with original material released yearly. In addition to animated series like Clone Wars and Bad Batch, the investment in live-action series has been a great move, which many consider being of higher quality than the last trilogy of films in this universe.
Starting now, you can receive 10% off in-stock items with my special link at Entertainment Earth!
 Enjoy!
As an Amazon Associate I earn from qualifying purchases
Want more stuff like this?
Get the best viral stories straight into your inbox!
Don't worry, we don't spam