2022 NEW The Cure – Robert Smith Funko Pop! Vinyl Figure
Robert Smith is the undisputed king of goth. With his wild hair, smudged lipstick, and dark clothing, he defined the look of a generation of outcasts. And now, thanks to Funko, you can own your very own Funko Pop! Rocks: The Cure – Robert Smith Funko Pop! Vinyl Figure – Hot Topic Exclusive.
The pop figure is now available for pre-order at the links below – click to jump or scroll to continue reading!
Robert Smith is an iconic figure in the world of rock music.
As the frontman of The Cure, he has helped to define the sound of alternative rock for generations of fans.
With his distinctive hair and make-up, Smith is instantly recognizable, and his music has a unique emotional power that has won him a loyal following worldwide.
The Cure are one of the most successful bands of all time, with hits like "Boys Don't Cry" and "Lullaby" that have become essential parts of the modern rock canon.
Thanks to Robert Smith's vision and talent, The Cure became an iconic band that left a lasting mark on popular culture.
Robert Smith Funko Pop! is coming soon. There's no release date yet, but stay tuned because I'll update more information in the long run.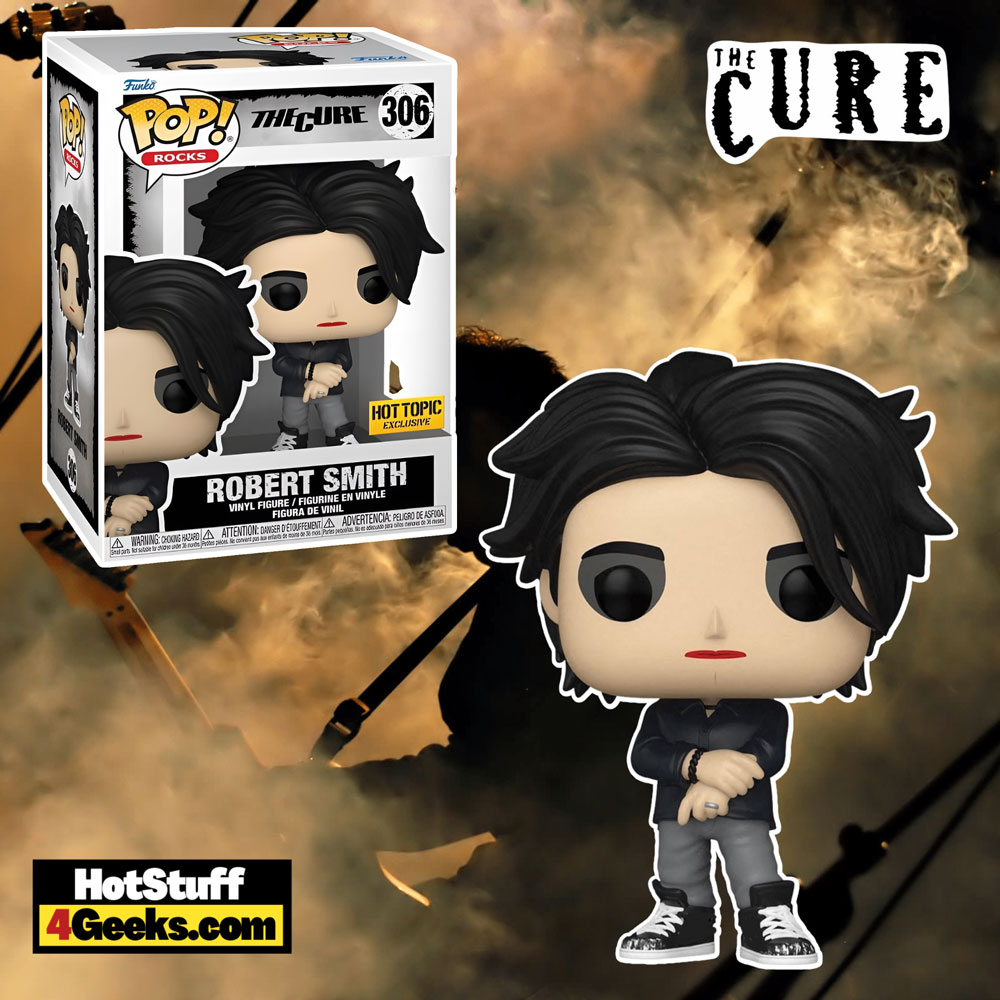 The Cure emerged in England in the late 1970s as part of the first wave of post-punk bands like Joy Division and Siouxsie and the Banshees.
Over the next decade, led by Robert Smith, the band followed its emotional ups and downs, swinging between depressive songs and joyful pop songs and defined goth-rock in the 1980s
Robert Smith, with his dark hair, smudged eyeliner, and dour expression, Smith became the face of an entire genre.
But despite his brooding image, Smith actually has a lot of sense of humor.
In an interview with Rolling Stone, he once quipped, "I've always been fascinated by death. I'm not morbid, but I am fascinated by the fact that we're all going to die."
He also has a self-deprecating sense of humor, admitting that he's "not very good at being a rock star." Yet, despite his admitted lack of skills, Robert Smith remains one of the most iconic figures in rock music.
Check also the new Pop! Rocks: The Cure 5-Pack Funko Pops! available for pre-order here.
Starting now, you can receive 10% off in-stock items with my special link at Entertainment Earth!
 Enjoy!
As an Amazon Associate I earn from qualifying purchases
Want more stuff like this?
Get the best viral stories straight into your inbox!
Don't worry, we don't spam