NEW The Flash (2023) – Batman in Batwing Funko Pop! Ride
With the highly anticipated release of The Flash movie in 2023, it's no wonder that fans are already buzzing with excitement. To help add to this buzz, Funko is releasing the new Funko Pop! DCU: The Flash (2023) – Batman in Batwing Funko Pop! Ride Vinyl Figure.
The pop figure is now available for pre-order at the links below – click to jump or scroll to continue reading!
In The Flash(2023), Michael Keaton returns as Batman, and audiences can witness the Dark Knight reinventing himself for the modern age.
He may be older and wiser, but one thing hasn't changed: he still needs help fighting crime. Enter his new sidekick – the Ultimate Batwing!
Not only does this high-tech machine fly faster and farther than its predecessors, but it is also equipped with numerous new gadgets to help Batman take on any criminal mastermind lurking in Gotham's depths.
It will surely be an iconic scene in superhero cinema as fans will explore every nuance of this new technological marvel.
That June 2023 release date can't come soon enough!
This figure will surely become a must-have for any fan or collector of the DC universe.
With its sleek lines and fine details, The Flash's version of Batman in his modern/classic Batwing Funko Pop! will dazzle almost everyone who sees it.
Batman in Batwing Funko Pop! Ride from The Flash (2023) film is now available for pre-order at the links below (click to jump!)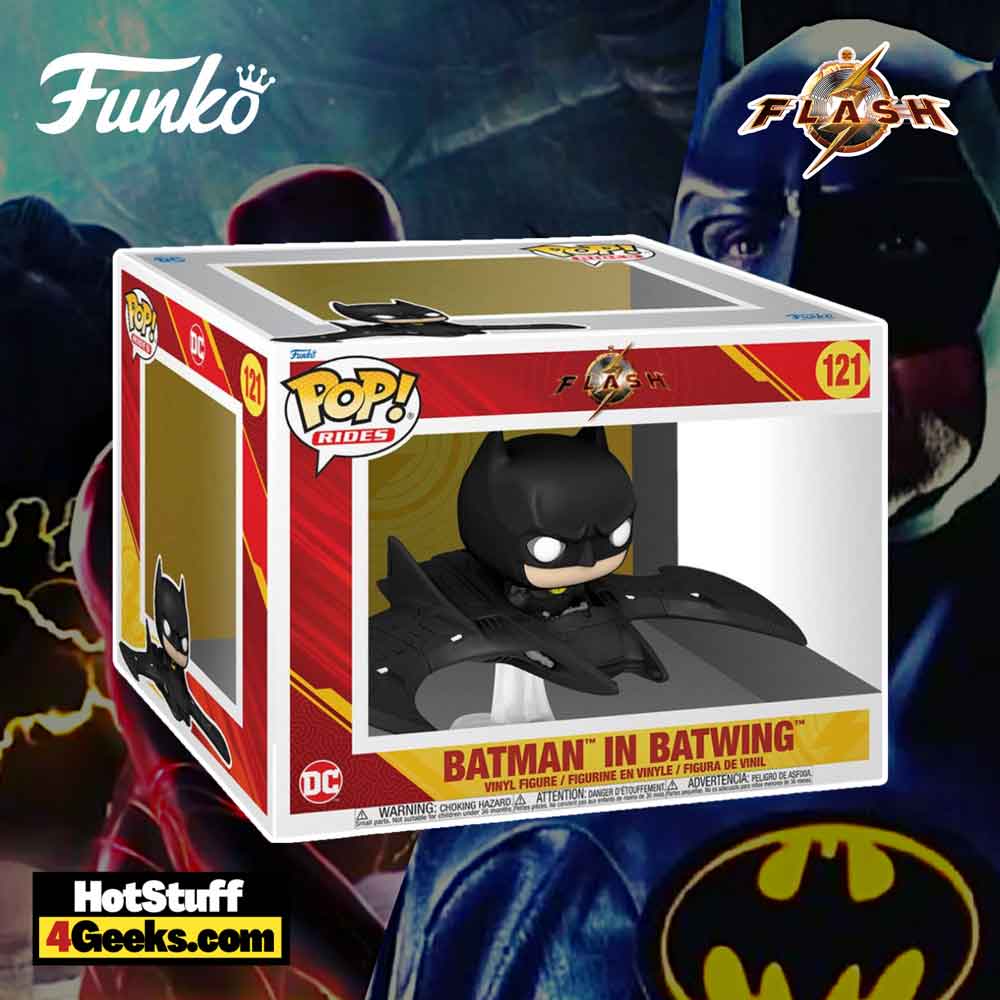 In 2023, fans of the DC Universe will finally see Ezra Miller return as the Fastest Man Alive in The Flash movie, directed by Andy Muschietti.
The long-awaited film has been developing for over 8 years, but the trailer has confirmed that it will be well worth the wait.
The highlight of the new footage is undoubtedly Michael Keaton's return as Batman, confirming that his presence in the film will be a dream come true for Batman fans.
Keaton's character will play a pivotal role in the film.
He will be seen wearing his classic costume, standing amid a Batcave full of alternate variations of the original suit from the Tim Burton-directed films.
Keaton's Batman will interact with an older Caped Crusader, confirming that Barry Allen will be racing through the multiverse.
While some may argue that Keaton's Batman is purely fan service and nostalgia bait, it's important to remember that fan service isn't always a bad thing.
The Spider-Man: No Way Home film set the gold standard in giving fans exactly what they want while still using them in some dynamic and surprising ways.
Andrew Garfield and Tobey Maguire's references to their past films were not just cameos, but they were core to the narrative and instrumental in saving the world.
Similarly, Keaton's Batman will reportedly replace Affleck as the primary Batman of the DCEU once The Flash reboots the universe, suggesting that the 1989 Dark Knight will be getting new life.
This could potentially make him much more than a simple cameo.
Check out more about The Flash (2023) Funko Pops here.
Funko Pop! DCU: The Flash (2023) – Batman in Batwing Funko Pop! Ride Vinyl Figure
Available at:
Starting now, you can receive 10% off in-stock items with my special link at Entertainment Earth!
 Enjoy!
As an Amazon Associate I earn from qualifying purchases
Want more stuff like this?
Get the best viral stories straight into your inbox!
Don't worry, we don't spam