NEW Upper Deck x Funko POP: Infinity Saga Trading Card Box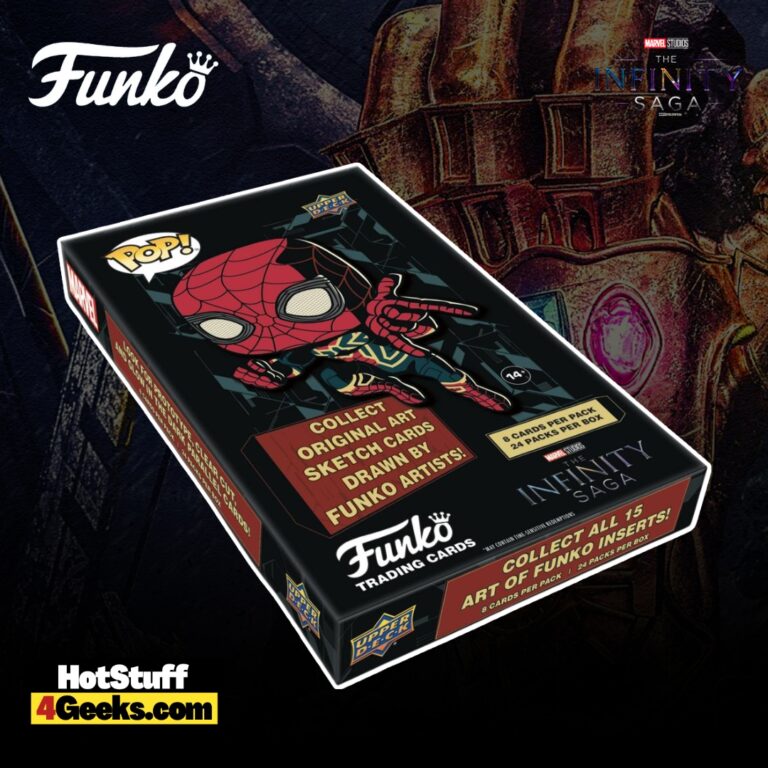 Hey, Marvel aficionados! Ever imagined a whimsical twist on your favorite Infinity Saga superheroes? Dive into the Upper Deck x Funko POP! Marvel Studios: The Infinity Saga Trading Card Box (2023 release). Let's get real – it's not just any old card collection. With 24 tantalizing packs, each box unfurls a universe where originality and quirkiness reign supreme.
To get your hands on this Funko Trading Card Box, be sure to check out the links I've provided below – click to jump or scroll to continue reading!
Diving Deep into the Marvel Magic: Upper Deck Meets Funko POP!
Picture this: a sprawling universe of heroes and villains, epic battles and heart-wrenching tales, and now, that entire universe is about to be reimagined! The canvas? The exclusive Upper Deck x Funko POP! Marvel Studios: The Infinity Saga Trading Card Box.
When I say reimagined, I mean a dazzling fusion of Upper Deck's heritage of trading card excellence with Funko's iconic and playful artistry.
Within the confines of each box, you'll find 24 packs. Yes, 24 opportunities to unmask your favorite characters with a dash of that classic Funko flair!
These beloved characters from the first three phases of the MCU (remember those thrilling times?) are now decked out, ready to spring a surprise in their new artistic avatars.
But wait. There's more to this treasure trove. Tucked among these cards are original art sketches, hand-drawn with care and passion by Funko artists.
It's as if these artists delved into the very soul of each character, unraveling nuances and translating them onto cards. These aren't just visuals; they're visual narratives.
And for those with an eagle eye, there's another treasure waiting: exclusive pop redemption cards—a little reward for the keenest of collectors.
So, fellow Marvel enthusiasts, as we journey from the galactic adventures of the Guardians to the streets of New York with our friendly neighborhood Spider-Man, remember that each card is a love letter to the tales that have enchanted us for years.
Reliving the Infinity Saga has never been this chic and charming. Ready to get your hands on these masterpieces?
Upper Deck x Funko POP! Marvel Studios: The Infinity Saga Trading Card Box is now available for pre-order at the links below (click to jump!). It's expected to be released on November 2023.
2023 Upper Deck Funko Pop Marvel Infinity Saga: Product Overview
The 2023 Upper Deck Funko Pop Marvel Infinity Saga represents the iconic Pop! flair to trading card collectors.
This debut collection, infused with the unmistakable Funko Pop! essence, brings characters from a vast array of Marvel Studios films to life. These films hail from the trilogy of phases in the Marvel Cinematic Universe, celebrated as "The Infinity Saga."
These collector boxes made their grand entrance at the 2023 San Diego Comic-Con, marked distinctively with the SDCC Debut sticker. A digital version is set to drop on Upper Deck ePack soon.
Card Details
The comprehensive checklist for the 2023 Upper Deck Funko Pop Marvel Infinity Saga comprises 162 base set cards. Collectors can anticipate 3D Renditions in each pack and the rare Marvel TV cards popping up in 1 out of every 480 packs.
Each card artistically presents Pop! figure renditions of MCU's cherished characters. Collectors, be on the lookout for multiple parallel versions for the initial 100 cards, such as the Retail-exclusive Spectrum found in 1 of every 5 packs and the limited Red Glitter, restricted to just 10 prints.
Additional inserts to amplify your collection include Art of Funko, appearing in about 1 of every 3.3 packs, and Shorts, seen roughly in every second pack.
A golden egg in the 2023 Upper Deck Funko Pop Marvel Infinity Saga Retail box: an exclusive redemption card for a Captain America vinyl figure!
And for those aiming for the stars, the ultra-rare Sketch Cards, found in 1 of every 11,520 packs, present unparalleled artistry – hand-crafted sketches by Funko's elite artists.
Base Set Checklist
100 cards.
RETAIL/EPACK PARALLELS: Platinum (1:1.5), Gold (1:5), Patina (1:10), Convention (1:20), Facsimile Signature (1:80), Glow-in-the-Dark (1:160), Clear Cut (1:288), Confetti Bomb #/99, Spectrum Facsimile Signature #/5, Prototype 1/1, Printing Plates 1/1.
RETAIL PARALLELS: Spectrum (1:5), Red Glitter #/10.
1 Agent 13
2 Ancient One
3 Ant-Man Black Out
4 Ant-Man
5 Black Panther
6 Black Panther Unmasked
7 Black Panther Warrior Falls
8 Ant-Man Black AI
9 Black Widow
10 Bucky Barnes
11 Captain America
12 Captain America
13 Captain America
14 Vers
15 Captain Marvel with Helmet
16 Yon-Rogg
17 Carol Danvers
18 Carol Danvers with Tesseract
19 Captain Marvel Endgame
20 Carol Danvers Brown Jacket
21 The Collector
22 Corvus Glaive
23 Cosmo
24 Crossbones
25 Crossbones Unmasked
26 Cull Obsidian
27 Dancing Groot
28 Dark Elf
29 Doctor Strange
30 Doctor Strange
31 Drax
32 Ebony Maw
33 Erik Killmonger with Mask
34 Falcon
35 Gamora
36 Ghost
37 Ant-Man
38 Goose the Cat
39 Grandmaster
40 Groot
41 Baby Groot
42 Black Widow
43 Captain Marvel
44 Hawkeye
45 Hawkeye
46 Hulk
47 Iron Man
48 Captain Marvel
49 Iron Man
50 Iron Man51 Korg Gamer
52 Erik Killmonger
53 Kaecilius
54 Korath
55 Korg
56 Kraglin
57 Loki – Regular
58 Loki Frost Giant
59 Erik Killmonger
60 M'Baku
61 Minn-Erva
62 Karl Mordo
63 Nakia
64 Nebula
65 Hulk
66 Nick Fury with Goose
67 Heimdall
68 Rocket
69 Ronan
70 Wanda Maximoff
71 Wanda Maximoff
72 Shuri
73 Spider-Man Iron Spider
74 Star-Lord
75 Rocket
76 Star-Lord
77 Stonekeeper
78 Talos
79 T'Challa
80 Thanos
81 Hulk
82 Lady Sif
83 Thanos
84 Thor
85 Thor Odin Force
86 Loki
87 Maria Rambeau
88 Ultron
89 Ulysses Klaue
90 Valkyrie
91 Odin
92 Vision
93 Star-Lord
94 War Machine
95 War Machine
96 Thor
97 Winter Soldier
98 Wong
99 Yellowjacket
100 Tony Stark
Base Promo Set Checklist
5 cards. Serial numbered #/1,000.
Exclusive to UCC booth (#5613) at the 2023 SDCC convention as a box purchase incentive.
5 Black Panther
13 Captain America
65 Hulk
73 Spider-Man
96 Thor
Base 3D Renditions Set Checklist
50 cards. 1 per pack (Retail/ePack).
PARALLEL CARDS: Confetti Bomb #/99, Prototype 1/1, Printing Plates 1/1.
101 Ant-Man
102 Black Panther
103 Black Widow
104 Black Widow
105 Captain America
106 Captain America
107 Captain America
108 Captain America
109 Captain Marvel
110 Vers
111 Captain Marvel
112 Drax
113 Erik Killmonger
114 Gamora
115 Ghost
116 Giant Man
117 Goose the Cat
118 Groot
119 Groot
120 Hank Pym
121 Hawkeye
122 Hawkeye
123 Hela
124 Hulk
125 Smart Hulk126 Hulk
127 Hulkbuster
128 Iron Man
129 Iron Man
130 Iron Man
131 Janet Van Dyne
132 Korg with Miek
133 Loki
134 Nebula
135 Nick Fury
136 Okoye
137 Rocket
138 Young Gamora
139 Star-Lord
140 Star-Lord
141 T'Challa
142 Thanos
143 Thanos
144 Thor
145 Thor
146 Bro Thor
147 Valkyrie
148 War Machine
149 Wasp
150 Yondu
Base Marvel TV Set Checklist
12 cards. 1:480 Retail/ePack.
151 50s Wanda
152 50s Vision
153 Pietro Maximoff – Halloween Cameo
154 Agatha Harkness – The Neighbor
155 Monica Rambeau Finale
156 Falcon157 Winter Soldier
158 John Walker – Captain America
159 Baron Zemo
160 TVA Loki
161 Mobius
162 Enchatress Sylvie
2023 Upper Deck Funko Pop Marvel Infinity Saga Sketch Checklist
Sketch Cards Set Checklist
12 artists. 1:11,520 Retail/ePack.
Adam Wolfe
Alexa Dimaano
Ben Butcher
Chris Metzner
Elise Walter
Elizabeth BrockmanErika Flak
Gary Ham
Julie Godwin
Kaysi Smith
Reis O Brien
Ryan Frost
2023 Upper Deck Funko Pop Marvel Infinity Saga Insert Checklist
Art of Funko Set Checklist
15 cards. 1:3.3 Retail/ePack.
PARALLEL CARDS: Confetti Bomb #/99, Printing Plates 1/1.
AF-1 Ultron
AF-2 Ant-Man
AF-3 Black Panther
AF-4 Black Widow
AF-5 Captain America
AF-6 Captain America
AF-7 Captain Marvel
AF-8 GamoraAF-9 Giant Man
AF-10 Hulk
AF-11 Hulk
AF-12 Iron Man
AF-13 Loki
AF-14 Thor
AF-15 Wasp
Shorts Set Checklist
25 cards. 1:1.5 Retail/ePack.
PARALLEL CARDS: Confetti Bomb #/99, Printing Plates 1/1.
S-1 Star-Lord
S-2 Groot
S-3 Collector
S-4 Thor
S-5 Loki
S-6 Thor
S-7 Loki
S-8 Thor/Loki
S-9 Hulk/Black Widow
S-10 Hulk/Black Widow
S-11 Black Widow
S-12 Black Widow/Hulk
S-13 Dr. Strange
S-14 Loki
S-15 Dr. Strange/Loki
S-16 Dr. Strange/Loki
S-17 Dr. Strange/Loki
S-18 LokiS-19 Red Skull
S-20 Red Skull
S-21 Captain America
S-22 Red Skull
S-23 Captain America/Red Skull
S-24 Red Skull
S-25 Captain America
S-26 Ant-Man
S-27 Hulkbuster
S-28 Hulkbuster/Ant-Man
S-29 Ant-Man
S-30 Ant-Man
S-31 Hulkbuster
S-32 Hulkbuster/Ant-Man
S-33 Hulkbuster/Ant-Man
S-34 Ant-Man
S-35 Ant-Man
2023 Upper Deck Funko Pop Marvel Infinity Saga Redemption Checklist
Funko Pop Redemptions Set Checklist
1:24 Retail.
Captain America Figurine
Starting now, you can receive 10% off in-stock items with my special link at Entertainment Earth!
 Enjoy!
As an Amazon Associate I earn from qualifying purchases
Want more stuff like this?
Get the best viral stories straight into your inbox!
Don't worry, we don't spam