Nostalgic Gems: The New Family Matters Funko Pops! (2023)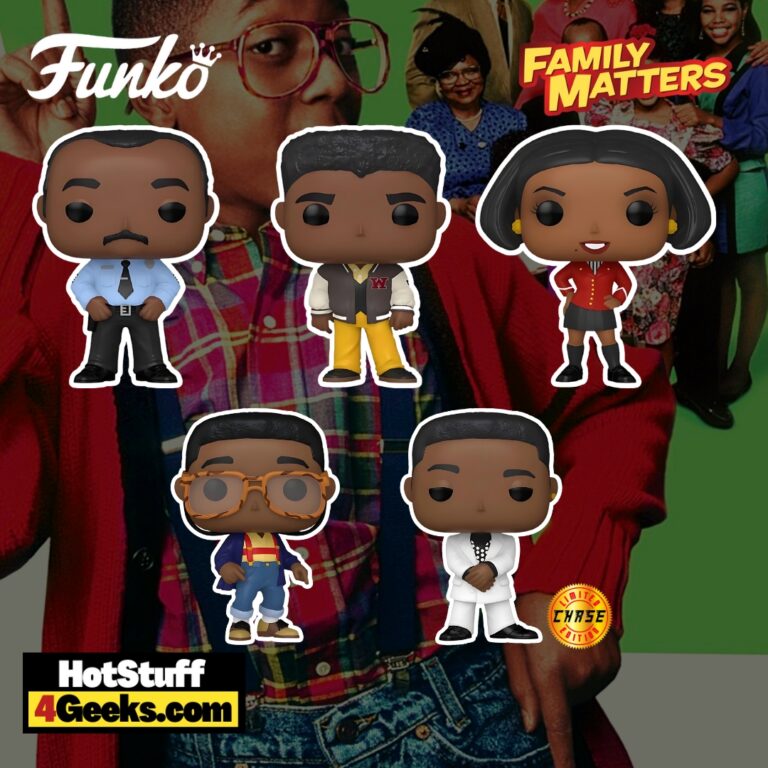 Stepping straight out of your TV screens and into the world of collectibles are the delightfully nostalgic Funko Pop! WB 100th Anniversary:  Family Matters Funko Pop! Vinyl Figures (2023). Celebrating the iconic 90s sitcom, these figures bring back beloved characters in a charming and unique way.
The pop figures can be found at the links below at its release – click to jump or scroll to continue reading!
Nostalgia Unboxed: The WB 100th Anniversary "Family Matters" Funko Pop! Vinyl Figures Collection (2023)
Picture this – it's 2023, and the nostalgia hits you as you revisit your favorite sitcom, 'Family Matters.' The characters, oh, the characters! They have been charmingly reincarnated into fun collectibles, evoking fond memories of the past.
At the heart of these miniature marvels is the unforgettable Steve Urkel. His iconic suspenders, high-waisted jeans, and signature glasses are all an homage to his lovable, nerdy persona.
It's as if Urkel's endearing awkwardness, coupled with his mischievous charm, has leaped right off your screen and into the real world.
These collectibles beautifully encapsulate the essence of 'Family Matters.' They serve as delightful reminders of the laughter, the heart-touching moments, and the timeless lessons the show offered.
A playful nod to the past, these figures perfectly embody the series' spirit, transporting us back to those cherished Friday nights of the 90s.
They're more than just keepsakes. They're touchstones of an era filled with humor, love, and the universal essence of family.
Whether you are a die-hard fan or a casual viewer, these collectibles stir up a sense of nostalgia that's hard to resist.
Here is the Family Matters Pops list for this release:
Family Matters: Steve Urkel with Chase Variant Funko Pop! Vinyl Figure
Family Matters: Carl Winslow Funko Pop! Vinyl Figure
Family Matters: Laura Winslow Funko Pop! Vinyl Figure
Family Matters: Eddie Winslow Funko Pop! Vinyl Figure
Family Matters Funko Pops! (WB 100 Years) can be found for purchase at the links below (click to jump!)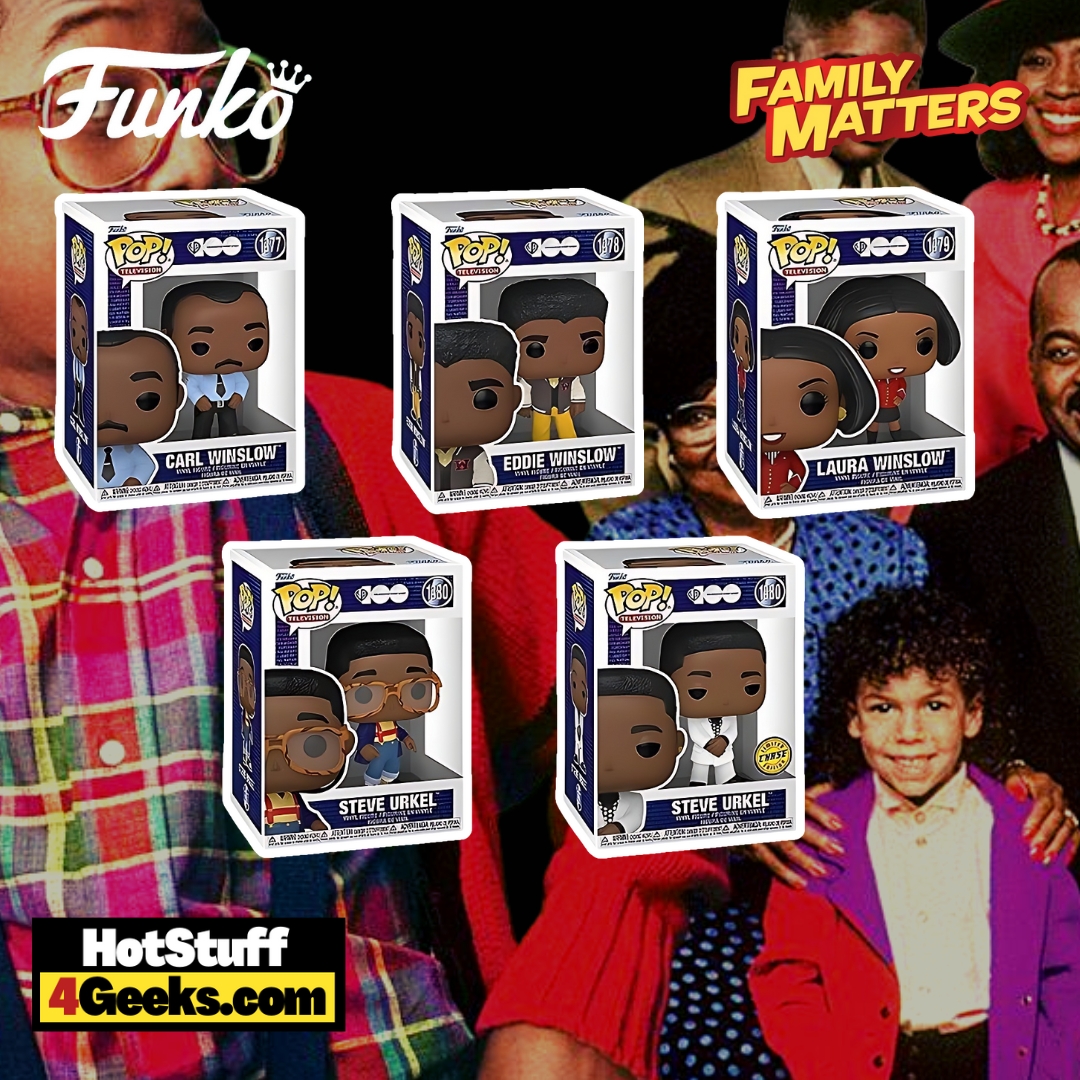 Heart, Humor, and Homage: A Tribute to the Enduring Legacy of "Family Matters"
From the heart of Chicago to the heart of America, the Winslows of 'Family Matters' danced their way into our homes and our hearts.
This predominantly Black sitcom, renowned for its nine-season run from 1989 to 1998, presented us with an authentic portrayal of a middle-class family navigating life's everyday ups and downs with grace and humor.
The series offered more than just laughter; it gave viewers a glimpse into the challenges of juggling work, parenting, and life in the Windy City.
The unshakeable Winslow matriarch Harriette was an undeniable force at the show's core.
Her wit, humor, and unyielding moral compass helped shape the narrative of 'Family Matters.'
She managed her household with grace and tackled issues that resonated with audiences nationwide.
Even today, her unwavering commitment to family values is a benchmark for television matriarchs.
However, the quintessential nerdy next-door neighbor, Steve Urkel, unexpectedly stole the show.
Initially conceived for a one-off appearance, his antics enthralled viewers and left them chuckling episode after episode.
The winsome charm of Urkel, played masterfully by Jaleel White, served as a constant reminder of how endearing character quirks could be.
'Family Matters' walked a delicate balance, veering between lighthearted humor and poignant reflections on weighty societal issues, including racial prejudice and gun violence.
The series demonstrated a masterful ability to handle these significant themes with sensitivity, ensuring that each episode left the audience with a lasting message.
Looking back, 'Family Matters' shines as a beacon of wholesome, well-rounded entertainment.
It provided a rich blend of humor, heart, and a dash of unconventional wisdom, making it a timeless classic that resonates even today.
So let's tip our hats to this iconic show for reminding us what truly matters: family, love, and a hearty dose of laughter.
Starting now, you can receive 10% off in-stock items with my special link at Entertainment Earth!
 Enjoy!
As an Amazon Associate I earn from qualifying purchases
Want more stuff like this?
Get the best viral stories straight into your inbox!
Don't worry, we don't spam