NYCC 2023 Comics: Garfield with Cauldron Funko Pop!
Funko POP! Comics: Garfield with Cauldron Funko Pop! Vinyl Figure – NYCC 2023 and Funko Shop Shared Exclusive
Available at:
The new Funko POP! Comics: Garfield with Cauldron Funko Pop! Vinyl Figure – NYCC 2023 and Funko Shop Shared Exclusive will be available online starting at 6 AM PT on Friday, October 13, at the links below (click to jump!)
Garfield's Spooky Funko Pop! Vinyl Debut at NYCC 2023
The atmosphere at New York Comic-Con 2023 took an enchanting twist with the launch of Garfield's latest vinyl figure, a delightful blend of sass and spook.
Garfield, the lasagna-loving cat with an eternal distaste for Mondays, now holds a cauldron, teasing us with mischievous magic.
Cloaked in a fetching hat, this Funko Pop! iteration boasts the charm we've come to expect but with a sprinkle of Halloween mystery.
The collaboration between NYCC and Funko Shop ensures this edition is unique, elevating it beyond the usual lineup.
The cauldron, bubbling with unknown potions (or maybe just melted cheese?), showcases Garfield's adventurous side. Who knew our favorite tabby dabbled in potion-making?
For enthusiasts and casual fans alike, this Funko Pop! is a treat, encapsulating the whimsy of Halloween while staying true to Garfield's undeniable charisma.
It's a bewitching addition that promises to stir up some magical moments for collectors.
The NYCC 2023 and Funko Shop Shared Exclusive Garfield with Cauldron Funko Pop! can be found at the links below as soon as the online sale begins (click to jump!)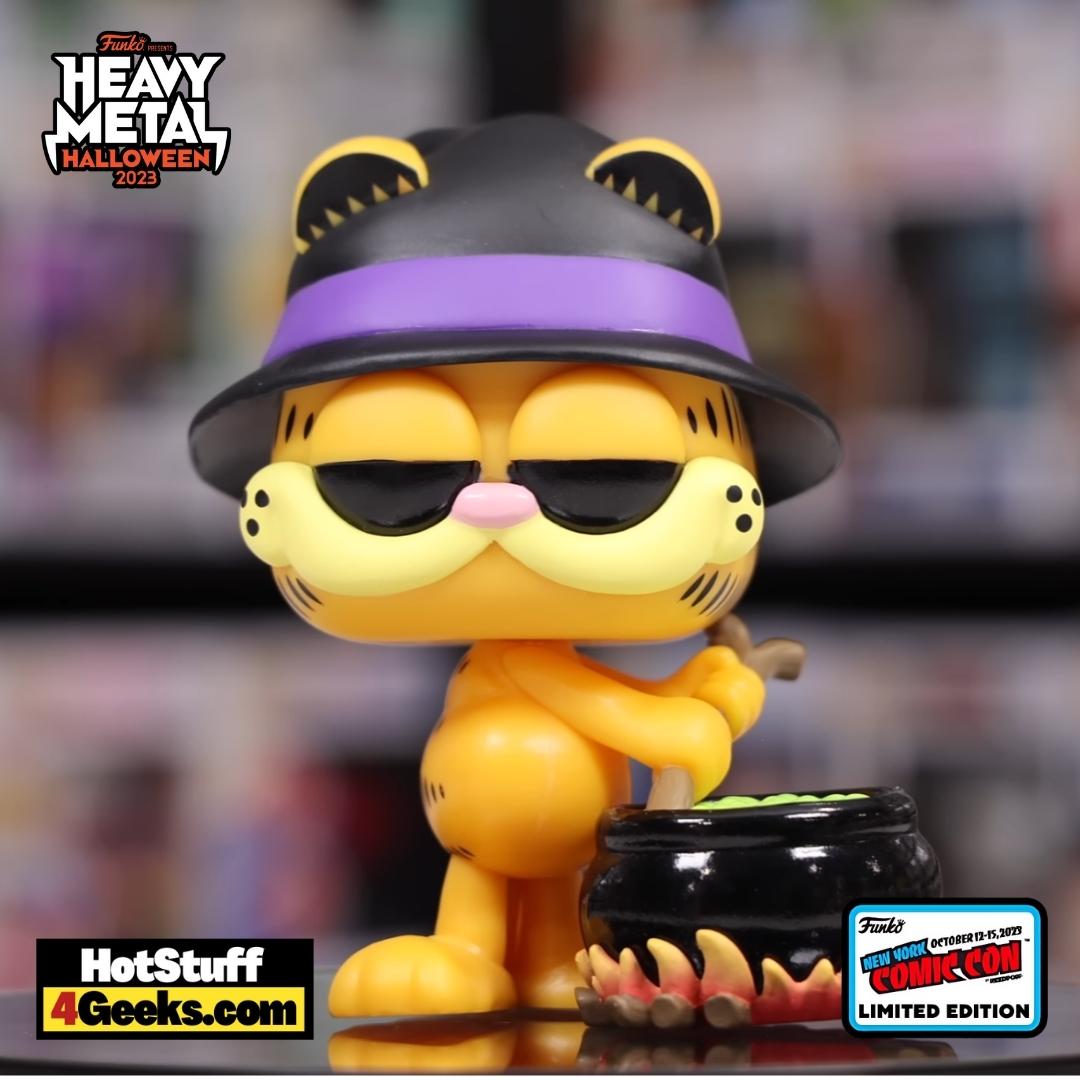 The Endearing Legacy of Garfield the Cat
There's a sassy feline from the comic strips that's been winning hearts for decades. Yes, we're talking about Garfield.
Now, it's easy to pass him off as just another cartoon cat, but there's more beneath that fur and those droopy eyes than meets the eye.
Garfield's charm lies in his relatability. For many, the idea of indulging in a nap (or three) throughout the day sounds like paradise.
And when the blaring alarm rudely interrupts that dream? Pure injustice. Garfield, in his forever laid-back demeanor, embodies this sentiment to a T.
The mere sight of an alarm clock is enough to incite his disdain. But isn't that something most of us feel after a weekend that's just too short?
And what's life without a few guilty pleasures? Garfield doesn't just like lasagna; he worships it. Every gooey, cheesy bite is a testament to why diets are the enemy.
Speaking of diets, Garfield's attitude toward them is pretty clear: why bother? In a world obsessed with calorie counting and cardio, there's a distinct charm in a cat that couldn't care less about the treadmill.
While pets around him may frolic and play, Garfield would rather lie down and perhaps snack on some lasagna.
It's not just about his love for food and napping, though. His rich history reveals he was born in an Italian restaurant.
It's not a typical birthplace, but it certainly gives him some style points and might explain the lasagna fixation.
While many of us have mundane tales of hospital births, Garfield's origin story is filled with the tantalizing aroma of marinara sauce and melting cheese.
However, it's not all love in Garfield's world. Raisins, for instance, are a firm no-go. It's kind of refreshing, really, to see such a clear-cut dislike.
It's as if he's saying, "If I don't like it, why should I pretend otherwise?" In a world where opinions are often masked, Garfield's straightforwardness stands out.
One of the most admirable traits of this ginger tabby is his unwavering self-belief. Where some might see arrogance, many see a contagious confidence.
There's something delightful about a character that believes he's the best without a hint of doubt.
In an era where self-love can be hard to come by, Garfield's self-assured attitude is a breath of fresh air.
In essence, the appeal of Garfield goes beyond the comics. He's not just a cat; he's a reflection of our little quirks, desires, and aversions.
And while we might not wear our opinions as boldly as he does or indulge as unapologetically, there's a bit of Garfield in all of us.
Maybe that's why, after all these years, he remains an iconic and beloved character.
After all, in a world filled with complexities, there's something comforting about a cat who simply knows what he wants.
In celebrating Garfield's lasting appeal, it's no surprise that unique collectibles like the Garfield with Cauldron Funko Pop!  emerge.
This unique collectible resonates with fans, offering a tangible connection to a cat who's been a comforting presence for so long.
This particular figure, merging the spirit of Halloween with Garfield's charm, encapsulates why he remains such a treasured icon.
As time evolves, so does our bond with this unforgettable feline.
As an Amazon Associate I earn from qualifying purchases
Funko POP! Comics: Garfield with Cauldron Funko Pop! Vinyl Figure – NYCC 2023 and Funko Shop Shared Exclusive
Available at:
Want more stuff like this?
Get the best viral stories straight into your inbox!
Don't worry, we don't spam