NYCC 2023 Ghostbusters: Spengler's Spirit Funko Pop!
Funko POP! Ghostbusters: Afterlife – Spengler's Spirit Funko Pop! Vinyl Figure – NYCC 2023 and Funko Shop Shared Exclusive
Available at:
The new Funko POP! Ghostbusters: Afterlife – Spengler's Spirit (Translucent) Funko Pop! Vinyl Figure – NYCC 2023 and Funko Shop Shared Exclusive will be available online starting at 6 AM PT on Friday, October 13, at the links below (click to jump!)
Egon Spengler's Spirit Lives On: The NYCC 2023 Exclusive Funko Pop! Reveal
The world of collectibles is buzzing with excitement, and the cause is none other than the recent revelation: Ghostbusters: Afterlife – Spengler's Spirit Funko Pop! Vinyl Figure.
This NYCC 2023 and Funko Shop Shared Exclusive isn't just another figure to add to your shelf; it's a testament to the iconic Egon Spengler's legacy in the Ghostbusters realm.
The first thing that grabs your attention? That fresh head sculpt. It's detailed, capturing the very essence of Spengler, complemented impeccably by those signature glasses we've all come to associate with the character.
Dive a little deeper, and the tan khaki flight suit stands out, adorned with the unmistakable no-ghost logo and the 'Spengler' nametag. A nod, perhaps, to the timelessness of the character and his undying spirit in the Ghostbusters universe.
But wait, there's more. The translucent features are nothing short of a delightful surprise. A spirited take, indeed! For anyone familiar with Ghostbusters, this is not just about owning a figure; it's about celebrating the quirks, the genius, and the spirit of Egon Spengler.
The NYCC 2023 and Funko Shop Shared Exclusive Spengler's Spirit Funko Pop! can be found at the links below as soon as the online sale begins (click to jump!)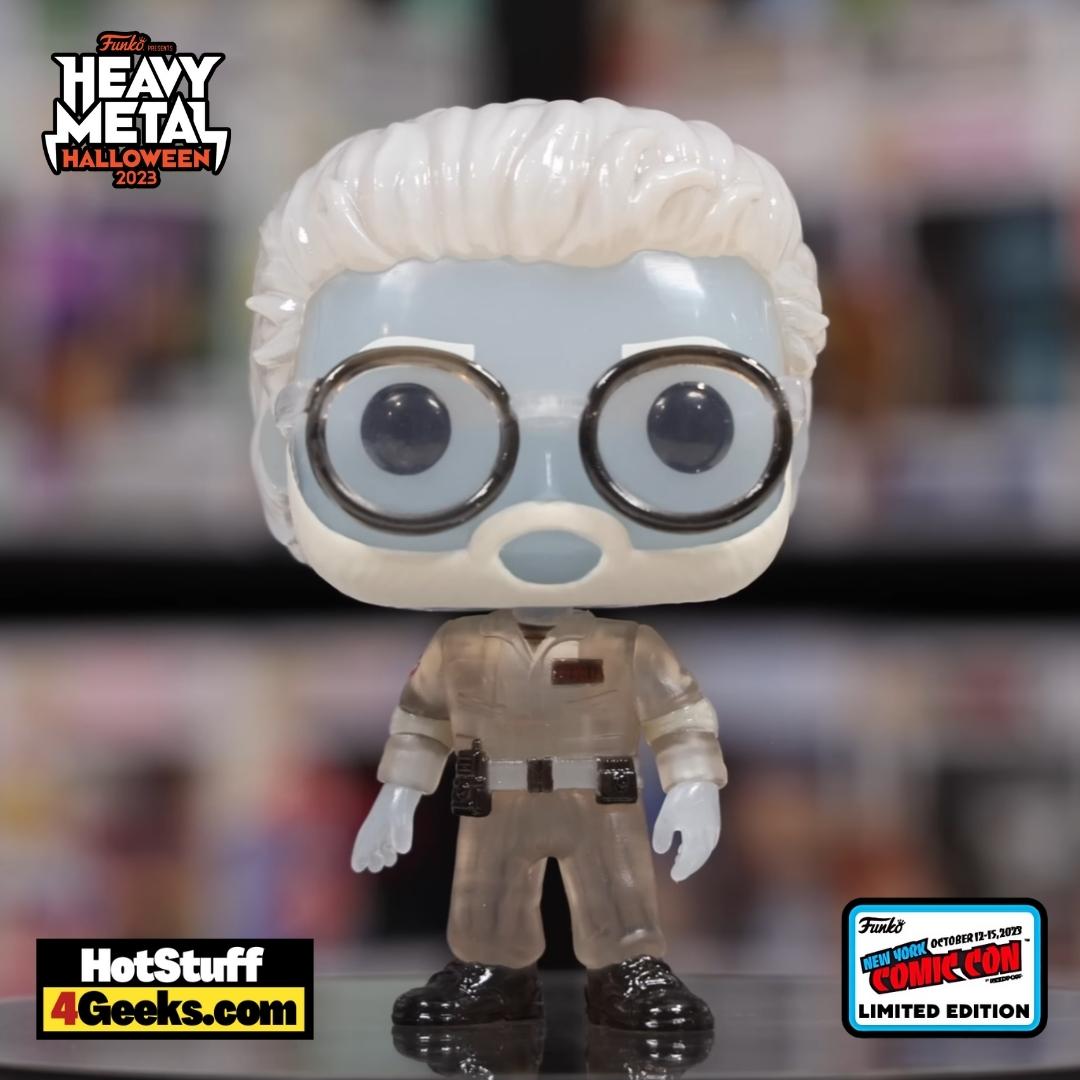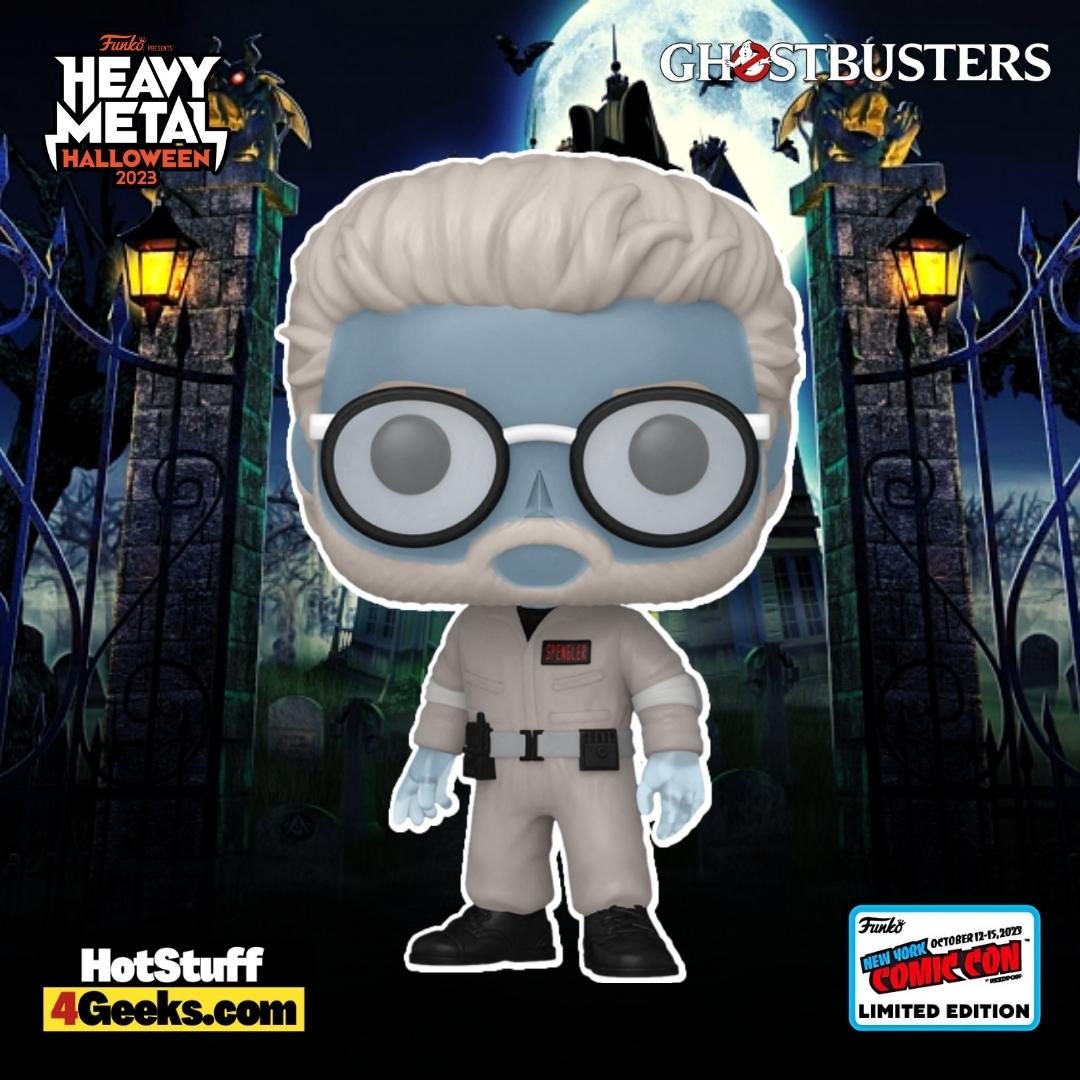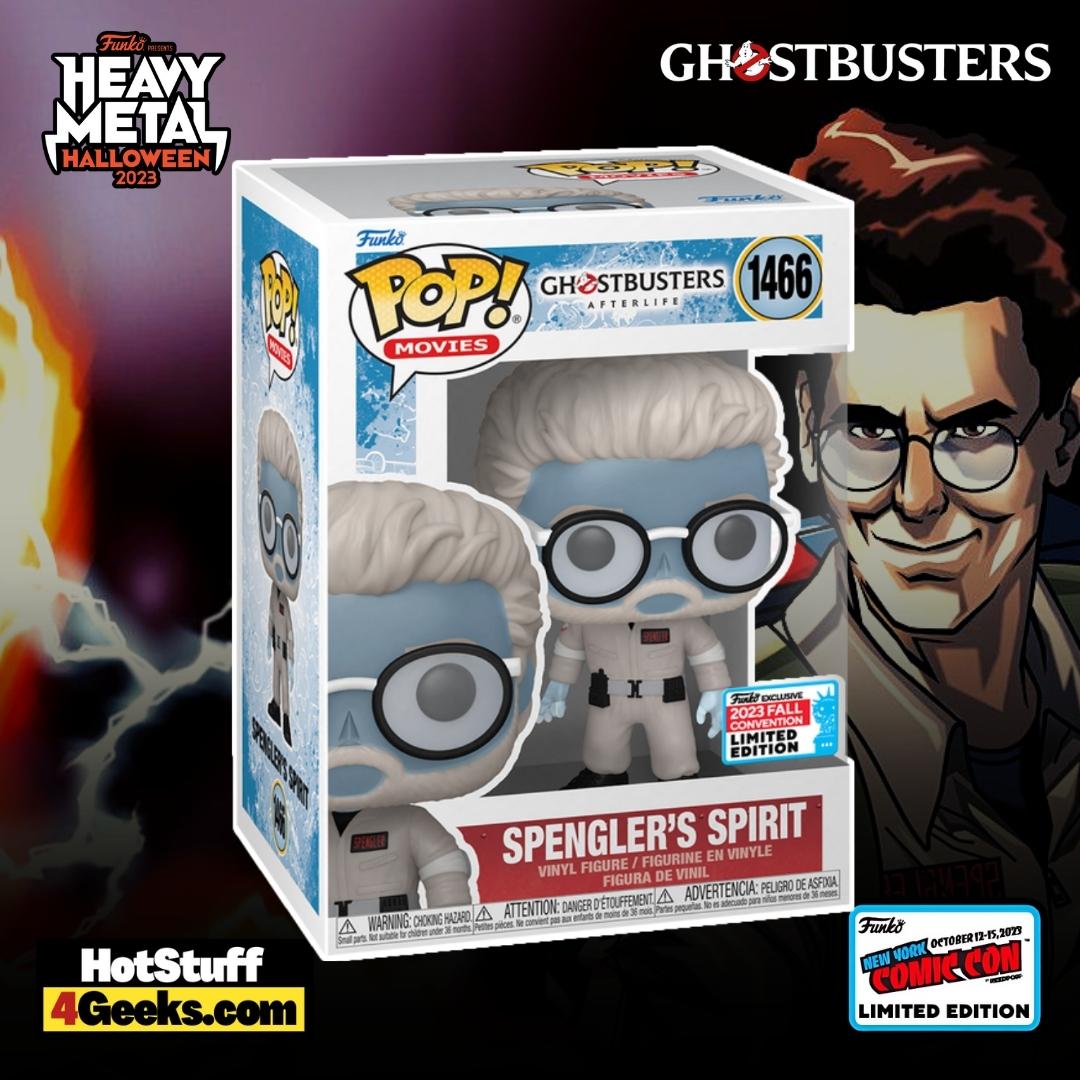 Egon Spengler: The Brain Behind the Busters
If there's one Ghostbuster who can blend raw intellect with a quirky personality, it's Egon Spengler.
Even among the eclectic team of paranormal experts, Egon always stood out for his unique mix of brilliance and offbeat humor.
But did you delve deep enough into the world of Ghostbusters to uncover the intricate layers of his backstory?
Let's uncover some lesser-known details.
Egon didn't share the same childhood memories with the rest of the team.
Unlike Peter, Ray, and Winston, who all hailed from the bustling city of New York, Egon's story began in a suburb of Cleveland, Ohio.
An early bloomer in the intellectual arena, young Egon showcased a flair for the sciences. Most of us chuckle when we remember the time Egon casually mentioned straightening a slinky.
But did you know he had an early penchant for explosives too?
He once transformed his brother's Lionel train set into a compact explosive device.
That same childlike curiosity led him to dive into the paranormal, soaking up knowledge from books with titles as intriguing as "The Mysteries of Latent Abnormality" and "The Necronomicon."
By his high school years, Egon's knack for quirky experiments was evident.
From hypothesizing the spread of venereal diseases through mere observation to tinkering with radio waves to hypnotize hamsters, Egon's scientific prowess, albeit a tad peculiar, was nothing short of remarkable.
His move to New York only saw a progression of these eccentric ventures, including an audacious attempt to morph a jungle gym into an anti-gravity contraption.
Although that experiment ended in an unexpected blackout, it was a testament to his relentless spirit of exploration.
Another intriguing layer to Egon's character is his college rendezvous. His friendship with Peter Venkman began in the most unexpected way.
While Peter was enrolling in a Women's Studies class with an ulterior motive (wink), Egon landed there due to a clerical mix-up. Yet, this twist of fate turned into a lasting bond.
Egon's acumen helped Peter navigate the challenging academic waters of Columbia University and ensured his eventual role as a professor.
Digging further into Egon's academic prowess, one can't help but be astounded by his achievements.
Apart from earning a doctorate in parapsychology from Columbia, he added another feather to his cap with a physics doctorate from M.I.T. If you thought his intellectual journey stopped there, think again.
Egon's educational escapades even took him to Sweden, where his initial groundwork for the iconic P.K.E. meter began.
But what truly set Egon apart was his inventive streak.
With Ray's assistance, he didn't just improve the P.K.E. meter; he was the genius behind the proton packs, ghost traps, and the essential ecto containment unit.
His innovative feats didn't end there. Remember the slime guns in Ghostbusters II? All Egon's brainchild!
On a lighter note, how about Egon's eccentric food habits? He had a penchant for collecting spores, molds, and fungus, even maintaining a rooftop fungus farm.
While he believed in a future diet dominated by these, he had a sweet tooth that many might not be aware of, indulging in treats like Twinkies to stay charged.
Overall, Egon Spengler is a character full of depth, intricacies, and endearing quirks.
His journey, innovations, and idiosyncrasies make him an unforgettable force in the Ghostbusters universe.
In tribute to Egon's enduring legacy, the Spengler's Spirit (Translucent) Funko Pop! Vinyl Figure for NYCC 2023 is a must-have for fans.
A nod to both his tangible genius and ethereal spirit, it beautifully encapsulates the very essence of this beloved Ghostbuster.
Truly, a fitting tribute to the brain behind the busters.
As an Amazon Associate I earn from qualifying purchases
Funko POP! Ghostbusters: Afterlife – Spengler's Spirit Funko Pop! Vinyl Figure – NYCC 2023 and Funko Shop Shared Exclusive
Available at:
Want more stuff like this?
Get the best viral stories straight into your inbox!
Don't worry, we don't spam