NYCC 2023 Indiana Jones with Snakes Funko Pop! Unveiled
Funko POP! Raiders of the Lost Ark: Indiana Jones with Snakes Funko Pop! Vinyl Figure – NYCC 2023 and Funko Shop Shared Exclusive
Available at:
The new Funko POP! Raiders of the Lost Ark: Indiana Jones with Snakes Funko Pop! Vinyl Figure – NYCC 2023 and Funko Shop Shared Exclusive will be available online starting at 6 AM PT on Friday, October 13, at the links below (click to jump!)
Exclusive First Look: NYCC 2023 Indiana Jones with Snakes Funko Pop!
In the swirling world of collectibles, the limelight now shifts to the stunning Raiders of the Lost Ark: Indiana Jones with Snakes Funko Pop! Vinyl Figure.
Straight from the unforgettable NYCC 2023 and available as a Funko Shop Shared Exclusive, this little gem captures the fearless spirit of Dr. Jones like never before.
Crafted meticulously, the figure perfectly embodies Indiana's iconic fedora and whip, with the unexpected twist of his well-known nemesis – snakes!
The attention to detail is simply remarkable. From the intense expression in those eyes to the finely sculpted torch flames, it paints a vivid scene from the classic film.
Nestled atop a detailed base that hints at an ancient temple, the contrast between Indy's courageous stance and the slithering snakes is palpable.
For ardent fans and newcomers alike, this vinyl figure encapsulates a legendary cinematic moment.
Grab it, cherish it, and let Indiana Jones's intrepid spirit constantly inspire you on your display shelf.
The NYCC 2023 and Funko Shop Shared Exclusive Indiana Jones with Snakes Funko Pop! can be found at the links below as soon as the online sale begins (click to jump!)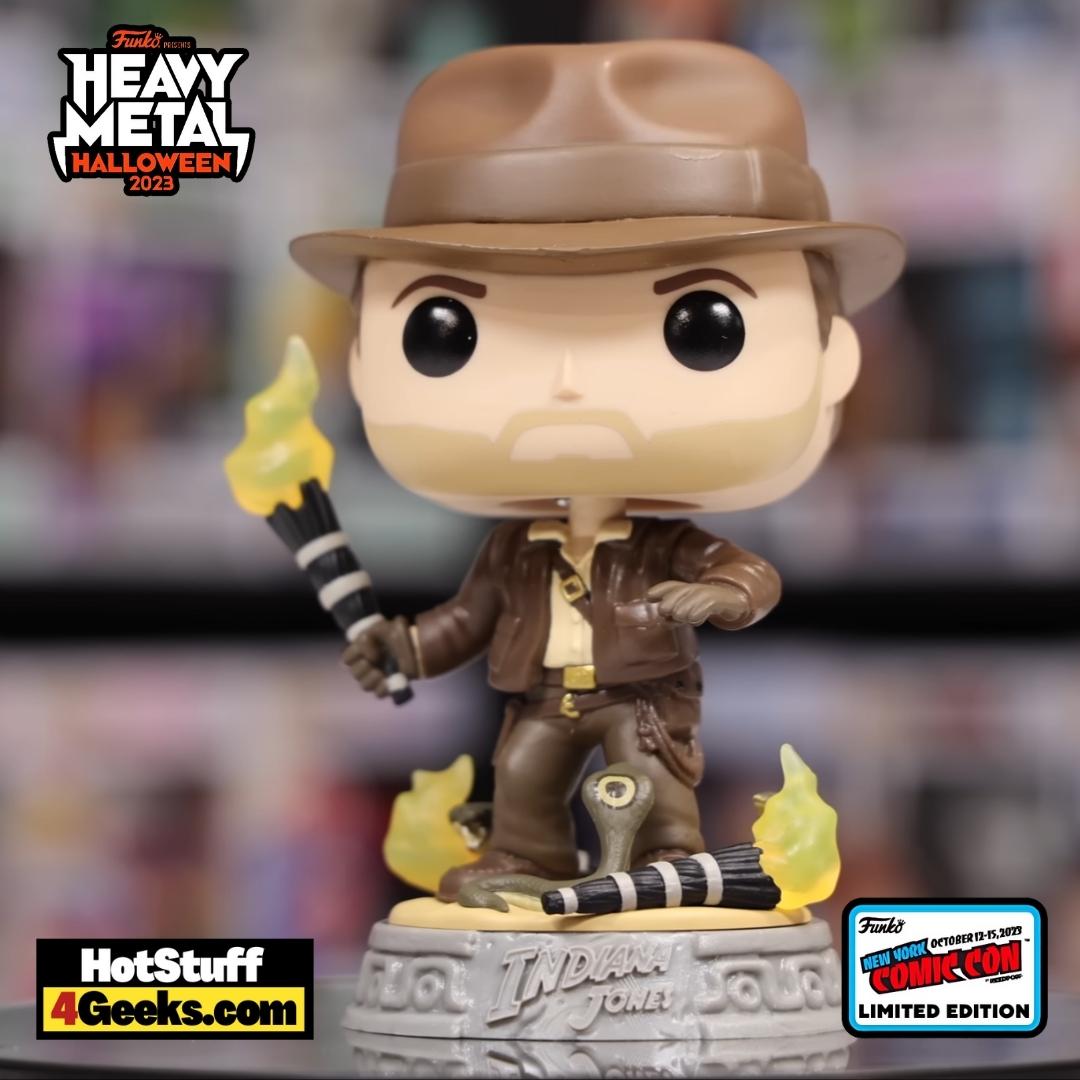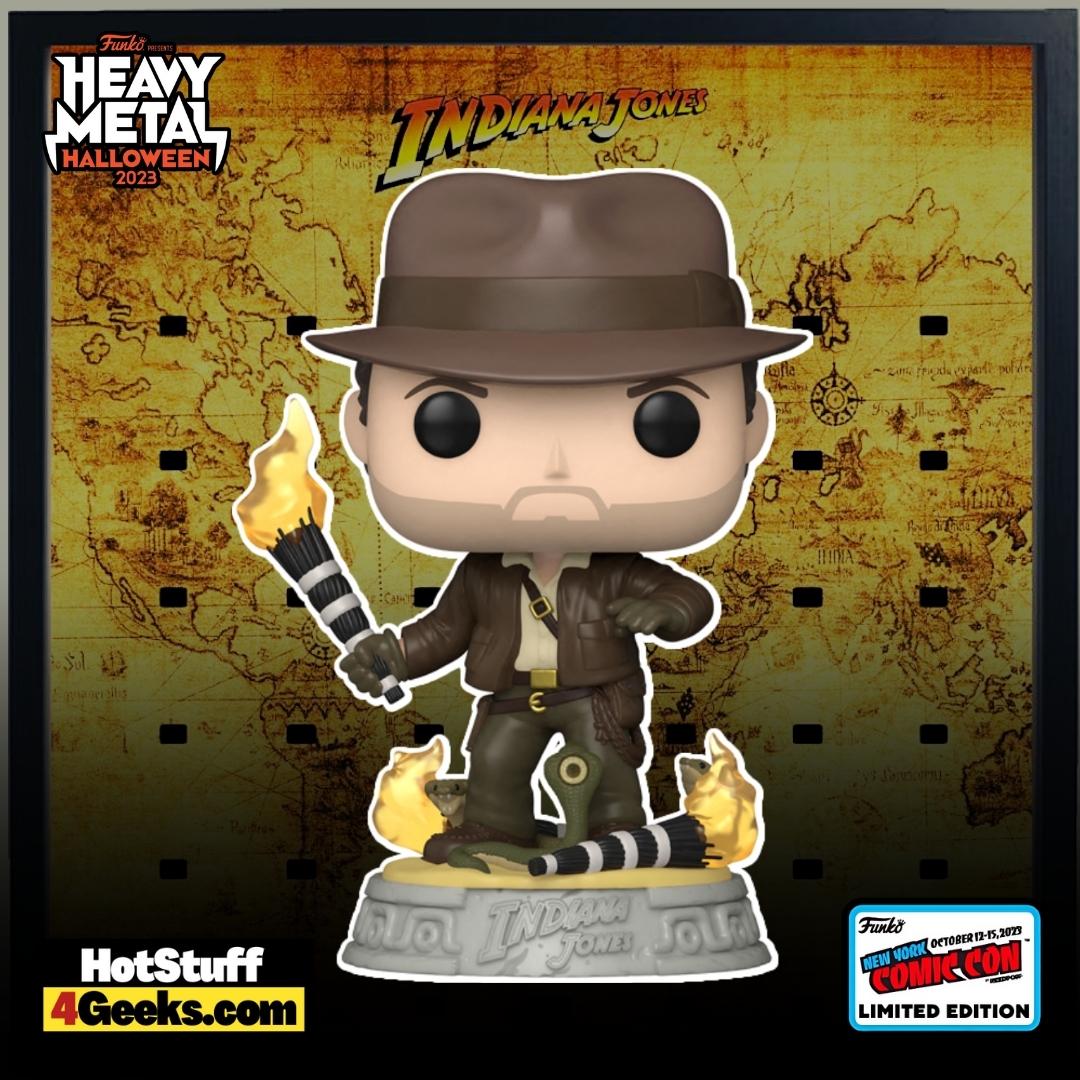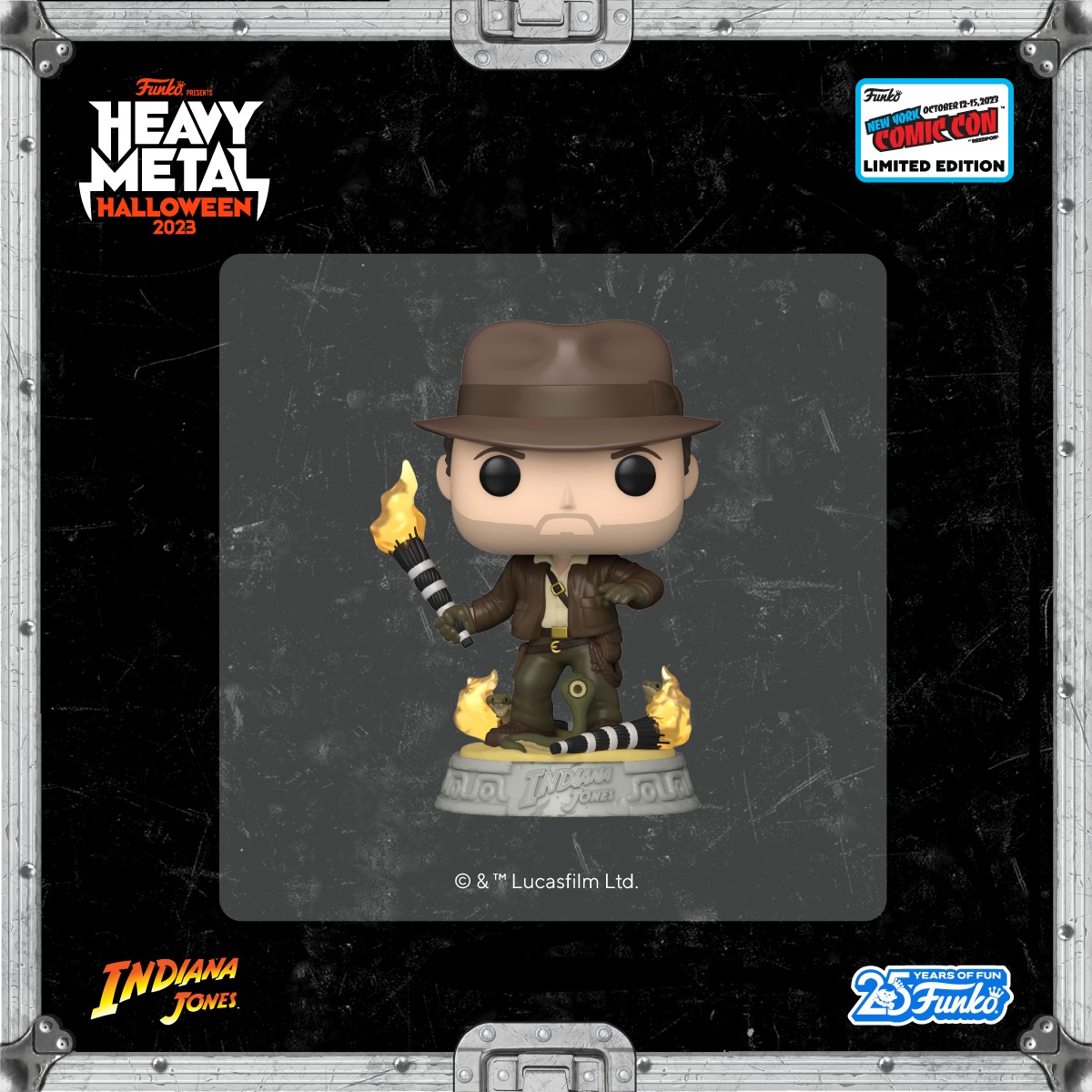 Indiana Jones and the Timeless Appeal of Raiders of the Lost Ark
In the galaxy of cinematic masterpieces, "Raiders of the Lost Ark" stands out like a supernova.
Awe-struck moments, unmatched chemistry, and the enigma that is Indiana Jones combine to create a cocktail of pure movie magic.
Everyone has a favorite Indiana Jones flick, but let's face it, Raiders takes the cake. And here's the scoop on why.
First things first: Steven Spielberg, the mastermind behind the camera, really went above and beyond with this one.
After a brief hiccup in his career, Spielberg's determination to rekindle the nostalgia of adventure serials from his youth led to this absolute gem.
And while it's a nod to the past, Raiders doesn't rest on the laurels of pure nostalgia.
It's a film that's simultaneously rooted in history and defies time with its captivating storyline and edge-of-the-seat action sequences.
Speaking of action, let's discuss that opening scene.
Within minutes, we're introduced to Indy's signature whip, his unmistakable fedora, and – dare I say it – that unforgettable fear of snakes.
The pace is relentless.
From boulders rolling at heart-stopping speeds to fast shifts between locations, every moment grips you.
And let's not forget about those iconic moments sprinkled throughout: the nerve-wracking stone sinking after the golden idol's removal, the unforgettable truck chase, and the classic "It had to be snakes."
But a film is more than its action, and Raiders nails it in casting too. Harrison Ford as Indy? Talk about a match made in cinematic heaven.
The man showcases a spectrum of emotions and gives life to Dr. Jones in a way no one else could.
Add to that Karen Allen's undeniable spark and brilliance as Marion, and you have a pairing that makes hearts race and sparks fly.
It's not just the protagonists; every character, right down to that treacherous monkey, adds depth to the story.
Paul Freeman, Ronald Lacey, Denholm Elliott – the list of impeccable performances goes on.
John Williams' score is the cherry on top.
It's as if Spielberg and Williams had a telepathic connection, each note and chord resonating perfectly with the scene's emotion.
From the triumphant and iconic Indy theme to the subtle, delicate melodies, it's an auditory treat that complements the visual spectacle.
Even behind the scenes, the film excels.
Whether it's Deborah Nadoolman's eye-catching costumes, Norman Reynolds' intricate designs, or Michael Kahn's seamless editing, every piece fits together in a harmonious puzzle.
So, what makes "Raiders of the Lost Ark" the standout in the Indiana Jones series?
It's a concoction of Spielberg's brilliance, unmatched character chemistry, iconic action sequences, and a soundtrack that remains etched in memory.
With accolades like five Oscars and a spot in the US National Film Registry, it's not just a fan favorite but a cinematic masterpiece.
Raiders don't just belong in the hearts of fans; they belong in film history's annals.
In light of such cinematic mastery, it's no wonder that the appeal of Indiana Jones has transcended from the silver screen to collectibles.
The recent unveiling of the Raiders of the Lost Ark: Indiana Jones with Snakes Funko Pop! Vinyl Figure – NYCC 2023 and Funko Shop Shared Exclusive is a testament to the film's enduring impact.
A perfect tribute, this collectible captures the essence of Indy's adventure-filled spirit, ensuring that fans can cherish a piece of this iconic movie for years to come.
As an Amazon Associate I earn from qualifying purchases
Funko POP! Raiders of the Lost Ark: Indiana Jones with Snakes Funko Pop! Vinyl Figure – NYCC 2023 and Funko Shop Shared Exclusive
Available at:
Want more stuff like this?
Get the best viral stories straight into your inbox!
Don't worry, we don't spam