NYCC 2023 InuYasha (Human Form) Funko Pop!
Funko POP! InuYasha: InuYasha (Human Form) Funko Pop! Vinyl Figure – NYCC 2023 and Toy Tokyo Shared Exclusive
Available at:
The new Funko POP! InuYasha: InuYasha (Human Form) Funko Pop! Vinyl Figure – NYCC 2023 and Toy Tokyo Shared Exclusive will be available online starting at 6 AM PT on Friday, October 13, at the links below (click to jump!)
Exclusive First Look: InuYasha Human Form Funko Pop! – NYCC 2023 & Toy Tokyo Exclusive
It's truly a remarkable moment for fans when they witness their beloved characters in a new light. Enter the InuYasha (Human Form) Funko Pop! Vinyl Figure, an exclusive release showcased at the New York Comic Con (NYCC) 2023 and shared with Toy Tokyo.
The intriguing element? The focus is on InuYasha's human side.
Throughout the anime series, fans were accustomed to InuYasha's half-demon persona, but there's a poignant depth when his human vulnerabilities surface.
This Funko Pop! captures that essence brilliantly. The character's signature attire, the powerful Tetsusaiga, and his expressive eyes all reflect a unique blend of his familiar fierce demeanor juxtaposed with his fleeting human fragility.
For collectors and enthusiasts alike, this exclusive edition stands as a tribute to the intricate layers of InuYasha's character.
It's not merely a collectible; it's a testament to the series' ability to make us feel, reflect, and connect deeply.
The NYCC 2023 and Toy Tokyo Shared Exclusive InuYasha (Human Form) Funko Pop! can be found at the links below as soon as the online sale begins (click to jump!)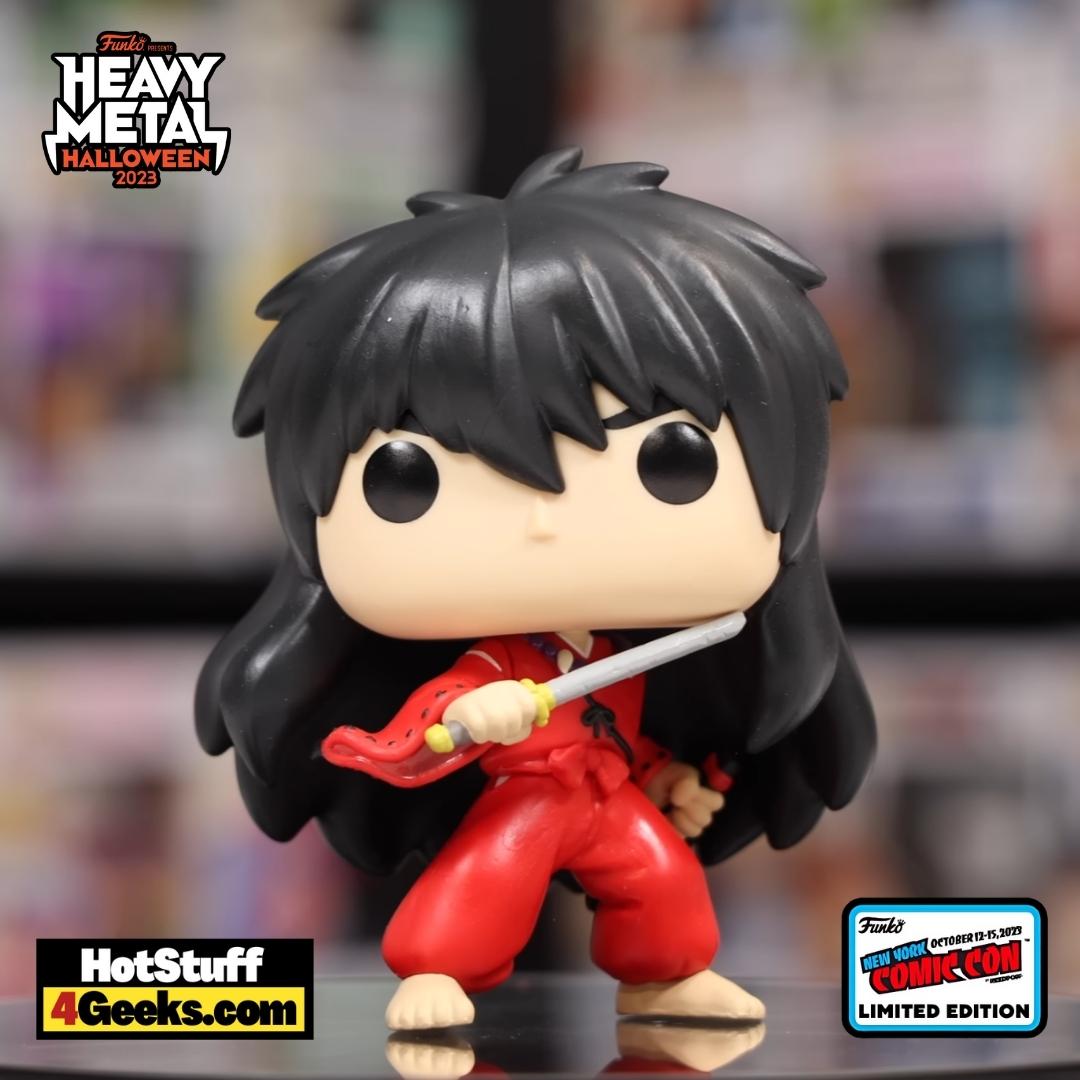 Behind the Blades: Analyzing the Immortal Impact of Inuyasha
Anime, like any form of art, is teeming with stories that capture the heart, intrigue the mind, and sometimes do both.
Yet, few have made as lasting an impact as Inuyasha, a series that not only redefined its era but also holds its ground even today.
A colossal achievement considering it had to stand shoulder to shoulder with anime juggernauts like Naruto, Bleach, and Dragon Ball Z.
Why has Inuyasha cemented its place among the pantheon of anime legends? Let's dive deeper. First, a peek into its origin reveals the signature touch of Rumiko Takahashi.
Already a legend for her earlier creations like Ranma 1/2 and Urusei Yatsura, Takahashi embarked on a more adventurous path with Inuyasha, blending fantasy and romance seamlessly.
The series narrates the journey of Kagome, a modern-day teenager who, thanks to a magical well, finds herself in feudal Japan.
She inadvertently awakens Inuyasha, a half-demon pinned by an arrow, setting in motion a grand tale of magic, love, and peril.
But the plot is just the tip of the iceberg. The magic really lies in its characters.
Kagome and Inuyasha's relationship dynamics – which, by the way, are a lesson in how to craft a Tsundere relationship right – pull you in with every episode.
And while these two do steal the limelight, the supporting cast isn't mere background noise.
Be it the depth of the monk Miroku, the strength and determination of Sango, or even the complexities of adversaries like Sesshomaru and Koga, each character contributes to the tapestry of the tale.
The battles are not just external; they are internal, emotional, and ever-evolving.
This rich tapestry, however, wouldn't be the cultural milestone it is without exposure. And Inuyasha was blessed in that department.
Its long run on Adult Swim ensured that it wasn't just a fleeting presence on American television screens.
It stayed, resonated, and became a shared experience for many.
Long after its final episode aired in Japan, its adventures kept revolving on television, feeding the ever-hungry anime appetite of its fans.
To say Inuyasha is just another anime would be like saying the Mona Lisa is just another painting.
It's an intricate dance of blades and emotions, an odyssey through time, and a testament to the power of storytelling.
For anyone looking for a rollercoaster ride through magical realms with sprinklings of romance, friendships, and fierce battles, this series is a must-watch.
A word of advice: it's more than just a show; it's an experience.
In reflecting on the immortal impact of Inuyasha, one cannot overlook the latest tribute to this iconic series: the InuYasha: InuYasha (Human Form) Funko Pop! Vinyl Figure – NYCC 2023 and Toy Tokyo Shared Exclusive.
This collectible serves as a testament to the series' lasting influence, offering fans a tangible memento of an anime that transcends time.
It's not just an ode to a character but a nod to a narrative that has touched countless souls globally.
As Inuyasha continues to leave its mark on the world, enthusiasts now have another way to cherish and celebrate its legacy.
As an Amazon Associate I earn from qualifying purchases
Funko POP! InuYasha: InuYasha (Human Form) Funko Pop! Vinyl Figure – NYCC 2023 and Toy Tokyo Shared Exclusive
Available at:
Want more stuff like this?
Get the best viral stories straight into your inbox!
Don't worry, we don't spam