NYCC 2023 My Hero Academia: Momo Yaoyorozu Funko Soda
Funko Soda! My Hero Academia: Momo Yaoyorozu Funko Soda Vinyl Figure with Diamond Glitter Chase – NYCC 2023 and GameStop Shared Exclusive
Available at:
The new Funko Soda! My Hero Academia: Momo Yaoyorozu Funko Soda Vinyl Figure with Diamond Glitter Chase – NYCC 2023 and GameStop Shared Exclusive will be available online starting at 6 AM PT on Friday, October 13, at the links below (click to jump!)
Exclusive Release: NYCC 2023's Momo Yaoyorozu Diamond Glitter Chase Funko SODA Figure
Glimmering amidst the bustling backdrop of New York Comic Con 2023, Momo Yaoyorozu from "My Hero Academia" made quite the entrance.
Her Funko SODA Vinyl Figure is a collector's treasure, presented exclusively by GameStop, limited to just 16,000 pieces. Styled in her signature hero attire and ready to deploy her Creation Quirk, this figure exemplifies the essence of Momo.
Every intricate detail captures her vibrant spirit, right down to her trusty staff. What makes this release even more thrilling? A 1 in 6 chance to discover the Diamond Glitter chase variant, adding an extra touch of sparkle to her already radiant persona.
Crafting the ultimate My Hero Academia ensemble is now within reach. With Momo's addition, enthusiasts can elevate their collection, celebrating her pivotal role in the U.A. class.
Don't miss the chance to have this heroic heart at the center of your display!
The SDCC 2023 and GameStop Shared Exclusive Momo Yaoyorozu with Diamond Glitter Chase Funko Soda Figure can be found at the links below as soon as the online sale begins (click to jump!)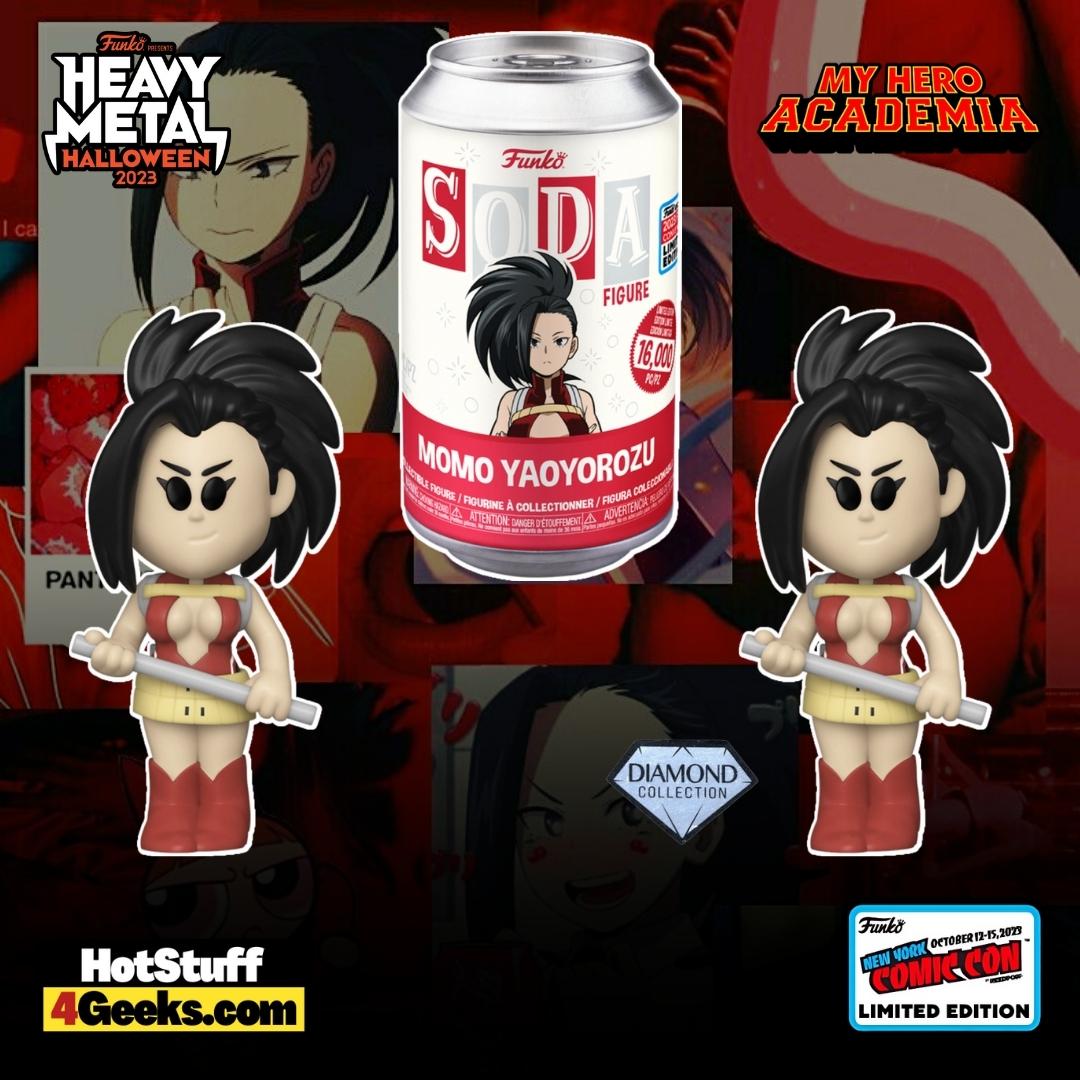 A Glimpse Into Momo Yaoyorozu's Intricate Universe
We find ourselves diving into the vibrant and explosive universe of "My Hero Academia," where Momo Yaoyorozu, a heroine of intellect and power, reigns supreme in her own unassuming way.
This young heroine, often cloaked in understated confidence, beckons us into a world where her capabilities extend far beyond the ordinary, navigating the nuanced waves of heroism with a mind that buzzes ceaselessly.
Momo's intellect is undeniably one of her most standout attributes, yet it's wrapped in a veneer of humility and steadiness that only makes it shine brighter.
She engulfs encyclopedias, absorbing every iota of knowledge with an insatiable hunger, all with the motive to master her unique and mighty quirk, creation.
This quirk doesn't merely serve as an intriguing plot point but rather as a pivotal aspect that intricately intertwines with her identity.
However, it's more than just a mere tool for battle. Her creation quirk is not just a testament to her physical capabilities but a metaphorical window into her boundless potential and inventive spirit.
Momo doesn't simply create objects; she reshapes her own molecular structure, commanding her own being to bring forth something new, something uniquely tethered to her understanding and perception of the world around her.
A creation, after all, is not merely a manifestation of matter but a profound insight into the creator's mind.
Then, there's the captivating mystery embedded in her name, a myriad of numerical significances that, when woven together, signify something akin to an uncountable number.
A direct nod, perhaps, to the seemingly limitless potentials of her creation quirk, Momo doesn't just bring objects into existence.
She defies numerical limitations, crafting possibilities from the mere expanse of her knowledge and the fascinating intricacies of her quirk.
Even her character design, which evolved from an initial concept to the Momo we recognize today, demonstrates a journey of creativity and refinement.
From a slim figure with a distinctively different hairstyle and a hero costume complete with a mask, the Momo that graces the screens and pages now speaks to an adaptive character development that mirrors her own evolutionary journey within the storyline.
Despite her prowess, Momo is not without her limitations. Her quirk, albeit powerful, cannot conjure life, and every creation demands a meticulous, near-exhaustive understanding of molecular structure.
Yet, these limitations do not dwarf her spirit but rather enhance her resolve, crafting a path that meanders through trials and triumphs alike.
It's worth pondering, how does one navigate the boundless seas of endless possibilities? For Momo, it's a delicate balance between intelligence and humility, creation and understanding, strength and vulnerability
. Her journey weaves through the tapestry of a heroine's path, not with an overwhelming blaze but with a steady, unwavering flame that illuminates the vast expanse of her being and the world in which she resides.
In reflection, the unveiling of the My Hero Academia: Momo Yaoyorozu Funko Soda Vinyl Figure with Diamond Glitter Chase – NYCC 2023 and GameStop Shared Exclusive is not just a nod to her prominence in the series but a celebration of her multidimensional character.
This collectible is an emblem of her journey, encapsulating the essence of Momo's spirit, intellect, and resilience.
Every fan cherishing this exclusive piece is not merely acquiring a figure but a testament to Momo's intricate universe, where potential meets prowess, and creation intertwines with identity.
A keepsake that forever immortalizes the brilliance of Momo Yaoyorozu in the realm of "My Hero Academia."
As an Amazon Associate I earn from qualifying purchases
Funko Soda! My Hero Academia: Momo Yaoyorozu Funko Soda Vinyl Figure with Diamond Glitter Chase – NYCC 2023 and GameStop Shared Exclusive
Available at:
Want more stuff like this?
Get the best viral stories straight into your inbox!
Don't worry, we don't spam