NYCC 2023 Star Trek: Geordi La Forge Funko Pop! Figure
Funko POP! Star Trek: The Next Generation – Geordi La Forge Funko Pop! Vinyl Figure – NYCC 2023 and FYE Shared Exclusive
Available at:
The new Funko POP! Star Trek: The Next Generation – Geordi La Forge Funko Pop! Vinyl Figure – NYCC 2023 and FYE Shared Exclusive will be available online starting at 6 AM PT on Friday, October 13, at the links below (click to jump!)
Exclusive Drop: Geordi La Forge Funko Pop! at NYCC 2023
Eager Star Trek enthusiasts are in for a treat as NYCC 2023 unveils its latest gem – the Star Trek: The Next Generation – Geordi La Forge Funko Pop! Vinyl Figure. A shared exclusive with FYE, this figure impeccably encapsulates Geordi's essence.
With meticulous attention to detail, this Pop showcases his iconic VISOR and the vibrant red of his Starfleet uniform. But what truly sets this particular Funko Pop! apart is Geordi's command position in the captain's chair.
It's a nod to those riveting moments when Lieutenant La Forge had to step up, showcasing his prowess and leadership in the absence of his superiors.
A symbol of resilience, adaptability, and unwavering dedication, this Geordi La Forge figure is bound to hold a special place in the hearts of collectors.
This is a tangible piece of that stellar adventure for those who have journeyed with him across galaxies.
The NYCC 2023 and FYE Shared Exclusive Geordi La Forge Funko Pop! can be found at the links below as soon as the online sale begins (click to jump!)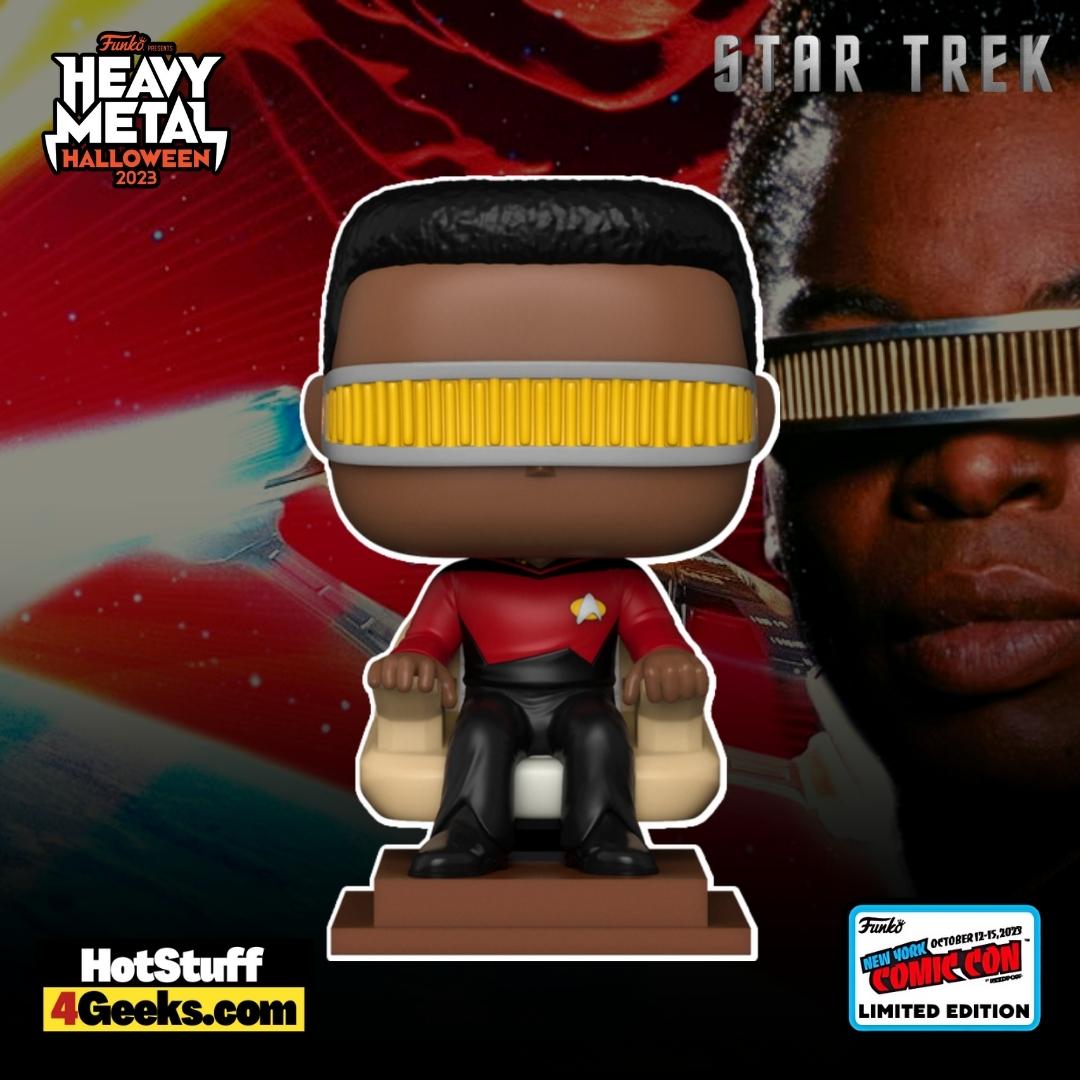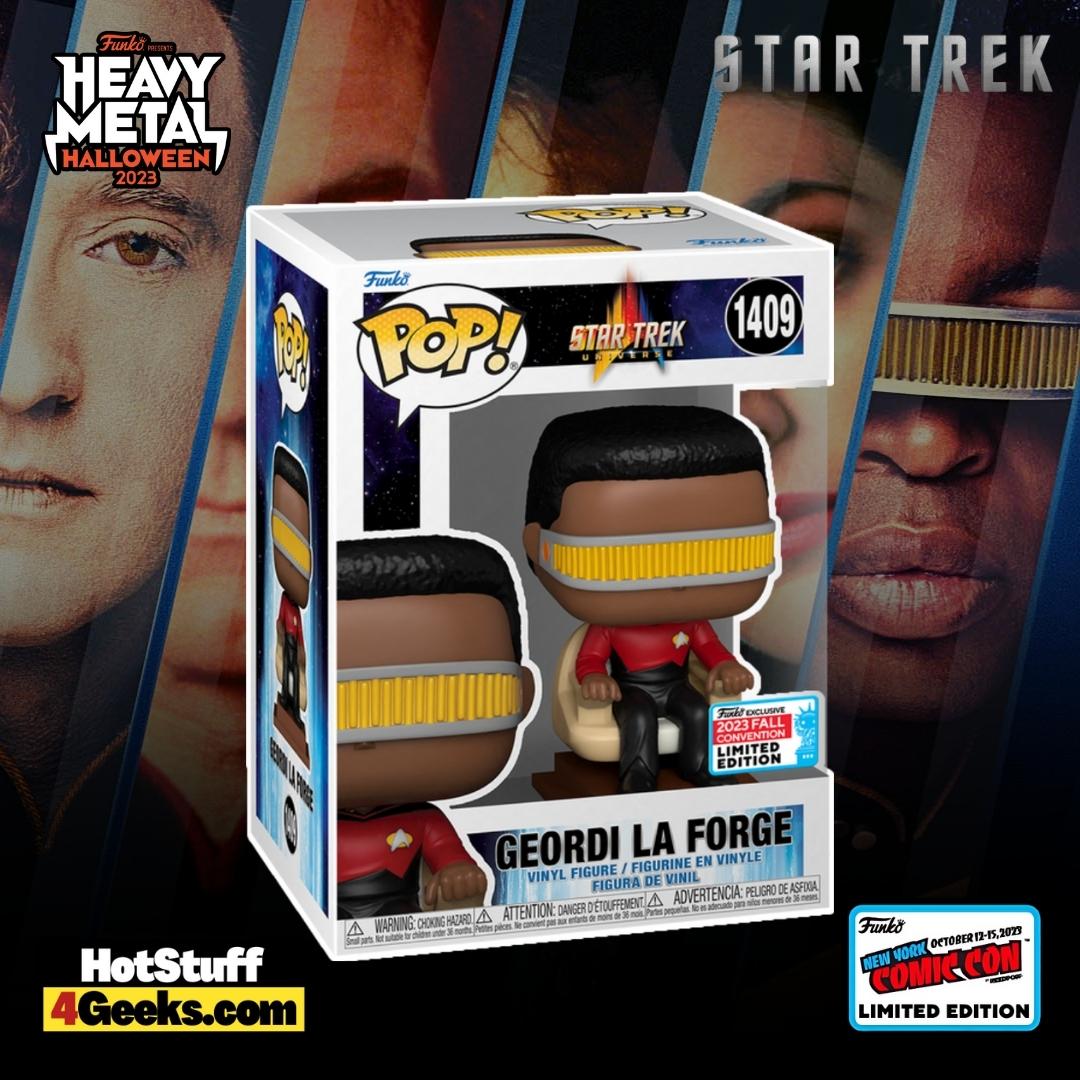 The Untold Layers of Geordi La Forge
When we think about Star Trek's rich tapestry of characters, Geordi La Forge stands out, not just because of the iconic VISOR he wore but due to the myriad of fascinating details that shroud his character.
Let's traverse through some of these less-known intricacies.
Firstly, did you know Geordi's initial role on the USS Enterprise wasn't in the engine room? In the inaugural season of The Next Generation (TNG), he was the helmsman, essentially the one steering the ship.
But destiny had other plans, and he had a significant promotion by the second season. Geordi took charge as the Chief of Engineering, a position that allowed him to form a memorable bond with Data.
Their friendship wasn't just a plotline but an exploration of the relationship between humanity and technology.
However, Geordi's rise wasn't mere happenstance. Captain Jean-Luc Picard was particularly taken by Geordi's commitment.
A flashback in TNG reveals an incident where Geordi, sacrificing sleep, resolved an issue with a shuttlecraft. This level of dedication made Picard adamant about having Geordi on the USS Enterprise crew.
Then there's the VISOR. Most fans know it wasn't just for the show.
Named as an acronym for "Visual Instrument and Sight Organ Replacement," it had a range that went far beyond normal human vision.
Geordi could perceive the entire electromagnetic spectrum! It was a technological marvel, from infrared, letting him sense heat, to detecting vital signs.
Shifting gears a bit, the character's origin has roots in real life. Geordi was conceptualized by Gene Roddenberry as a tribute to an actual Star Trek enthusiast named George LaForge.
Interestingly, George's connection to the Star Trek universe predates TNG. There's a mention of a character bearing the same name in a Star Trek novel from 1980.
While many tried out for the role of Geordi La Forge, including notable names, it's intriguing that Tim Russ, who later portrayed Tuvok in Voyager, was in the running.
Both characters, Geordi and Tuvok, reshaped viewer perceptions in their own way.
Digging into Geordi's backstory, there are tantalizing tidbits that surface. Born in Mogadishu, Somalia, in the future's African Federation, he celebrated his birthday on February 16.
Fresh out of Starfleet, one of his early assignments was alongside none other than Lt. Commander William Riker. Their camaraderie preceded their time on the USS Enterprise, with the two serving on the USS Hood for three years.
On the innovation front, one of Geordi's crowning achievements was the design of the ISS Jellyfish. Collaborating with the Daystrom Institute, he envisioned a prototype robust enough to navigate volatile atmospheres.
The design was later enhanced by the Vulcan Science Academy to transport red matter with impressive speed. This creation played a pivotal role in the cinematic landscape of Star Trek.
In essence, Geordi La Forge isn't just a character; he's an enigma, offering layers of depth and detail for those willing to look beyond the surface.
From his initial role in the Enterprise to his rich backstory and significant contributions, Geordi embodies dedication, innovation, and the quest for knowledge.
In reflecting on Geordi La Forge's multifaceted journey, it's no wonder he remains a beacon in the Star Trek universe. As fans continue to celebrate his legacy, the Geordi La Forge Funko Pop! Vinyl Figure – NYCC 2023 and FYE Shared Exclusive provides a tangible tribute to this iconic character.
It's not just a collectible; it's a testament to the layers and depth of Geordi's story that continue to inspire.
As an Amazon Associate I earn from qualifying purchases
Funko POP! Star Trek: The Next Generation – Geordi La Forge Funko Pop! Vinyl Figure – NYCC 2023 and FYE Shared Exclusive
Available at:
Want more stuff like this?
Get the best viral stories straight into your inbox!
Don't worry, we don't spam