NYCC 2023 Toxic Avenger Glow-In-the-Dark (GITD) Funko Pop!
Funko POP! Heroes: Toxic Avenger Glow-In-the-Dark (GITD) Funko Pop! Vinyl Figure – NYCC 2023 and Target Shared Exclusive
Available at:
The new Funko POP! Heroes: Toxic Avenger Glow-In-the-Dark (GITD) Funko Pop! Vinyl Figure – NYCC 2023 and Target Shared Exclusive will be available online starting at 6 AM PT on Friday, October 13, at the links below (click to jump!)
NYCC 2023 Exclusive: Toxic Avenger GITD Funko Pop!
The funk and vibe of NYCC 2023 have gotten a radioactive boost. With its mutated charm, the Toxic Avenger is now glimmering a tad brighter, and trust me, it's not just because of its radioactive origins.
The latest Glow-In-the-Dark Funko Pop! Vinyl Figure, shared exclusively with Target, is the kind of item that draws gasps and exclamations of sheer delight from the collectors' community.
The character, with his iconic mop and its glistening green ooze, stands as a testament to the enduring allure of the anti-hero.  And when the lights go out? Well, his eerie glow promises to be the beacon for every fan's late-night binge-watching session.
A raw, undiluted essence is captured in this figure, making it feel like a slice of the movie manifested in vinyl form.
Not every day something captures the essence of a cult favorite so vividly. The grit, the grime, and that unmistakable Avenger charm are all there, waiting to light up the darkest corners of your collection.
From its meticulously detailed design to the luminescent sheen, this piece promises to be the star, no pun intended, of many shelves and display cases.
Cheers to the latest luminary in Funko's dazzling array!
The NYCC 2023 and Target Shared Exclusive Toxic Avenger Glow-In-the-Dark (GITD) Funko Pop! can be found at the links below as soon as the online sale begins (click to jump!)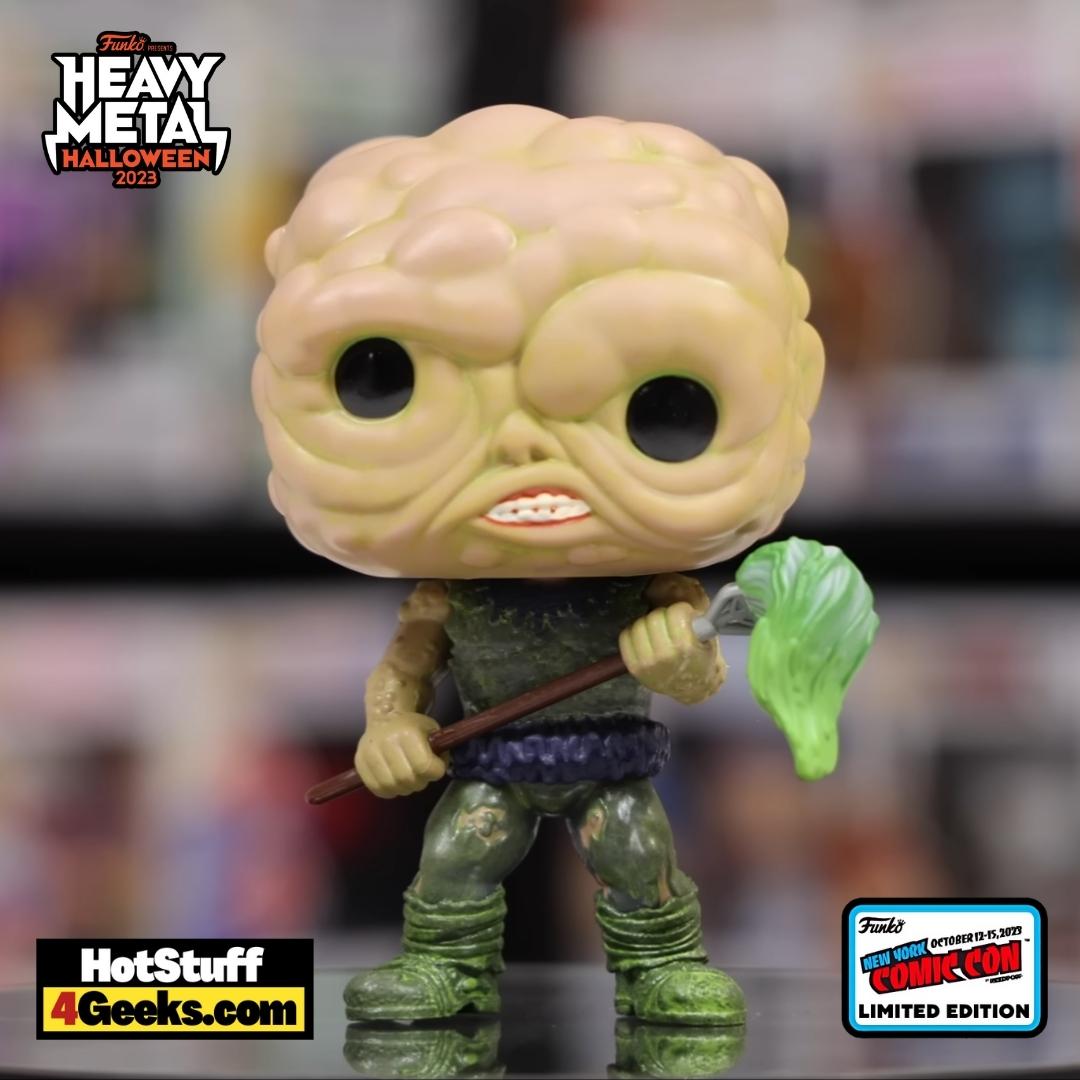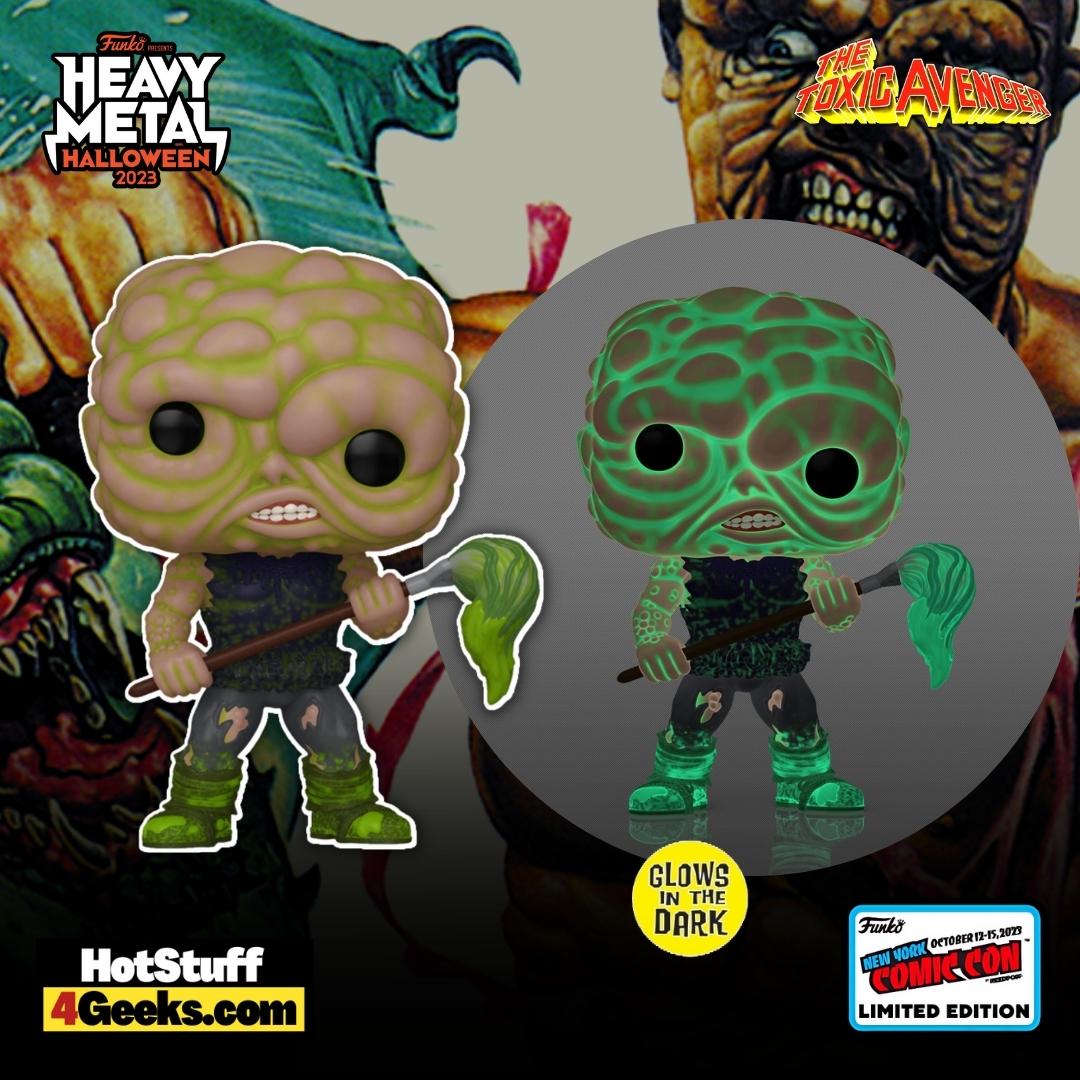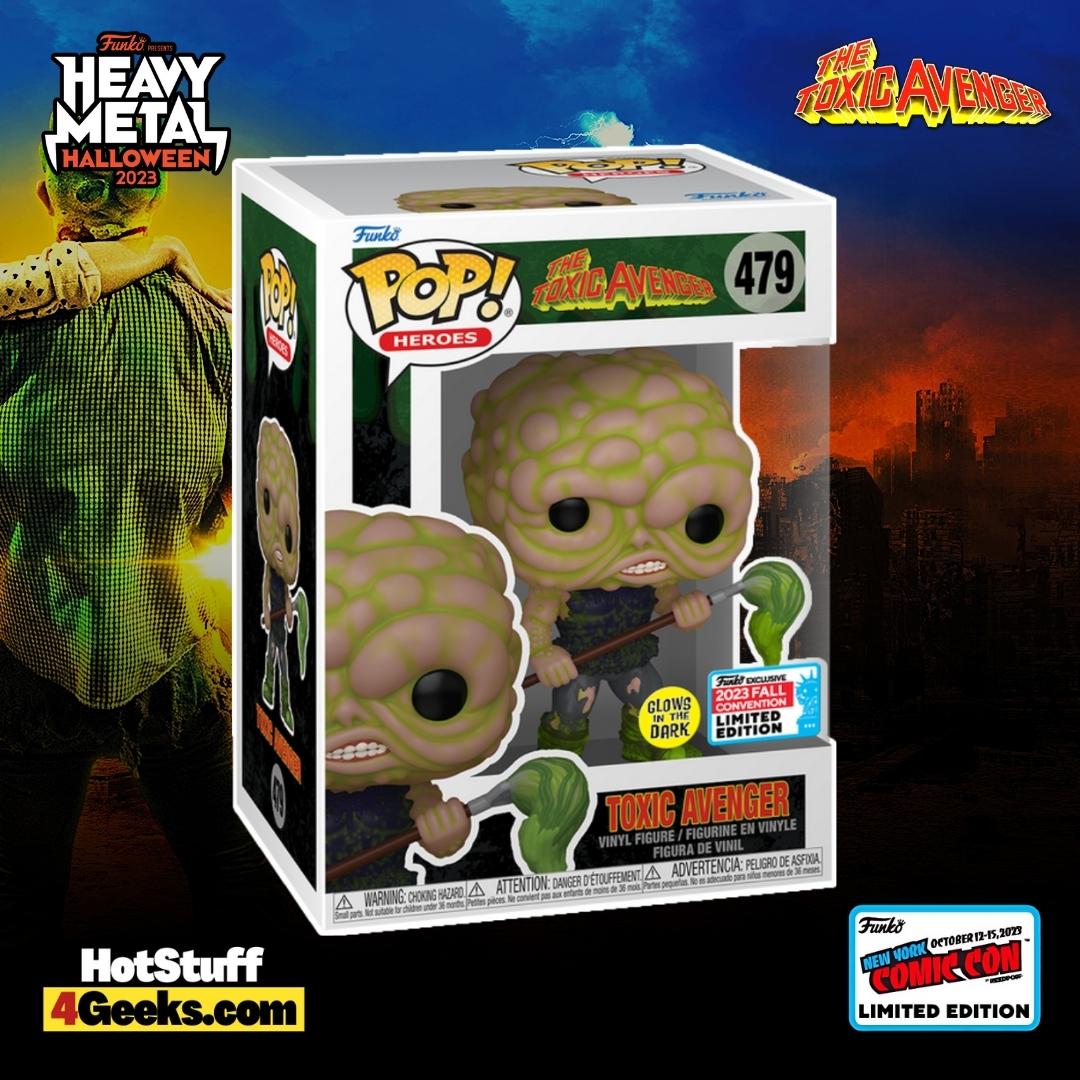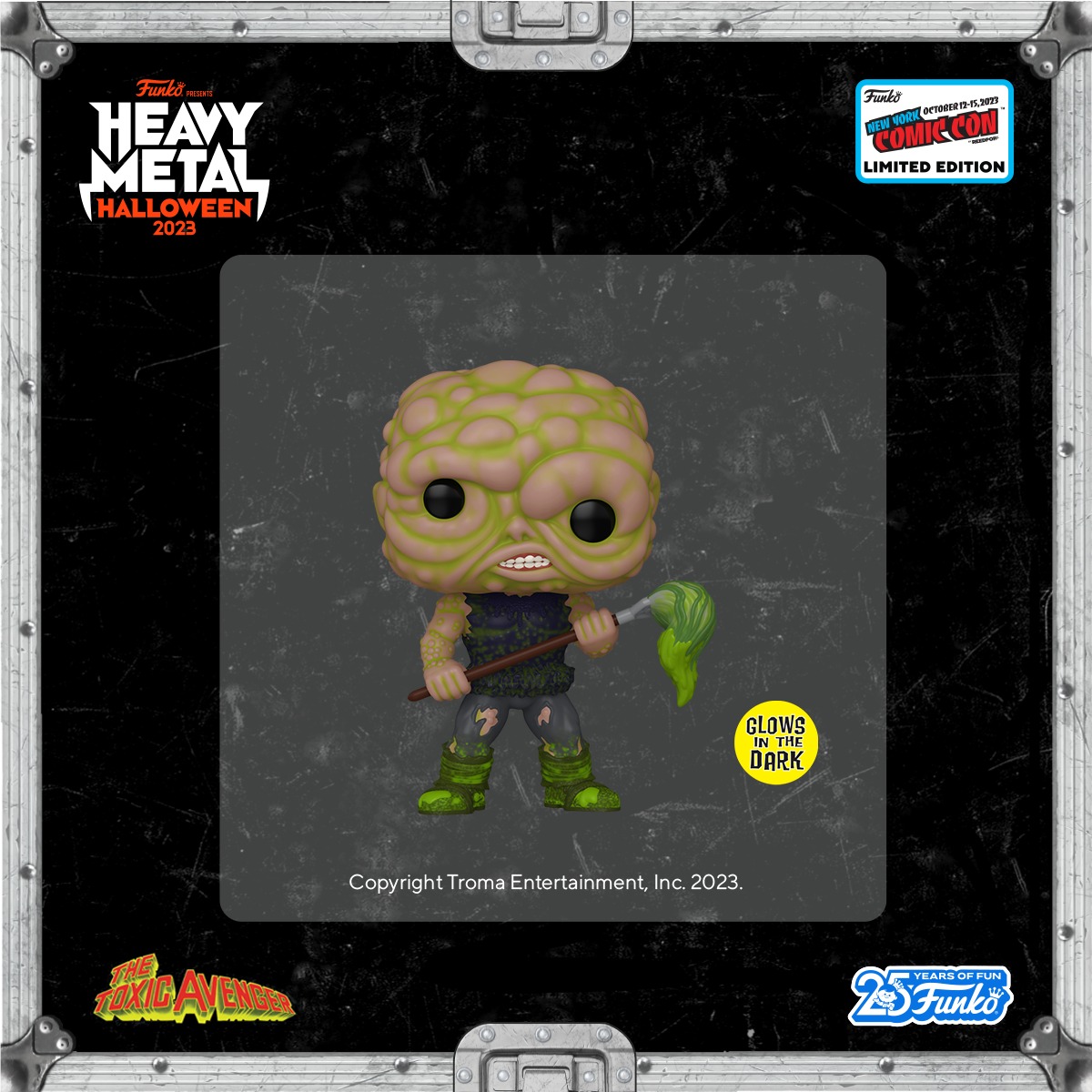 Exploring the Rambunctious Rebirth of The Toxic Avenger
The clock ticks down, and a singular, grotesque superhero steps onto the cinematic stage, swinging a mop with a radioactive glow, embodying a bizarre mixture of vengeance and slapstick humor that only "The Toxic Avenger" could deliver.
In an era saturated with capes and hero landing poses, our unexpected hero Winston Gooze, played brilliantly by Peter Dinklage, emerges from the sludgy, chemical-infested underbelly of St. Roma's Village, revealing a narrative that isn't afraid to splatter both blood and audacity across the silver screen.
This is no conventional superhero movie.
Although the first third of the film harbors somewhat of a familiarity, revealing the pain, struggle, and transformation of our unlikely hero, it boldly dissects the superhero film formula, thrusting it into a chaotic realm where faces are annihilated, and rebellious tendrils of dark humor seep into every crevice of the storyline.
Amidst a cinematic landscape punctuated by calculated hero journeys and expected plot twists, "The Toxic Avenger" brings forth an almost anarchic disdain for norms, sprinkling the trajectory of Winston's vendetta with a peculiar blend of absurdity and bloody exhilaration.
Winston's tale is one soaked in desperation and futile attempts to clutch at the strings of justice in a world ruled by the nefarious BTH Corporation and its utterly morally bankrupt leader, Bob Garbinger, meticulously portrayed by Kevin Bacon.
The vivid, violent transformation from a terminally ill janitor to a super-strong toxic entity wraps Winston in a cloak of anti-hero charisma, where his vengeful path, albeit dripping with gore, oddly seems the only logical response in a world where moral and ethical boundaries have been grotesquely distorted.
This revival, masterminded by director Macon Blair, takes us on a ride through a cavern of witty self-awareness.
Locations are dubbed with deliberate cynicism, like "Ye Olde Shithead District" and "Depressing Outskirts," placing us firmly within a world that is palpably aware of its own destitution and decay.
In a media culture that seldom dares to step off the well-trodden path of hero origin stories, Winston's journey from despair to utter chaos is both a wild departure and a sly nod to the undying spirit of counter-culture.
The film also throws a handful of peculiarities into the mix, giving us unexpected oddities like the deranged "monster core" band, the Killer Nutz, contributing to a chaotic panorama where every frame could potentially hurl us further into a whirlwind of the unprecedented and the macabre.
This isn't merely a reimagining of a cult classic but rather a deliberate, splatter-filled jab at an industry that often prioritizes polished, predictable narratives over raw, unbridled storytelling.
Amidst the mayhem, the characters of "The Toxic Avenger" navigate a world that forces them to wrestle with the deformed limbs of morality and justice in a society that has seemingly abandoned both.
When Winston rips an arm off, or a character faces an untimely, violent demise, it becomes an unexpectedly fitting metaphor for a world that continually rips away humanity and justice from those who desire it most.
In this rambunctious, tumultuous tale, we find an unusual space where our expectations are both met and subverted, where the plot doesn't merely unfold.
Still, it erupts in a cascade of blood, absurdity, and perverse justice, without ever offering us the neat resolution we've grown so accustomed to.
In wrapping up this rollercoaster of a revival, "The Toxic Avenger" doesn't just stand out as a grotesque ode to its cult classic roots.
It finds new light, quite literally, with the release of the Toxic Avenger Glow-In-the-Dark (GITD) Funko Pop! Vinyl Figure – a NYCC 2023 and Target Shared Exclusive.
This tangible embodiment of Winston's transformation is a collector's delight and a glowing testament to the film's audacious departure from the ordinary.
Like the movie, the figure challenges norms, reminding us of the wild, unpredictable, and utterly captivating world of St. Roma's Village.
As an Amazon Associate I earn from qualifying purchases
Funko POP! Heroes: Toxic Avenger Glow-In-the-Dark (GITD) Funko Pop! Vinyl Figure – NYCC 2023 and Target Shared Exclusive
Available at:
Want more stuff like this?
Get the best viral stories straight into your inbox!
Don't worry, we don't spam