NYCC 2023 X-Men'97: Goblin Queen Funko Pop! Figure
Funko POP! X-Men'97: Goblin Queen Funko Pop! Vinyl Figure – NYCC 2023 and GameStop Shared Exclusive
Available at:
The new Funko POP! X-Men'97: Goblin Queen Funko Pop! Vinyl Figure – NYCC 2023 and GameStop Shared Exclusive will be available online starting at 6 AM PT on Friday, October 13, at the links below (click to jump!)
Goblin Queen Takes Center Stage: X-Men'97 Funko Pop! NYCC 2023 Release
The comic world recently got a little more intriguing with the introduction of the Goblin Queen Funko Pop! Vinyl figure.
As part of the exciting NYCC 2023 festivities, this GameStop Shared Exclusive is a nod to the anticipated X-Men'97 series.
The captivating design captures Madelyne Pryor, the Goblin Queen, in all her intense red-headed glory. What draws instant intrigue is the little detail of her cradling a baby, swaddled in an iconic X-Men blanket.
For those steeped in X-Men lore, this detail isn't minor. Madelyne's connection to her son Nathan (known to many as Cable) is laden with complexities.
Including the baby hints at possible in-depth explorations of Madelyne's character in the upcoming series.
Between her tumultuous history, her transformation into the Goblin Queen, and her multifaceted relationships, fans are eagerly speculating on the series' direction.
With this vinyl figure, the essence of Madelyne's narrative gets a tantalizing teaser, making fans all the more eager for the series premiere.
The NYCC 2023 and GameStop Shared Exclusive Goblin Queen Funko Pop! can be found at the links below as soon as the online sale begins (click to jump!)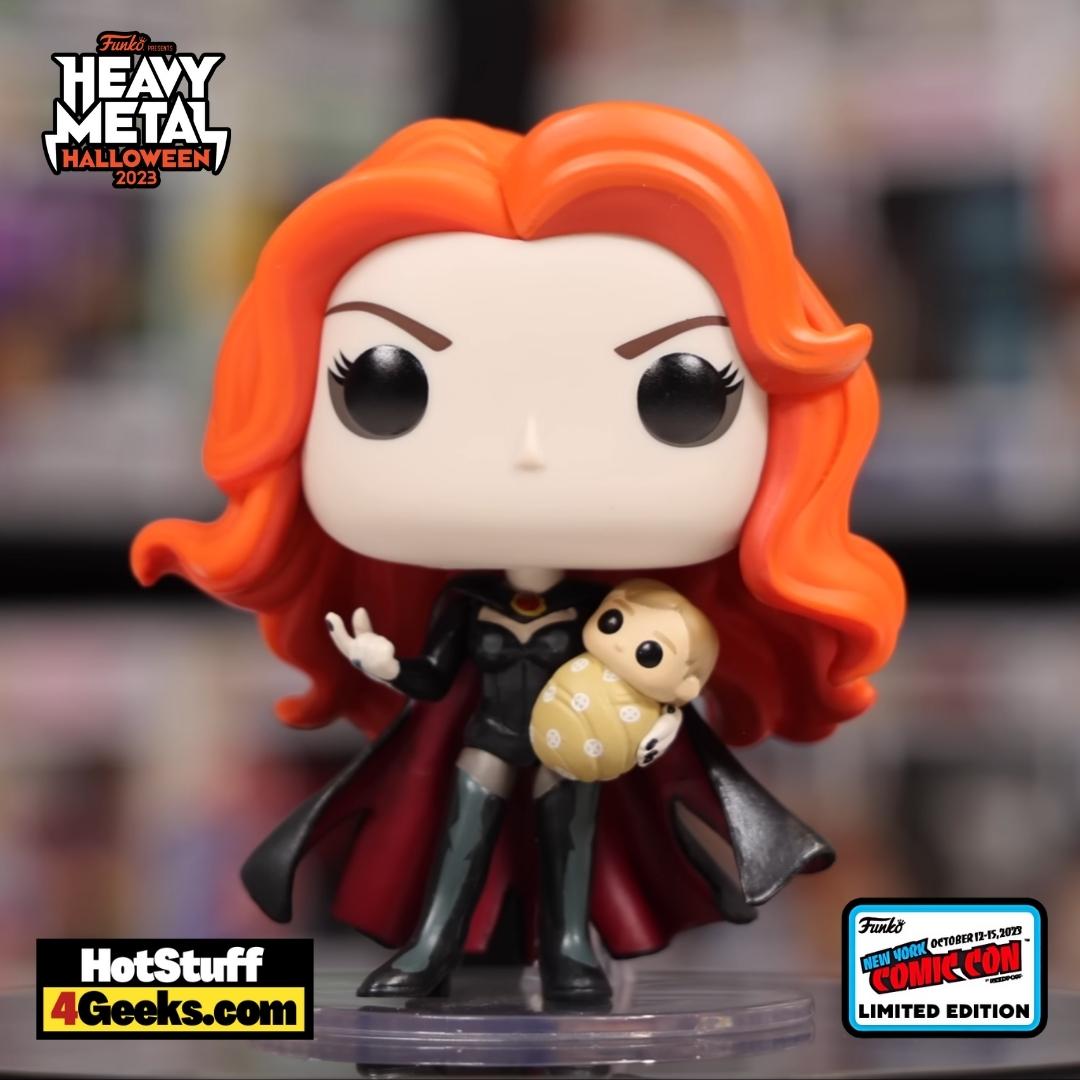 Madelyne Pryor: The Heartbeat Behind the Goblin Queen's Reign
In the sprawling universe of X-Men, every character weaves their unique tapestry of stories, secrets, and transformations.
But few can match the intricacies and mystique of Madelyne Pryor, often known to many as the Goblin Queen. Delving into her history is like navigating a maze filled with twists, turns, and surprises at every corner.
First impressions can be deceiving, and Madelyn's life embodies this sentiment.
Initially, she emerged on the scene as a mirror image of Jean Grey. It wasn't sheer coincidence or a freak act of nature, but a calculated move by the cunning villain Mister Sinister.
Using Jean's DNA, he crafted Madelyne as a clone, aiming to birth a mutant of unparalleled genetic power with Scott Summers, also known as Cyclops.
This plan bore fruit, leading to the birth of Nathan, the mutant we now recognize as Cable. A time-traveling marvel, his lineage is as convoluted as his mother's past.
But let's rewind a bit. Before the diabolical transformations and magical imbroglios, Madelyne was a grounded individual, seeking the love and companionship Scott provided.
The duo's love story blossomed amidst the vast landscapes of the X-Men universe. And for a while, the world seemed just perfect.
They embraced parenthood and faced challenges; it looked like the usual superhero challenges were their only worries.
Enter Loki, the God of Mischief. In a series of events, he granted Madelyne mystical powers, turning her into the healer Anodyne.
While initially seeming like a blessing, these newfound powers were tainted with a cost. Despite the odds, she triumphed over Loki, yet the ripples of these events were far from over.
Cyclops' wavering attention, the return of Jean Grey, and the shadows of her cloned origin began to strain Madelyne's psyche.
Feeling betrayed and abandoned, she underwent a profound transformation, both emotionally and metaphysically.
The descent into the realm of the Goblin Queen wasn't merely a title; it was a metamorphosis marked by deals with demons and a hunger for revenge against those she felt had wronged her.
Yet, Madelyne's story is not just one of villainy or spite. It's a tale of a woman battling her identity, origins, and the forces that molded her into the Goblin Queen.
Her battles against the X-Men, Jean Grey, and even Mister Sinister echo a personal struggle for understanding and identity in a world that often seemed set against her.
The Goblin Queen's journey is emblematic of the complexities that define the X-Men universe.
It is a testament to the intricate characters that breathe life into these tales, challenging perceptions and constantly evolving.
Madelyne Pryor is not just another character; she's a multifaceted gem in a universe filled with them.
In light of Madelyne Pryor's captivating narrative, it's no wonder that the X-Men'97: Goblin Queen Funko Pop! Vinyl Figure has been unveiled at NYCC 2023.
This unique collectible is a tribute to the depths and dimensions of the Goblin Queen, capturing her essence and resonating with fans who've followed her intricate journey.
As the X-Men universe continues to expand and evolve, this exclusive figure ensures Madelyne Pryor's legacy is immortalized in the hands of enthusiasts worldwide.
Check out more X-Men '97 Funko Pops HERE!
And don't forget to check our NYCC 2023 Ultimate Guide HERE!
As an Amazon Associate I earn from qualifying purchases
Funko POP! X-Men'97: Goblin Queen Funko Pop! Vinyl Figure – NYCC 2023 and GameStop Shared Exclusive
Available at:
Want more stuff like this?
Get the best viral stories straight into your inbox!
Don't worry, we don't spam