Overwatch 2 Funko Pops: The 2023 Collection Revealed!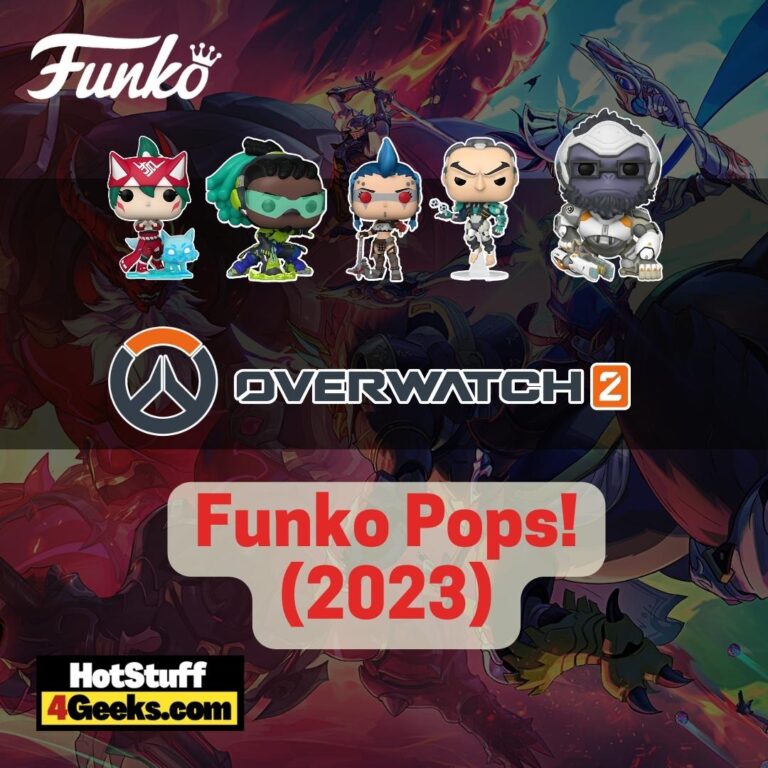 Landing hot on the heels of Overwatch 2's release, a new line of Overwatch 2 Funko Pops (2023 release) is ready to add a dash of joy to fans' lives. These delightful, chibi-styled figures transform our cherished Overwatch heroes from pixelated personas to tangible treasures. It's a beautiful fusion of fandom and reality that is sure to excite anyone who's ever yearned to hold their favorite Overwatch characters in their hands.
Now available at Amazon! To get your hands on these Pop Vinyl Figures at their release, be sure to check out the links I've provided below – click to jump or scroll to continue reading!
Overwatch 2 and Funko Pop: A Fusion of Play and Display
Ladies and gentlemen, gaming and collectible worlds collide once more! The launch of Overwatch 2 Funko Pop figures is like the perfect dessert after a hearty meal.
These petite collectibles, packing the spirit of Overwatch 2 in their compact forms, carry the essence of the game to your display shelves.
You see, they encapsulate our beloved game heroes, stylized yet familiar, adding a dash of physical charm to our virtual adventures.
Whether you're a die-hard Overwatch 2 player or just appreciate a good Funko Pop, this new collection will surely bring a dash of in-game flair to your space.
Let the Overwatch 2 Funko Pops game begin!
Here's the Overwatch 2 Funko pops list for this release:
Junker Queen Funko Pop! Vinyl Figure
Kiriko Funko Pop! Vinyl Figure
Lucio Funko Pop! Vinyl Figure
Sigma Funko Pop! Vinyl Figure
Winston  6-Inch Super-Sized Funko Pop! Vinyl Figure
and more is coming:
Mercy Funko Pop! Vinyl Figure
Ramattra Funko Pop! Vinyl Figure
Soldier 76 Funko Pop! Vinyl Figure
Sojourn Funko Pop! Vinyl Figure
D.Va with Meka 6-Inch Super-Sized Funko Pop! Vinyl Figure
Reinhardt 6-Inch Super-Sized Funko Pop! Vinyl Figure
Lifeweaver Funko Pop! Vinyl figure
Cyberdevil Widowmaker Funko Pop! Vinyl figure
Overwatch 2 Funko Pop! Vinyl Figures (2023 release) can be found for purchase at the links below (click to jump!)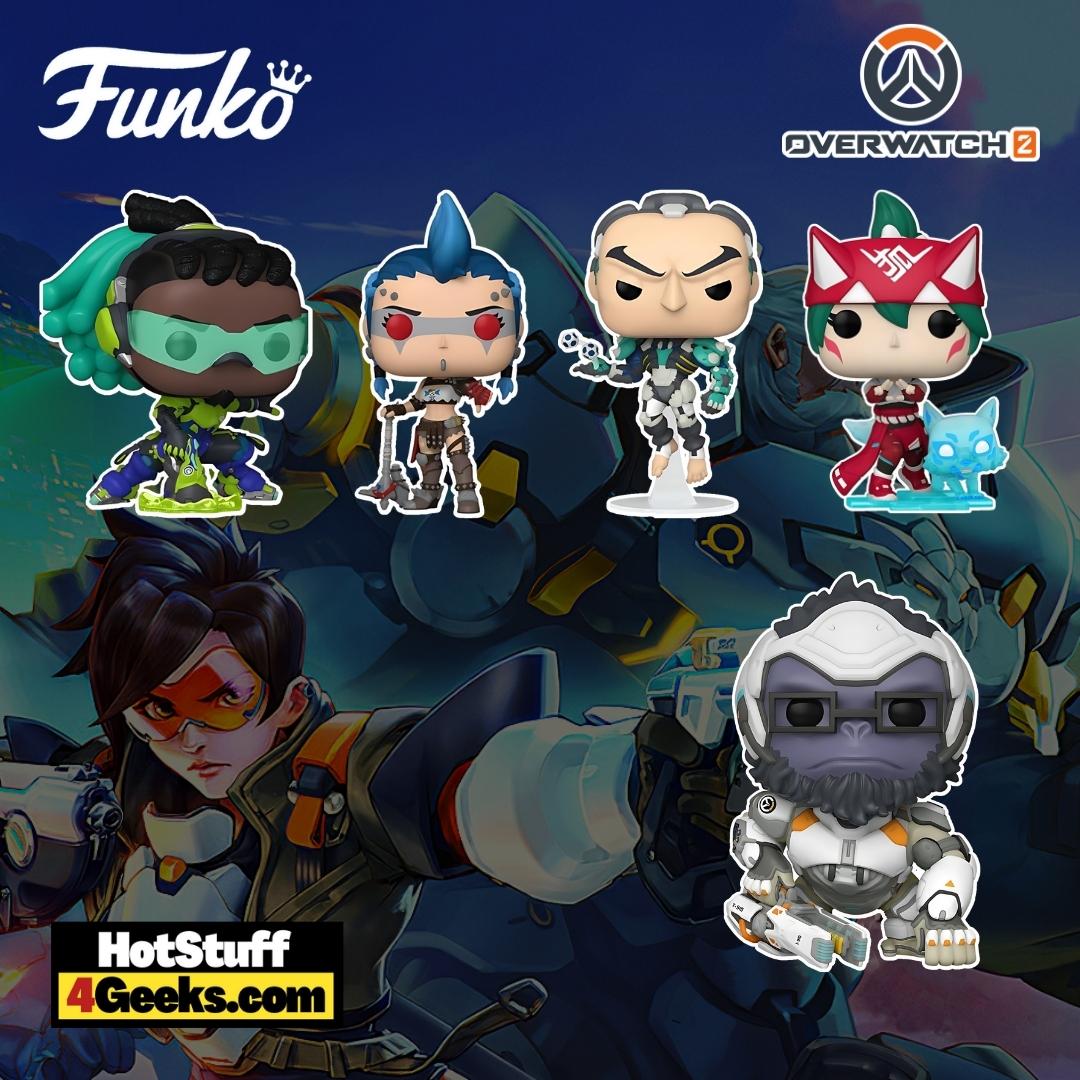 Navigating the Realms of Overwatch 2: A Heroic Challenge or a Downhill Battle?"
Pioneering a sequel to a beloved game is always a risky venture, and Overwatch 2 seems to be grappling with this challenge.
The journey from Overwatch to its successor is both intriguing and fraught, riddled with questions of balance and brimming with novelty.
Overwatch 2, while continuing the saga of its predecessor, is trying to carve its own niche in the gaming world.
It's both a familiar friend and an unfamiliar guest in our consoles, a delicate duality it must learn to master.
At its core, Overwatch 2 remains deeply rooted in the original's DNA. You'll find your favorite heroes donning new outfits and exploring novel environments.
Yet, a layer of unfamiliarity veils this game, making it an uncanny relative rather than a direct offspring of the original Overwatch.
Our beloved characters have been recast, sometimes in roles that seem uncharacteristically different from what we knew and loved.
New heroes like Kiriko have joined the fray, stirring the pot with their unique abilities and playstyles.
This fresh blood, while adding vibrancy, also contributes to a subtle shift in the game's rhythm.
Overwatch 2 dances to its own beat, somewhat slower but not less engaging, offering a refreshing change of pace to those willing to step onto its dance floor.
While the gameplay maintains its charm, Overwatch 2 has taken a new route with its economy.
Here lies one of the game's most contentious features – the Battle Pass.
As if the game is beckoning you into an endurance race, this system transforms your gaming experience into a marathon.
Gone are the delightful rewards from the loot boxes we used to cherish.
In their place, we grapple with a progression system requiring a substantial time commitment.
Or money.
Overwatch 2's monetization strategy can seem daunting at first glance.
Heroes tucked behind paywalls and the introduction of a new currency – OWL – might be off-putting to some players.
The game appears to be whispering, "Commit to me, or pay your way through." A bit of a quandary for those of us accustomed to a more flexible, less time-consuming experience.
Despite these hurdles, Overwatch 2 does offer an escape for those who yearn for the simpler joy of PvE modes.
You can still lose yourself in the thrill of annihilating hordes of enemies without feeling the pressure of forking over your hard-earned money.
It's also important to note that the developers seem responsive to feedback.
For instance, the backlash on skin prices has led to cost reductions, indicating an awareness and willingness to course-correct.
This gives us hope for a future where Overwatch 2 could morph into a game that seamlessly blends the old and the new while staying true to its roots.
In conclusion, Overwatch 2 is a complex cocktail of old and new, familiar and unfamiliar, thrilling and frustrating. It's a game that has the potential to enthrall us if only it can find the right balance.
Whether you should embark on this journey is a decision only you can make. Happy gaming!
Funko Pop! Games: Overwatch 2 Funko Pop! Vinyl Figures (2023 release)
Available at:
Starting now, you can receive 10% off in-stock items with my special link at Entertainment Earth!
 Enjoy!
As an Amazon Associate I earn from qualifying purchases
Want more stuff like this?
Get the best viral stories straight into your inbox!
Don't worry, we don't spam