2023 NEW Peaky Blinders Funko Pops! The Birmingham's Finest
Peaky Blinders, the gritty British crime drama, has wormed its way into the hearts of millions, leaving fans eager for more memorabilia to showcase their love for the Shelby clan. With the release of the new Peaky Blinders Funko Pops (2023 release), collectors can rejoice at the opportunity to bring home a pint-sized piece of Birmingham's notorious gangsters.
To get your hands on this Pop Vinyl Figure at its release, be sure to check out the links I've provided below – click to jump or scroll to continue reading!
Gangster Glam: The Peaky Blinders Funko Pops (2023 Edition)
Peaky Blinders has officially joined the Funko Pop Club! Cue the cheers and fist pumps from die-hard fans.
It's no secret that gangster drama has a reputation for gritty, raw storytelling.
But who knew that the notorious Shelby clan could also look so darn cute in pop form? It's like seeing Al Capone in a baby carriage or John Dillinger with a pacifier. You never thought you'd see the day.
These Peaky Blinders Funko Pop! Vinyl Figures are the perfect collectibles for fans of the hit TV series. Each figure is carefully crafted with attention to detail, capturing the essence of your favorite characters from the Shelby clan and their allies.
Unveiling the Peaky Blinders Funko Pops List for this year's release:
Peaky Blinders: Thomas Shelby with Chase Variant Funko Pop! Vinyl Figure
Peaky Blinders: John Shelby Funko Pop! Vinyl Figure
Peaky Blinders: Polly Gray Funko Pop! Vinyl Figure
Peaky Blinders: Michael Grey Funko Pop! Vinyl Figure
Peaky Blinders: Arthur Shelby Funko Pop! Vinyl Figure
Peaky Blinders: Alfie Solomons Funko Pop! Vinyl Figure
Peaky Blinders: Ada Thorne Funko Pop! Vinyl Figure
Definitely these Pop! Figures are the perfect way to celebrate the show's compelling characters and their antics.
The Peaky Blinders Funko Pop! Vinyl Figures can be found for purchase at the links below (click to jump!)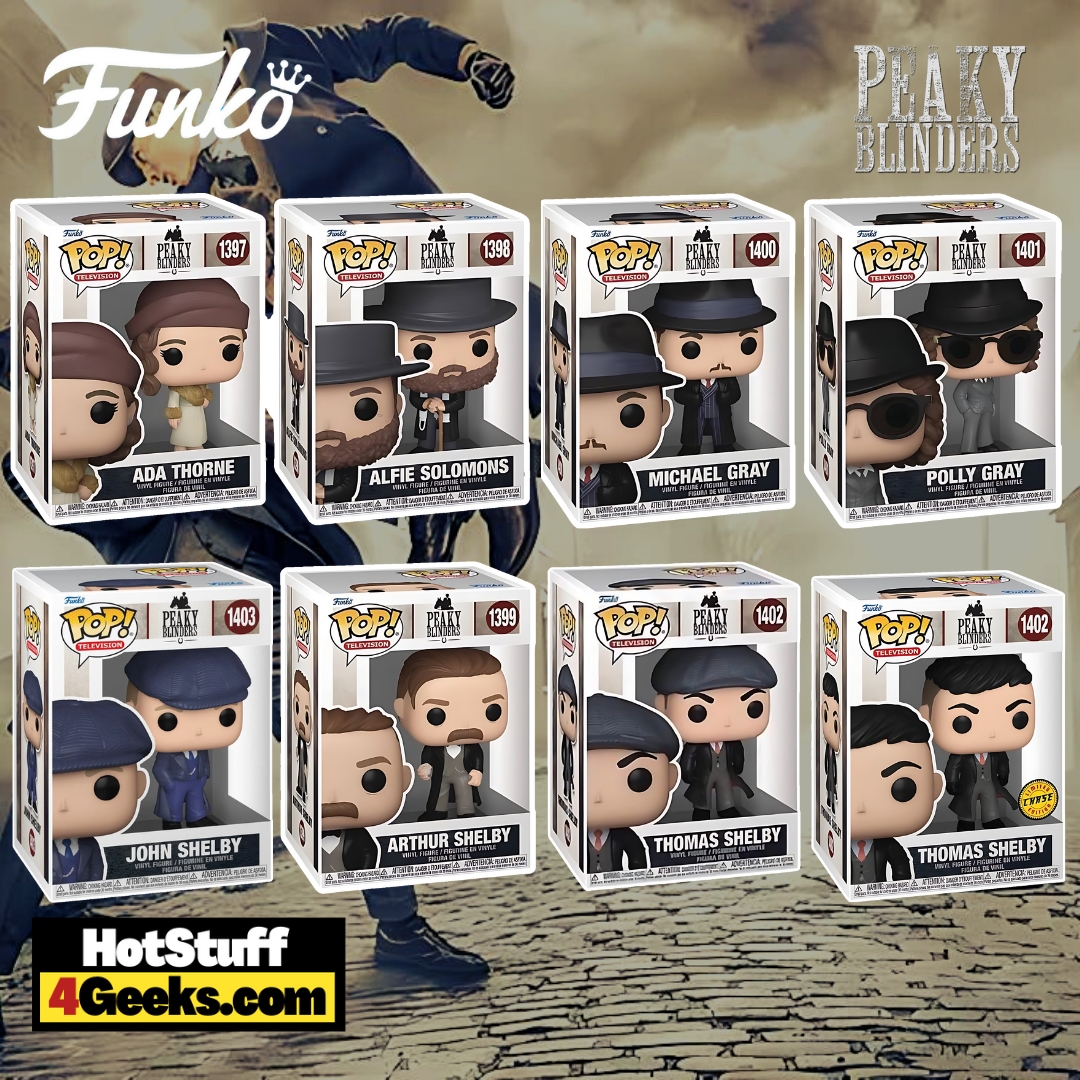 From Birmingham's Backstreets to Television's Pinnacle: The Evolutionary Ballad of Peaky Blinders
Peaky Blinders, a British crime drama that has evolved from a cult hit to a poetic masterpiece, first captured our hearts with its gritty portrayal of the Shelby family, a gang in post-World War I Birmingham.
Led by the enigmatic Thomas Shelby (played by Cillian Murphy), the show embodies a unique blend of British working-class ideals and sophisticated, salt-of-the-earth charm.
Initially, Peaky Blinders drew attention for its anachronistic music choices, featuring contemporary artists like The White Stripes, Arctic Monkeys, and PJ Harvey.
With Nick Cave and the Bad Seeds providing the title track, the show quickly garnered a reputation for its stylish, music-video-esque ambiance.
Though this approach initially led to some skepticism, Peaky Blinders gradually expanded its narrative scope and earned respect with its top-notch casting.
As the show progressed through its seasons, rival gangs and turf wars fueled the plot.
At the same time, the addition of actors like Tom Hardy, Paddy Considine, Adrien Brody, Aidan Gillen, and Anya Taylor-Joy elevated its prestige.
Murphy's portrayal of Tommy Shelby consistently captivated audiences with his pained charisma and unparalleled tough-guy speeches.
The sixth and final season of Peaky Blinders represents the pinnacle of the show's evolution.
With an operatic, expressionistic feel, it delves into Tommy's political ambitions, sobriety, and the complex web of relationships and conflicts within the Shelby family.
Anya Taylor-Joy's vampy return and Natasha O'Keeffe's elegant performance as Lizzie enrich the narrative, though newcomers may find the story cryptic without prior knowledge of the series.
Ultimately, Peaky Blinders transcends its initial coolness to embrace an elegiac, atmospheric vibe.
The show's true essence lies in its poetic ambiance, and its signature needle drops continue to deliver unforgettable moments. Season 6's Joy Division sequence is a testament to the show's enduring power to captivate and inspire.
Peaky Blinders has proven its staying power by evolving from a cult hit with a music-video aesthetic to a poetic crime drama with a devoted fan base.
As we bid farewell to the Shelby family, we celebrate the show's journey and the impact it has made on popular culture.
Funko Pop! Television: Peaky Blinders Funko Pop! Vinyl Figures (2023 release)
Available at:
Starting now, you can receive 10% off in-stock items with my special link at Entertainment Earth!
 Enjoy!
As an Amazon Associate I earn from qualifying purchases
Want more stuff like this?
Get the best viral stories straight into your inbox!
Don't worry, we don't spam