2023 NEW Peter Pan & Mermaid Lagoon Funko Pop! Deluxe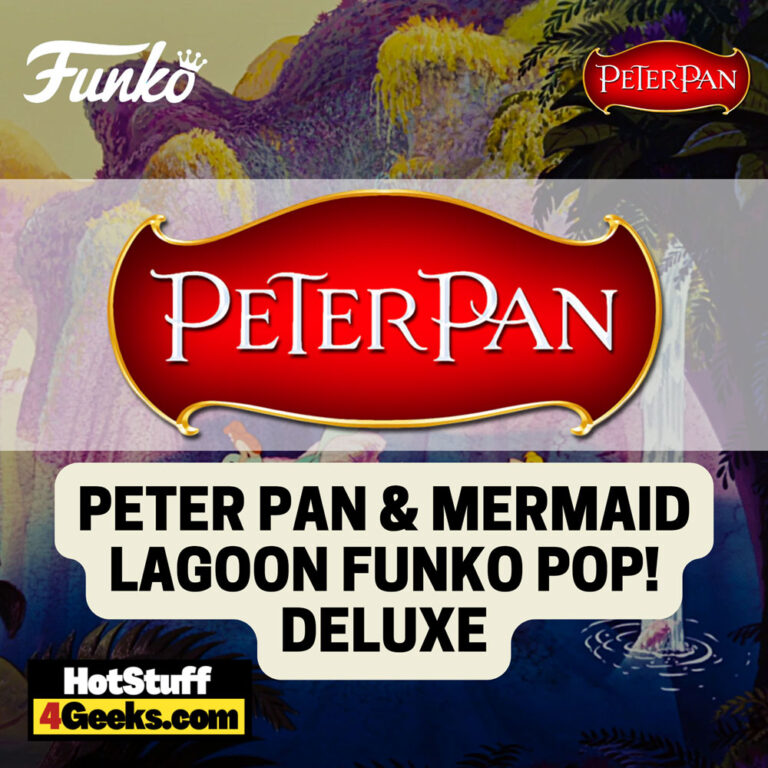 Not official until confirmed.
Introducing the latest addition to the Funko Pop! Disney collection – the Peter Pan 70th Anniversary – Peter Pan & Mermaid Lagoon Funko Pop! Deluxe Vinyl Figure. This stunning figure captures one of the most iconic scenes from the classic Disney movie Peter Pan.
The Mermaid Lagoon is a magical place where anything is possible, and the mermaids swim freely.
And now, thanks to Funko Pop, you can relive this incredible moment with this exclusive and enchanting figure.
Peter Pan is the ultimate attention-seeker, and it's no surprise that he stands out in Mermaid Lagoon.
Whether soaring above the clouds or causing mischief with his friends, Peter is always the center of attention. But let's face it – that's why we love him!
This Funko Pop figure perfectly captures Peter's playful and adventurous spirit.
It's the perfect way to show off your love for this timeless character and his unforgettable story.
And let's not forget the mermaid lagoon!
This figure comes complete with its very own miniaturized version of the breathtaking setting, so you can truly immerse yourself in the magic of Peter Pan's world.
So whether you're a fan of the movie, a collector of Funko Pop figures, or just looking for a fun and unique addition to your home decor, the Peter Pan & Mermaid Lagoon Funko Pop! Deluxe Vinyl Figure is sure to delight and inspire.
Don't miss out on this must-have collectible!
Peter Pan & Mermaid Lagoon Funko Pop! Deluxe is an unconfirmed release. It is only official when or if Funko announces it. I'll update more information in the long run.

If you're a fan of the classic story of Peter Pan, then you're likely familiar with the mystical Mermaid Lagoon.
This magical place was brought to life in Disney's 1953 animated film, and it quickly became a favorite among fans.
Located within the depths of the sea surrounding Neverland, Mermaid Lagoon is the resting place of the legendary mermaids.
These beautiful creatures are known for their long flowing hair, graceful tails, and sparkling voices.
But don't let their beauty fool you; the mermaids are known for being mischievous and playful.
They love to tease the Lost Boys, who often come to visit their lagoon. And even Wendy, the story's female lead, is not immune to their playful pranks.
Despite their playful nature, the mermaids are an essential part of the Neverland mythos.
They play a significant role in the story of Peter Pan, and their presence adds to the magic and wonder of the world.
In the original story, Peter Pan first encounters the mermaids while searching for Tiger Lily, a native princess who has been kidnapped by Captain Hook.
The mermaids offer to help Peter, but they ultimately cannot lead him to Tiger Lily.
Throughout the story, the mermaids continue to make appearances, often luring the Lost Boys to their lagoon with their enchanting songs and playful antics.
And while they may be a bit naughty, they are ultimately loyal to Peter and his cause.
So, what makes Mermaid Lagoon such a beloved location in the world of Peter Pan?
Perhaps it's the sense of mystery and wonder that surrounds it.
Or maybe it's the idea of a world where mythical creatures like mermaids can exist.
Check out more Peter Pan 70th Anniversary pops here!
Starting now, you can receive 10% off in-stock items with my special link at Entertainment Earth!
 Enjoy!
As an Amazon Associate I earn from qualifying purchases
Want more stuff like this?
Get the best viral stories straight into your inbox!
Don't worry, we don't spam