2023 NEW Pop! Animation: Trigun Funko Pops!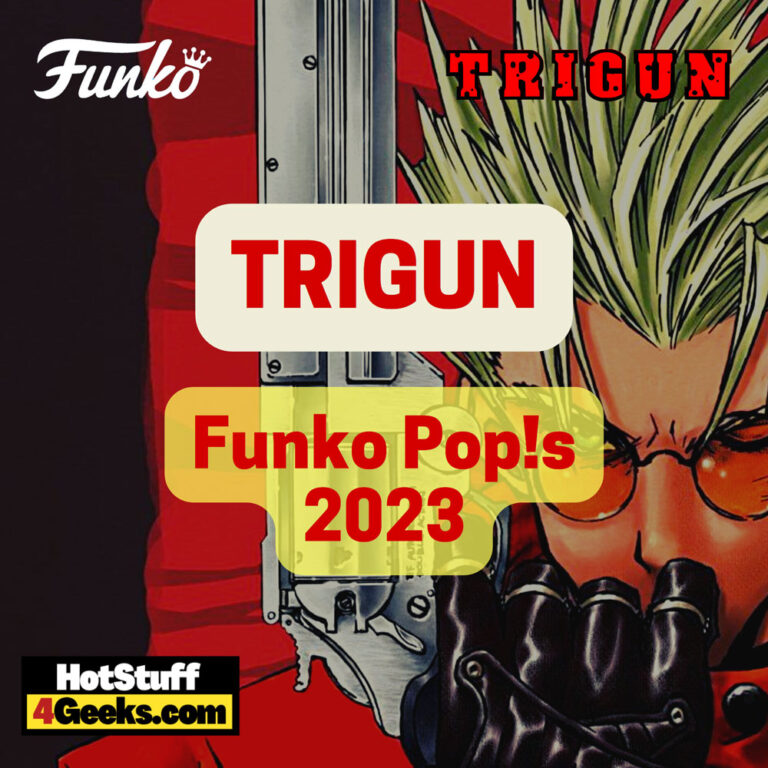 Not official until confirmed.
In the world of anime, few characters are more iconic than Vash the Stampede. First appearing in the Trigun anime series back in the 90s, Vash quickly won over fans with his blend of humor and badassery.
Now, it seems that Vash is finally getting the Funko pop treatment. That's right, a new line of Trigun Funko Pops! is on the way, featuring Vash, Wolfwood, and Milly.
The release comes just in time for the upcoming Trigun Stampede, which is scheduled to air in 2023.
So, if you want to get into the action, here is the Trigun pop list from this great anime:
Trigun: Knives Millions Funko Pop! Vinyl Figure
Trigun e: Nicholas D. Wolfwood Funko Pop! Vinyl Figure
Trigun: Vash The Stampede With Chase Funko Pop! Vinyl Figure
Trigun: Meryl Stryfe Funko Pop! Vinyl Figure
Trigun: Milly Thompson Funko Pop! Vinyl Figure
The Trigun Funko Pop! Vinyl Figures is an unconfirmed release. It is only official when or if Funko announces it. I'll update more information in the long run.

Trigun is a 1998 anime adapted from the manga by Yasuhiro Nightow, and the action is set in a post-apocalyptic world where gunslingers roam the land.
The show is action-packed and full of humor and quickly gained a large following.
For those unfamiliar with the anime, Trigun follows the story of Vash the Stampede, an outlaw with a massive bounty on his head who always seems to get himself into trouble.
He is accompanied by Meryl and Milly, two agents of an insurance company, who are sent on a mission to minimize the damage that follows Vash everywhere he goes.
The atmosphere is a bit reminiscent of westerns or Mad Max movies, and the range of characters is varied – we will find a punk group of cyborg villains, a saxophone player who is a bounty hunter, and even a former priest.
Despite his tremendous experience and shooting skills, Vash lives by his own moral code, preventing him from sacrificing any life.
That makes him try to solve conflicts in a peaceful, sometimes clumsy way and look like it was all a stroke of luck.
The entire narrative revolves around Vash and the constant challenge to his moral paradox, which makes it a coin with two sides.
At first glance, he can be very childlike, outgoing, and innocent, just wanting a life of peace, love, and tranquility.
On the other hand, he can become highly serious and distant. He is the most wanted man on the planet and lives in constant suffering.
Not only because he feels responsible for the accidents he has caused but also because he cannot get too close to someone, as this may expose himself or bring severe consequences to those he cares about.
Vash flips personalities between a harmless idiot and an unstoppable warrior but is always staunchly pacifist.
In the world of Trigun, gunfighters are a dime a dozen, but there's only one "gunman" with a $60 billion bounty on his head, and that's Vash the Stampede!
This duality becomes more and more marked as the story unfolds. Half of the series revolves around comedy and action, and the other half explores heavier, more adult issues.
We are repeatedly confronted with how the world really is and how Vash would like it to be.
Despite his fearsome reputation, Vash is actually a kind-hearted man who only wants to help people. This makes him an unlikely hero but also endears him to fans.
In a world full of darkness and despair, Vash is a ray of hope, and his adventures are both exciting and heartwarming.
The art style is incredibly detailed, and the action scenes are unbelievable. If you haven't seen it yet, I highly recommend checking out Trigun. You won't be disappointed.
Funko Pop! Animation: Trigun Funko Pop! Vinyl Figures (2023)
Starting now, you can receive 10% off in-stock items and free shipping on $39+ orders with my special link at Entertainment Earth!
You can also use CODE: 4geeks anytime. Enjoy!
As an Amazon Associate I earn from qualifying purchases
Want more stuff like this?
Get the best viral stories straight into your inbox!
Don't worry, we don't spam