2023 NEW Trigun Funko Pops! The Wait is Over!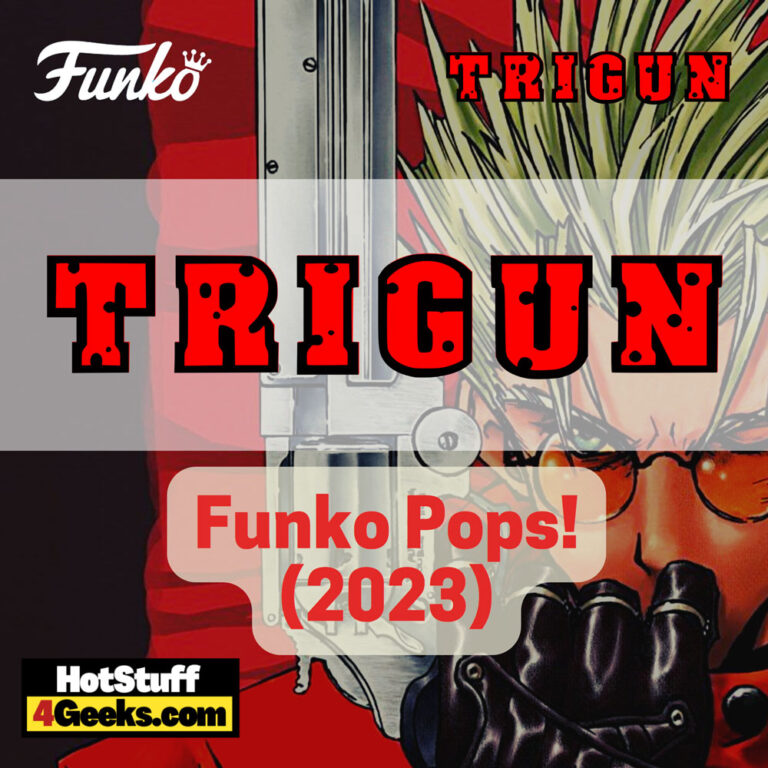 If you're an anime fan, then you know that Vash The Stampede is a legendary character that captured the hearts of fans with his perfect blend of humor and badassery. And now, with the release of a new line of Trigun Funko Pops! (2023), you can bring this lovable character and more home and add him to your collection.
The pop figures are now available for pre-order at the links below – click to jump or scroll to continue reading!
Embrace the Legend: The 2023 Trigun Funko Pop! Collection – Add Vash the Stampede and More to Your Anime Arsenal
And the timing couldn't be better.
With Trigun Stampede set to air in 2023, now is the perfect time to get in on the action.
You can show off your Trigun fandom with these awesome Funko Pops! and be the envy of all your anime-loving friends.
So, if you want to get into the action, here is the Trigun pop list from this great anime:
Already Released:
Trigun: Knives Millions Funko Pop! Vinyl Figure
Trigun: Nicholas D. Wolfwood Funko Pop! Vinyl Figure
Trigun: Vash The Stampede With Chase Funko Pop! Vinyl Figure
Trigun: Meryl Stryfe Funko Pop! Vinyl Figure
Trigun: Milly Thompson Funko Pop! Vinyl Figure
Trigun: Vash with Kuroneko Funko Pop! Vinyl Figure – Crunchyroll Store Exclusive
Trigun: Vash with Donut Funko Pop! Tee – GameStop Exclusive
The Trigun Funko Pop! Vinyl Figures (2023) are now available for pre-order at the links below (click to jump!)
Coming Soon:
Trigun: Legato Bluesummers Funko Pop! Vinyl Figure
Trigun: Rem Saverem Funko Pop! Vinyl Figure
Trigun: Wolwood with Punisher Funko Pop! Vinyl Figure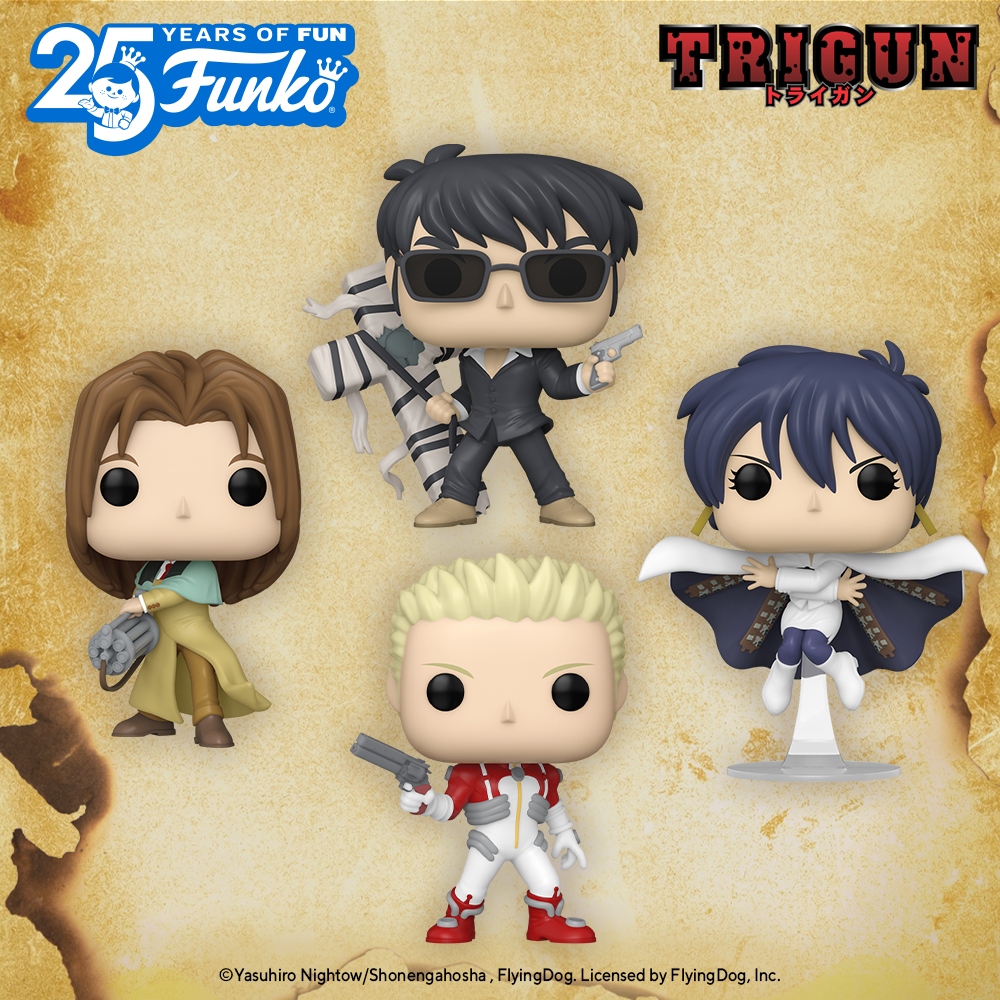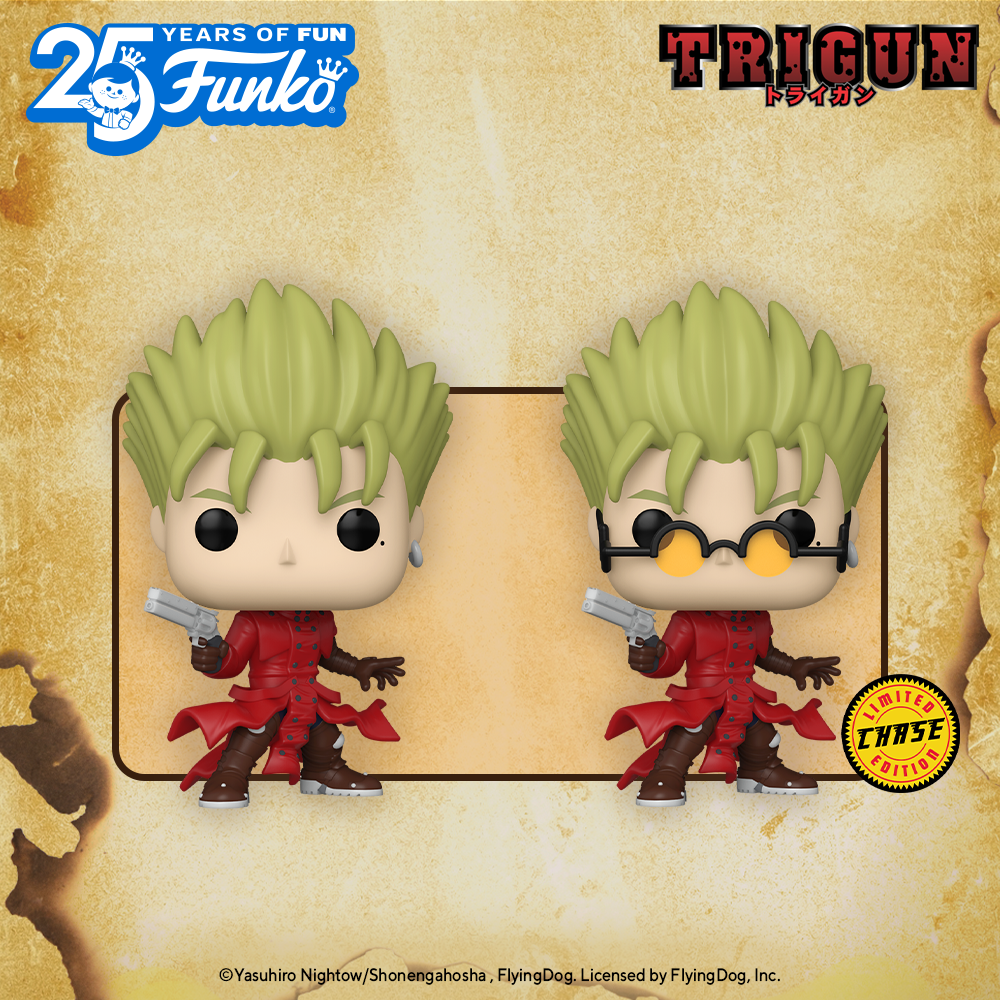 Unmasking Vash the Stampede: A Deep Dive into the Dualistic Universe of Trigun and its Unconventional Hero
Trigun is a beloved anime that first aired in 1998, based on the manga by Yasuhiro Nightow. The story takes place in a post-apocalyptic world where gunslingers roam the land.
The show quickly gained popularity thanks to its thrilling action and hilarious humor.
For those who haven't had the pleasure of watching it yet, Trigun follows the adventures of Vash the Stampede, an outlaw with a massive bounty on his head who always finds himself in trouble.
Accompanied by Meryl and Milly, two agents of an insurance company, they attempt to minimize the damage that follows Vash everywhere he goes.
The atmosphere of Trigun is reminiscent of westerns or Mad Max movies, and the range of characters is diverse – from a punk group of cyborg villains to a saxophone player who is also a bounty hunter and even a former priest.
Despite his tremendous experience and shooting skills, Vash lives by his own moral code, refusing to take lives.
This leads him to solve conflicts peacefully and sometimes clumsily, making it seem like a stroke of luck.
The entire narrative revolves around Vash and the constant challenge of his moral paradox, creating a fascinating character with two sides.
At first glance, he is childlike, outgoing, and innocent, wanting a life of peace, love, and tranquility.
However, he can also become highly serious and distant, as he is the most wanted man on the planet and lives in constant suffering.
Throughout the series, Vash's duality becomes more pronounced.
Half of the series revolves around comedy and action, and the other half explores heavier, more adult issues.
The show repeatedly confronts us about the world and how Vash would like it to be.
Despite his fearsome reputation, Vash is a kind-hearted man who only wants to help people.
This makes him an unlikely hero but also endears him to fans.
In a world full of darkness and despair, Vash is a ray of hope, and his adventures are both exciting and heartwarming.
The art style is incredibly detailed, and the action scenes are breathtaking.
If you haven't seen it yet, I highly recommend checking out Trigun. You won't be disappointed.
Starting now, you can receive 10% off in-stock items with my special link at Entertainment Earth!
 Enjoy!
As an Amazon Associate I earn from qualifying purchases
Want more stuff like this?
Get the best viral stories straight into your inbox!
Don't worry, we don't spam