2022 NEW Pop! Icons: Coca-Cola Santa in Chair Funko Pop!
by

PopCorn Princess

November 14, 2022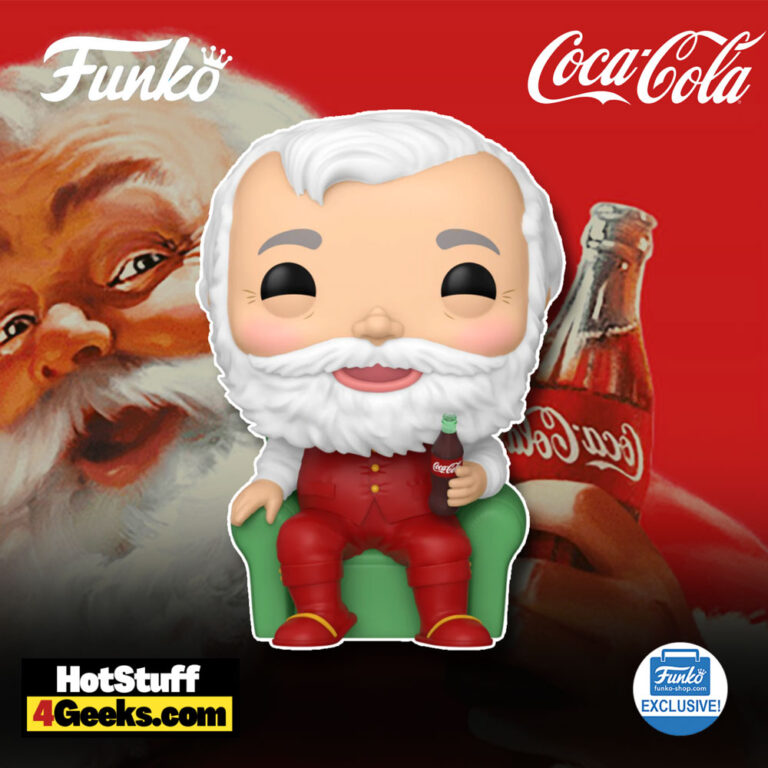 'Tis the season for giving, and what could be better than the new Funko Pop! Ad Icons: Coca-Cola Santa in Chair Funko Pop! Vinyl Figure – Funko Shop Exclusive? This unique collectible is perfect for anyone who loves Coke, Santa, or both!
The pop figure is dropping today at 9.30 AM PT at the links below – click to jump or scroll to continue reading!
The Funko Pop! Coca-Cola Santa in Chair is a must-have for any Christmas celebration.
This figure is based on Artic Circle's iconic Christmas advertising campaign from the 1930s, which featured a jolly Santa Claus taking a break from his busy delivery schedule to enjoy a refreshing bottle of Coke.
The figure captures all the nostalgic details of the original art, from Santa's plump belly to his rosy cheeks. Even the chair he's sitting in is specially designed to resemble a Coca-Cola bottle cap!
This year has been tough on all of us, so why not give yourself or a loved one the gift of some holiday cheer? The Funko Pop! Coca-Cola Santa in Chair is sure to bring a smile to anyone's face.
So what are you waiting for? Order your Funko Pop! Coca-Cola Santa in Chair today and make this Christmas one to remember!
Coca-Cola Santa in Chair Funko Pop! can be found at the links below (click to jump!)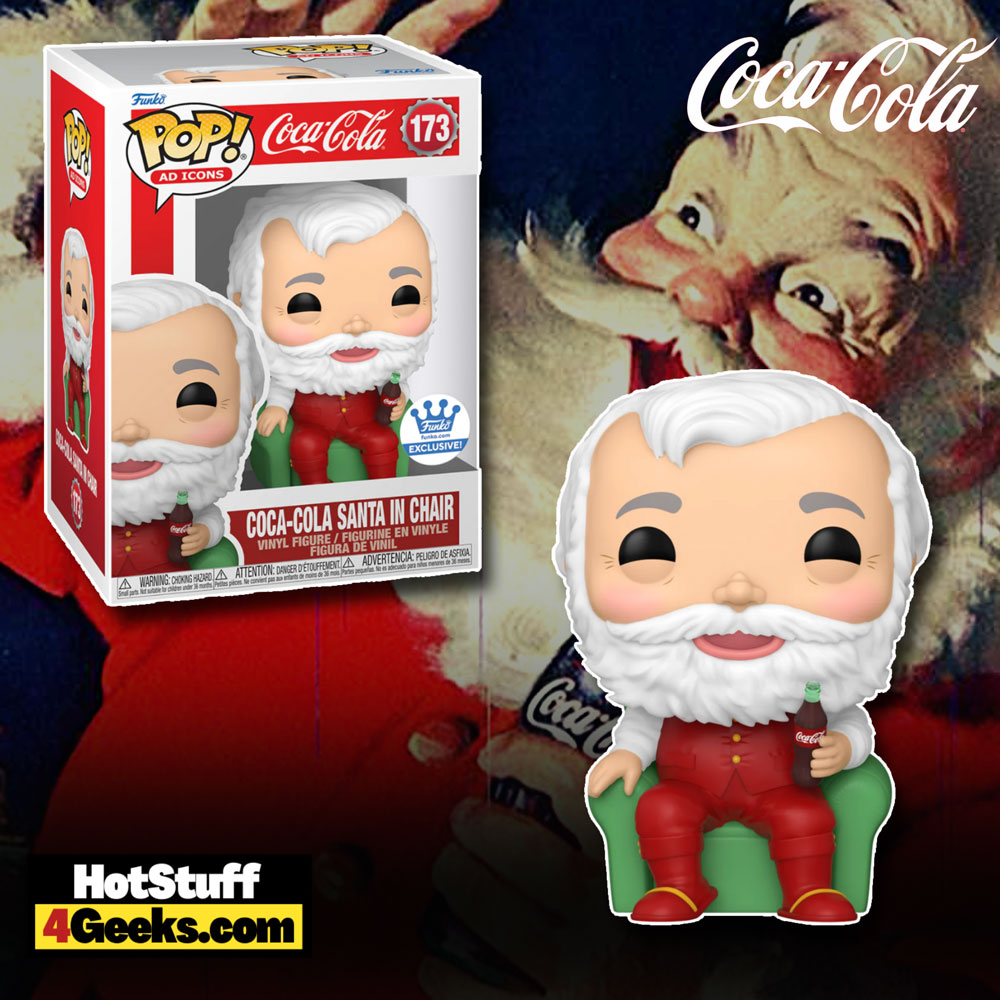 You can't think of Christmas without thinking of Santa Claus. And you can't think of Santa Claus without thinking of Coca-Cola. That's because, for over 100 years, Coca-Cola and Santa have been partners in spreading holiday cheer to children all over the world.
It all started back in 1931 when The Coca-Cola Company commissioned artist Haddon Sundblom to create an advertising campaign featuring Santa Claus.
Coca-Cola Santa quickly became a worldwide sensation, appearing in ads, commercials, and even movies.
He has evolved over the years, but his essential characteristics remain the same: he's jolly, kind, and loves bringing happiness to children (and adults) everywhere.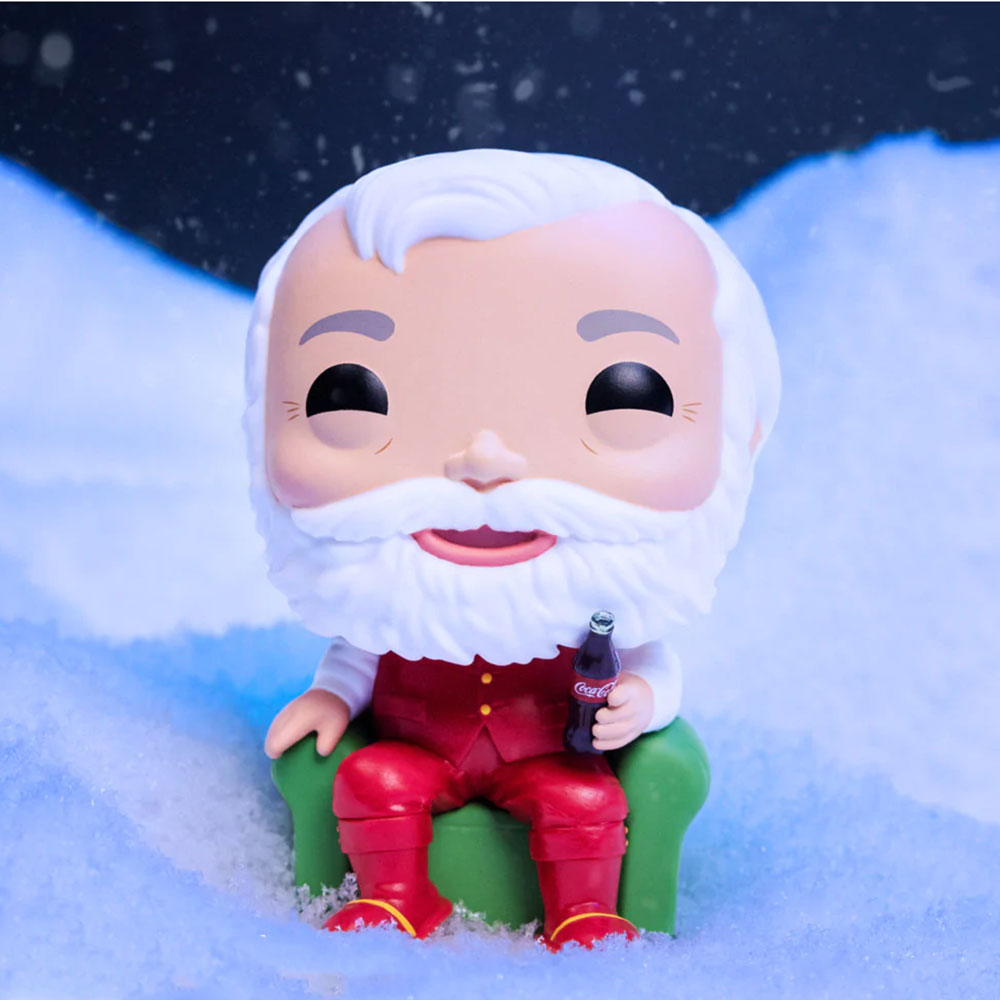 Not only did Coca-ColaSanta help shape our modern image of St. Nick, but he also played a role in popularizing certain Christmas traditions, like leaving out cookies and milk for Santa on Christmas Eve.
In one famous ad from 1942, Sundblom depicted a tired but happy Santa taking a well-deserved break after delivering presents to all the good boys and girls around the world.
The ad features a plate of cookies and a glass of Coke next to a note from one lucky child thanking Santa for his gifts—a tradition that millions of families still follow today.
As the years went by, Coca-Cola continued to use Sundblom's artwork in their Christmas ads; however, they made some slight changes to his original design to keep things fresh.
In recent years, Coca-Cola has continued to evolve its image of Santa Claus for the digital age.
But no matter how much things change, some things always stay the same: Coke is still synonymous with happiness during the holidays thanks mainly to their portrayal of jolly old Saint Nick himself: Coca-Cola Santa!
So crack open an ice-cold can of Coke and enjoy this holiday tradition!
Merry Christmas!
Funko Pop! Ad Icons: Coca-Cola Santa in Chair Funko Pop! Vinyl Figure – Funko Shop Exclusive
Available at:
Starting now, you can receive 10% off in-stock items with my special link at Entertainment Earth!
 Enjoy!
As an Amazon Associate I earn from qualifying purchases
Want more stuff like this?
Get the best viral stories straight into your inbox!
Don't worry, we don't spam
PopCorn Princess
Hey there, I'm Princess. I'm an annual comic con attendee, Star Wars-loving, and collector freak. My mission is simple: To bring cool geeky news and content and share my passion with the rest of the world. (... I secretly wish to save the world as a superheroine...)