2022 NEW Pop! Rocks: H.E.R. Funko Pop! & Vinyl Gold Figure
The new Funko Pop! Rocks: H.E.R. Funko Pop! Vinyl Figure and H.E.R 5-Inch Funko Vinyl Gold Figure depicts Gabriella Wilson, better known as H.E.R., the 23 years old singer already a reference in contemporary R&B.
The figures are now available at the links below (click to jump!)
Chances are you don't know Gabriella Wilson. And that is precisely her goal. The singer, better known as H.E.R. (an acronym for "Having Everything Revealed"), is against exploiting her own image and history by the media.
Without telling too many details about where she was born and her traumas and victories, the American artist claims that the only narrative the public, critics, and fans have to have about her is in what she can offer, most notably: her music.
And indeed, we are, quite literally, presented with melodic songs with inspiring lyrics about essential issues, such as racism.
One example is the lyrics of "I Can't Breath," – which won the Grammy for "Best Song of the Year," a tribute to George Floyd.
H.E.R. Funko Pop! and H.E.R 5-Inch Vinyl Gold Figure are now available for pre-order at the links below (click to jump!) They're expected to be released in January 2023.
Although H.E.R. is entirely discreet with her personal life, her style does not go unnoticed.
Sometimes, influenced by her desire to maintain her privacy, she chooses accessories and pieces of clothing that hide part of her identity.
One of her most striking characteristics is the constant use of glasses that reduce eye contact.
Using several models with different colors and shapes has become a trademark of the artist – who does not give up the accessories even at concerts and red carpets – and earned a partnership with the brand Diff Eyewear.
Although glasses are her trademark, H.E.R. also pushes her fashion expertise in other areas of this universe.
One example is the collection that the singer launched with Tommy Hilfiger alongside Lewis Hamilton, called "Tommy X Lewis X H.E.R.," which featured a fantastic fashion show filled with information from the world of fashion and sports.
The singer was born in Vallejo, California. As a child, she had success with a cover of Alicia Keys on the Today Show. After that, she participated in a Radio Disney singing competition when she was only 12 years old.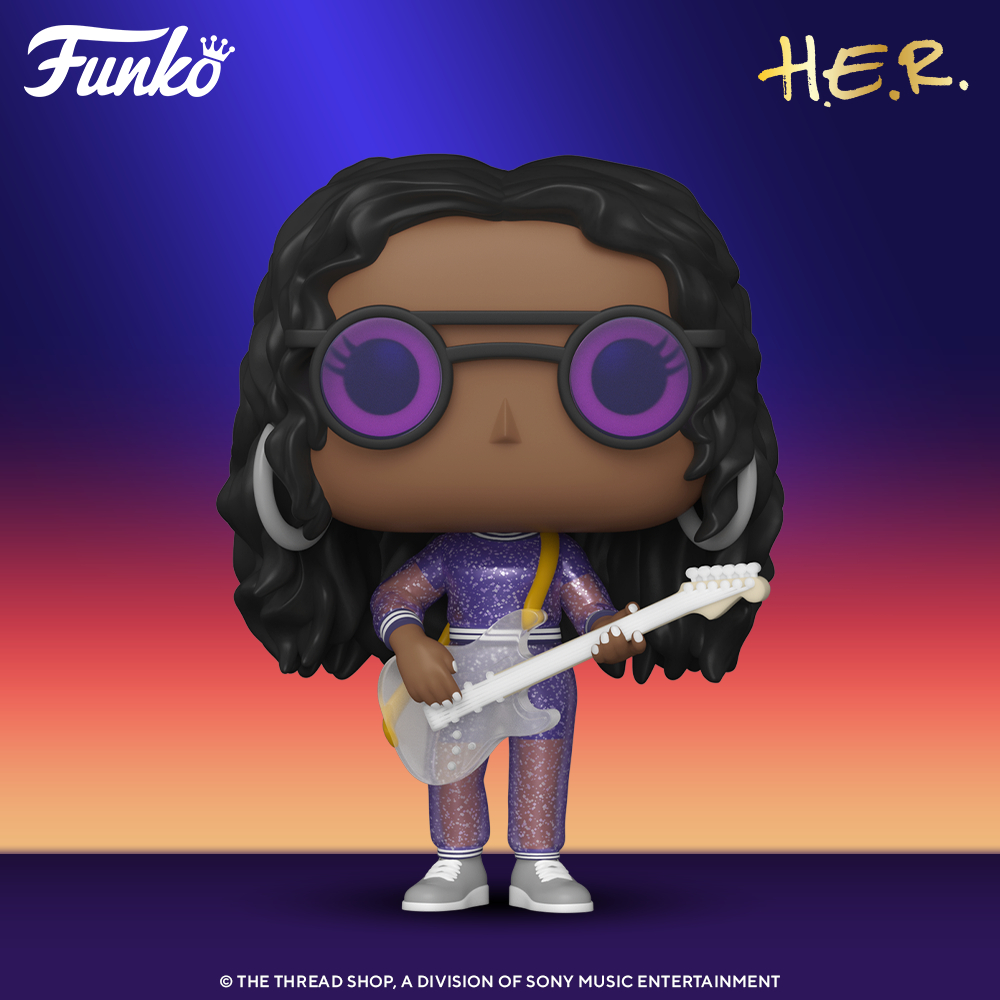 The songs of H.E.R. feature raw emotions and apparent feelings that people can relate to – in addition to the singer's iconic vocal abilities.
But the recognition for her work goes beyond awards. In 2017, the singer was voted by Rolling Stone and Forbes as an artist to keep an eye on. And soon, the public should hear more from H.E.R.
She left her message in her acceptance speech for the R&B album trophy at the Grammys. "This was just an E.P. It wasn't even an album." In other words, there is more to come.
Funko Pop! Rocks: H.E.R. Funko Pop! Vinyl Figure and H.E.R 5-Inch Vinyl Gold Figure
Available at:
Starting now, you can receive 10% off in-stock items with my special link at Entertainment Earth!
 Enjoy!
As an Amazon Associate I earn from qualifying purchases
Want more stuff like this?
Get the best viral stories straight into your inbox!
Don't worry, we don't spam