All the NEW Queer Eye Funko Pops! (2023 Release) Unveiled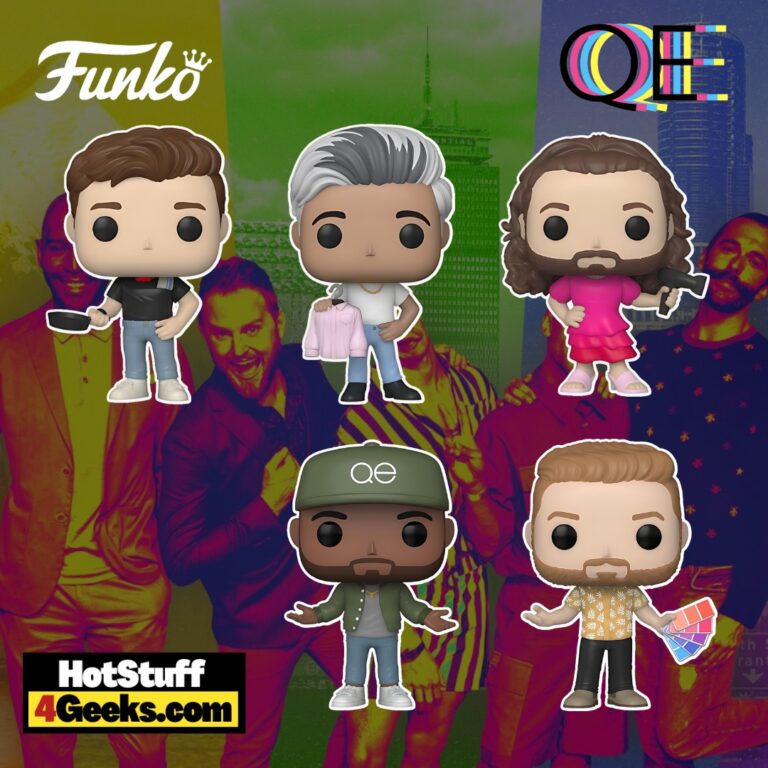 Get ready to elevate your fandom to a whole new level with the new Queer Eye Funko Pops! (2023 release). These irresistible figures capture the essence of the Fab Five in a way that turns your everyday space into a miniature haven of self-love and positivity.
To get your hands on these Pop Vinyl Figures at their release, be sure to check out the links I've provided below – click to jump or scroll to continue reading!
Unveiling the 2023 Queer Eye Funko Pops: A Pop Culture Moment We Didn't Know We Needed
We're all familiar with the magic of Queer Eye—how it cascades from our screens straight into our lives, redefining our perspectives on self-love, fashion, and culinary arts.
Imagine encapsulating that essence into adorable, bite-sized figures you can place on your desk or bookshelf.
Well, get ready to revamp your display cabinet because Funko, the powerhouse brand renowned for capturing the zeitgeist of pop culture in vinyl form, is releasing the new 2023 Queer Eye Funko Pops.
You know it's a cultural milestone when Funko steps in.
These figures are an homage to the impact Queer Eye has had on mainstream conversations around identity, kindness, and—let's not forget—avocado toast.
If you're a fan, don't miss out on this limited-edition Funko release. After all, what better way to keep the uplifting spirit of the Fab Five close at hand?
Unveiling the Queer Eye Funko Pops List for 2023 release:
Tan France Funko Pop! Vinyl Figure
Bobby Berk Funko Pop! Vinyl Figure
Antoni Porowsk Funko Pop! Vinyl Figure
Karamo Brown Funko Pop! Vinyl Figure
Jonathan Van Ness Funko Pop! Vinyl Figure
Earlier this year, the Funko Shop exclusively released an additional Queer Eye-themed collection, "Funko Pops! With Purpose: Queer Eye Edition."
Queer Eye Funko Pop! Vinyl Figures (2023 release) can be found for order at the links below (click to jump!)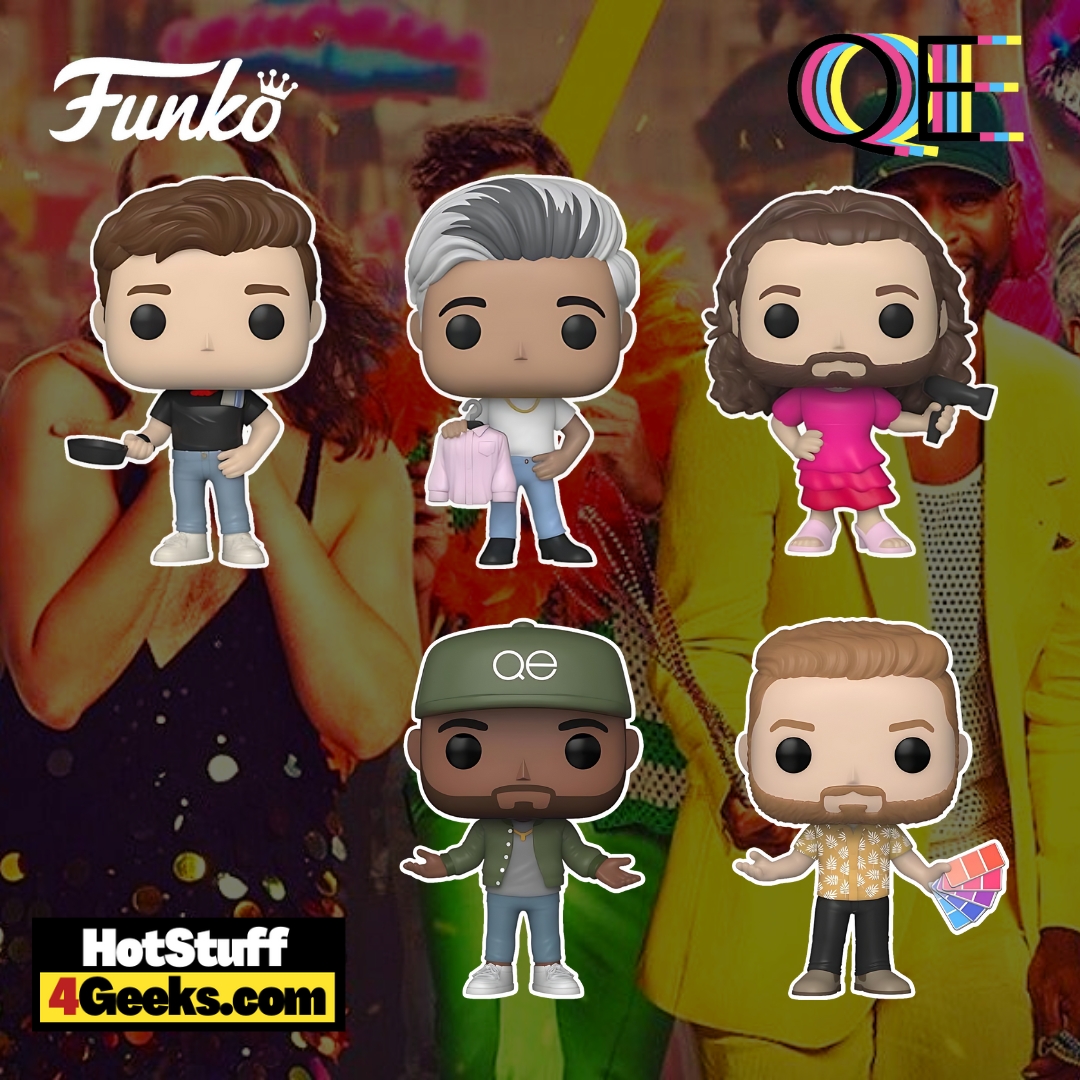 The Transformative Magic of Netflix's Queer Eye: More Than Just a Makeover Show
If you're scrolling through Netflix, eyes glazed over from an overdose of true crime and sitcom reruns, pause for a moment and let your cursor linger over Queer Eye.
Seriously, this isn't your run-of-the-mill reality TV fare.
It's a gem that sparkles with life-affirming lessons and heartfelt emotional moments
. Consider it therapy wrapped in a rainbow flag, and it's right there, on your screen, waiting for you.
Why am I stoked about this show? Well, it's a serotonin boost packed into episodes that run just under an hour.
Imagine a show that nudges you into becoming your best self while keeping you thoroughly entertained.
If that's not a win-win, I don't know what is.
Let's break down the Fab Five—the quintet of queer mentors who navigate us through this spectacle of self-discovery.
Antoni, Tan, Karamo, Bobby, and Jonathan are masters in their respective domains, from food to fashion to home design.
But they're also adroit in the more elusive arts of empathy, acceptance, and flair.
In today's world, where the pressures of life are multifaceted, self-care often falls by the wayside.
This show is a rallying cry to reclaim it.
It's not just about lathering on some boutique moisturizer but understanding that tending to your skin is a small but meaningful ritual of self-respect.
The message is clear: You're worth the premium stuff. You're worth the time. You're worth loving.
The people who appear on Queer Eye are not mere 'projects' or makeover subjects; they are human beings mired in life's intricacies.
It could be a struggle with body image, a professional identity crisis, or a home that's seen better days.
When the Fab Five enter the picture, they don't just offer a superficial facelift; they delve deep, excavating hidden insecurities and forgotten dreams.
And then there's the topic of emotional intelligence. Forget the stereotypes of touchy-feely convos being 'soft' or 'feminine.'
This show gives you full permission to confront your feelings and come out emotionally fortified.
Whether it's reconciling with a difficult past or embracing your unique identity, Queer Eye teaches you that owning your emotions is a superpower.
Let's also talk about the diversity of their 'heroes,' as they call the participants.
From teachers to politicians to cancer survivors, the spectrum is vast.
The common thread? Each one is taught to celebrate their uniqueness because individuality is not a flaw. It's a feature.
Before I wrap this up, a nod to kindness.
Queer Eye is a resounding testament to the power of kindness and genuine connection in a society often driven by social media snark and divisiveness.
The Fab Five show that kindness isn't just 'cool'; it's transformative.
So, do yourself a favor.
The next time you're Netflix-ing, click on Queer Eye.
Allow yourself to be transported into a world where understanding and self-improvement are the orders of the day.
Trust me, you'll walk away with more than just fashion tips and cooking hacks.
You'll walk away inspired, revitalized, and more in tune with the fabulous person you are meant to be.
Funko Pop! Television: Queer Eye Funko Pop! Vinyl Figures (2023 release)
Available at:
Starting now, you can receive 10% off in-stock items with my special link at Entertainment Earth!
 Enjoy!
As an Amazon Associate I earn from qualifying purchases
Want more stuff like this?
Get the best viral stories straight into your inbox!
Don't worry, we don't spam