Sanrio Surprises: 2023 NEW Hello Kitty Polar Bear Funko Pop!
Prepare for a winter wonderland adventure with the new release from Funko Pop! – the Funko Pop! Hello Kitty Polar Bear Funko Pop! Vinyl Figure. Our favorite feline has taken a charming turn into the frosty unknown, dressed in an irresistibly cute polar bear costume and clutching a heartwarming present.
To get your hands on this Pop Vinyl Figure, be sure to check out the links I've provided below – click to jump or scroll to continue reading!
Funko's Frosty Surprise: Hello Kitty Polar Bear Pop! Vinyl Figure
Imaginatively crafted by the creative minds at Funko, Hello Kitty dons her chilly attire, capturing hearts with her snowy sophistication.
The polar bear ensemble, complete with rounded ears and a snow-white hue, complements Hello Kitty's iconic red bow, presenting an enchanting contrast that will stand out in your Sanrio collection.
As always, the heart of Hello Kitty remains the focus. Whether it's her invisible smile or the joy she brings with her gift, this edition reminds us that she's more than just a character – she symbolizes kindness, friendship, and endless surprises.
This frosty feline will add a dash of holiday cheer to your collection. So get ready, collectors, because the Hello Kitty Polar Bear Vinyl Figure is ready to add a touch of icy fun to your shelves!
Hello Kitty Polar Bear Funko Pop! is now available for pre-order at the links below (click to jump!)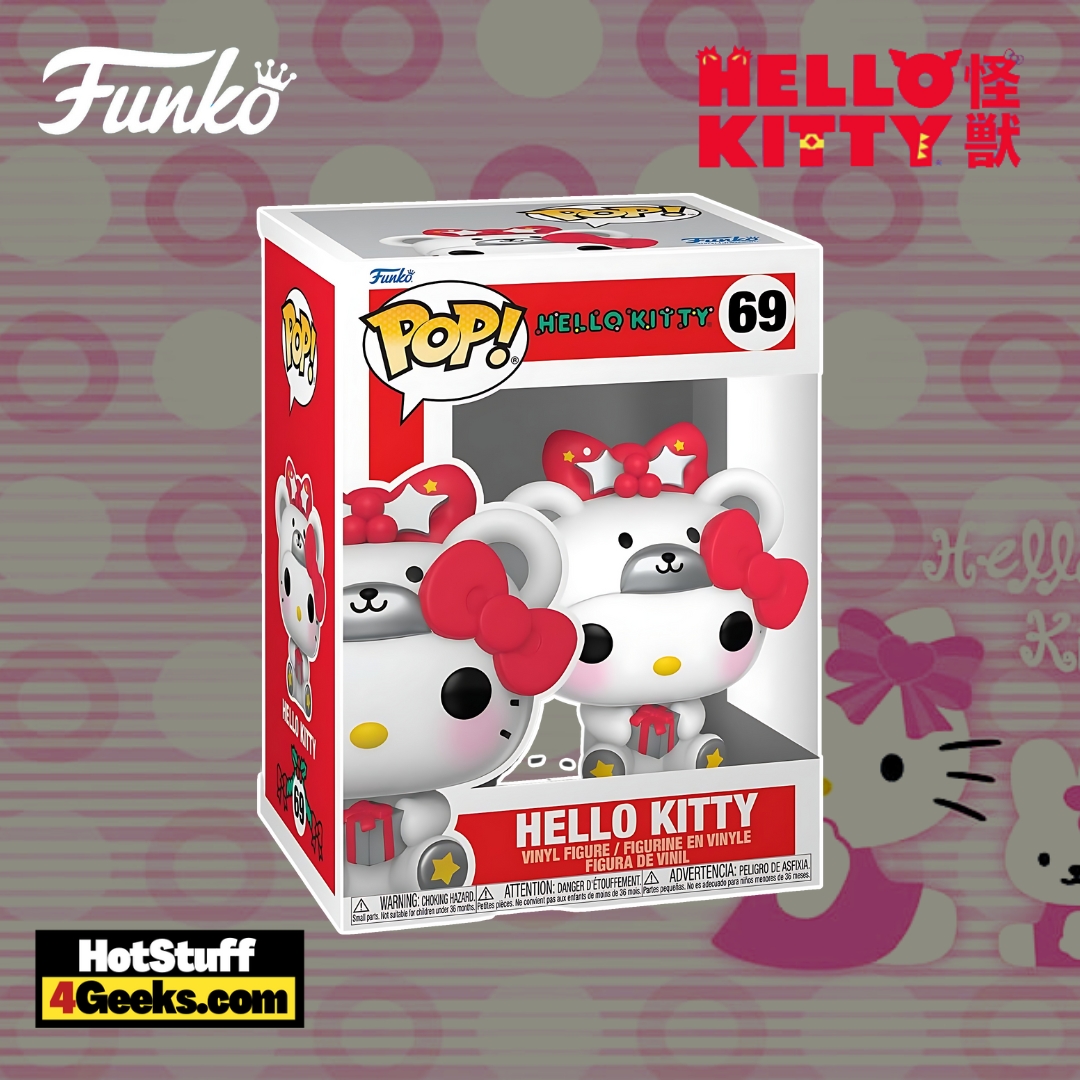 Unveiling the Mysteries of Hello Kitty: Japan's Most Beloved Feline
Unraveling the enigma of Hello Kitty, Japan's sensational pop culture phenomenon, takes us on a fascinating journey of charm, innovation, and universal appeal.
This white, rosy-cheeked cat, embellished with an iconic red bow and a mysteriously absent mouth, has captivated hearts across generations and geographical boundaries.
In the bustling heart of Tokyo in 1974, the innovative minds at Sanrio brought Hello Kitty to life.
The company's founder, Shintaro Tsuji, wanted to capitalize on the appeal of cute characters adorning merchandise.
Little did he know, his venture would spark a cultural revolution, extending far beyond Japan's shores.
The ingenious designer, Yuko Shimizu, handcrafted the original Hello Kitty, intertwining simplicity with enchanting allure.
Later, Yuko Yamaguchi took over the creative helm, ensuring the cat's legacy remained unblemished and relevant.
But why no mouth, you ask? Some theories suggest that this subtle design choice allows Hello Kitty to reflect the emotions of her fans, making her more relatable.
It's as if she is a mirror to the soul, an open canvas for individuals to project their feelings onto.
This unique trait has given Hello Kitty an extraordinary ability: the power to communicate without uttering a single word.
Amid the ongoing debates about Hello Kitty's roots, Sanrio made a surprising revelation.
Our beloved kitty, whose real name is Kitty White, hails from London, not Japan. That's right! Despite being born out of Japanese innovation, Hello Kitty is a British lass.
Yet, she is universally adored, underscoring her transcultural appeal.
Hello Kitty's universe brims with a colorful array of characters, each radiating a distinctive charm.
From Keroppi, the green, cheery frog, to the mischievous penguin Badtz-Maru, and the darling bunny My Melody, Hello Kitty's companions contribute to the rich tapestry of the franchise.
Even Hello Kitty's pet cat, Charmmy Kitty, and her dashing boyfriend, Dear Daniel, play vital roles in the grand narrative.
But the Hello Kitty experience doesn't stop at merchandise.
The world has witnessed the rise of Hello Kitty Cafés, where fans can indulge in mouth-watering delights adorned with the signature red bow.
And who could forget Sanrio Puroland?
This theme park embodies the world of Hello Kitty, where fans can step into a fantasy realm and interact with their favorite characters.
If you're ever in Las Vegas, don't miss the opportunity to explore the Hello Kitty Café.
Every detail, from the pattern on your coffee to the merchandise lining the shelves, celebrates the essence of Hello Kitty.
In a nutshell, Hello Kitty represents more than just a brand; she's a symbol of positivity, an ambassador of goodwill, and an endearing friend to millions.
Her tale is one of creativity, tenacity, and enduring appeal.
And even though she was created nearly five decades ago, her popularity shows no signs of waning. It's undeniable: Hello Kitty is here to stay.
Starting now, you can receive 10% off in-stock items with my special link at Entertainment Earth!
 Enjoy!
As an Amazon Associate I earn from qualifying purchases
Want more stuff like this?
Get the best viral stories straight into your inbox!
Don't worry, we don't spam