SDCC 2022: G.I. Joe – Serpentor Funko Pop!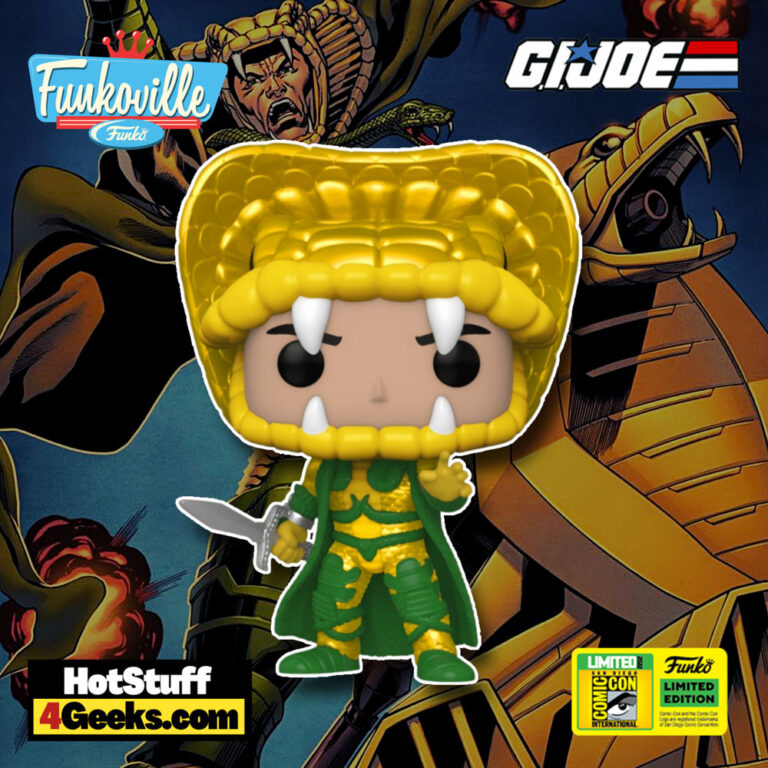 The new Funko Pop! Retro Toys: G.I. Joe – Serpentor Funko Pop! Vinyl Figure – San Diego Comic-Con (SDCC) 2022 and GameStop Exclusive will be available starting July 21st, 2022, at 6 am PT at the links below (click to jump!)
There's just something about G.I. Joe collectibles that keep us coming back for more, year after year. Maybe it's the exciting adventures in which these toys always seem to find themselves.
Or maybe it's the diverse range of characters, each with their own unique skills and personality traits.
Whatever the reason, G.I. Joe is a classic staple of childhood playtime. And Serpentor is one of the most iconic G.I. Joe characters of all time.
With his massive cobra hood and menacing green eyes, Serpentor is the stuff of nightmares (or at least, he was for this writer as a child).
But despite his scary appearance, Serpentor is actually a complex and fascinating character. He's a brilliant military strategist who deeply understands the history and human nature.
He's also fiercely loyal to his teammates and always puts the mission first. In other words, he may be a little frightening at first glance… but he's definitely someone you want on your side in a fight!
The SDCC 2022 exclusive, Serpentor Funko Pop!, can be found at the links below once the online sale begins (click to jump!)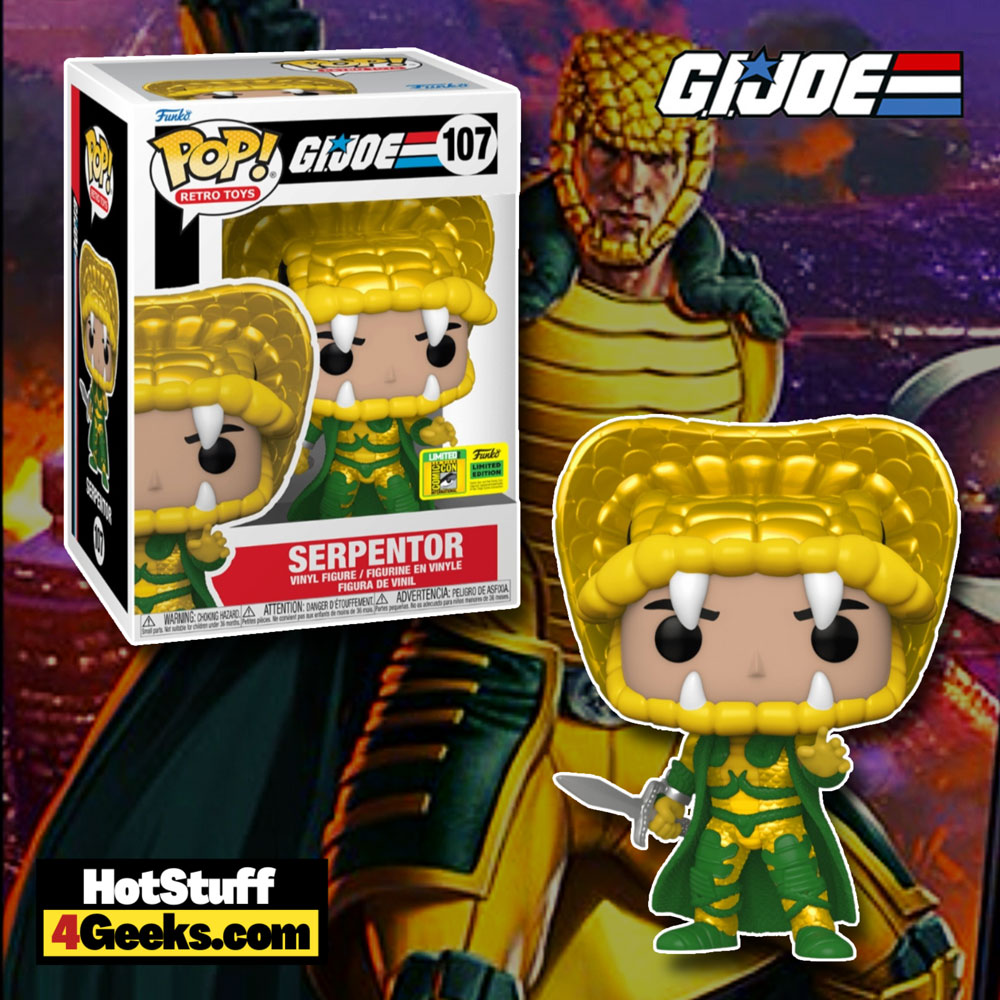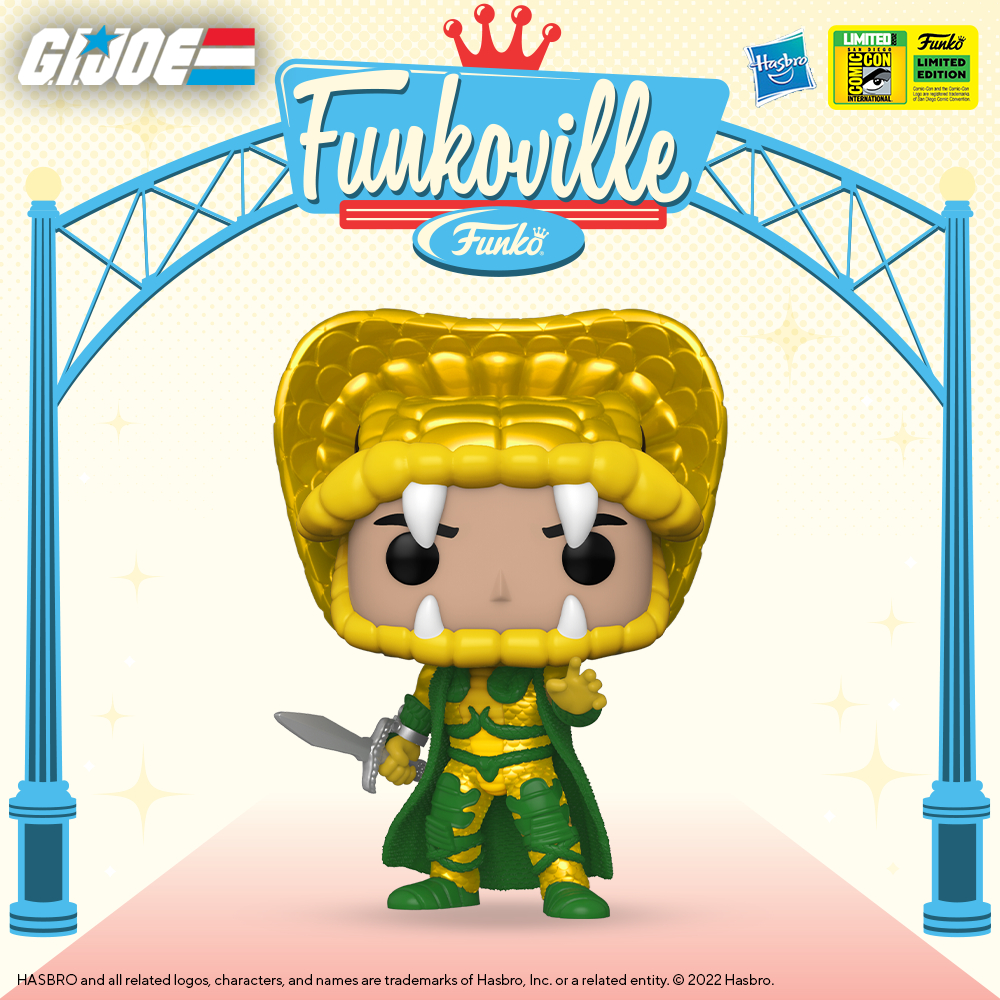 Serpentor is the Cobra Emperor and one of the main antagonists of the second season of the original animated series. So it sounds like he has a pretty badass title. But who is this mystery man?
Well, not much is known about his origins, but I know that he was created by Detro and Dr. Mindbender using the DNA of history's greatest warriors.
He's got Napoleon's genius, Julius Caesar's ruthlessness, Hannibal's daring, and Attila the Hun's cunning, adding to Sergeant Slaughter's aggressiveness.
Other historical figures that make up his genetics include Philip II of Macedon and his son Alexander the Great, Ivan the Terrible, Vlad the Impaler, Hannibal, Genghis Khan, Grigori Rasputin, Montezuma, Geronimo, Eric the Red, and the Egyptian general Xanuth Amon-Toth.
Basically, he's a super-powered Napoleon. And like Napoleon, he's got big plans for world domination. But unlike Napoleon, he doesn't have any armies or resources. So how does he plan to conquer the world?
By force of will, apparently.
He's just that confident. Maybe he'll succeed where others have failed. Or perhaps he'll end up like Napoleon, exiled to a remote island.
Check out more SDCC 2022 exclusives here.
Funko Pop! Retro Toys: G.I. Joe – Serpentor Funko Pop! Vinyl Figure – San Diego Comic-Con (SDCC) 2022 and GameStop Exclusive
Available at:
Starting now, you can receive 10% off in-stock items with my special link at Entertainment Earth!
 Enjoy!
As an Amazon Associate I earn from qualifying purchases
Want more stuff like this?
Get the best viral stories straight into your inbox!
Don't worry, we don't spam