SDCC 2022: Justice League – Starfire Funko Pop! Exclusive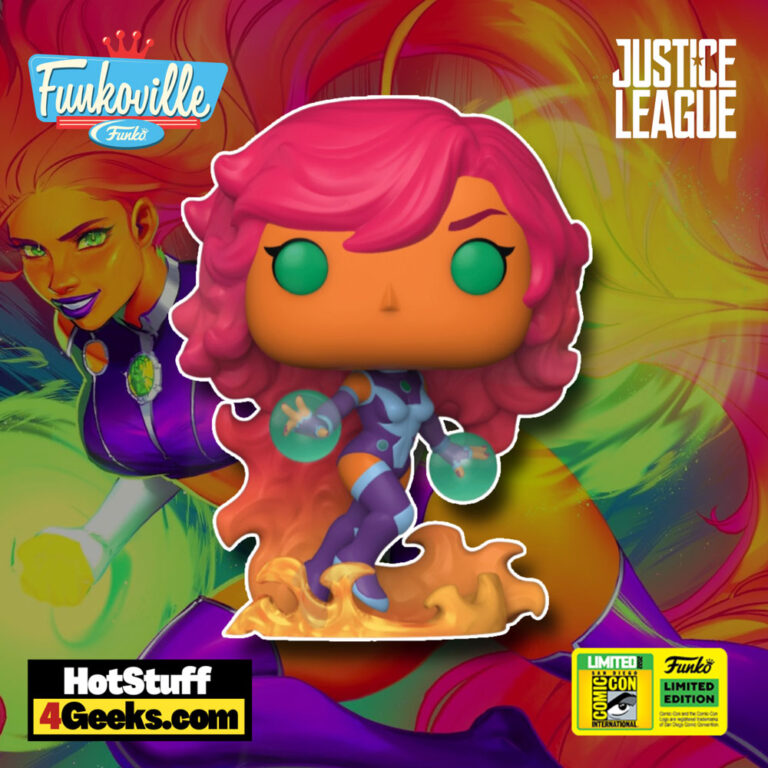 The new Funko Pop! Heroes: Justice League – Starfire Funko Pop! Vinyl Figure – San Diego Comic-Con (SDCC) 2022 and Hot Topic Exclusive will be available starting July 21st, 2022, at 6 am PT at the links below (click to jump!)
Starfire is one of the most powerful members of the Justice League, and she's not afraid to use her abilities to protect those she cares about.
She hails from the planet Tamaran, and her natural abilities include flight, superhuman strength, and the ability to shoot energy blasts from her hands.
In addition, she can absorb and process ultraviolet light, which allows her to fly at speeds that exceed the speed of sound.
As a result, she is one of the fastest members of the Justice League.
Starfire is also one of the most compassionate members of the team, and she is always quick to comfort those in pain.
In addition, she has a deep respect for all life and is always concerned with protecting those who cannot defend themselves. As a result, she is an invaluable member of the Justice League.
The SDCC 2022 exclusive, Starfire Funko Pop!, can be found at the links below once the online sale begins (click to jump!)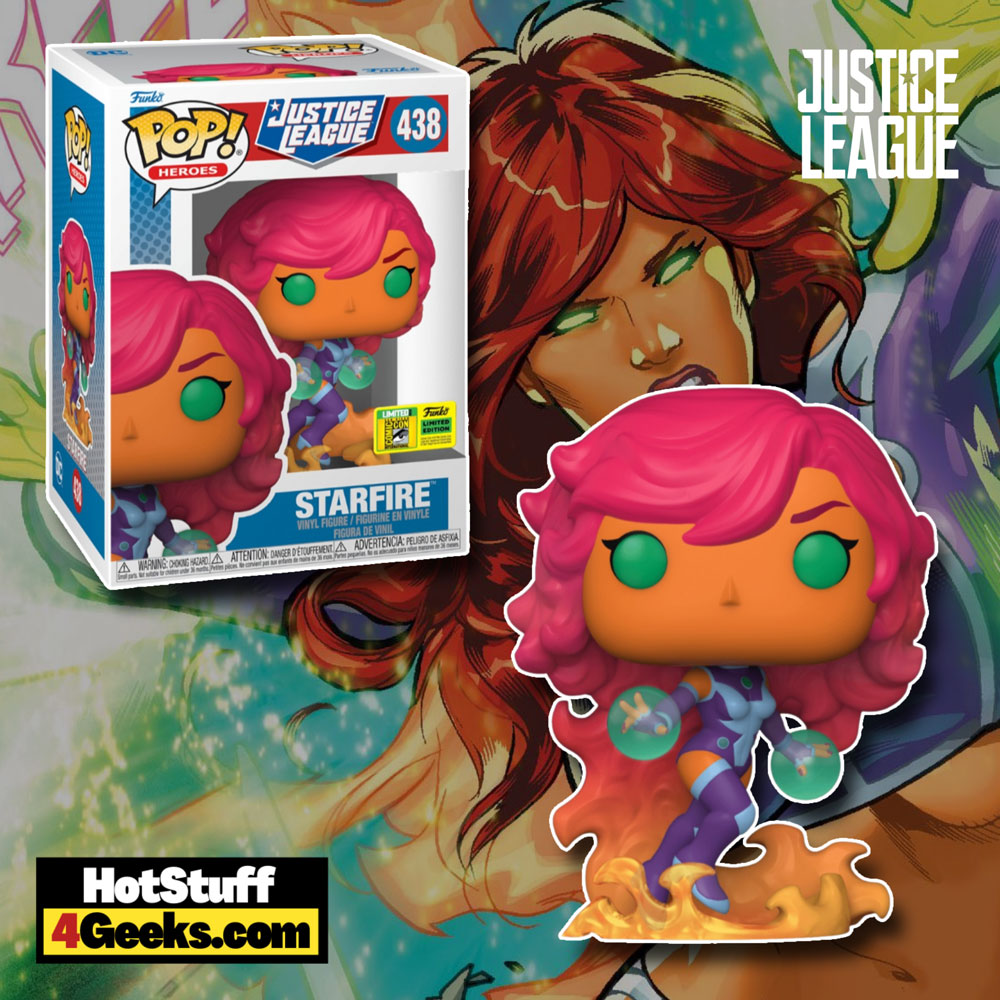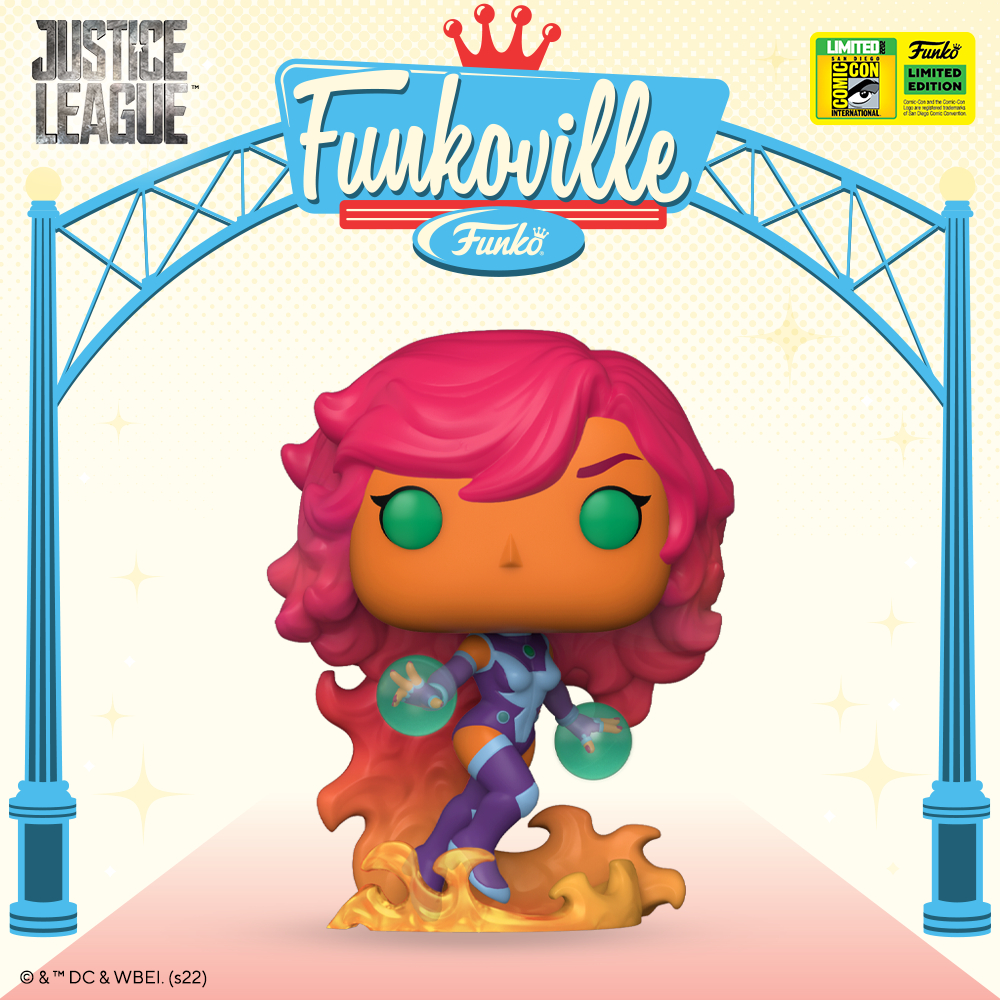 It is almost impossible not to know her: Starfire is one of the most important female characters in DC Comics and a powerful heroine.
Starfire is a DC Comics heroine created by Marv Wolfman and George Pérez exclusively for the New Titans debut in 1980 in DC Comics Presents #26.
Koriand'r, known on Earth as Starfire, was born on the alien planet Tamaran, the eighth planet of the star Vega.
The Tamaran inhabitants possess golden skin and the ability to consume energy from Vega, converting it into the power of flight.
Starfire is the youngest daughter of King Myand'r and Queen Luand'r. She also has an older sister named Komand'r, with whom she has a great rivalry.
Her sister would be the rightful heir to the throne, but she was born with a disability that prevented her from absorbing Vega's energy, so Komand'r lost her proper place in the line of succession.
The greatest enemies of the Tamarians were the people of the Citadel, who always sent ships to capture and enslave the inhabitants of Tamaran and steal the planet's natural resources.
Because of the constant invasions, the two nations were constantly at war.
In this context, the Tamaran king decided to send his daughters for military training to prevent future invasions.
During one of these training sessions, Komand'r tried to kill Koriand'r and was banished from Tamaran.
Not satisfied, Komand'r passed on secret information so that the Citadel's people could easily access the planet, sending them all the security passwords as revenge.
With the secret information in hand, the people of the Citadel invaded and fought a war with Tamaran, killing over 5 million inhabitants in just a few weeks.
The massacre was not more significant because the king accepted an agreement to hand Koriand'r over to the Gordanians, the slave traders of the Citadel.
In this world, enslaved people were rented for one year, and Starfire became an enslaved person for six years.
One day, Starfire killed her master and was brought to trial. However, before she was on trial, the base she was on was attacked by star pirates, who kidnapped Koriand'r and Komand'r.
They wanted to experiment on the two to find out how much energy they could handle before escaping.
After an incident, Koriand'r escapes when she discovers that she can release energy bursts from her hands.
After breaking free, she frees her sister from the experiment, and Komand'r attacks her. Koriand'r is again kidnapped and taken to the Citadel.
When she falls into the hands of a Gordanian who tries to abuse the princess, she kills him and flees to the planet Earth. Pursued to Earth, she is caught again but saved by Robin.
Starfire manages to drive off her enemies with the help of the Young Titans, allowing her to stay on Earth.
Check out more SDCC 2022 exclusives here.
Funko Pop! Heroes: Justice League – Starfire Funko Pop! Vinyl Figure – San Diego Comic-Con (SDCC) 2022 and Hot Topic Exclusive
Available at:
Starting now, you can receive 10% off in-stock items and free shipping on $39+ orders with my special link at Entertainment Earth!
You can also use CODE: 4geeks anytime. Enjoy!
As an Amazon Associate I earn from qualifying purchases
Want more stuff like this?
Get the best viral stories straight into your inbox!
Don't worry, we don't spam