SDCC 2022: Moon Knight – Scarlet Scarab Funko Pop!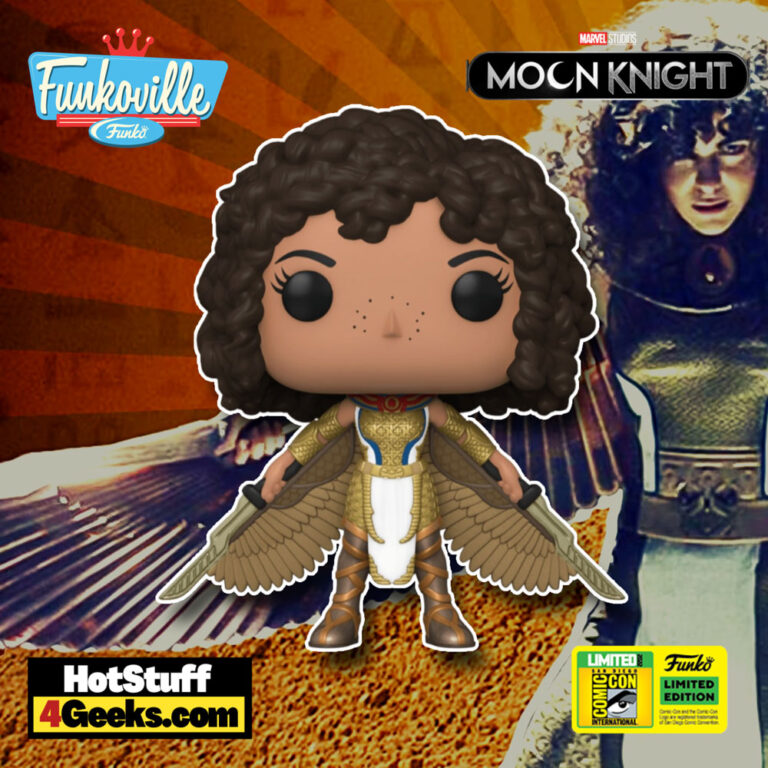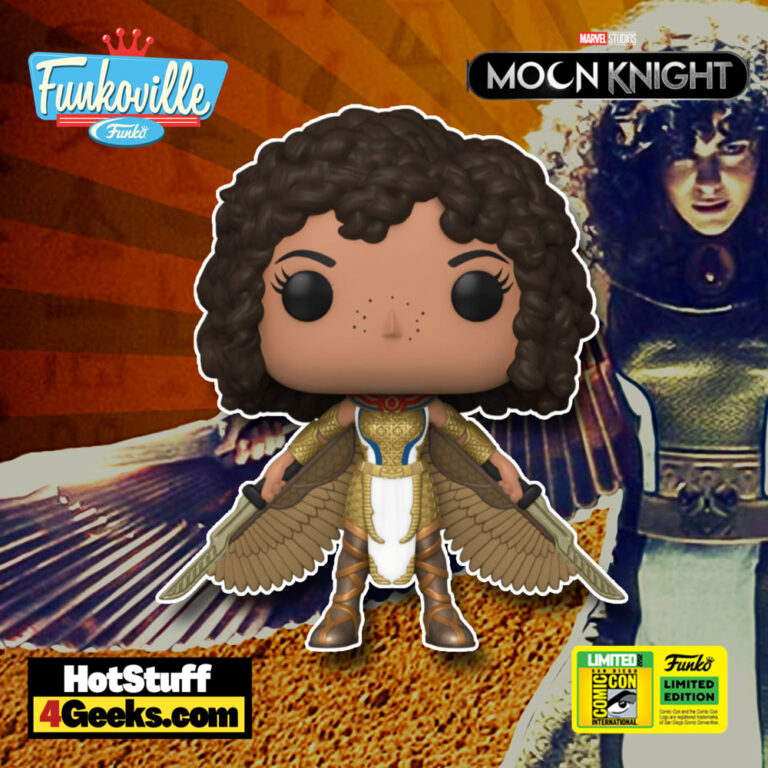 The new Funko Pop! Marvel: Moon Knight – Scarlet Scarab Funko Pop! Vinyl Figure – San Diego Comic-Con (SDCC) 2022 and Entertainment Earth Exclusive will be available starting July 21st, 2022, at 6 am PT at the links below (click to jump!)
As had been theorized a few weeks ago, Moon Knight did indeed introduce the MCU's version of the Scarlet Scarab.
Initially, a villain from Invaders, the character appeared in the franchise through Layla, Marc/Steven/Jake's ex-wife.
Although she received her powers when the Moon Knight miniseries came to an end, confirmation of her new name was only given by Marvel on social media.
Unlike in the comics, where Abdul Faoul became the Scarlet Scarab by obtaining the Ruby Scarab, Layla gained her powers – and the mantle – by agreeing to become the earthly avatar of Tuérit.
With a winged costume and swords, the new Egyptian heroine helped Moon Knight defeat Harrow and end Ammit's plans.
The SDCC 2022 exclusive, Scarlet Scarab Funko Pop!, can be found at the links below once the online sale begins (click to jump!)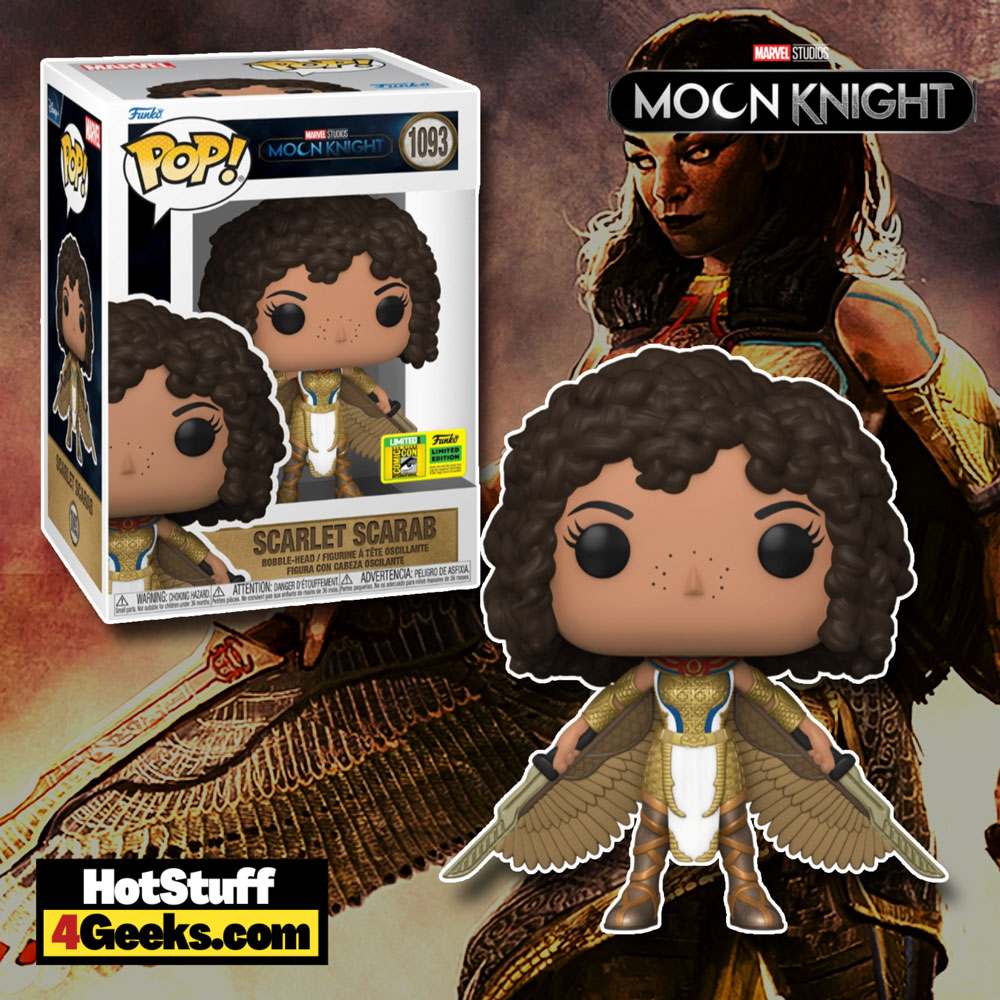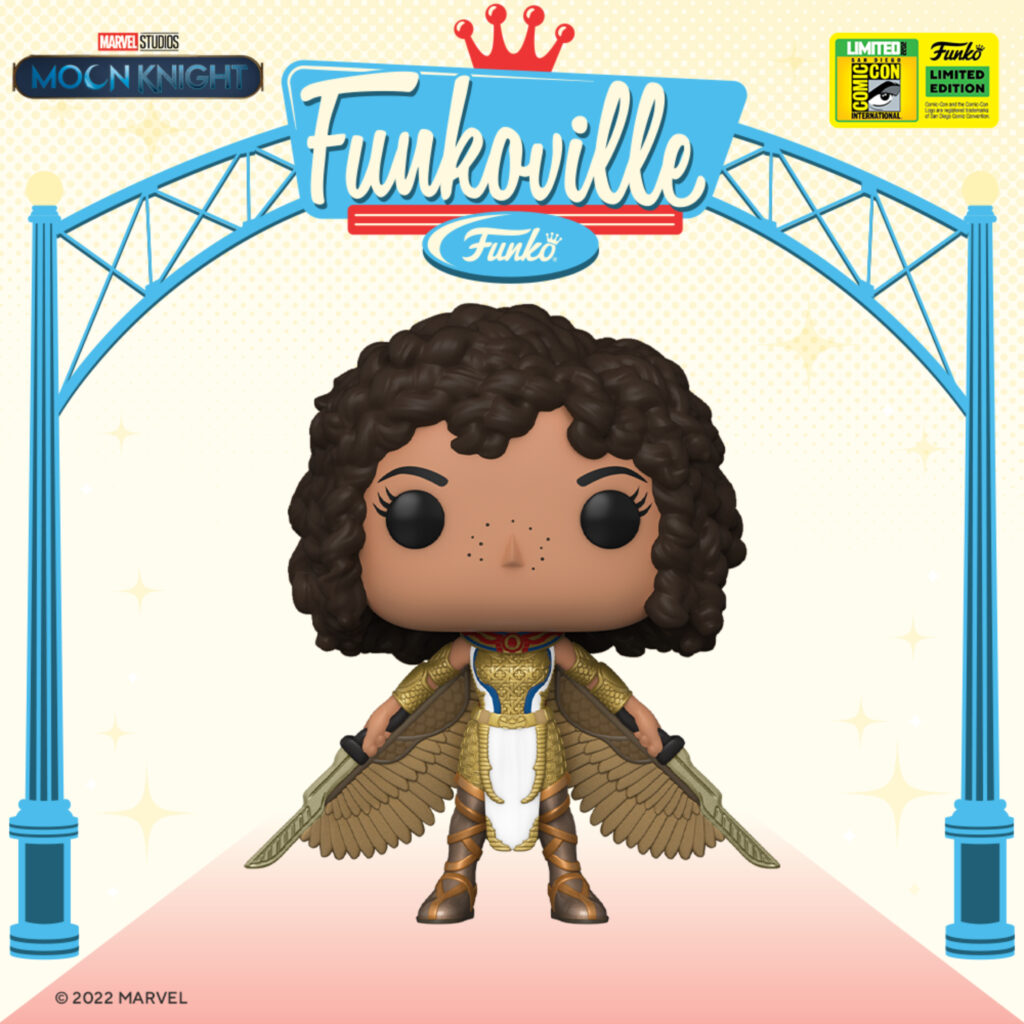 'Moon Knight' is one of Marvel's newest series, directed by Mohamed Diab and starring Oscar Issac, Ethan Hawke, May Calamawy, and F. Murray Abraham.
The series follows the life of Steven Grant (Oscar Issac), a peaceful and rather shy man who works in a souvenir store in an ancient history museum.
Steven is plagued by constant memory blackouts and discovers that he suffers from dissociative identity disorder and shares his body with mercenary Marc Spector (also played by Issac).
Steven and Marc will have to learn to work together and stop Arthur Harrow (Ethan Hawke) from releasing a deadly god that will destroy humanity.
Aside from being fantastic, the series premise manages to be unlike anything Marvel has done so far. It's nice that the studio is growing up and isn't afraid to bring in strange things. The plot, in theory, may seem confusing, but it succeeds quite well in practice.
The characters are satisfyingly well written. The villain has understandable motivations, even if he tries to achieve his goal the wrong way.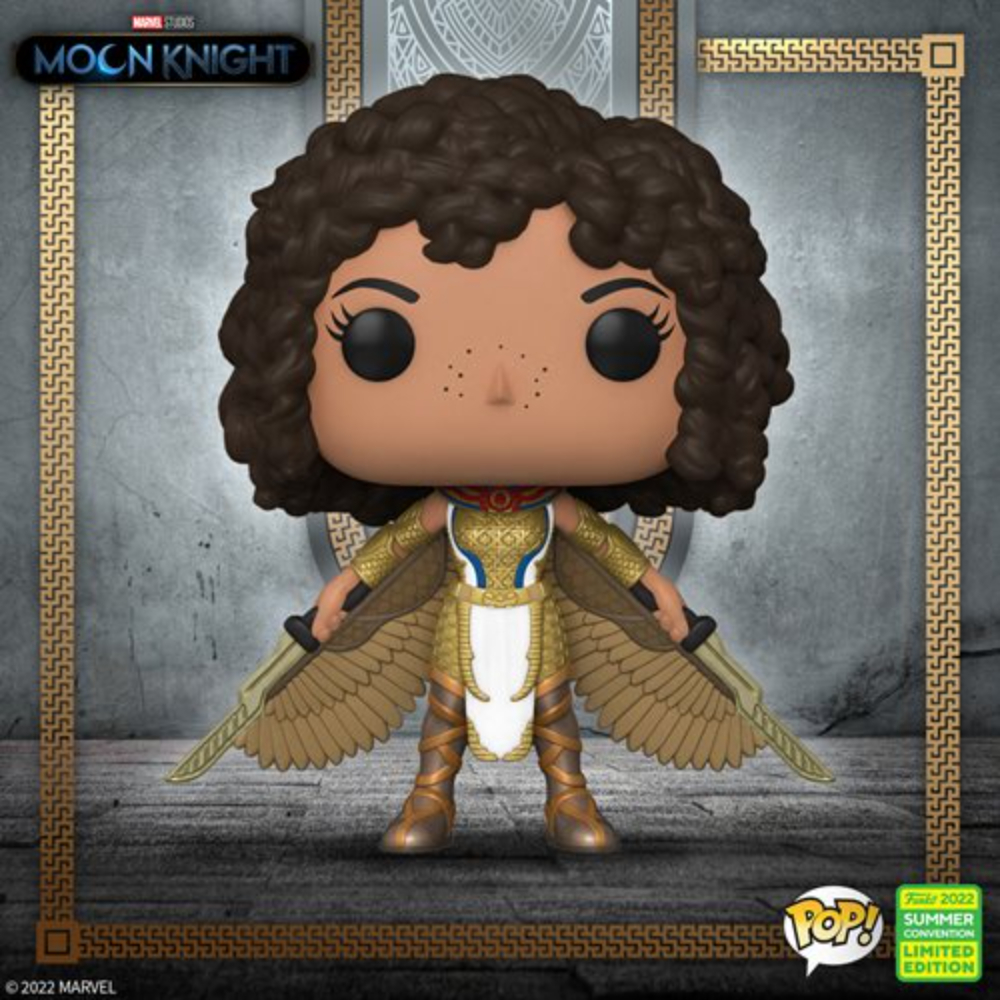 But the one who carries the series on his back is undoubtedly Oscar Issac. He gives us an incredible performance, proving once again that he is a highly versatile actor.
Suppose it's complicated enough to play a single character. In that case, Issac gives life to two almost simultaneously, in a superb way, making it easy for the viewer to distinguish between Steven and Marc.
There aren't many action scenes, but those that exist are well performed, accompanied by excellent choreography and impressive camera work. The special effects are mostly good, and the cinematography is perfect.
However, not everything in the series is perfect. Sometimes the CGI is weak, to the point where Moon Knight himself looks like a cartoon character.
But the main problem with the series, in my opinion, is the last episode.
It's not bad at all, but we are presented with a rushed ending, leaving some questions unanswered and spoiling the whole construction of the series so far. s.
All in all, 'Moon Knight' is a good series. It keeps the viewer captivated and presents a good story, good characters, good action moments, and great chemistry between actors.
Only the rushed ending and poor CGI keeps the series from being one of Marvel's best projects.
Check out more SDCC 2022 exclusives here.
Funko Pop! Marvel: Moon Knight – Scarlet Scarab Funko Pop! Vinyl Figure – San Diego Comic-Con (SDCC) 2022 and Entertainment Earth Exclusive
Available at:
Starting now, you can receive 10% off in-stock items with my special link at Entertainment Earth!
 Enjoy!
As an Amazon Associate I earn from qualifying purchases
Want more stuff like this?
Get the best viral stories straight into your inbox!
Don't worry, we don't spam