SDCC 2022: The Penguin and Duck Ride Funko Pop! Ride Deluxe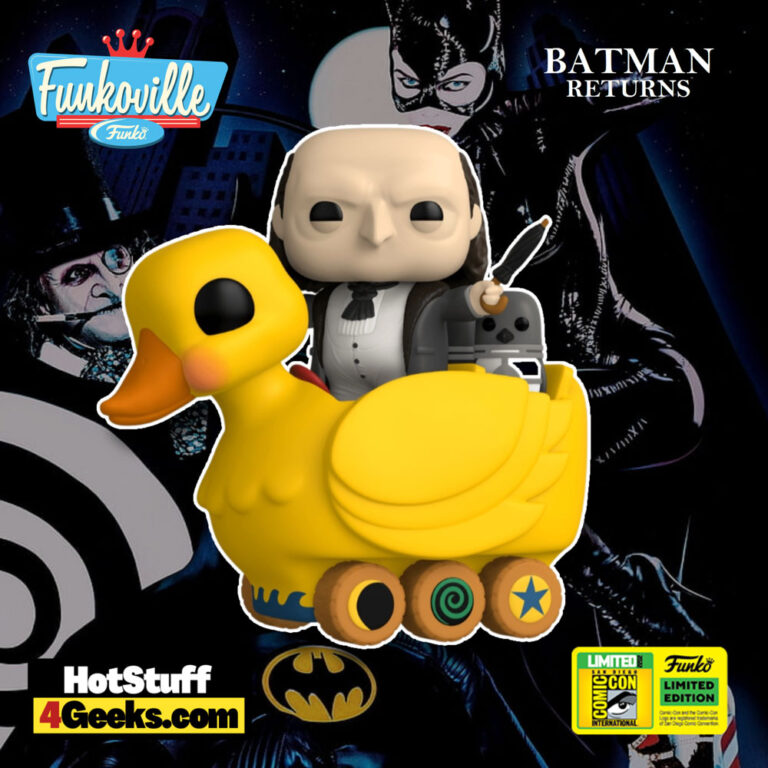 The new Funko Pop! Rides Super Deluxe: Batman Returns – The Penguin and Duck Ride Funko Pop! Ride Vinyl Figure – San Diego Comic-Con (SDCC) 2022 and GameStop Exclusive will be available starting July 21st, 2022, at 6 am PT at the links below (click to jump!)
If you thought the Joker was the only Clown Prince of Crime in Gotham, think again!
In Batman Returns, Tim Burton brought us another demented villain in the form of the Penguin, memorably played by Danny DeVito.
Like the Joker, the Penguin is a grotesque figure who revels in causing chaos and inflicting pain.
He's also no stranger to teaming up with other villains, as evidenced by his partnership with Catwoman. But perhaps his most famous alliance is with… a duck?
In one scene, the Penguin hops on a duck's back and uses it as transportation, leading to one of the most bizarre (and amusing) scenes in the entire movie.
The SDCC 2022 exclusive, The Penguin and Duck Funko Pop! Ride can be found at the links below once the online sale begins (click to jump!)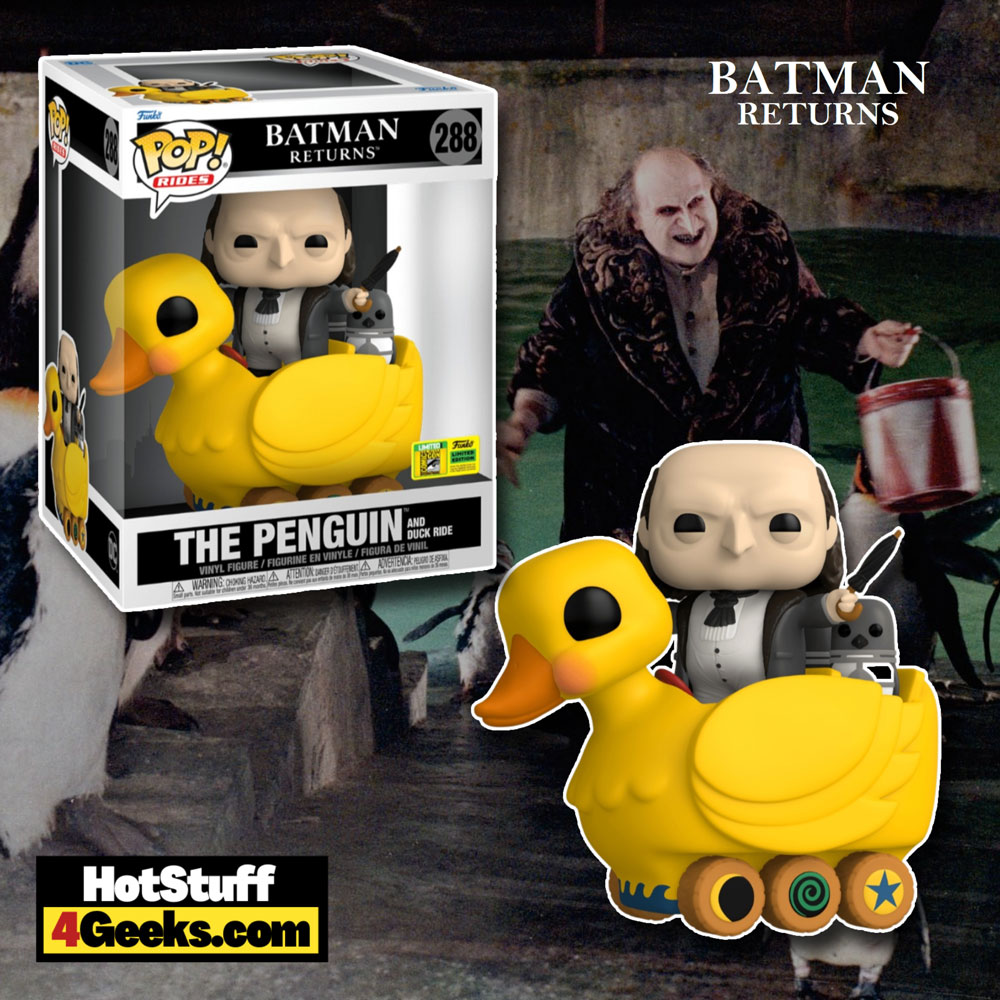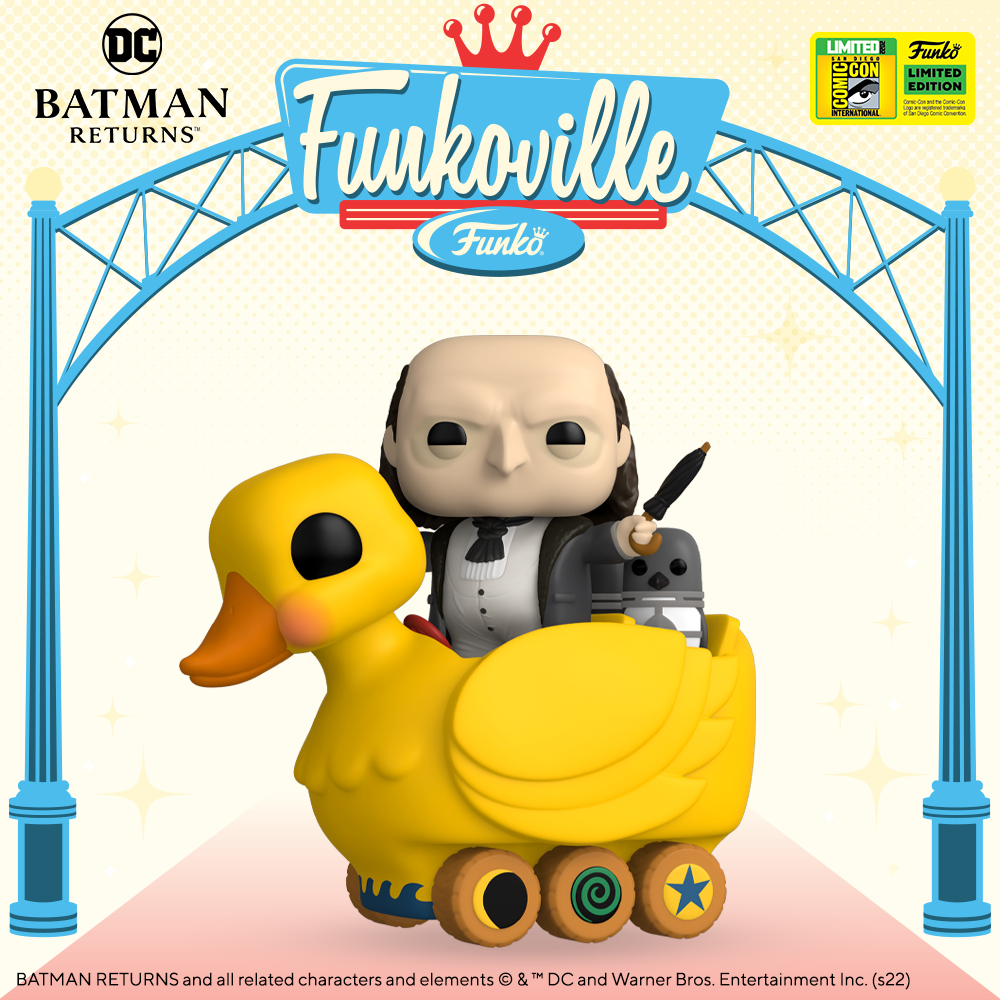 The second installment in the Batman movie franchise, Batman Returns, was released in 1992.
The movie picks up where the first one left off, with Batman (played by Michael Keaton) facing off against the Penguin (played by Danny DeVito), a villain with a deformed face and an army of penguins at his disposal.
Meanwhile, Catwoman (played by Michelle Pfeiffer) is also causing trouble for Gotham City's Caped Crusader.
The Penguin was abandoned by his wealthy parents as a baby and raised in the sewers. He grows up to be a Circus freak and later becomes a crime lord.
In the film, he teams up with Catwoman to take over Gotham City but is eventually defeated by Batman.
While the character of Penguin is quite different from his comic book counterpart, DeVito's performance is widely considered one of the movie's best parts.
Check out more SDCC 2022 exclusives here.
Funko Pop! Rides Super Deluxe: Batman Returns – The Penguin and Duck Funko Pop! Ride Vinyl Figure – San Diego Comic-Con (SDCC) 2022 and GameStop Exclusive
Available at:
Starting now, you can receive 10% off in-stock items with my special link at Entertainment Earth!
 Enjoy!
As an Amazon Associate I earn from qualifying purchases
Want more stuff like this?
Get the best viral stories straight into your inbox!
Don't worry, we don't spam