SDCC 2023: A Bug's Life – Butterfly Heimlich Funko Pop!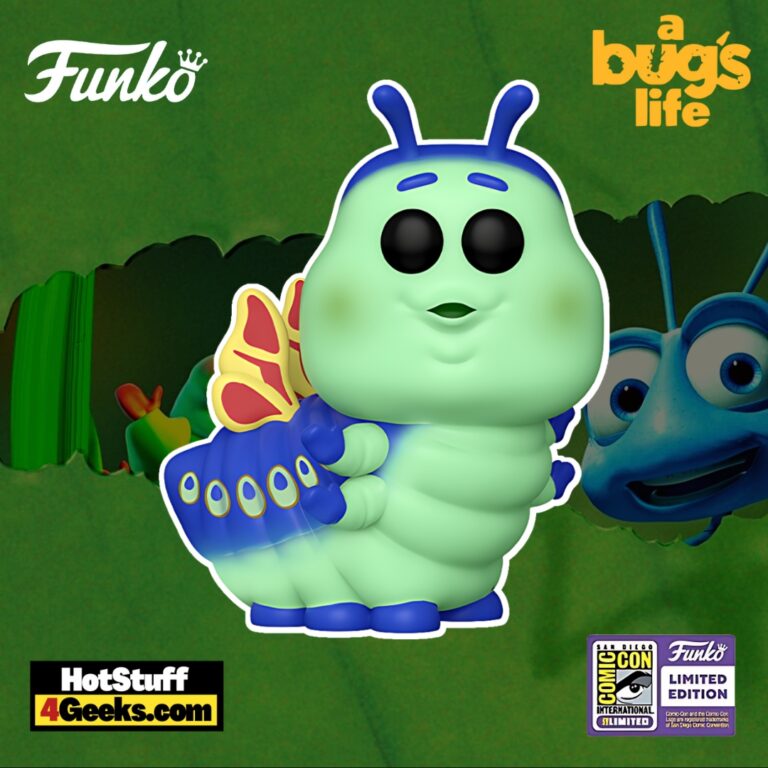 The new Funko POP! Movies: A Bug's Life – Butterfly Heimlich Funko Pop! Vinyl Figure – SDCC 2023 and Funko Shop Shared Exclusive will be available online starting at 6 AM PT on Thursday, July 20, at the links below (click to jump!)
A Closer Look at Pop! Heimlich: The 2023 SDCC Exclusive Transformation
If you've ever dreamed of owning a piece of Pixar magic, here's your golden opportunity.
Funko Pop! has unveiled its exclusive San Diego Comic-Con (SDCC) 2023 Butterfly Heimlich figure, a charming representation of our beloved caterpillar-turned-butterfly from "A Bug's Life."
The true genius of this Funko Pop! creation lies in its expert capturing of Heimlich's character nuances.
Clad in the radiant colors of his butterfly metamorphosis, the figure echoes the delightful moment of transformation that occurs in the film, an endearing nod to Heimlich's jovial personality and his unyielding dreams of flying.
Look closer, and you'll see the playful German caterpillar we've come to adore, albeit sporting a fresh pair of wings.
Despite the newfound elegance of flight, Heimlich's essential character, his robust frame, and rosy cheeks, are preserved.
It's this distinct blend of whimsy and authenticity that Funko Pop! has masterfully encapsulated in this exclusive figure.
This Heimlich collectible is more than a visual delight—it's a miniature embodiment of Pixar's storytelling prowess, a tangible reminder of the heartwarming journey of transformation we've all come to cherish in "A Bug's Life."
With the SDCC 2023 Exclusive Pop! Heimlich, we're not just welcoming a beautiful butterfly into our collection but also a testament to the joy and magic of Pixar's unforgettable narratives.
The SDCC 2023 and Funko Shop Shared Exclusive Butterfly Heimlich Funko Pop! can be found at the links below as soon as the online sale begins (click to jump!)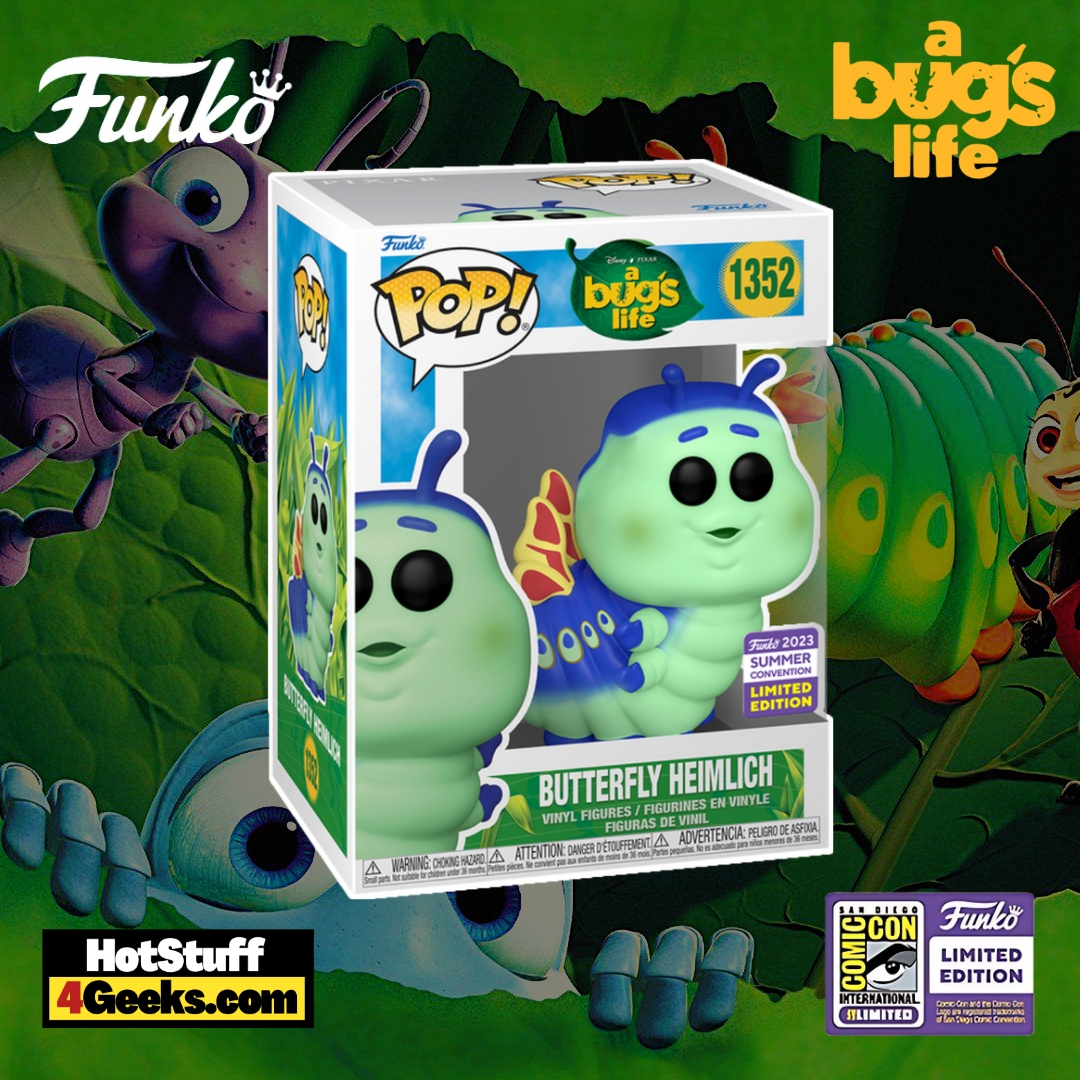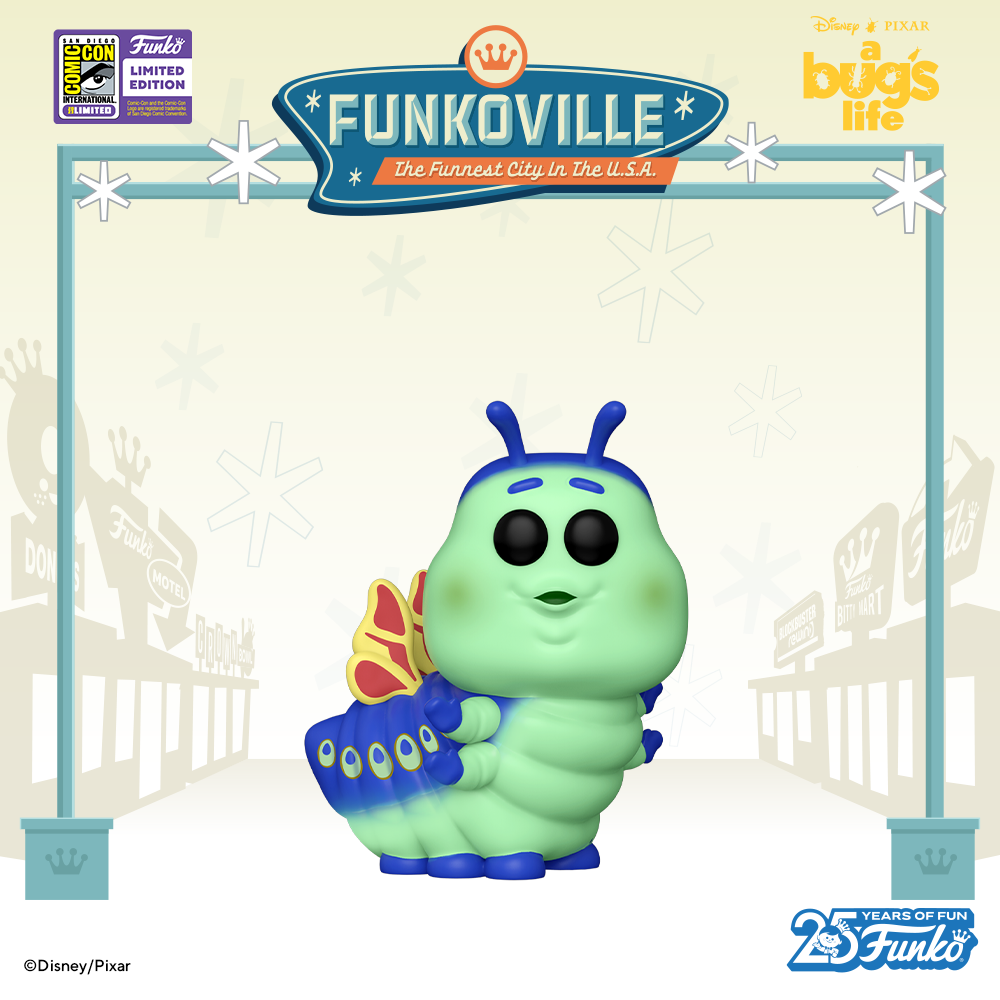 Heimlich's Metamorphosis: A Humorous Journey in Pixar's "A Bug's Life"
From the world of Disney and Pixar, a cast of memorable characters often emerges, captivating our hearts with their unique personalities, relatable challenges, and triumphant transformations.
Among these memorable characters, the lovable Heimlich from 1998's "A Bug's Life" continues to be a cherished character, delighting audiences with his bumbling charm and insatiable appetite.
A caterpillar with a German accent, Heimlich is not your typical insect hero.
While he may spend most of his time munching away, Heimlich is anything but a simple glutton.
His dreams stretch far beyond the next meal.
He harbors a longing for metamorphosis, for change, as he imagines the day he will transform into a beautiful butterfly.
Part of P.T. Flea's circus troupe, Heimlich is no stranger to the spotlight.
Yet, despite his jovial nature and love for performance, Heimlich demonstrates a measure of bravery when facing real-world dangers.
For instance, his fear when facing a genuine bird serves as a reminder that even in a world crafted with Pixar's charming animation, some universal fears persist.
His larger-than-life personality often gets him into humorous situations, such as when he becomes flustered at Hopper's threat, revealing his vulnerability in a comically endearing way.
Heimlich's balance of bravery and humor endears him to audiences, serving as a delightful counterpoint to the film's more serious themes.
But what truly sets Heimlich apart is his journey of transformation.
Throughout "A Bug's Life," Heimlich dreams of becoming a beautiful butterfly.
This desire forms an underlying narrative thread, a hopeful note amid the film's various conflicts.
As viewers, we root for Heimlich, hoping he'll realize his dream despite his excessive girth and comedic disposition.
In the film's climax, Heimlich finally emerges from his chrysalis, revealing tiny wings that barely support his robust form. In this moment, Heimlich's joy is infectious.
While his wings may not allow him to fly conventionally, his friends rally around him, lifting him into the air in a delightful display of camaraderie.
It's a heartwarming resolution, a testament to Pixar's knack for blending comedy with a touch of the bittersweet.
Through Heimlich's journey, "A Bug's Life" humorously explores themes of personal transformation and the power of dreams.
Heimlich may not be a traditionally heroic character, but his pursuit of beauty and change elevates him to a uniquely endearing status.
With his infectious enthusiasm and unforgettable personality, Heimlich continues to entertain audiences, reminding us all to embrace our dreams, no matter how outlandish they might seem.
Heimlich's journey in "A Bug's Life" is more than just comic relief.
It's a story of longing, transformation, and the power of friendship.
And in true Pixar fashion, it's a journey that leaves us both entertained and deeply touched.
So next time you revisit this classic Pixar film, pay close attention to our favorite green caterpillar, Heimlich, and appreciate the profound lessons hidden within his humorous transformation.
Funko POP! Movies: A Bug's Life – Butterfly Heimlich Funko Pop! Vinyl Figure – SDCC 2023 and Funko Shop Shared Exclusive
Available at:
Starting now, you can receive 10% off in-stock items with my special link at Entertainment Earth!
 Enjoy!
As an Amazon Associate I earn from qualifying purchases
Want more stuff like this?
Get the best viral stories straight into your inbox!
Don't worry, we don't spam