SDCC 2023: Bowling Trophy Freddy Funko Pop! Exclusive (GOLD)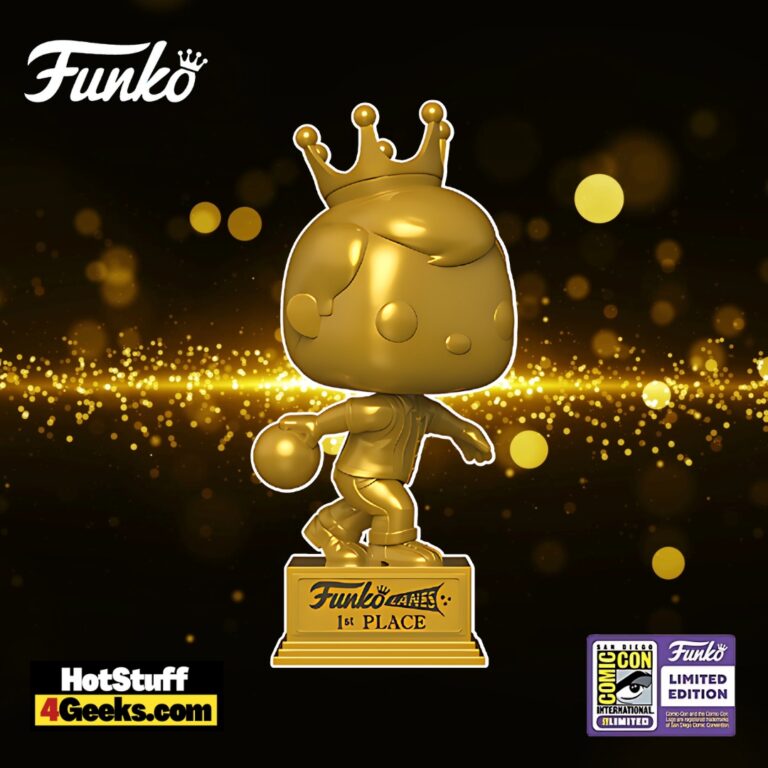 The new Funko POP! Freddy Bowling Trophy (Gold) Funko Pop! Vinyl Figure – SDCC 2023 and Funko Shop Shared Exclusive will be available online starting at 6 AM PT on Thursday, July 20, at the links below (click to jump!)
Talk about rolling a perfect game! The newest addition to the Funko family the Freddy Bowling Trophy (Gold) Funko Pop! Vinyl Figure, has left us in awe with its golden charm and sporty sophistication.
This limited-edition San Diego Comic-Con (SDCC) 2023 Exclusive character reimagines Funko's flagship character, Freddy Funko, in an innovative and nostalgically charming way.
Standing proudly in striking gold, the figure embodies the spirit of triumphant achievement, capturing Freddy in the victorious stance of a first-place bowler.
With a bowling ball poised for a perfect throw in one hand, the detail is spot-on.
You can almost feel the palpable tension as he lines up the shot, his eyes focused on the unseen pins standing steadfastly at the end of the lane.
But there's more to this than just the game.
Freddy's wearing a crown subtly placed on his head. It's a nod to his regality, a reminder of his status as the king of the Pop! Universe.
More than just a decorative piece, it reinforces the character's whimsical charm while adding a touch of splendor. It's Freddy, yes, but it's a Freddy who's earned his place in the annals of Pop! royalty.
The trophy base of the figure adds to its overall charisma.
Imprinted with "Funko Lanes 1st Place," it's a testament to this character's prowess and determination.
Much like the figure it supports, the base is a vibrant reminder of victory, a symbol of Freddy's unrivaled bowling prowess.
The SDCC 2023 and Funko Shop Shared Exclusive Bowling Trophy Freddy (Gold) Funko Pop! can be found at the links below as soon as the online sale begins (click to jump!)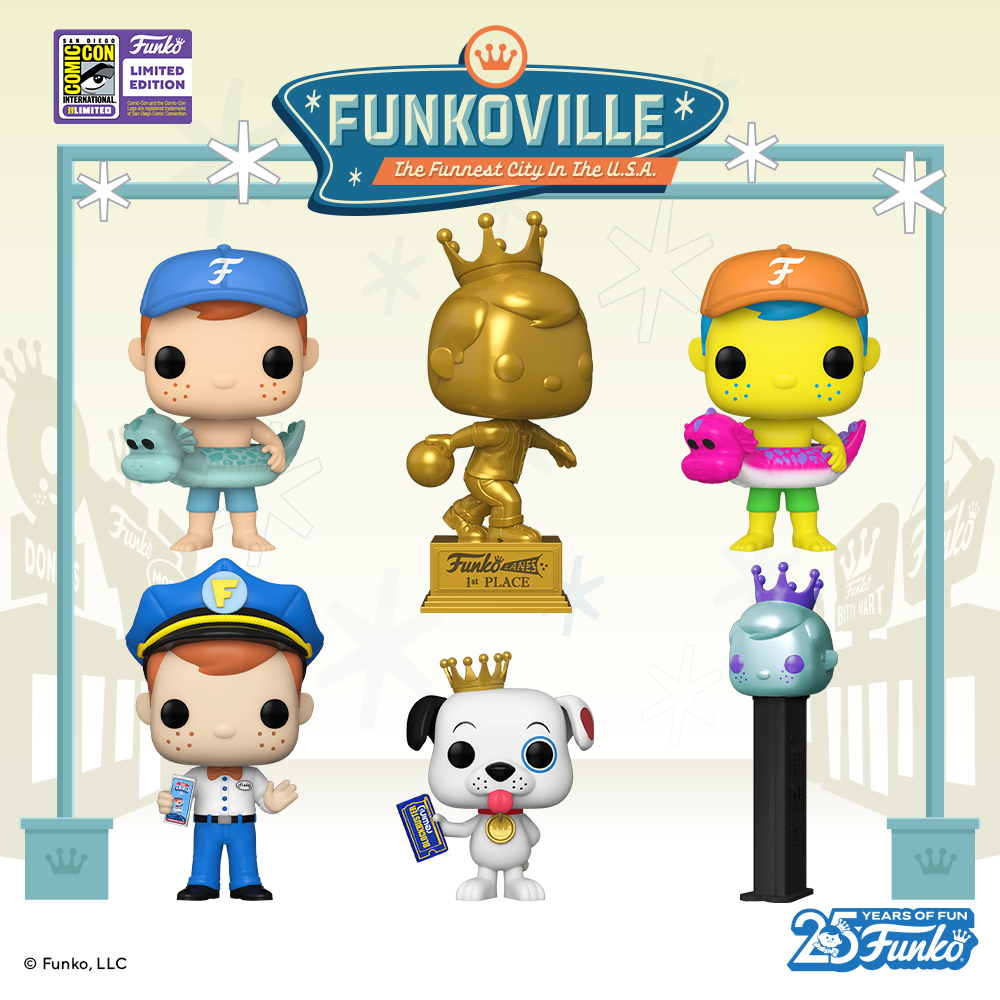 The Freddy Bowling Trophy (Gold) Funko Pop! Vinyl Figure is a captivating sight, effortlessly marrying the world of Funko and bowling.
What makes this Funko Pop truly stand out is its clever fusion of familiar and unfamiliar elements.
We see the traditional, beloved Freddy figure, but he's been reimagined and transformed, brilliantly crafted into a fresh icon.
The figure's golden hue, a departure from Freddy's traditional color palette, infuses it with an allure that's both glamorous and tastefully reserved.
It reflects the figure's celebratory nature, underscoring its status as a testament to victory.
The gold doesn't just make it shine on the shelf.
It makes it shine in the eyes of the beholder, elevating the appeal of this Pop! to new heights.
The Freddy Bowling Trophy (Gold) Funko Pop! Vinyl Figure is an homage to bowling, a sport known for its precision and prowess.
By capturing Freddy in mid-action, this figure encapsulates the thrill and tension of the game.
It's a snapshot of that moment right before the ball hurtles down the lane, a moment loaded with anticipation and excitement.
This figure's charm lies in its delightful blend of playfulness and dignity, captured through its intricately designed features.
The end result is a figure that not only commemorates a victorious moment but also serves as a testament to the dynamic evolution of Funko's design aesthetics.
To wrap it up, the Freddy Bowling Trophy (Gold) Funko Pop! Vinyl Figure, with its golden glow and sporty charm, strikes a perfect game.
It's a novel and refreshing take on a beloved character, making it a truly one-of-a-kind addition to any Funko collection.
Remember, this isn't just another Freddy figure.
It's Freddy that rolled a strike!
Funko POP! Freddy Bowling Trophy (Gold) Funko Pop! Vinyl Figure – SDCC 2023 and Funko Shop Shared Exclusive
Available at:
Starting now, you can receive 10% off in-stock items with my special link at Entertainment Earth!
 Enjoy!
As an Amazon Associate I earn from qualifying purchases
Want more stuff like this?
Get the best viral stories straight into your inbox!
Don't worry, we don't spam