SDCC 2023: Bugs Bunny as Fred Flintstone Funko Pop!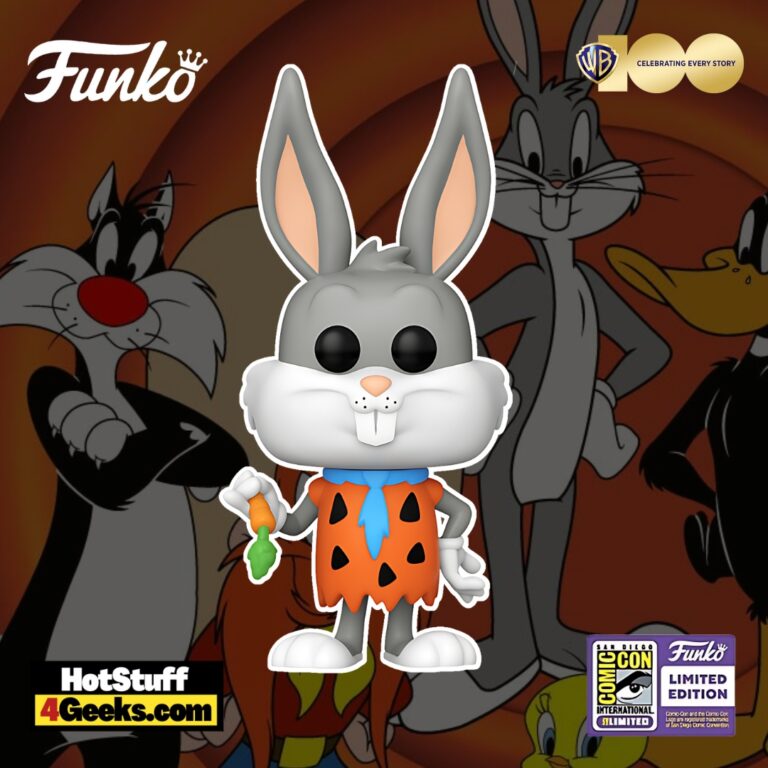 The new Funko POP! WB 100th Anniversary: Bugs Bunny as Fred Flintstone Funko Pop! Vinyl Figure – SDCC 2023 and Toy Tokyo Shared Exclusive will be available online starting at 6 AM PT on Thursday, July 20, at the links below (click to jump!)
Merging Toon Titans: The Bugs Bunny as Fred Flintstone Funko Pop! 2023 SDCC Exclusive
Just when you thought you'd seen every delightful twist that Funko Pop! figures could offer, along comes the San Diego Comic-Con 2023 exclusive – Bugs Bunny in the guise of the unforgettable Fred Flintstone.
This playful blend of two cherished cartoon legends warms the heart and reignites our affection for these classic characters.
The figure features Bugs Bunny's characteristic rabbit ears poking through Fred Flintstone's trademark stone-age ensemble.
The sight of our wily rabbit adopting the persona of the boisterous caveman is an amusing spectacle that fans of all ages will appreciate.
The delightfully absurd visual of our clever rabbit dressed as the boisterous caveman is a sight to behold.
This Funko Pop! figure isn't just an adorable depiction of Bugs Bunny but also an amusing homage to the lovable Fred Flintstone.
Whether you're a devoted fan of Bugs Bunny's quick wit or drawn to Fred Flintstone's hearty laugh, this exclusive figure celebrates two iconic characters and Warner Bros.' centennial in one creative, must-have piece.
The SDCC 2023 and Toy Tokyo Shared Exclusive Bugs Bunny as Fred Flintstone Funko Pop! can be found at the links below as soon as the online sale begins (click to jump!)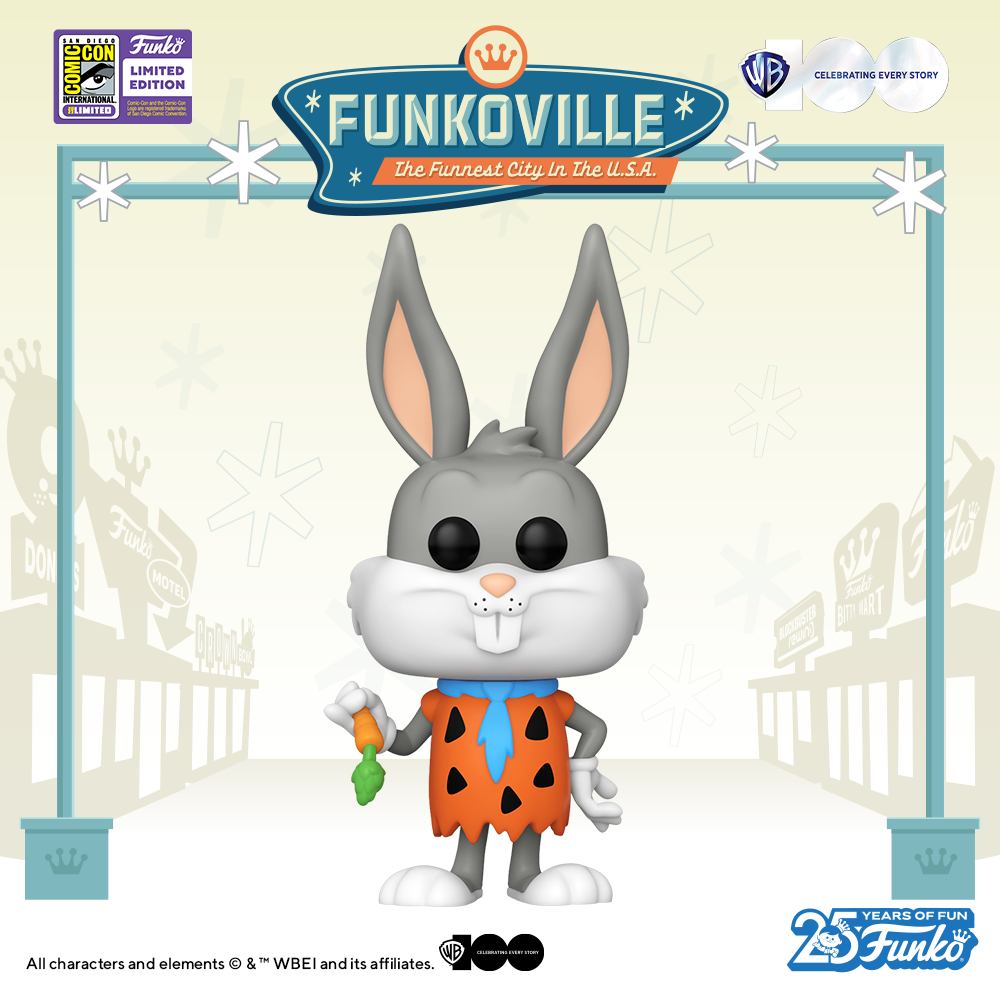 The Enduring Evolution of Bugs Bunny: From Forest to Fame
Let's hop into our cartoon time machine and travel back to 1940 when a particular rascally rabbit named Bugs Bunny made his official debut.
Over the decades, Bugs has survived and thrived, thanks to his ability to adapt and transform with the times.
The legendary Bugs Bunny we know today is a product of numerous alterations and subtle shifts that have kept him relevant and relatable for generations.
The voice behind Bugs Bunny has always been an integral part of his persona.
No one can deny the tremendous impact of Mel Blanc, the original voice actor, who gave life to our favorite rabbit's now iconic Brooklyn accent.
He didn't get it right on the first go, mind you, but once he did, it's been the golden standard for all those who've tried to fill his shoes.
Each iteration of Bugs' voice since has strived to honor Blanc's legacy, even though none can truly match the original.
Bugs Bunny, though a rabbit, is anything but ordinary.
Originally depicted as a wild animal living in a hole in the forest, he's transformed into an almost human character.
He now holds down jobs and even moved to the suburbs with Daffy Duck.
He's been crafted into a character that mirrors our society, a reflection of the typical city dweller who happens to have long ears and a fluffy tail.
One of Bugs Bunny's signature traits, his knack for disguise, has been elaborated over the years.
Starting as simple characters like a duck or a turtle, he's become more elaborate, taking on roles such as kings and maestros.
Dressing up has become a vital tool in his comedic arsenal and added another layer of complexity to his character.
Bugs' set of adversaries, or his rogues' gallery, as it's known, has expanded since his early days when Elmer Fudd was the main antagonist.
Over time, new faces like Yosemite Sam, Marvin the Martian, Witch Hazel, and the Tasmanian Devil were introduced.
These foes help shape and showcase Bugs Bunny's quick wit and charisma.
The perception of Bugs Bunny in the world of his cartoons mirrors his popularity in the real world.
The mid-'50s saw his stardom transition from our television sets to his animated universe, increasing his appeal and complexity.
What motivates Bugs has also evolved. He started as a mischievous instigator, often pestering Elmer Fudd just for fun.
As time passed, he became provoked, leading to his now-famous declaration of war and subsequent acts of retaliation.
From pulling out props at will to leaving his forest home for more creative and diverse settings, Bugs has constantly reinvented himself to stay relevant.
He's evolved from a character that could be beaten to an invincible victor, constantly on top.
Yet, despite his newfound might, his interactions remain enjoyable because he toys with his foes in inventive ways.
His dynamic with Daffy Duck has become one of the most iconic relationships in cartoon history.
Originally independent characters with similar manic personalities, they've grown into an inseparable duo where Bugs often plays the composed partner to Daffy's outlandish antics.
In essence, Bugs Bunny's evolution has been a masterclass in character development and adaptation.
A journey from the wild forest to a suburban home, from a voice finding its pitch to a recognized superstar, and from a solitary rabbit to a vital part of a memorable duo.
Bugs Bunny's enduring charm lies in his ability to evolve while maintaining the core of his rascally rabbit persona.
Funko POP! WB 100th Anniversary: Bugs Bunny as Fred Flintstone Funko Pop! Vinyl Figure – SDCC 2023 and Toy Tokyo Shared Exclusive
Available at:
Starting now, you can receive 10% off in-stock items with my special link at Entertainment Earth!
 Enjoy!
As an Amazon Associate I earn from qualifying purchases
Want more stuff like this?
Get the best viral stories straight into your inbox!
Don't worry, we don't spam